6 wonderful watermelon recipes
One fruit I try to eat LOTS of during the summer months is watermelon.  I vividly remember my mom cutting up our watermelons into eighths & giving  me a wedge as big as my head to dive into with a spoon… and this was back in the 80's when watermelons were seeded & HUGE!  I thought that was how everyone ate this sweet & refreshing fruit.  Steve laughed the first time I presented watermelon this way to him.  I have since reformed to cutting them into large chunks & keeping them in a giant Tupperware bowl in the fridge for easy snacking.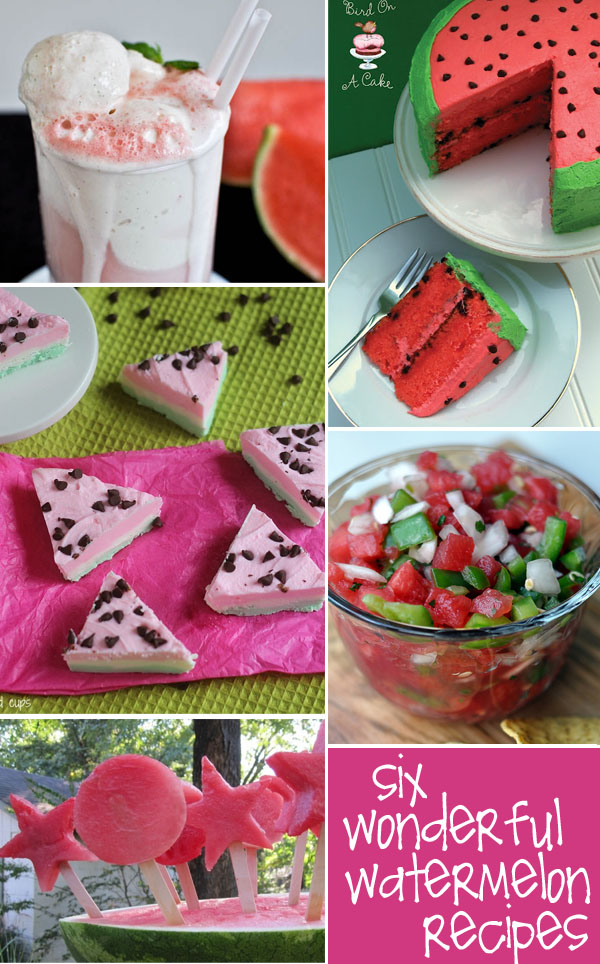 In addition to eating this pretty fruit right off the rind, there are load of lovely recipes that are perfect for watermelon addicts like myself.  These are a few recipes I want to try out this summer.
Have you ever seen such pretty pink & green fudge?  I gotta feeling you would be the star of the summer picnic if you brought these sweets.  Grab this gorgeous recipe at cookies and cups.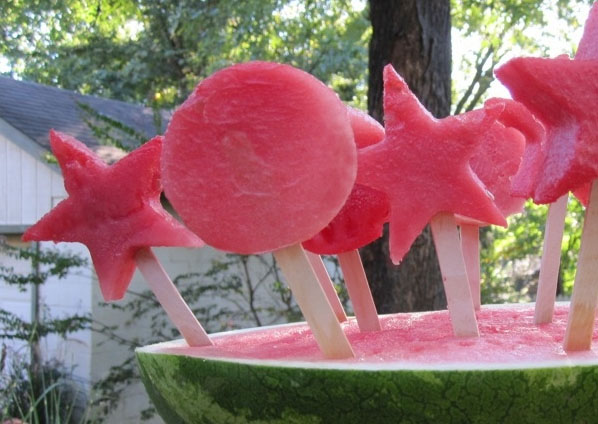 You can't get a more natural popsicle than this!  This is one of those clever ideas that has you saying, "Why didn't I think of that?"  Read more about how to make these frozen watermelon pops at fearless homemaker.
I must admit I am happy they grow seedless watermelons, however if the seeds were chocolate chips…. that's another story ;-)  That's what you'll need for this adorable cake… that and a white cake mix , watermelon Jell-O powder and cream cheese.  Get the rest of the delicious details at Bird On A Cake.
Sign me up for this salad!  I already make a similar mix with pecans, dried cranberries & grapes but I never thought about adding watermelon.  Find the full recipe at foodie crush.
Did you plant mint in your garden this summer?  Are you trying to find other ways to use it besides making mojitos every night?  How about mixing it with some ice cream, watermelon & soda?  Grab this this refreshing recipe at how sweet it is.
This twist on a classic sounds mighty tasty… plus I have cilantro growing out my ears but am still waiting on my tomatoes to turn red.  Pleasant Home has the perfect solution with this watermelon salsa combination.
Like interesting recipes with a fruity kick?  We love sharing our finds. Don't want miss out on our future features… simply sign up to receive these blog posts in your email in box.