summer salads 7 days a week
I don't know about you…but the less time I spend in the kitchen during the summer the better.  That's one reason why simple salads are a must in my recipe rolodex.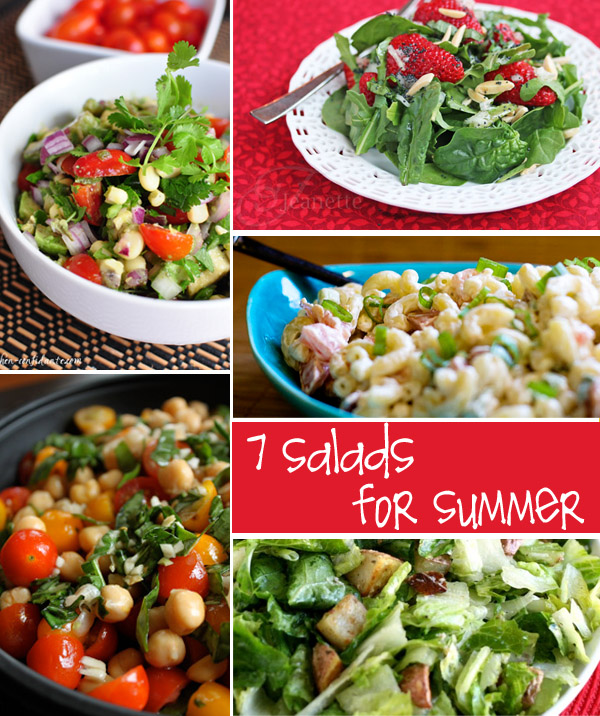 Here are a few new combinations I'm trying out this August…
Doesn't this combination look amazing? And it's just three ingredients ~ spinach, strawberries & roasted almonds.  You could top it with a store bought poppy-seed dressing if you wish, but Jeanette's homemade version sounds quite delicious.  Grab the recipe at Jeanette's Healthy Living.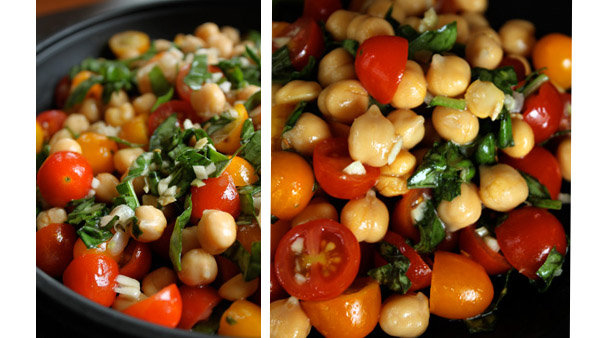 Our office gal, Stephanie already whipped up this healthy recipe & loved it.  Plus it calls for basil & tomatoes (which I have plenty of this time of year).  Head on over to Green Lite Bites so you can make this chickpea salad for dinner tonight.
Here's another protein packed salad that takes 10 minutes to make & leaves you staying full for a long while.  Get the simple ingredient list at Oh My Veggies.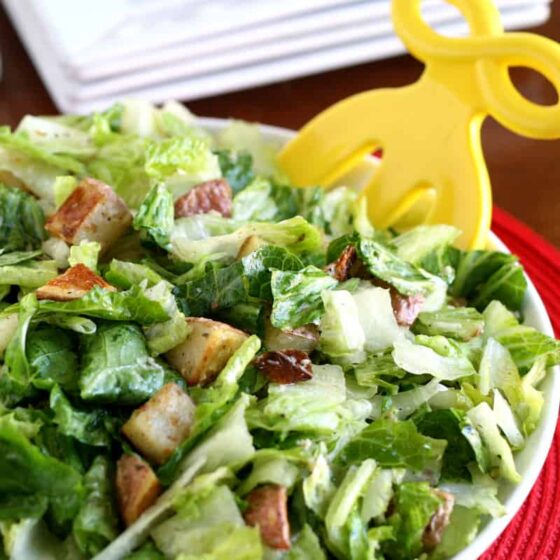 Now you will have to turn your oven on for this one, but this combination of roasted potatoes, Parmesan cheese & homemade herb dressing is worth it.  Visit Perry's Plate to try this new potato salad.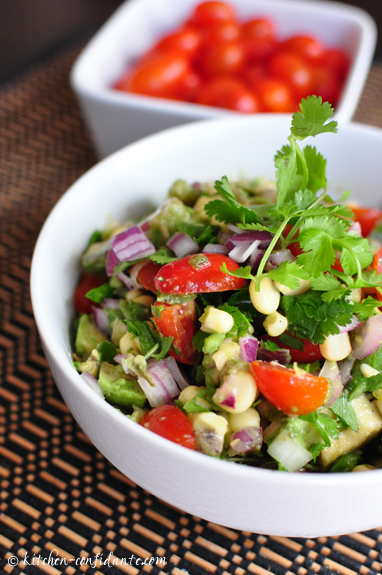 Avocados + tomatoes + corn…. sign me  up!  Doesn't this combination look delicious? Add a side of tortilla chips & your good to go.  Hop on over to Kitchen Confidante for the rest of the ingredients.
Here's a sweet twist on the typical coleslaw.  Swap out the cabbage, mayo & vinegar for broccoli, poppy seed dressing & sunflower seeds.  A super simple side dish that you can whip up in minutes.  Get more details from Yummy Life.
If you like BLT sandwiches, this macaroni salad is for you.  It's not the most healthy one in the bunch  but who can resist this timeless combination?  Buzz on over to Buns in my Oven for the recipe.
And if you're still hungry for additional ideas for light meals & leafy sides, check out 200 more salad recipes in this snazzy book.
Like delicious recipes that are easy to make?  We love sharing our finds. Don't want miss out on our future features… simply sign up to receive these blog posts in your email in box.