7 satisfying pasta salad recipes
Sure–these amazing pasta salads can be served year-round, but they seem like the perfect side dish to enjoy with a main course from the grill (but some are even hearty enough to serve alone as your meal). They're creamy, tasty, and if you manage to have any leftovers at all…they always taste better the next day!
Try out a few of these scrumptious recipes from some fellow inventive bloggers…
When her dad requested Macaroni Salad for his retirement party, Emily of Is This Really My Life? made it her mission to find the perfect recipe. She adapted a classic from FamilyFavoriteRecipes and her research paid off~it was a huge hit!
Nicole from Prevention RD came up with the yummy nutrition-packed Pesto Tortellini Salad one night when she brainstormed. She used ingredients that she had on hand and whole wheat tortellini which added fiber to the recipe. The end result?–an amazingly delicious dinner!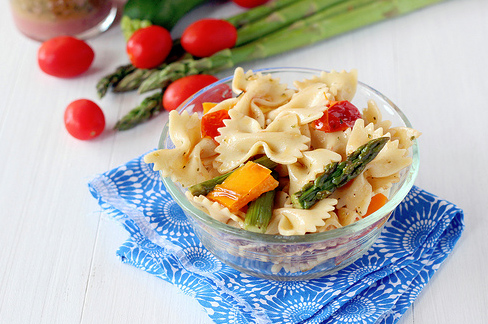 If you want to try your hand at making Jessica's recipe for her  delightful Roasted Vegetable Pasta Salad–make sure you pick up a bunch of asparagus on your next trip to the grocery store. For a full list of ingredients, head over to her blog…Sunny Side Up.
Looking for a new way to enjoy seafood? Try out a great recipe for Shrimp Pasta Salad on the Jennifer Cooks Blog. A combination of mayo and buttermilk make it the perfect choice for a light lunch.
"Summer in a bowl" is the phrase that Des uses to describe her recipe for Creamy Bacon Tomato and Avocado Pasta Salad. Her inspiration came from her all-time favorite sandwich~Bacon, Lettuce, Tomato and Avocado.  She shares the complete list of ingredients on her blog, Life's Ambrosia.
Tonight, why not resist the urge to order pizza delivery and instead enjoy a big serving of some Pizza Pasta Salad?  We found this mouthwatering recipe on the Butter with a Side of Bread Blog. Click here to find out easy it is to prepare this savory meal in a bowl.
This is one of those that will make you say–"now why didn't I think of that?".  Cyndy from The Creative Exchange added pasta into the mix and came up with a unique version of Chicken Caesar Pasta Salad which is heartier than a traditional caesar, but still light enough to love after a long, hot summer day.
Like easy to make recipes that get wows?  We love sharing our finds. Don't want miss out on our future features… simply sign up to receive these blog post in your inbox.