beat the summertime boredom blues with an empty cardboard box
So…you've run out of ideas to keep the kids busy this summer? As you will see below-some of the most fun activities can start with just a simple, empty cardboard box.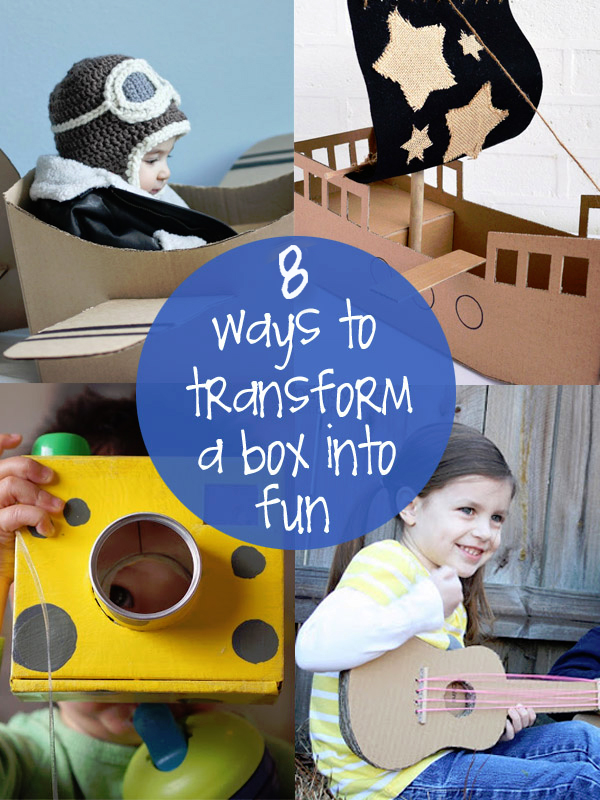 No matter how ambitious you are, we've rounded up the perfect project for you and your little ones to tackle–everything from an inventive cardboard box camera to a cardboard box airplane.
Once you create this cool Shadow Puppet Theater using the instructions from Jennifer on Classic Play, the kids can re-enact a favorite fairy tale or better yet–ask them to come up with their own creative storyline.
Boys and girls alike will spend hours playing with this clever Cardboard Box Toy Box. The Little Red Window Blog also includes photo ideas for furnishing this cute little house!
Say cheese! Got an aspiring little photographer at your house? Now you can make them their own Cardboard Box Camera using the easy instructions provided by Leslie on her Pink Stripey Socks Blog. She says this project was inspired by her son eating cheese and wanting to touch her camera.
Get ready for take off….please your little pilot by whipping up a Cardboard Box Airplane. Sarah of Repeat Crafter Me said that making this took only around 30 minutes and her kids played with it for over 2 hours.
If your little ones would rather take to the open seas than fly into the great blue sky, then this Cardboard Box Pirate Ship is just the ticket.  Michelle from MollyMoo got her idea after taking her kids to see the latest Tinkerbell & The Pirate Fairy Story at the movies.
There's a reason the blog is called Make It & Love It…who wouldn't love these cool Cardboard Guitars???  They're perfect for any aspiring rock star :)
If you've got an extra computer box in the garage or basement, head over to Frugal Fun for Boys and find out how to make a Skee Ball Game with it. It's a nice activity for those summer days when it rains or when it's just too hot to play outside.
Ready to cook up some fun? Brooke from The Intentional Mom took a box leftover from their move and turned it into a cute play kitchen for her daughter–complete with a kitchen sink!
Like creative ideas that will keep your kids entertained?  We love sharing our finds. Don't want miss out on our future features… simply sign up to receive these blog post in your inbox.