create a cozy reading nook for your kiddo
If your little ones have not already returned to the classroom–they will be soon! Now is the right time to create a space that is all their own….one that encourages them to relax and read (and *fingers crossed*, it just may become a habit).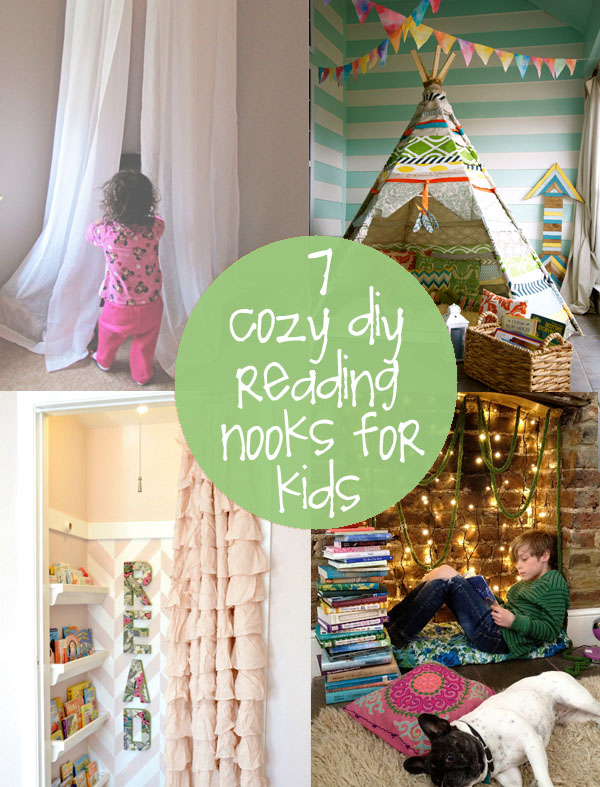 A corner of a room that's stacked with some comfy pillows and maybe a few shelves is all it really takes, but for anyone ready to go a step further–we found a few projects that might inspire you….
I love the addition of the lights above this Whimsy Reading Nook that we found on Mommy Mentionables. This reading space is truly fit for a princess :)
If you've got an unused fireplace or recessed area in your home–Emily from Life, Unstyled shows you how simple it is to turn it into a Cozy Reading Retreat.
Can you guess what this used to be? Randi from Dukes and Duchesses turned an old dresser into an inviting, Colorful Reading Bench for her son.
The Reading Chair that Kirstin from Kojodesigns created from two wooden palettes looks sooooo comfy. This project comes in way under budget when you consider the fact that they used discarded palettes from a big box store (just make sure you ask first).
Boys and girls alike will fall in love with this No-Sew Teepee. Ashley from the Handmade Home saw one of these in a mall and came up with her own version–and it has now become the official reading teepee at her house.
A really great way to organize any reading space is with these Rain Gutter Bookshelves. Again, very simple and very budget-friendly–this project comes in at under $20. Lily from Restoration Beauty also points out kids tend to read more when they can see the fronts of the their books as opposed to the spine.
This empty closet was transformed into a Big Girl Reading Nook. You can read all about the step by step process by checking out Megan's post on her blog, Balancing Home.
Like being inspired to make your life more creative?  Simply subscribe to this blog and we'll email you our brightest finds.