6 ways to spread a little sunshine
Wanna warm someone's heart? All it takes is a small random act of kindness to remind us of all the goodness and love surrounding us everyday.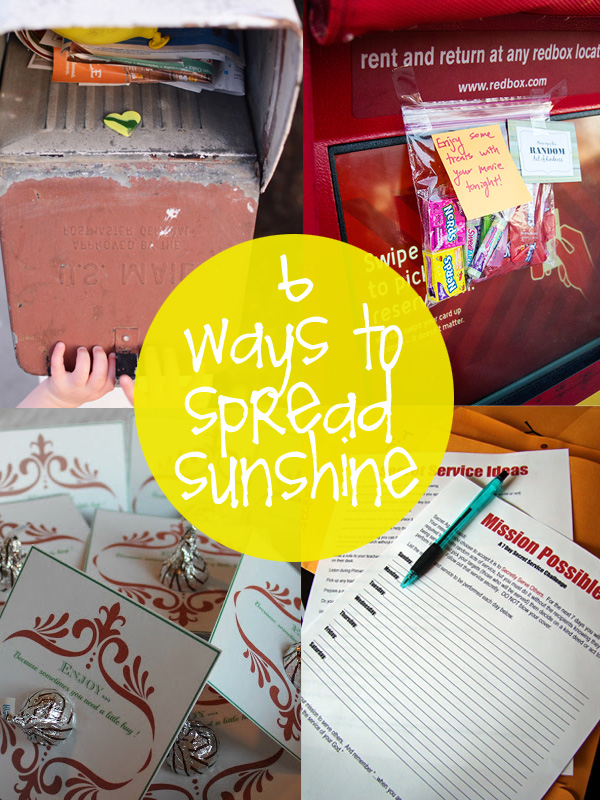 If you're game for making someone's day–check out the cool ideas that we found from some fellow bloggers. Who knows…you may even inspire your recipient to pay it forward!
Here's a nice big list of ideas to get you started–head over to the Weird Unsocialized Homeschoolers Blog where you'll find a list of 50 Random Acts of Kindness. (photo credit: supersonicphotos on flickr)
Send the kids on a secret mission to for an entire week! The Fickle Pickle has all the forms ready for you to print and get your little ones brainstorming on special ways to brighten someone's day.
Meri Cherry came up with the idea of getting her class to create these Clay Hearts and then handing these unexpected gifts out to everyone! She also suggests slipping one into a purse or leaving one on someone's keyboard as a sweet little surprise. Click here to read her whole story.
On the Find Joy In The Journey Blog, you can print the cute Random Acts of Kindness cards to leave behind. You'll also find some more cool ideas for ways to make someone's day.
Picture the waiting room of a hospital or an oncology office…usually not the most pleasant place to be, right? Dana thought of a way to relieve a little stress there by leaving a bowl of "hugs" there.  You can find all the details on Make Them Wonder.
Turn date night into an evening of serving others (and have a lot of fun doing it)! Imagine the look of surprise when someone walks up to rent a movie and finds the bag of goodies that you've made to share with them. Camille and Jacob have a whole slew of neat ideas for your RAOK Date Night on their blog, Friday We're In Love.
Like to make this world a little brighter?  We love sharing our finds. Don't want miss out on our future features… simply sign up to receive these blog post in your inbox.