FUNctional kitchen finds
Cooking and cleaning might not be your idea of fun, but at least these clever and quirky finds will add a little spice to the everyday grind.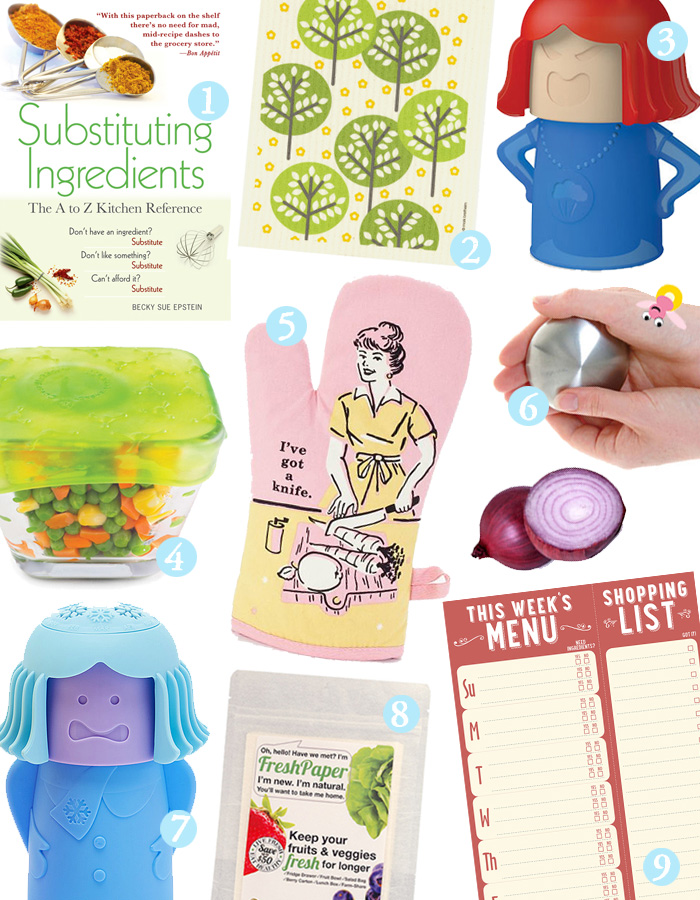 1.  Just realized you're out of paprika in the middle of making dinner?  No worries with this helpful book $9.99

2.  Use this thirsty Swedish dish towel to clean up wet messes and cut your paper towel consumption in half $6.95

3.  Let angry mama take care of your microwave messes – her steam keeps thing clean $10.95

4.  Cover blubber beats plastic wrap hands down $3.95+

5.  A nice reminder in case any of your kids are giving you grief while preparing dinner $11.95

6.  Say goodbye to your hands smelling like garlic and onions with this snazzy soap $10.95

7.  Tis' the season to clean out the fridge and put chilly mama in charge of keeping thing smelling fresh $14.95

8.  Keep your berries fresh for longer by adding this all natural paper to the container $9.95

9.  Planning out your menu and grocery trip is half the battle. This preforated pad makes it easy to get organized $5.95  

Shop all Kitchen HERE

Do you like unique finds that bring big smiles?  Simply sign up to receive these blog posts in your email and you'll be in the loop & get our latest scoop.