get your green on gift guide
Tis' the season for lucky clovers & leprechauns so we're getting our green on with this fun collection of finds.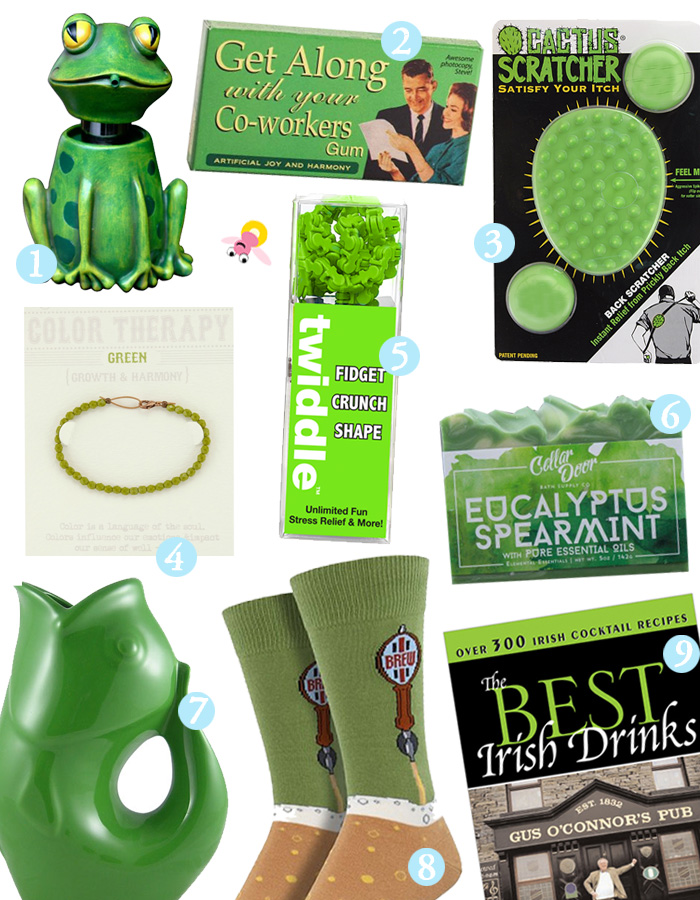 1.  This fancy frog soap spitter specializes in keeping your hands clean and germ free $26.95

2.  If you need a little extra help dealing with your crazy cube mate, this magical gum might be for you $1.95

3.  Satisfy those pesky back itches with this crazy cool cactus scratcher $12.95

4.  Who couldn't use a little more growth and harmony in their lives?  $12.95

5.  Say hello to clearer thinking when you get the fidgets out with this widget $10.95

6.  Start your day off with this invigorating and refreshing scent $6.95

7.  Gurgling fish pitchers always bring giggles at the dinner table $39.95

8.  Have you got your St. Patrick's Day socks yet?  $10

9.  Toast to St. Pat with one of these Irish recipes $14.99

Do you like unique finds that bring big smiles?  Simply sign up to receive these blog posts in your email and you'll be in the loop & get our latest scoop.