surprise smiles
With April Fool's Day just around the corner we couldn't resist sharing a few sweet and silly surprises you could give someone who needs a smile.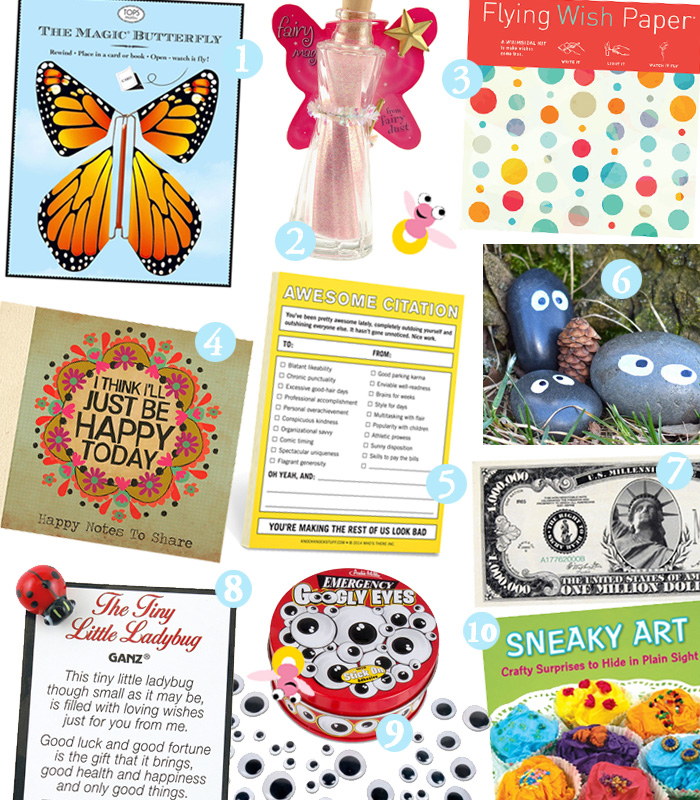 1.  Place this pretty butterfly in a book or card and watch the surprise on the recipient's face when it flutters away $6.95

2. Who couldn't use a good sprinkle of fairy dust every now and then? $8.95

3.  Write down your wish and light it on fire to see this magical paper fly to the sky $10.95

4.  Leave a lovely note for someone to find from this happy book $11.95

5.  Does someone you know need to receive a citation of awesomeness? $4.95

6.  Leave a little surprise for a stranger to find with one of these super cute silly stones $2

7.  Ever need to tell someone "Thanks a million"?  Now you can with this fabulous faux bill $.95

8. Tuck a little luck in someone's lunch bag, backpack or pocket with this lovely ladybug $2.00

9.  Make any item come to life simply by sticking on some silly googly eyes … like everything in your refrigerator!  $8.95 

10.  This book is packed with loads of simple creative ideas that will delight and surprise strangers $12.99

Do you like unique finds that bring big smiles?  Simply sign up to receive these blog posts in your email and you'll be in the loop & get our latest scoop.