2017 mom's day gift guide
We believe moms should be celebrated everyday but since there is only just one official Mother's Day we've got some sweet ways to show your appreciation.

moms who have everything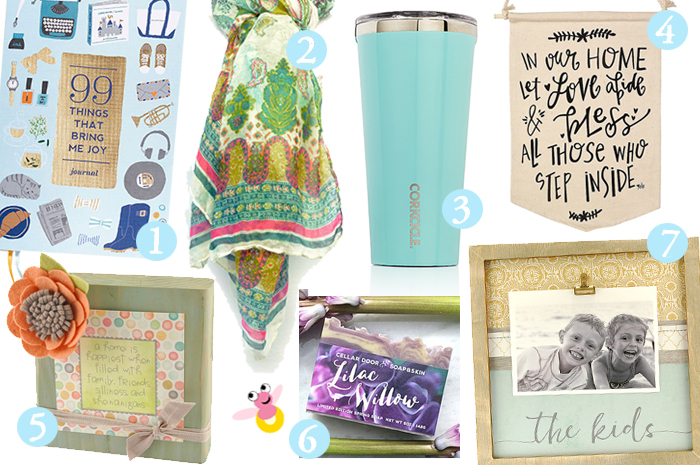 1.  Make sure mom finds time to do the things that bring her joy $12.95

2.  Spruce up her spring wardrobe with a stylish scarf $24.95

3.  Find her favorite coffee or tea and pair it with this gorgeous glossy tumbler $24.95

4.  Let this beautiful banner welcome all who step inside your home $13.95

5.  Silliness and shenanigans are always important in crafting a happy home $26.95

6.  Spoil her with some sweet smelling handmade soap $6.95

7.  The littles grow up so fast, capture one of your favorite moments in this handmade frame $35.95

sentimental moms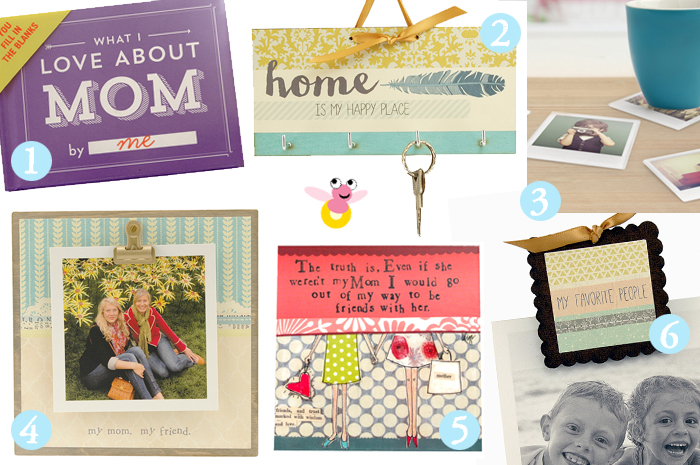 1.  Your mom will melt after reading all the little things you love about her in this keepsake book $10.95

2.  Thank your mom for making your home a happy place for your family $27.95

3.  Keep your favorite prints in plain sight by turning them into cute coasters $18.95

4.  Capture a memorable moment of you and your mom for this fabulous handmade frame $14.95

5.  What mom's heart wouldn't smile if she received this sweet magnet from her daughter? $5.50

6.  Print a pic of mom's favorite people and place it in this sweet magnet clip $7.95

moms who like to laugh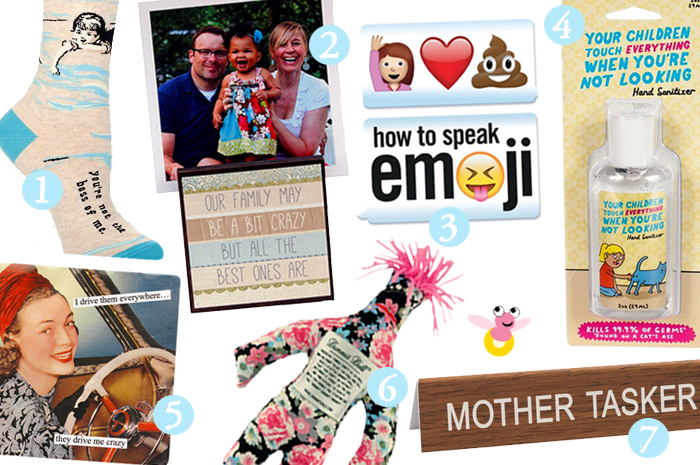 1.  Even though your kids may think they are the boss of you, these silly socks speak the truth $9.95

2.  If your family is a bit crazy… you are in good company $13.95

3. Decipher your kid's texts to you with some help from this fun book $9.99

4.  Funny hand sanitzer… useful and lighthearted! $5.95

5.   Any mom who moonlights as a taxi driver needs this magnet $5

6.  Are you guilty of making your mom mad?  Give her one of these funny dammit dolls to help vent her frustration $13.95

7.  The best multi-taskers we know are mothers!  $6.95

moms with littles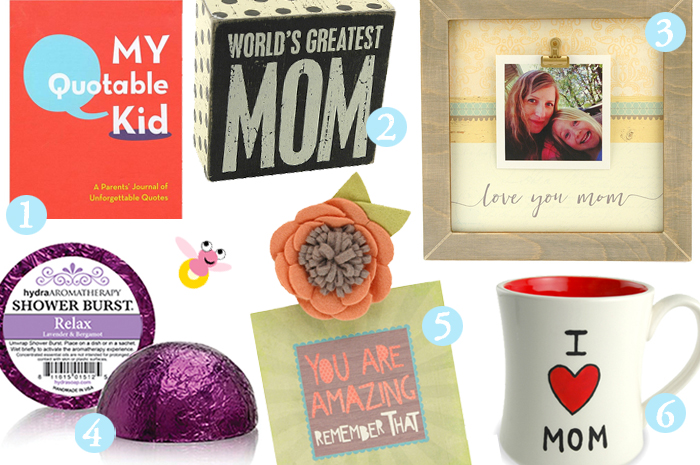 1.  The perfect journal for moms who have kids that keep them laughing with their silly sayings $14.95

2.  This sweet sign is a good reminder all year long that you mom rocks $9.95

3.  Let your mom know she is the tops with this hip handmade frame $29.95

4.  Give mom a break from the craziness with this relaxing aromatherapy experience $4.95

5.  Trust me… your mom will never tire of hearing that she is amazing $12.95

6.  Sweet and simple… this mug says it all $14.95

queen of the kitchen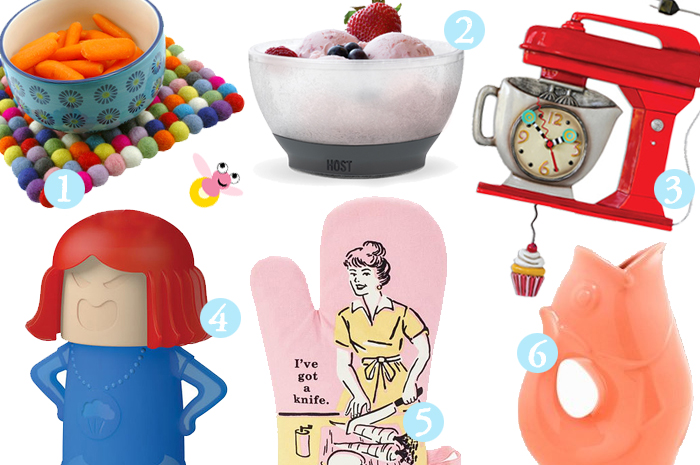 1.  Dress up your dinner table with these bright and beautiful felt trivets $14.95 – $19.95

2.  No need to sweat your ice cream turning into soup with this way cool bowl $21.95

3.  We believe anytime is a good time to make cupcakes $59.95

4.  If you have had things explode in the microwave and left it for mom to clean up… you need to buy one of these angry mama cleaners and make it sparkle for mom $10.95

5.  Splice, dice and remember you are the one with the knife $11.95

6.  This fabulous fish doubles as a vase and wonderful water pitcher that gurgles as you pour $38.95

new moms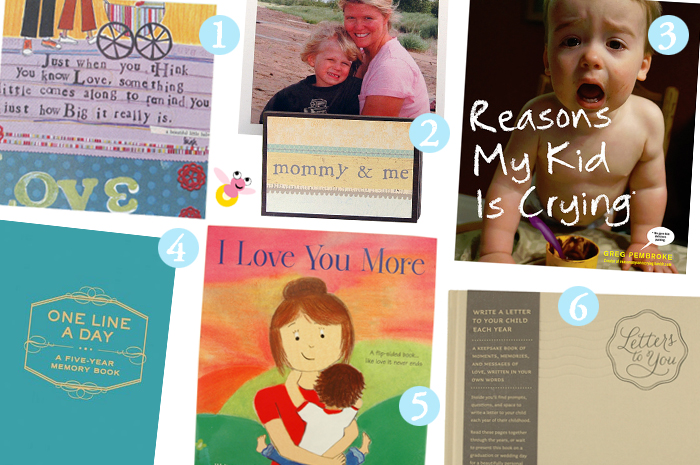 1.  This magnet celebrates how something so small can remind us how big love is $5.50

2.  Capture one of mom's favorite family moments in this handmade photo block $12.95

3.  Having kids that cry is inevitable, being able to laugh about it is a choice $15

4.  It all goes by so fast – keep special memories alive with this wonderful journal $16.95

5.  Read this never ending book with your little one to let them know how much they are loved $16.99

6.  Create a book that will be treasured as an heirloom by writing your little one a letter each year  $25.95

Do you like unique finds that bring big smiles?  Simply sign up to receive these blog posts in your email and you'll be in the loop & get our latest scoop.