2017 grandma gift guide
Grandmothers may have perfected the art of spoiling grandkids, but now it's her turn to get something special.

Grandmas with Young Grandkids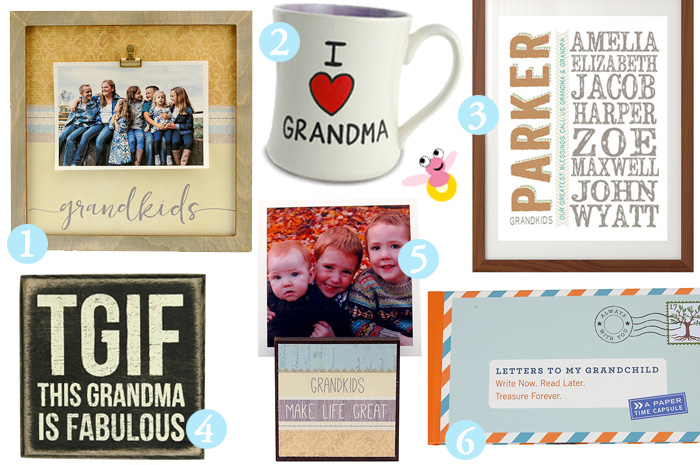 1.  They grow up so fast… gather up all the grandkids for a photo to freeze this special moment to remember forever $35.95

2.  Sweet and simple… this mug says it all $14.95

3.  Customize a stylish typography print featuring all the grandkids $24.95

4.  TGIF (just in case she needed to be reminded) $8.95

5.  Always keep those cuties close by in this handmade photo holder $13.95

6.  Ask grandma to create an invaluable keepsake you will treasure for generations  $14.95

Little Finds to Surprise
1.  Keep grandma's hands warm with this unique handmade mug $21.95

2.  Help grandma moisturize her delicate skin the natural way with Naked Bee lotion $10.95

3.  This wildflower flour sack towel is pretty and practical… just like grandma $10.95

4.  Add this lovely glow in the dark garden stake to a pretty pot of flowers $9.95

5.  Just in case grandma needs a reminder $14.95

6.  Splurge on some sweet smelling handmade soap $6.95

7.  Bright and cheery bowls are always fun additions to your mix of dishes $6.95

Do you like unique finds that bring big smiles?  Simply sign up to receive these blog posts in your email and you'll be in the loop & get our latest scoop.