2017 teacher gift guide
Does your child's teacher deserve bonus points for working with your little angel the past nine months?  Is the support staff at your school out of this world?  Is there a special someone that made your school year unforgettable?  Show how much you appreciate them with a little something that says thank you for a great year.  Shop all teacher gifts HERE.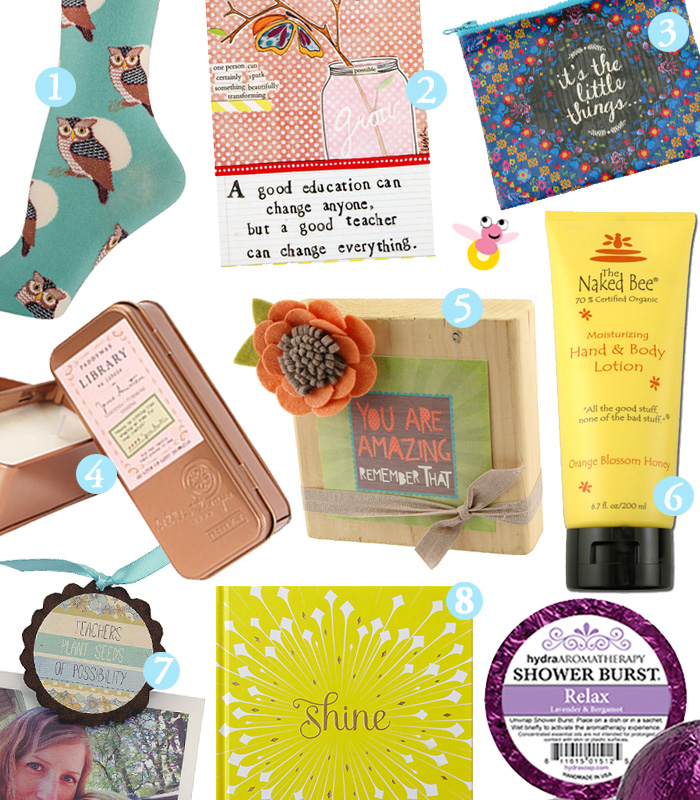 1. Is your teacher smart, stylish and silly?  Then these wise owl socks belong to her $8.95

2.  This mighty sweet magnet celebrates those teachers who are game changers $5.50

3.  Slip a gift card to her favorite spot in this little lovely zippered bag $5.95

4.  Nothing like the sweet smell of Jane Austen to bring a little peace to your nest $7.95

5.  An important message to remember all year long $26.95

6.  Let her know she is the bees knees with this sweet smelling lotion $10.95

7.  Thank your teacher for showing you all the possibilities  $7.95

8.  Let them know how much you appreciate them for lighting the path for your little one $15.95

9.  Your teacher can relax and reboot with with this lovely smelling shower burst $4.95

Do you like unique finds that bring big smiles?  Simply sign up to receive these blog posts in your email and you'll be in the loop & get our latest scoop.