We believe it's important to celebrate the women in our lives who make this world a brighter place so we asked our firefly fans to let us know why they have the BEST MOM EVER.
We loved hearing these stories about moms who shine bright for their daughters everyday.  We hope they enjoy a little shopping spree on us so they feel extra special this Mother's Day!
Thanks for sharing your stories with us daughters…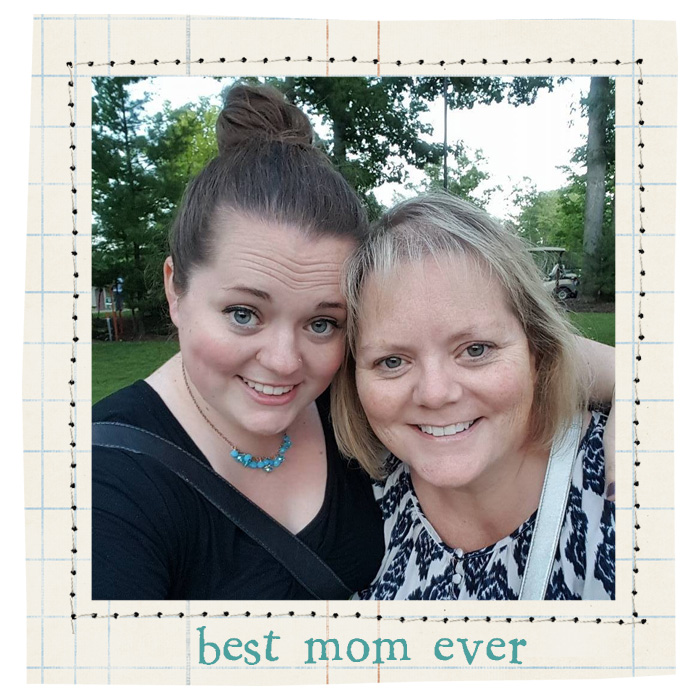 Anyone can say they have the best mom ever because everyone thinks they do. And there are lots of great moms out there. However, I'm confident there is no one who rocks quite like my mom, Teresa Campbell. A fearless single mom who raised me by herself, she taught me I can do anything I set my mind to.
Currently, I am a grad student in Women's and Gender Studies, and I continue to learn about the social and economic struggles that single women face. It blows my mind that my mom was able to raise me with such grace, considering the system that she had to work within. Her selflessness is what continues to allow me to succeed in grad school – financially and emotionally. I can't think of anyone else I would want to win a shopping spree for – I couldn't even tell you the last thing she did for herself. She loves Catching Fireflies and always makes sure to stop during a weekend in Ann Arbor. Thanks for both teaching me I can change the world, and crazy enough to believe I can actually do that, Mom. I love you.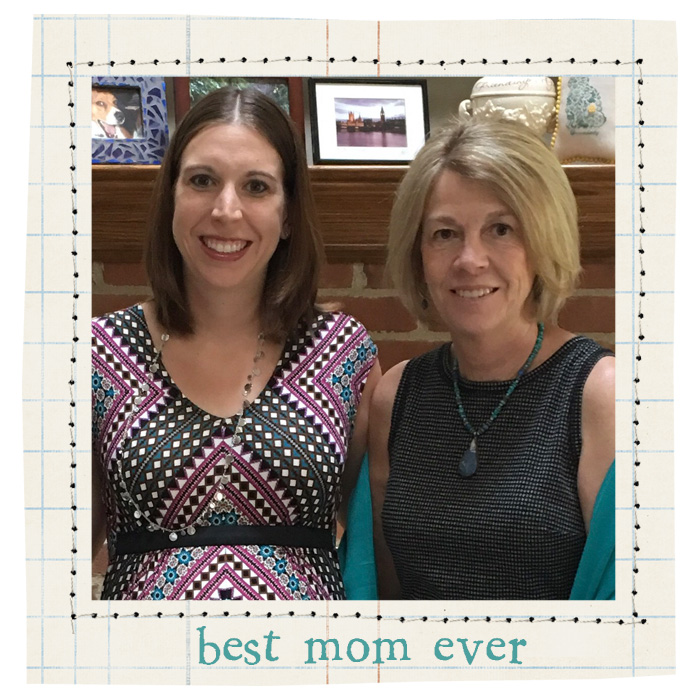 My mom, and new grandma as of November 17, 2016, is a fabulous mom and one of my best friends. She is and has always been there for me, through all of life's changes and transitions. From moving away to college, then resettling in Chicago, and eventually settling in to a life in Michigan, my mom has traveled to every place I've lived to visit and support me. Many people say I'm turning into her, and I couldn't be more honored.
In the summer of 2015, my husband, Mom, and Dad took our first international trip together, to Prague, Vienna, and Salzburg. The picture attached is from the Sound of Music tour, which my mom and I spent an afternooon doing together. It is one of our favorite movies, and to share this experience with her was a highlight of the trip, which happened to be the same year that I turned 30 and she turned 60.
In October of that same year, I found out I was pregnant, with her first grandchild. The weekend we were planning to travel to Ohio to visit my family and share the news, I had a miscarriage. I had to call my mom and tell her why we weren't coming home, and without even asking, she drove up to Michigan to be with me. A few months later, I became pregnant again, and in November 2016, I gave birth to my daughter and her first granddaughter, Lucy. When I called her at 8:30 pm on a Wednesday to tell her we were heading to the hospital, she made the drive up to Michigan, arriving early the next morning, just a few short hours before giving birth. To have her here meant the world to me.
I love watching the love she has for Lucy, and this has caused me to reflect on our amazing mother/daughter relationship. This relationship of love, trust, laughter, and wonderful times spent together is what I strive for in a relationship with my daughter. My mother exemplifies the type of mother I want to be, and to have that as an example, I am forever grateful.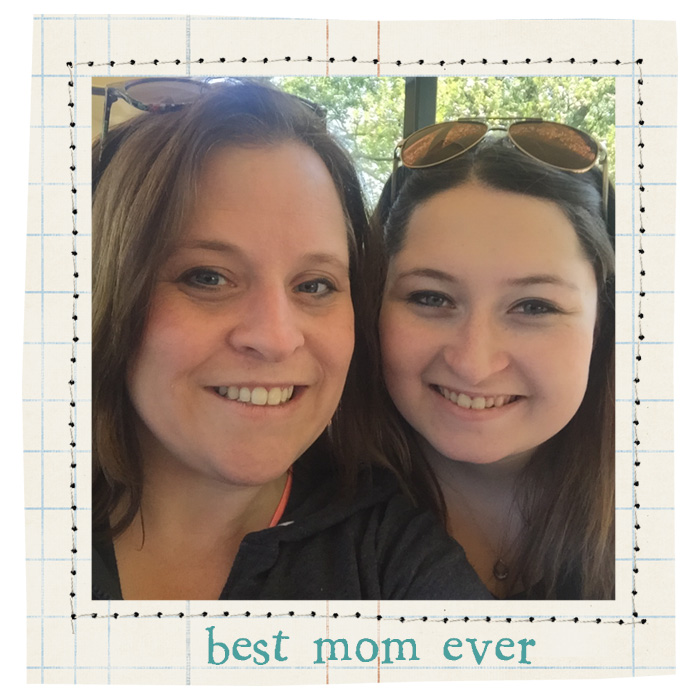 My mom is seriously THE best.  When she found out she was having me she had to give up all of her incredible dreams just to take care of me and I will always love her for that.  Even though she had to change everything for me she's sure that there is nothing she would rather be than just being my mom.  I love her so much she's so caring, funny, and totes adorbs.  She always pushes me to be my best self and show kindness through my actions everyday, I love her for that.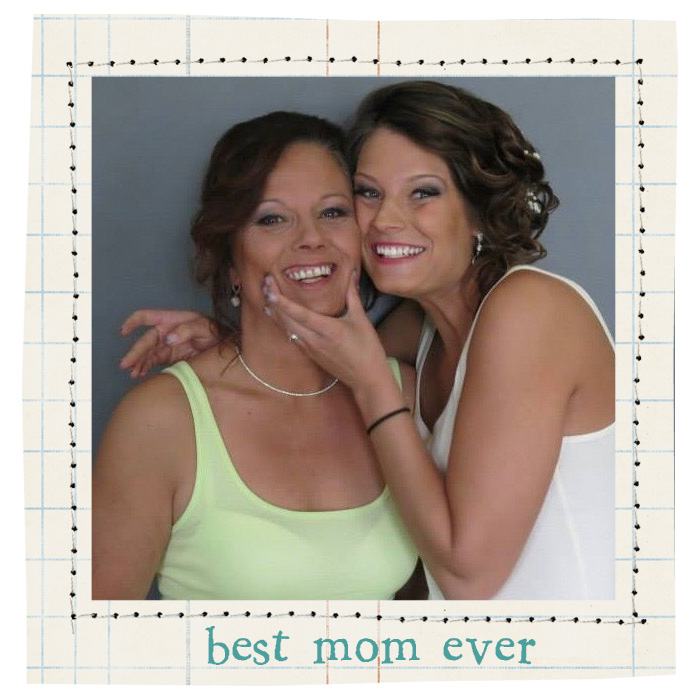 Growing up, my mom made a lot of sacrifices to take care of us. She went without our whole childhood, so that we had the things we needed. She didn't buy herself things, or get her hair done, etc. Now that I am grown, my mom has become my best friend. She lives in Florida now but we talk all of the time, and when we get to see each other it's like no time has passed. She is the only one who can still give me the giggles. She now takes care of my grandpa and has once again put herself on the back burner to ensure he's safe and has company, etc. She is an extremely hard worker, and she cares about others more than herself. I miss her everyday and love her more than she'll know!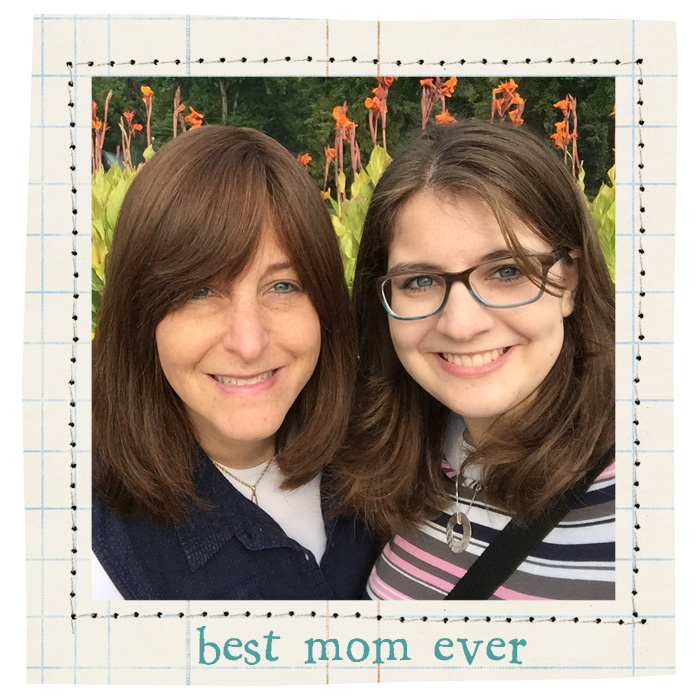 My mom is literally the best mom ever, my whole family attests to it! She helps out each one of us with each of our stuff. One of my brothers has preemie twins, and besides being a great grandma who was really there for them from pregnancy, NICU, and more, when they had to go back to the hospital this week, my mom volunteered to go, even though it meant sleeping on a hard chair and getting dressed in the bathroom for work.
Personally though, when I had my miscarriage late last year and was waiting for my D and C, I started having contractions. Even though it was 2 AM in Michigan and my mom had to get up early for work the next morning, she stayed on the phone with me and taught me the Lamaze breathing and helped me get through that rough patch. I am so grateful to my mom and I know she's been through a lot the past few months. I know this gift card would just make her day, month, and year.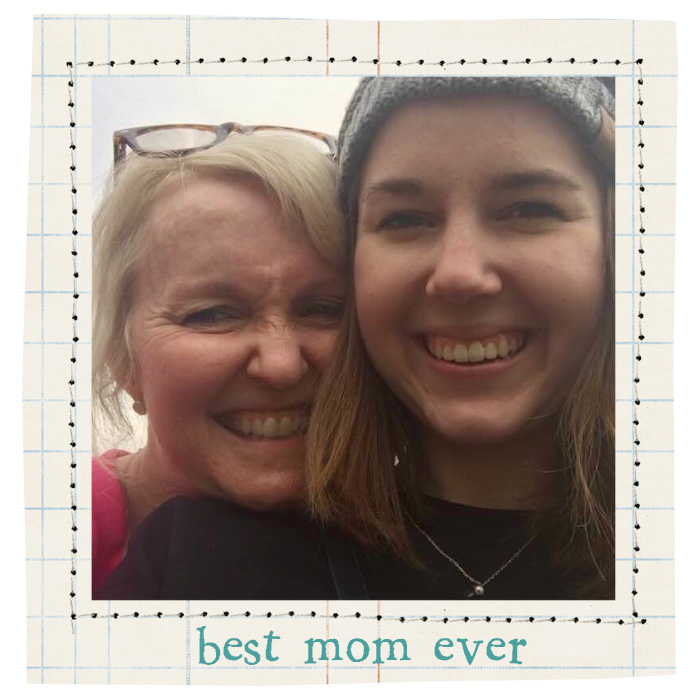 I am a PhD student at the University of Michigan, which is sometimes really hard.  Every day when I walk home from my lab, I call my mom.  She listens to everything I did that day and is always willing to meet me in my success, anxiety, frustration, or any other emotion.  She does this after spending the whole day teaching middle school students.  She does all that while enduring the long-term effects of an extremely severe concussion from the fall of 2013.
Besides answering phone calls, there are a million tiny reasons why my mom is the best mom ever.  She has probably sent me every cat card that has ever been printed.  She likes every photo I'm tagged in.  She literally wears pink every single Wednesday and always humors my own quirkiness.  She gave me a love of libraries and kitchens.  She taught me the privilege of obtaining an education and the value of deepening my faith.  My mom is my favorite person, and I think she's the best mom ever.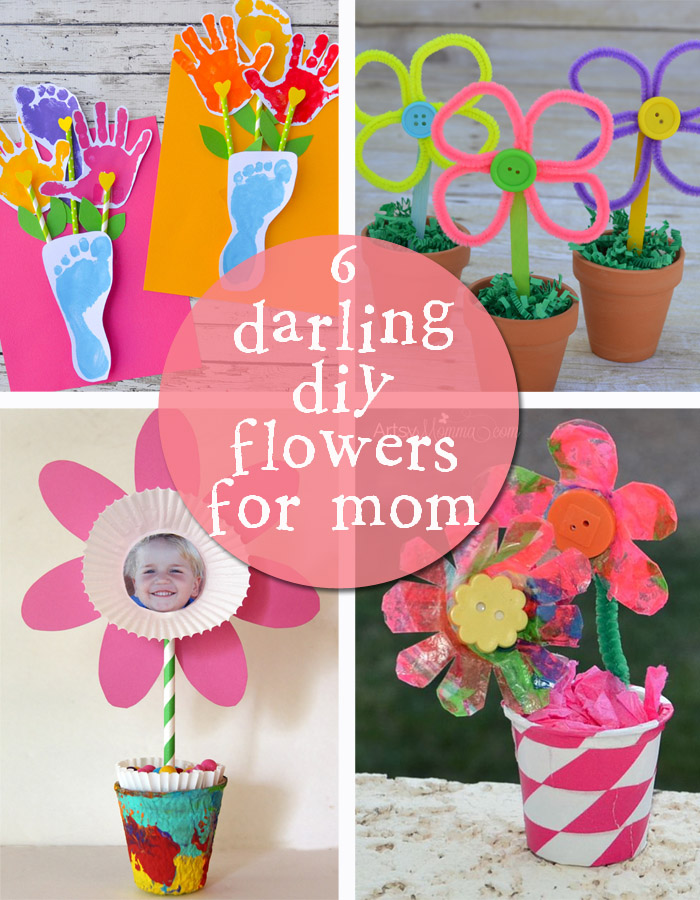 DIY flowers are a great way for kids to create a colorful and memorable Mother's Day gift with low-cost craft supplies and just a little bit of time. Show her how much you love her with a handmade flowers by trying one of our fun & easy crafts for Mother's Day!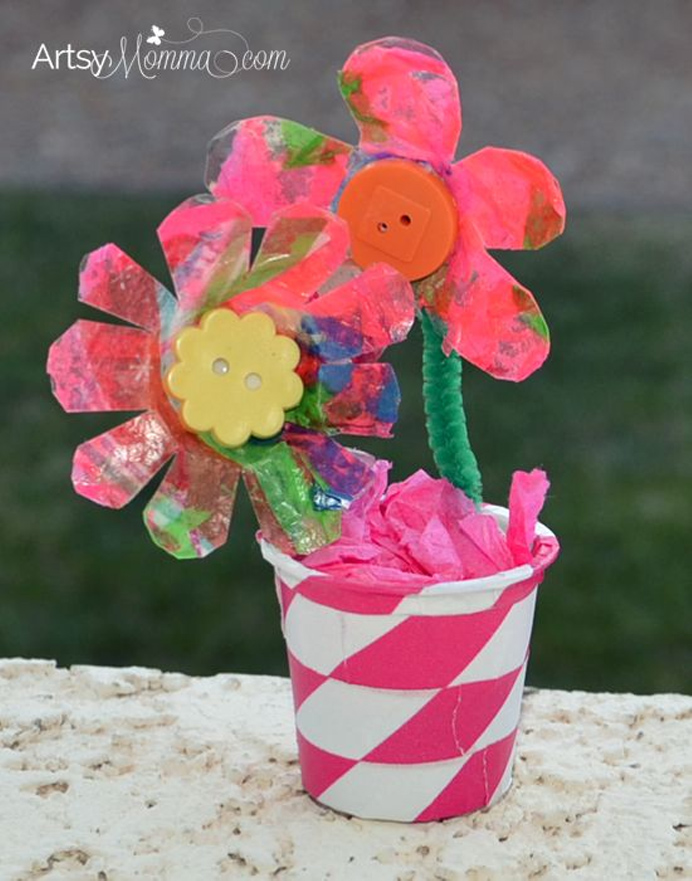 Before you throw away your empty egg cartons, consider saving them too make egg carton flowers in a vase. If you happen to be looking for a fun k-cup craft, you can recycle them into vases!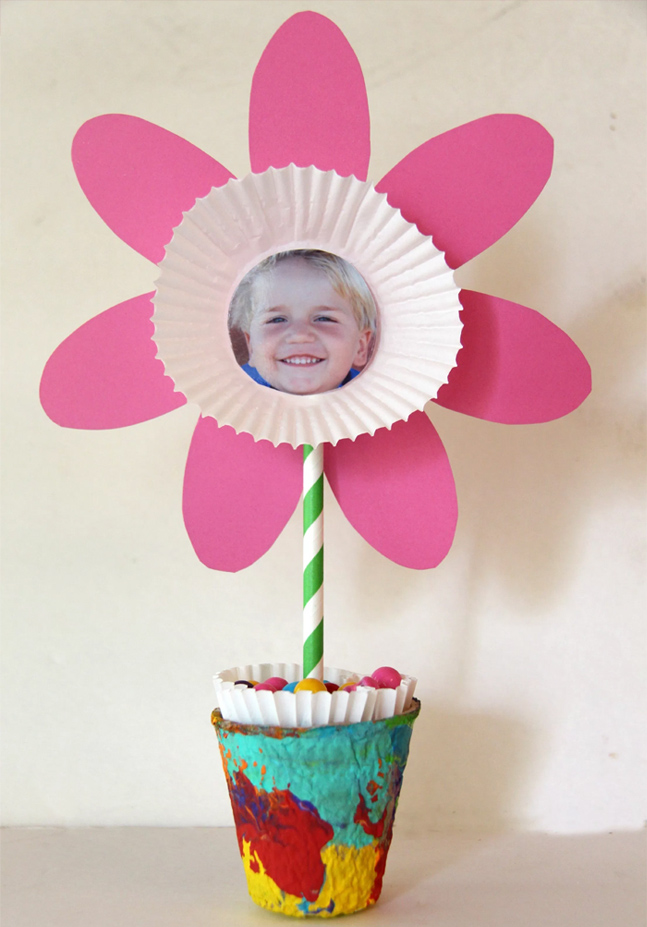 The kids will have a blast making these picture flowers out of cupcake papers. A fun, simple mother's day craft that is all kinds of HAPPY.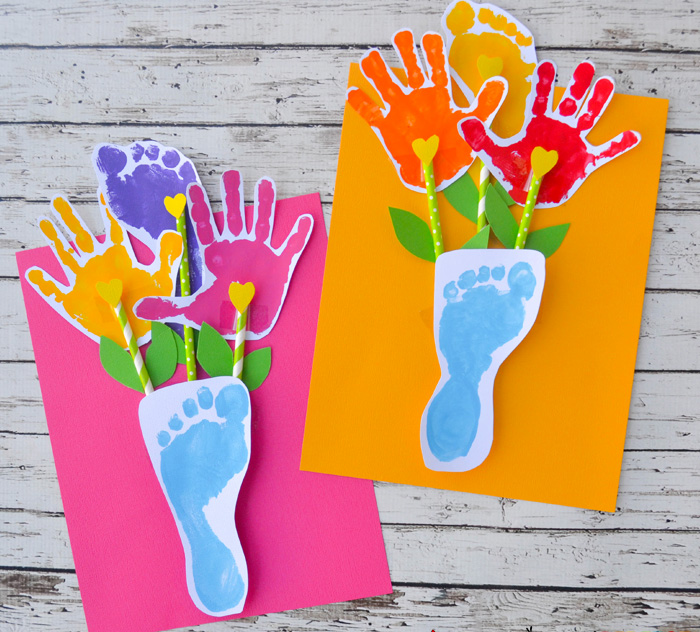 This hand and foot print flower craft that's complete with a vase is perfect for anyone planning on making mom smile, maybe even cry a little on Mother's Day.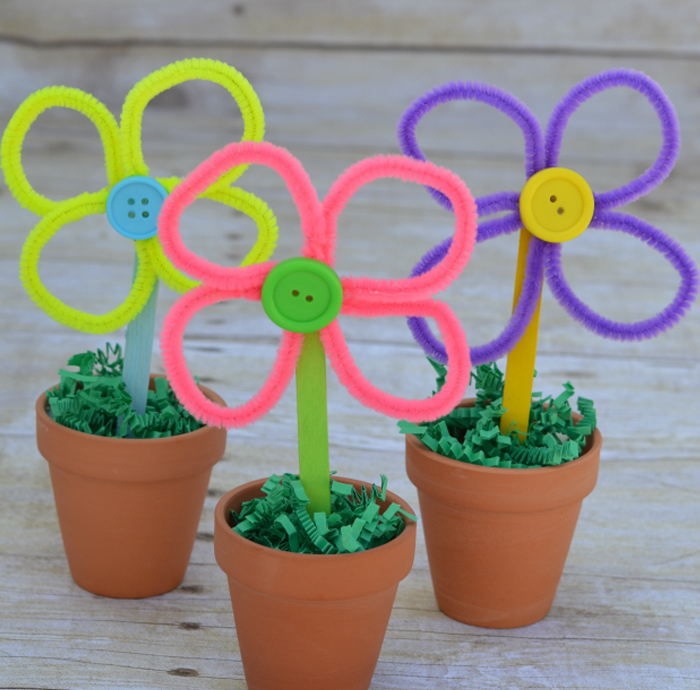 A lot of  the items for these cute little pots came from the Dollar Tree: pots, paper shred, pipe cleaners, and popsicle sticks, making it super affordable to make.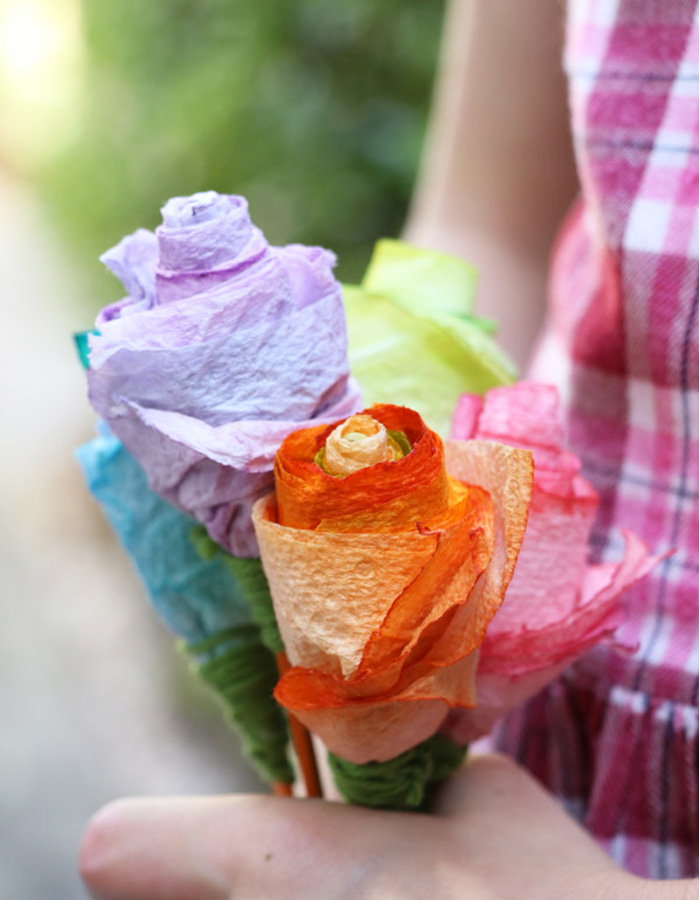 Who would have thought that paper towels could look this LOVELY!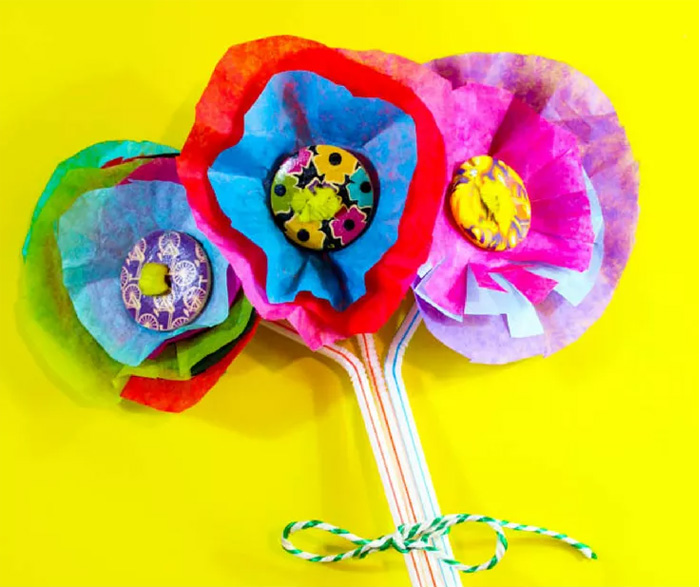 Here's an easy peasy 3D tissue paper flower craft that's great for little hands to practice their cutting and threading skills.

Like to make days brighter for your friends and family?  Sign up to receive these blog posts in your email in box.
Grandmothers may have perfected the art of spoiling grandkids, but now it's her turn to get something special.

Grandmas with Young Grandkids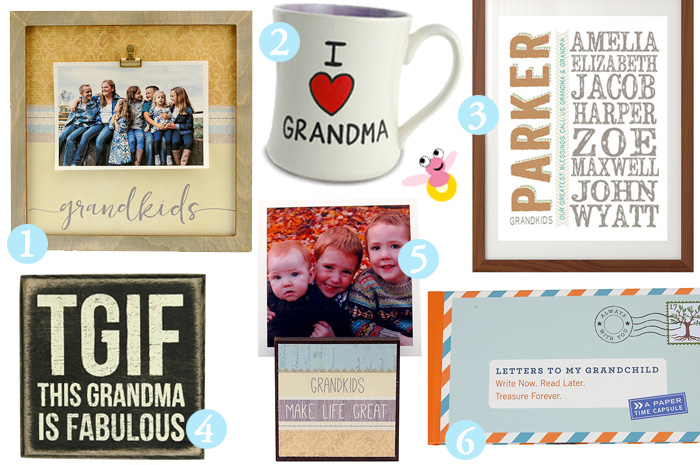 1.  They grow up so fast… gather up all the grandkids for a photo to freeze this special moment to remember forever $35.95

2.  Sweet and simple… this mug says it all $14.95

3.  Customize a stylish typography print featuring all the grandkids $24.95

4.  TGIF (just in case she needed to be reminded) $8.95

5.  Always keep those cuties close by in this handmade photo holder $13.95

6.  Ask grandma to create an invaluable keepsake you will treasure for generations  $14.95

Little Finds to Surprise
1.  Keep grandma's hands warm with this unique handmade mug $21.95

2.  Help grandma moisturize her delicate skin the natural way with Naked Bee lotion $10.95

3.  This wildflower flour sack towel is pretty and practical… just like grandma $10.95

4.  Add this lovely glow in the dark garden stake to a pretty pot of flowers $9.95

5.  Just in case grandma needs a reminder $14.95

6.  Splurge on some sweet smelling handmade soap $6.95

7.  Bright and cheery bowls are always fun additions to your mix of dishes $6.95

Do you like unique finds that bring big smiles?  Simply sign up to receive these blog posts in your email and you'll be in the loop & get our latest scoop.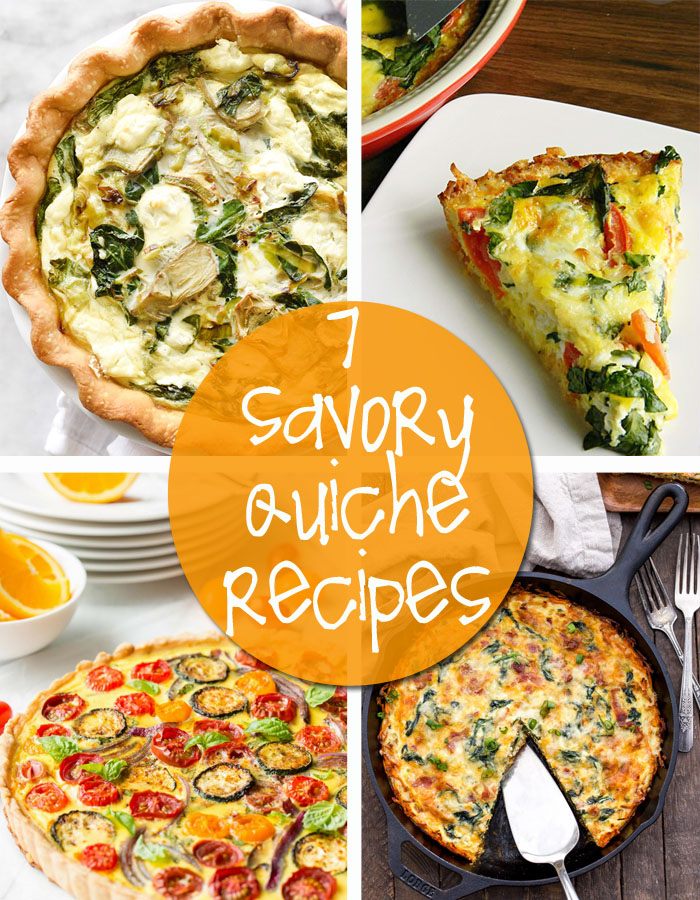 With asparagus, spinach, tomatoes and more fresh ingredients, these top-rated quiche recipes are great for family breakfasts, brunches and dinners.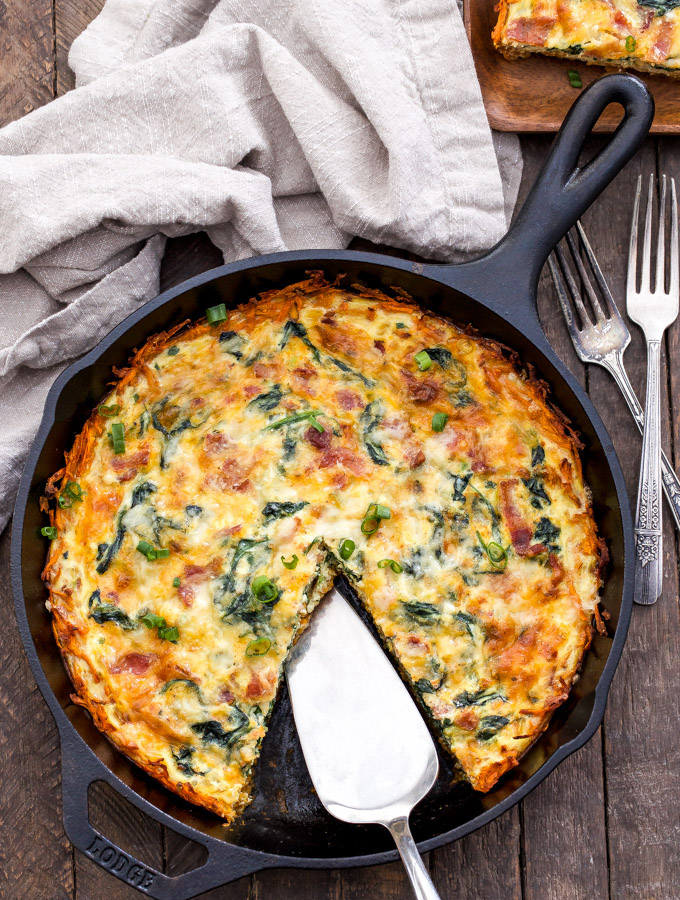 Shredded sweet potatoes are a great alternative to the calorie heavy pie crust in this Spinach, Bacon, Cheese Quiche with Sweet Potato Crust. They add a touch of sweetness to this savory and hearty quiche!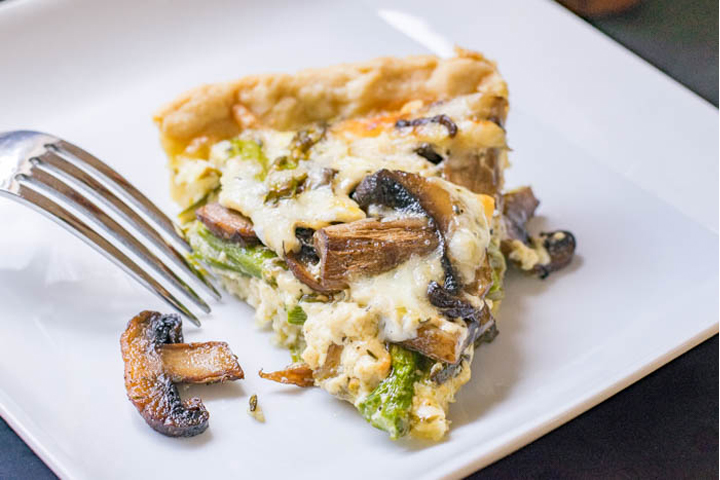 Roasted Asparagus and Mushroom Quiche just screams "spring." With fresh asparagus in the grocery store now why not pair it with some mushrooms, shallots, and thyme, and for added flavor, roast them all first!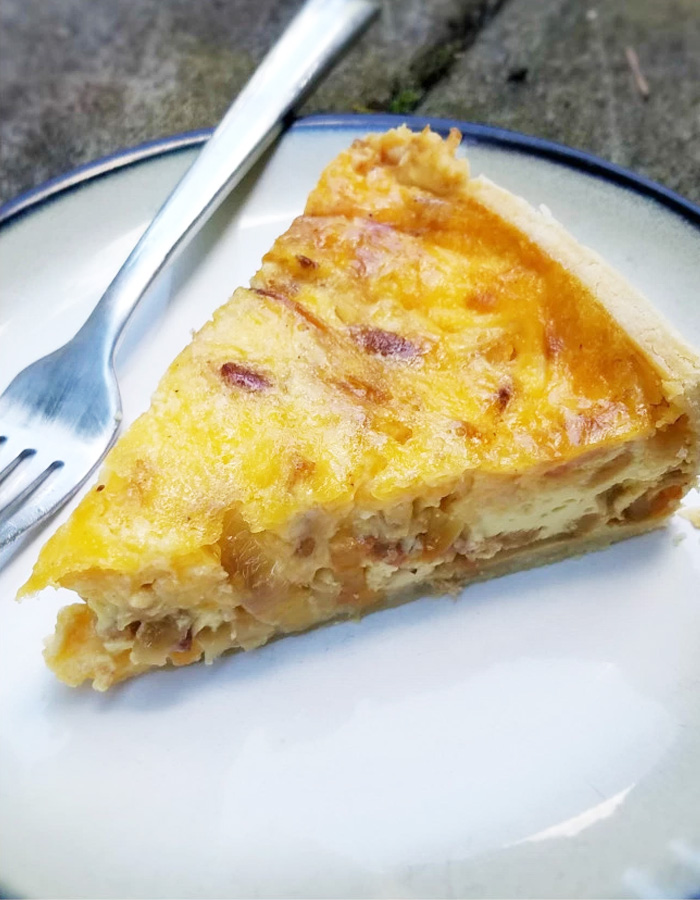 This particular quiche just has some very simple, basic ingredients, so that even the pickiest eaters will enjoy it.  No mushrooms or peppers or anything in this baby.  Just bacon, cheese, eggs, and caramelized onions.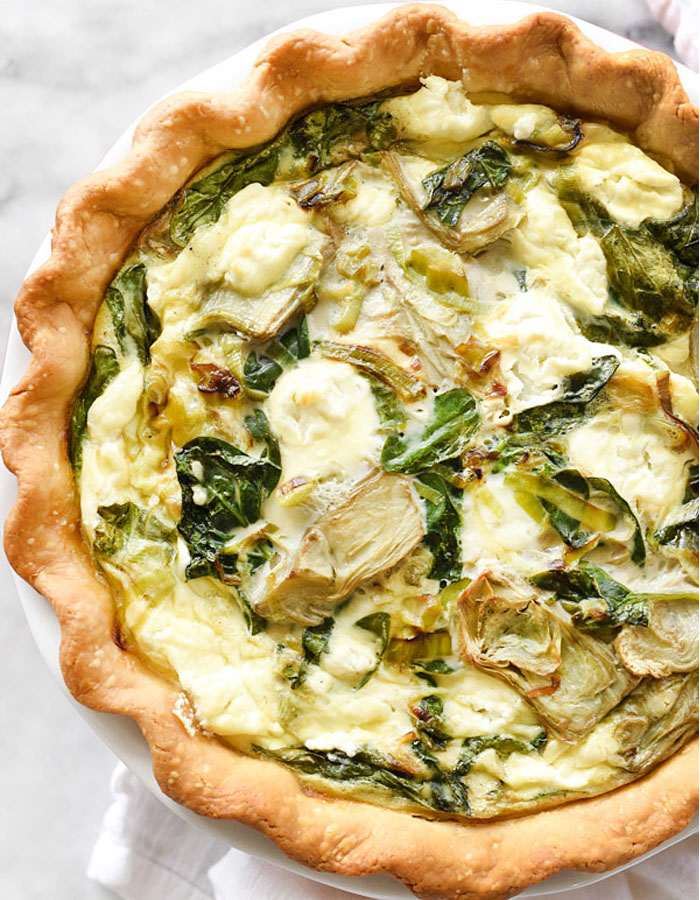 This savory quiche pie made with eggs and almond milk makes weekend brunches a lightened up breakfast breeze.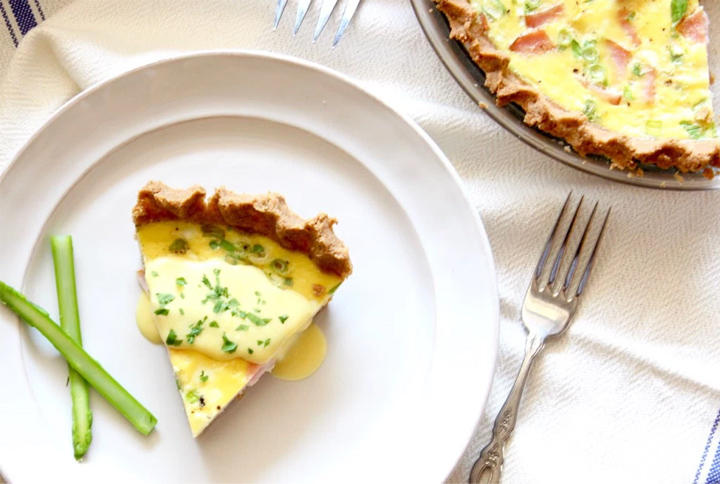 Eggs Benedict Quiche with easy blender hollandaise is a great way to get all the flavors of Eggs Benedict for a crowd without all the work!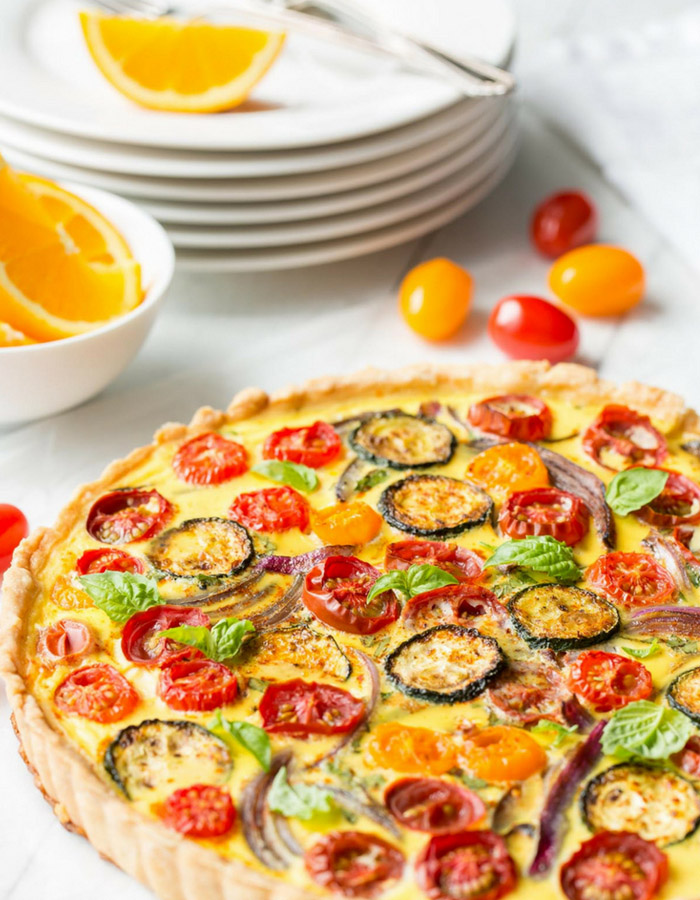 As the Farmer's Market starts filling up with spring vegetables, plants, flowers and herbs, keep this delicious quiche in mind…use whatever is fresh & available and everyone will love your Farmer's Market Quiche!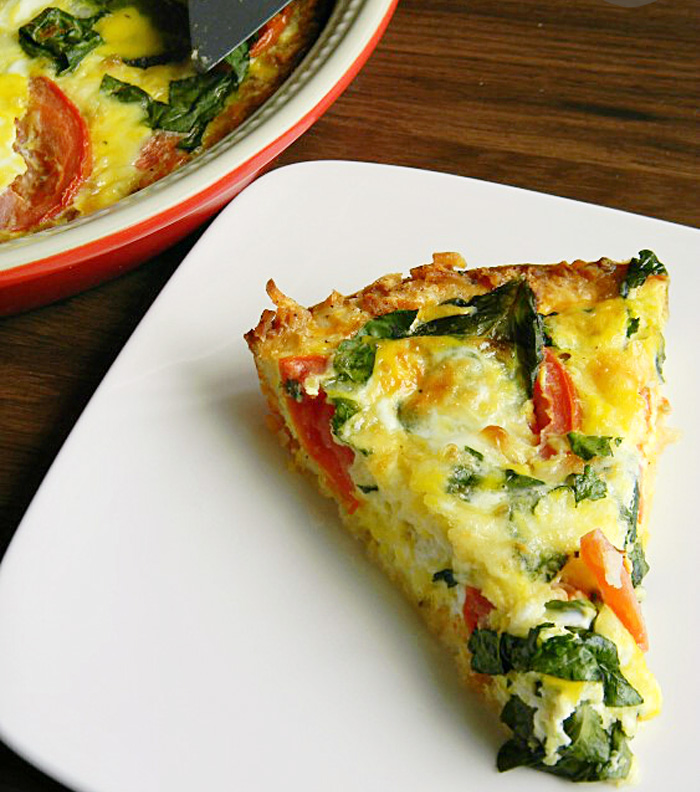 This Caprese Florentine Quiche is going to be the perfect dish for a family brunch. Hashbrown crust, need we say more! 😉
Don't miss out on our future recipe finds… simply sign up to receive these blog posts in your email in box.
We believe moms should be celebrated everyday but since there is only just one official Mother's Day we've got some sweet ways to show your appreciation.

moms who have everything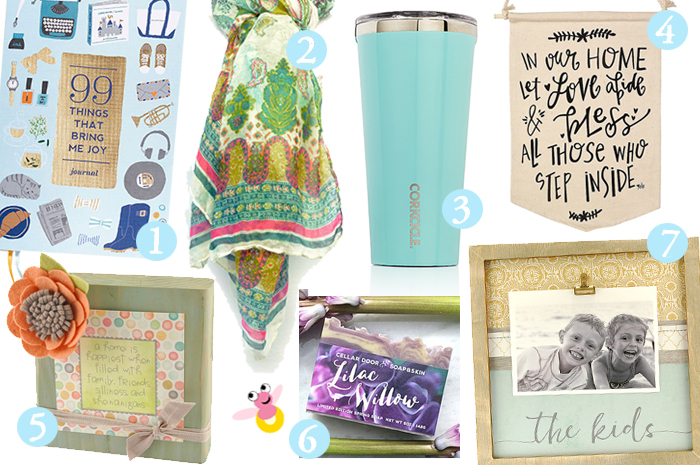 1.  Make sure mom finds time to do the things that bring her joy $12.95

2.  Spruce up her spring wardrobe with a stylish scarf $24.95

3.  Find her favorite coffee or tea and pair it with this gorgeous glossy tumbler $24.95

4.  Let this beautiful banner welcome all who step inside your home $13.95

5.  Silliness and shenanigans are always important in crafting a happy home $26.95

6.  Spoil her with some sweet smelling handmade soap $6.95

7.  The littles grow up so fast, capture one of your favorite moments in this handmade frame $35.95

sentimental moms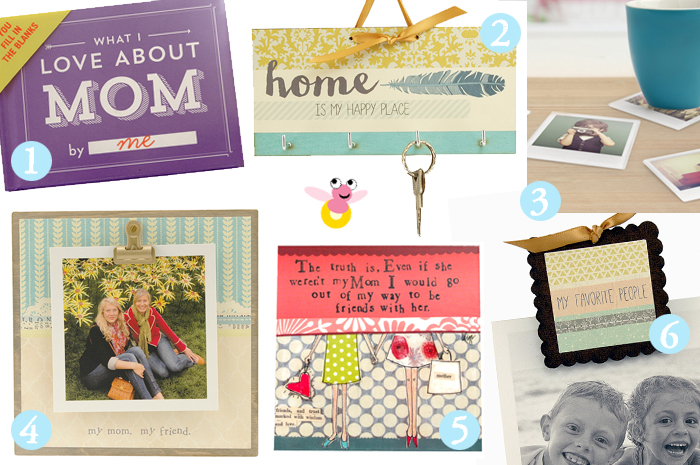 1.  Your mom will melt after reading all the little things you love about her in this keepsake book $10.95

2.  Thank your mom for making your home a happy place for your family $27.95

3.  Keep your favorite prints in plain sight by turning them into cute coasters $18.95

4.  Capture a memorable moment of you and your mom for this fabulous handmade frame $14.95

5.  What mom's heart wouldn't smile if she received this sweet magnet from her daughter? $5.50

6.  Print a pic of mom's favorite people and place it in this sweet magnet clip $7.95

moms who like to laugh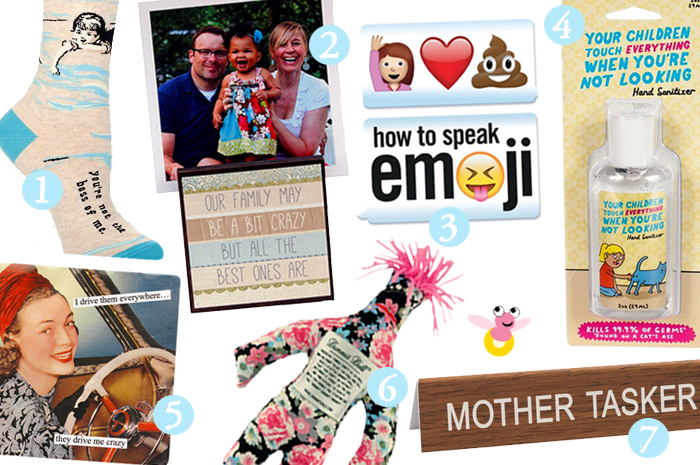 1.  Even though your kids may think they are the boss of you, these silly socks speak the truth $9.95

2.  If your family is a bit crazy… you are in good company $13.95

3. Decipher your kid's texts to you with some help from this fun book $9.99

4.  Funny hand sanitzer… useful and lighthearted! $5.95

5.   Any mom who moonlights as a taxi driver needs this magnet $5

6.  Are you guilty of making your mom mad?  Give her one of these funny dammit dolls to help vent her frustration $13.95

7.  The best multi-taskers we know are mothers!  $6.95

moms with littles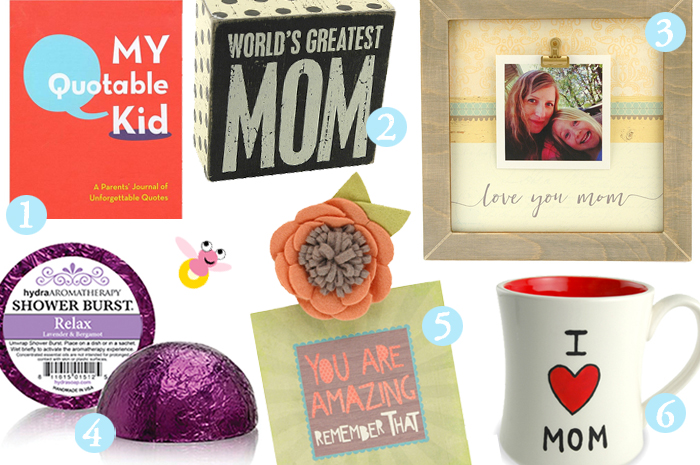 1.  The perfect journal for moms who have kids that keep them laughing with their silly sayings $14.95

2.  This sweet sign is a good reminder all year long that you mom rocks $9.95

3.  Let your mom know she is the tops with this hip handmade frame $29.95

4.  Give mom a break from the craziness with this relaxing aromatherapy experience $4.95

5.  Trust me… your mom will never tire of hearing that she is amazing $12.95

6.  Sweet and simple… this mug says it all $14.95

queen of the kitchen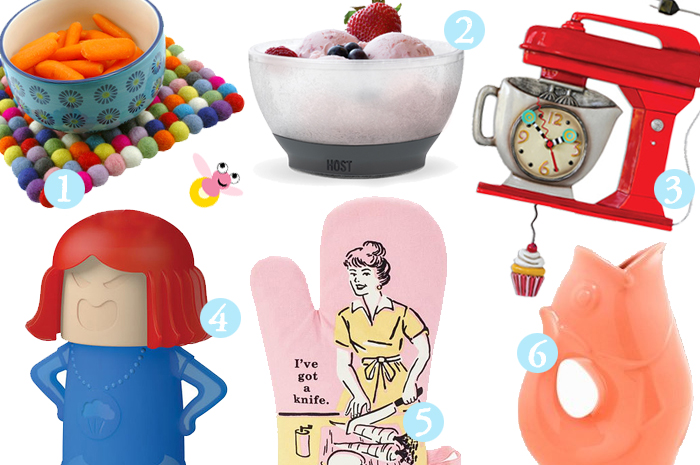 1.  Dress up your dinner table with these bright and beautiful felt trivets $14.95 – $19.95

2.  No need to sweat your ice cream turning into soup with this way cool bowl $21.95

3.  We believe anytime is a good time to make cupcakes $59.95

4.  If you have had things explode in the microwave and left it for mom to clean up… you need to buy one of these angry mama cleaners and make it sparkle for mom $10.95

5.  Splice, dice and remember you are the one with the knife $11.95

6.  This fabulous fish doubles as a vase and wonderful water pitcher that gurgles as you pour $38.95

new moms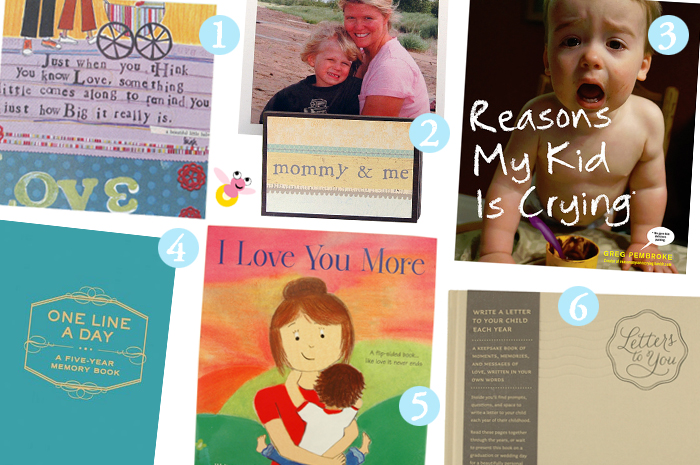 1.  This magnet celebrates how something so small can remind us how big love is $5.50

2.  Capture one of mom's favorite family moments in this handmade photo block $12.95

3.  Having kids that cry is inevitable, being able to laugh about it is a choice $15

4.  It all goes by so fast – keep special memories alive with this wonderful journal $16.95

5.  Read this never ending book with your little one to let them know how much they are loved $16.99

6.  Create a book that will be treasured as an heirloom by writing your little one a letter each year  $25.95

Do you like unique finds that bring big smiles?  Simply sign up to receive these blog posts in your email and you'll be in the loop & get our latest scoop.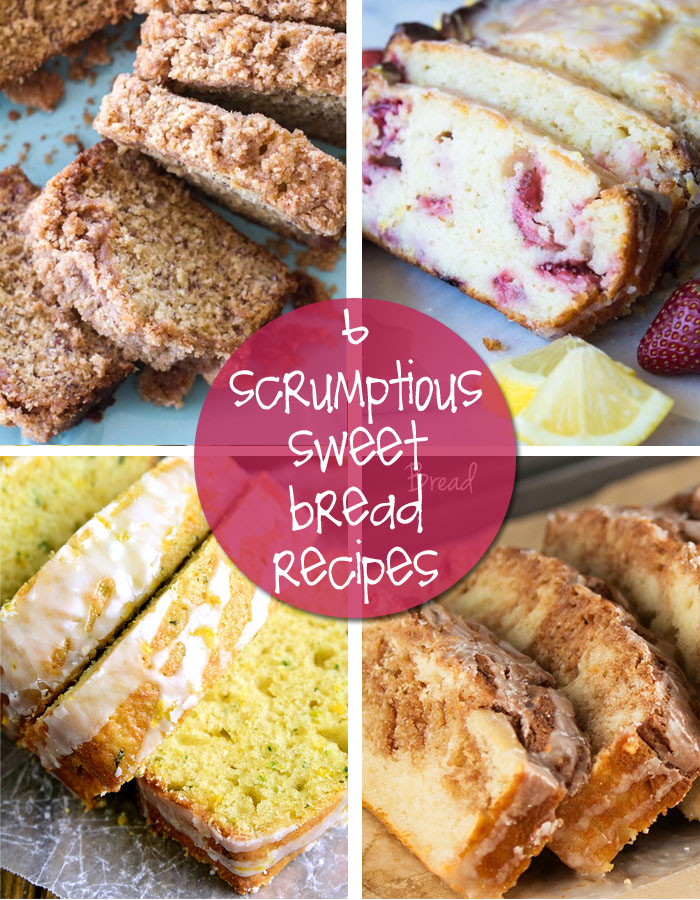 Quick sweet bread loaves are easy to make, easy to freeze and easy to serve with just about any meal. Try our favorite recipes with a twist that you'll want to make over and over!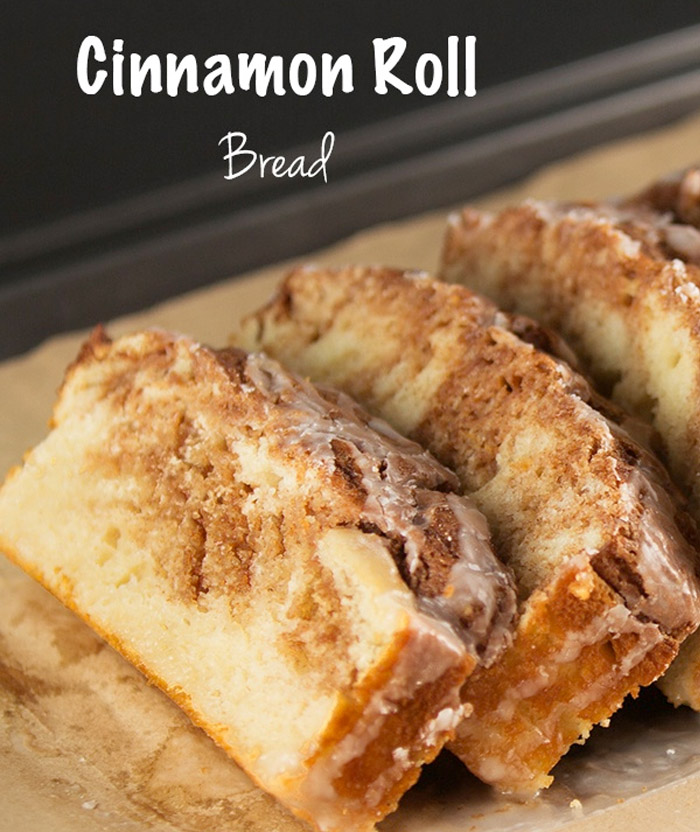 These fast and easy cinnamon rolls that require no yeast. They are quick and easy compared to traditional cinnamon rolls that require a lot of patience while waiting for the dough to rise.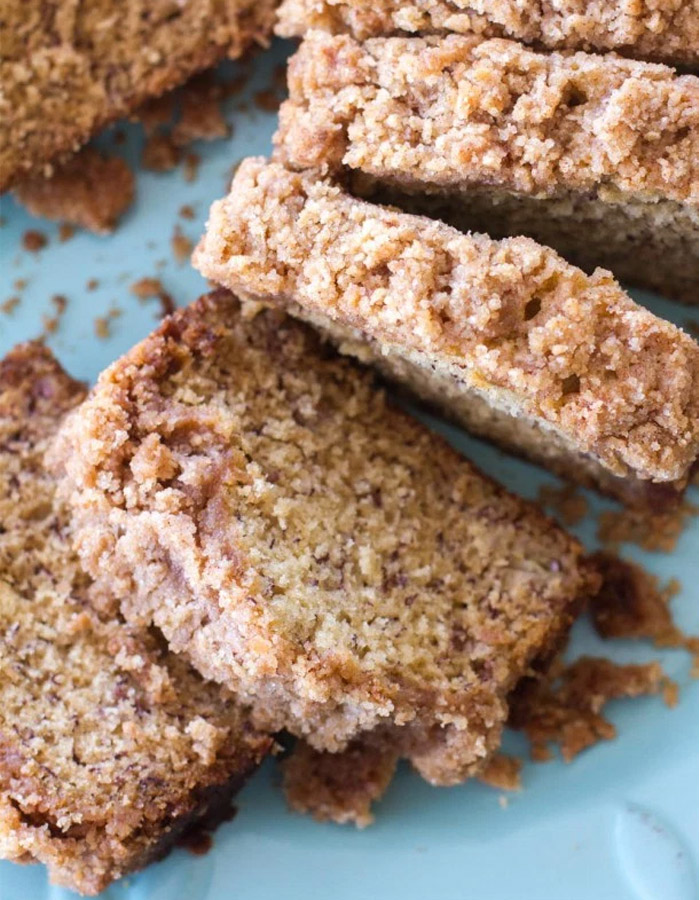 This classic banana bread recipe is topped with a sweet crumb topping making it a cross between a quick bread and coffee cake!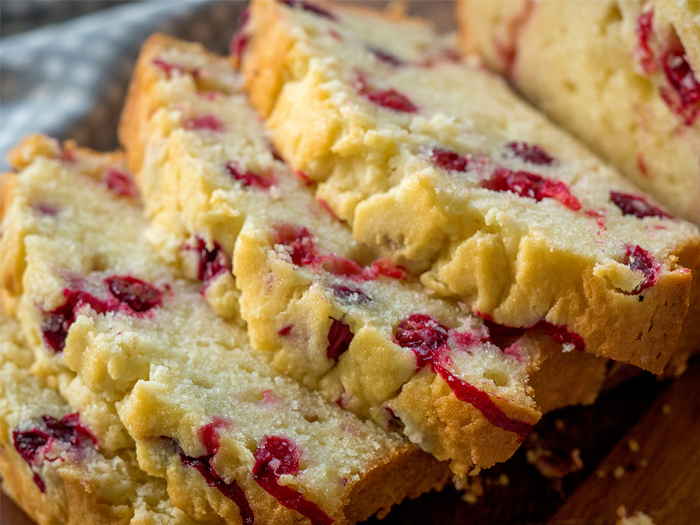 This loaf is perfectly moist, sweet and tart, and is the perfect thing to make when you've got friends or family coming over, or for when you just need a little pick-me-up to start or end your day.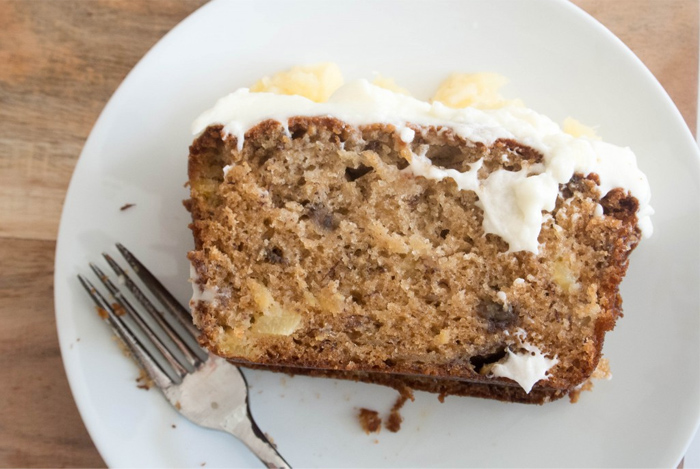 A twist on a Southern classic. How does soft and moist banana bread with a half-cup of crushed pineapple sound? Thought so.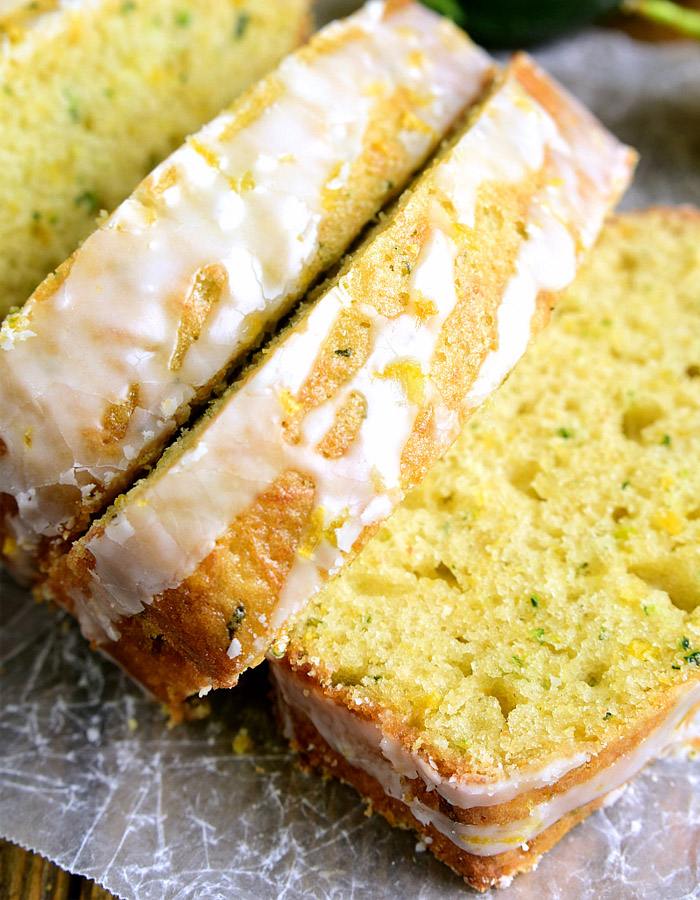 Topped with a sweet lemony glaze, this sweet bread is a great way to sneak in extra veggies and the BEST way to wake up!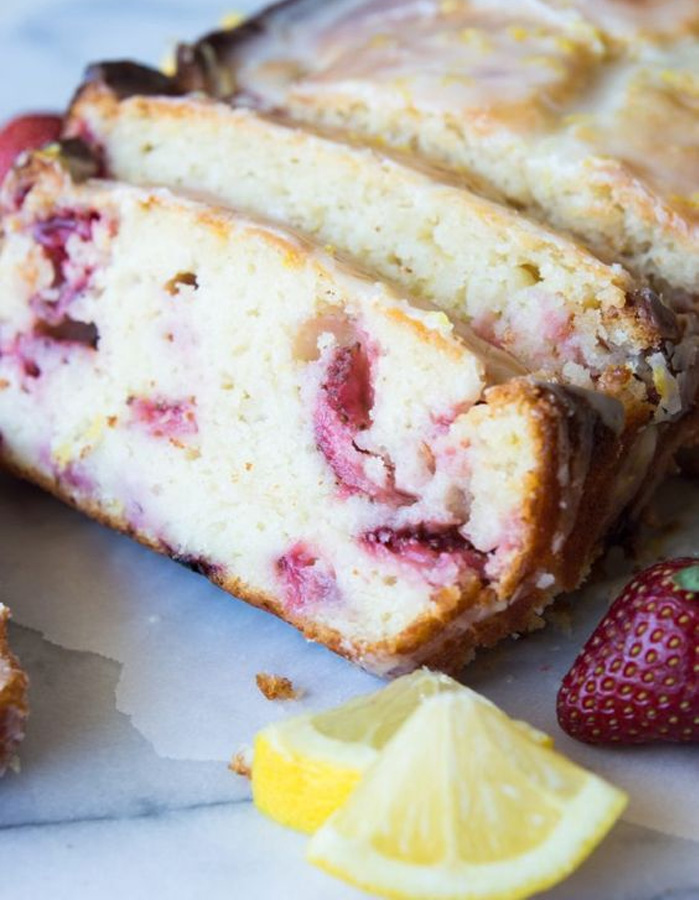 This easy to make loaf cake is loaded with lemon flavor thanks to fresh juice and zest. It will be the highlight of your day!
Don't miss out on our future recipe finds… simply sign up to receive these blog posts in your email in box.
Are flowery shower invites or letterpress wedding announcements starting to fill up your mailbox?  'Tis the season for "I do's" and we've got you covered when it comes to giving a sentimental gift that will stand out from the blenders, pillow cases and stemware.  Shop all wedding HERE.

Your Girlfriend Just Got Engaged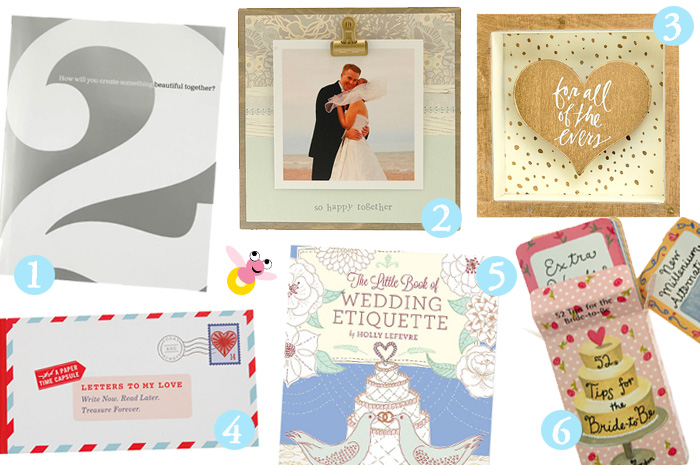 1.  This book is filled with stories, questions, ideas and insights that will bring couple-hood to the next level $15.95

2.  Clip a favorite photo of the happy couple in this handmade frame $14.95

3. Add this sweet shadow box to a gallery wall or bedside table $14.95

4.  Keep the romance alive by sealing love letters to be read at future anniversaries 14.95

5.  Brush up on your wedding etiquette $9.95

6.  Get the bride off to a great start with 52 fabulous tips $6.95

Fun and Festive Wedding Shower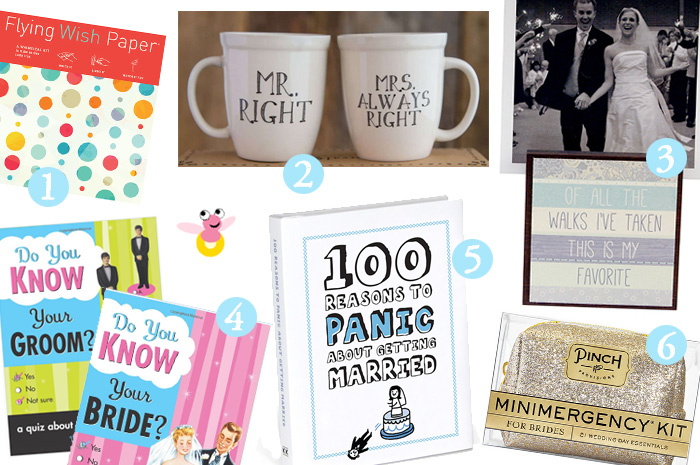 1.  Create a magical moment to remember at the wedding shower with flying wish paper $11.95

2.  Might as well let the new Mr. know this is usually how it goes with these funny mugs $27.95

3. Capture a cute photo of the couple and showcase it in this handmade photo block $13.95

4.  Put the couple to the test with these entertaining quiz books $5.95 each

5. You'll laugh and sigh when you ready this humorous & heartfelt book $10.95

6.  Take some stress away from the day with this handy little emergency kit for the brides $16.95

Gifts They Will Remember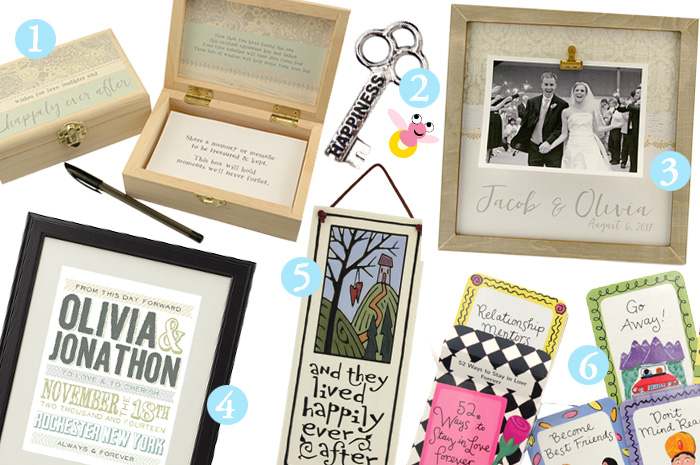 1.  Once filled with wisdom and wishes, this beautiful box will become a family treasure $29.95

2.  Include this key in a card and share a few of your tips on creating a happy marriage $2.50

3.  A stylish personalized handmade frame that is waiting to showcase a moment from their special day $38.50

4.  Commemorate one of your most special days with a modern typography print $24.95

5.  A happy sentiment to hang in their new home $27.95

5.  Include this key in a card and share a few of your tips on creating a happy marriage $2.50

6. Crack open this deck to find 52 terrific tips on keeping relationships alive and well  $6.95

Surprise Your Soon-to-be-Spouse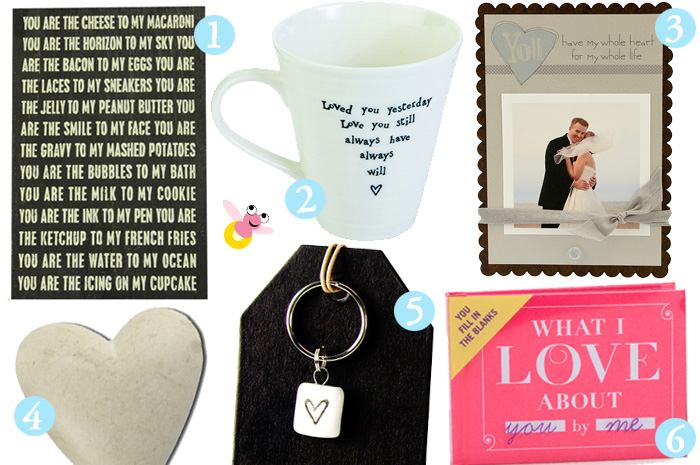 1.  Write a sweet note on the back of this wooden postcard to be given right before the big day $4.95

2.  A most wonderful saying to wake up to every morning before and after the wedding $18.95

3.  Surprise your spouse by framing one of your favorite photos in this handmade heartfelt frame $15.95

4.  Give your mate this hand carved heart with a note saying, "It's all your yours" $6.95

5.  Attach a special key to this porcelain heart ring with a note saying "Only you have the key" $5.95

6. This small book packs a BIG punch when filled with sweet and funny comments from you $10.95

Do you like unique finds that bring big smiles?  Simply sign up to receive these blog posts in your email and you'll be in the loop & get our latest scoop.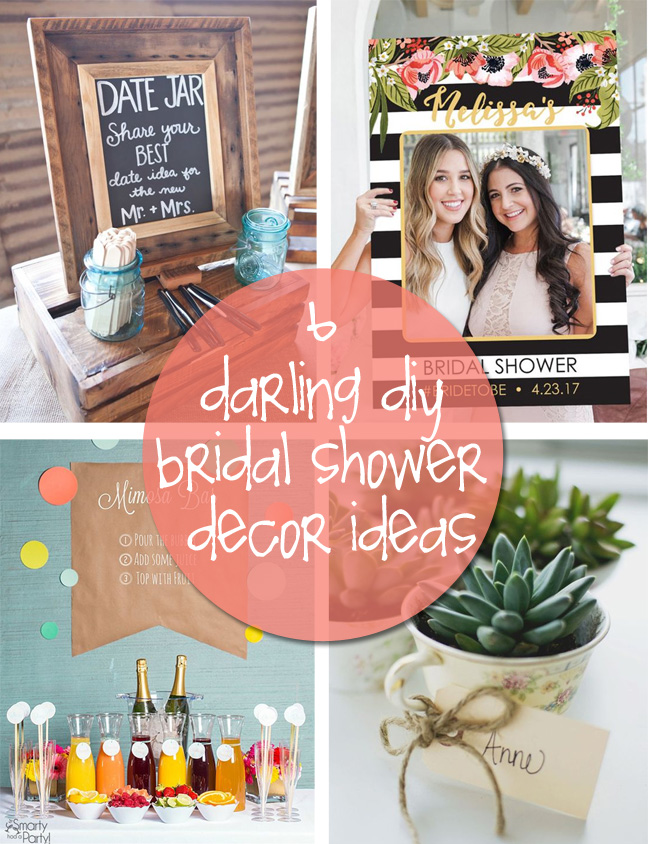 A wedding shower can and should be fun — after all, it's an excuse to gather with friends, throw a party, and celebrate the soon-to-be newlyweds. If you're hosting a wedding shower and need some creative and personalized ideas, read on for our top picks.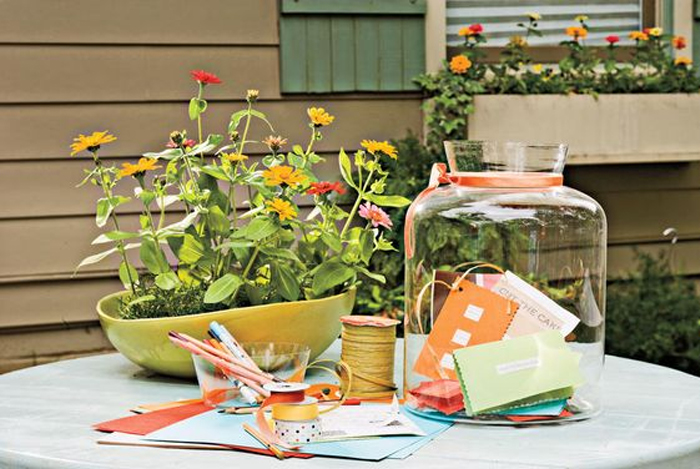 Let party-goer's fill a memory jar instead of signing a guest book to leave special notes for the bride and groom.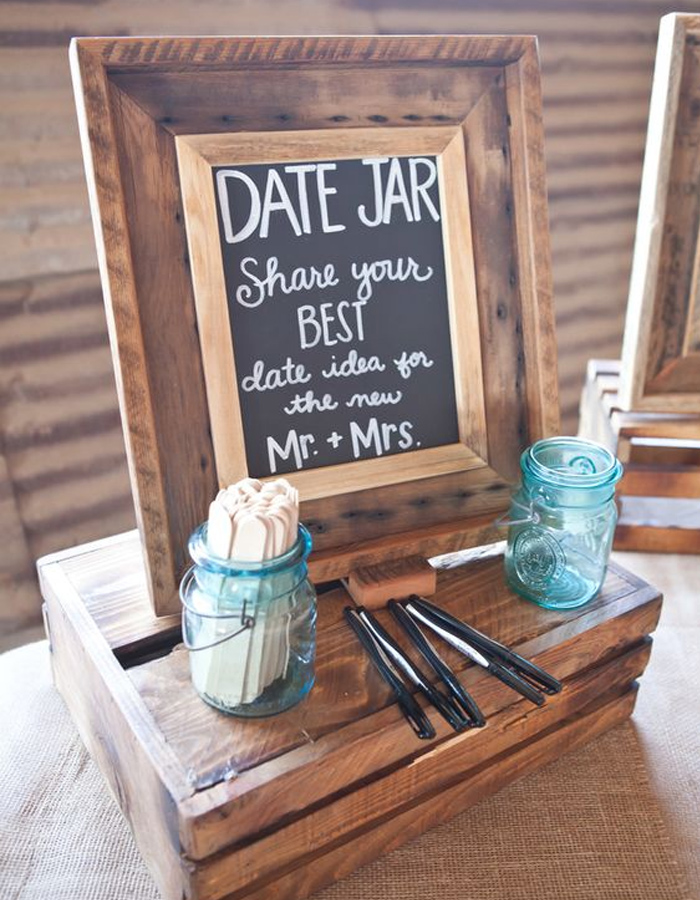 Give the bride- and groom-to-be some newlywed date night ideas. Simply fill a Mason jar with popsicle sticks, display a sign, and let guests do the rest!
These little DIY tea cup planter succulents are the perfect party favor.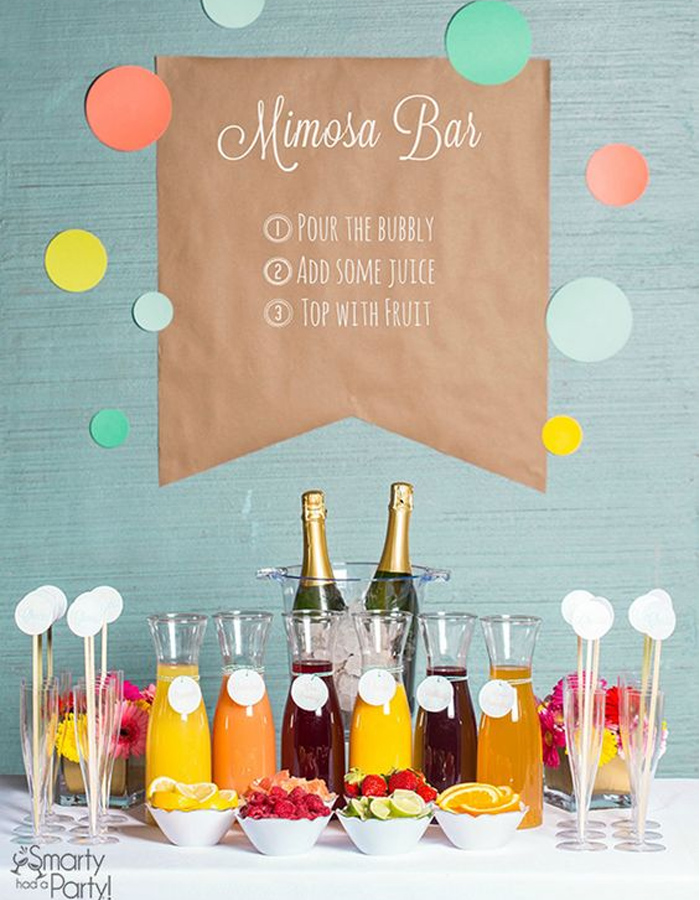 If you're hosting a wedding shower, a mimosa bar that is overflowing with sweetness and color will make a great refreshment station!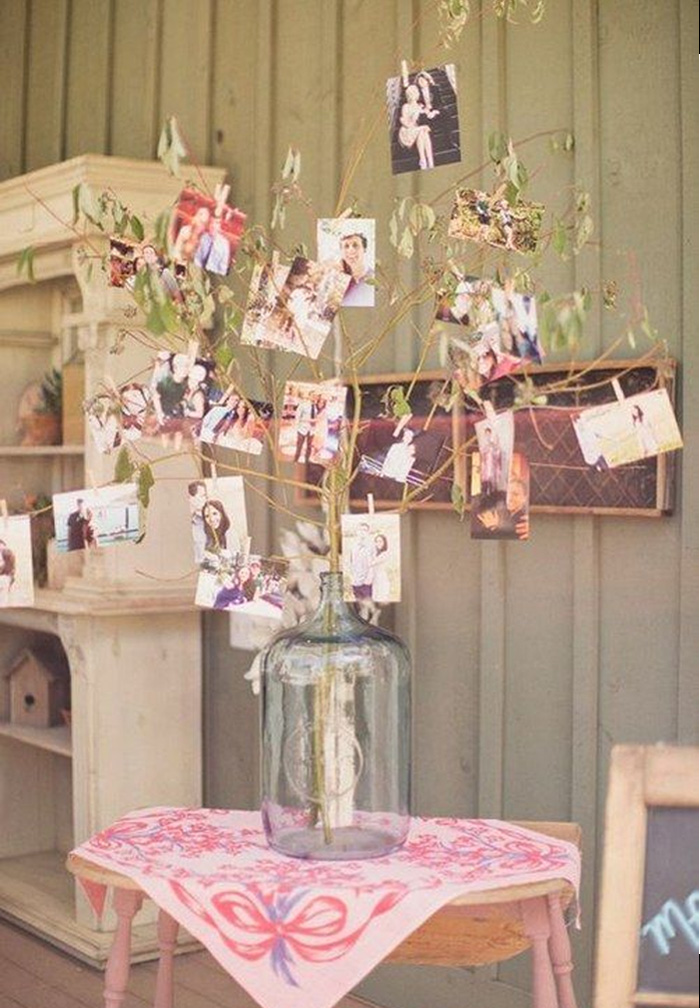 For a more rustic, romantic theme, display photos of the couple-to-be…low in cost, easy, and pretty!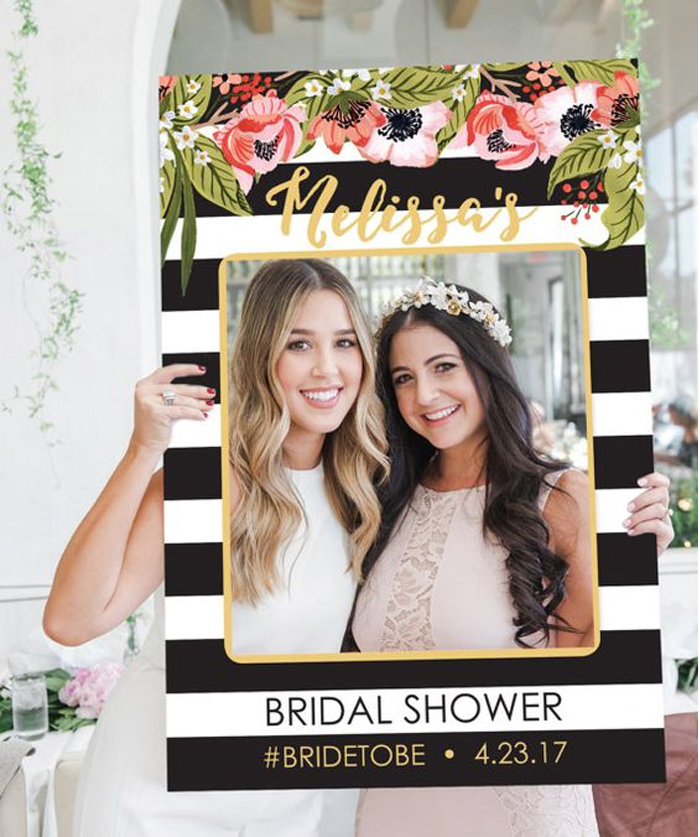 Great addition to any bridal shower, so cute and fun! Everyone will enjoy taking pictures with the cutest frame!
Like to make days brighter for your friends and family?   …sign up to receive these blog posts in your email in box.
Make everyday Earth Day with some of these finds that are kind to our pretty planet.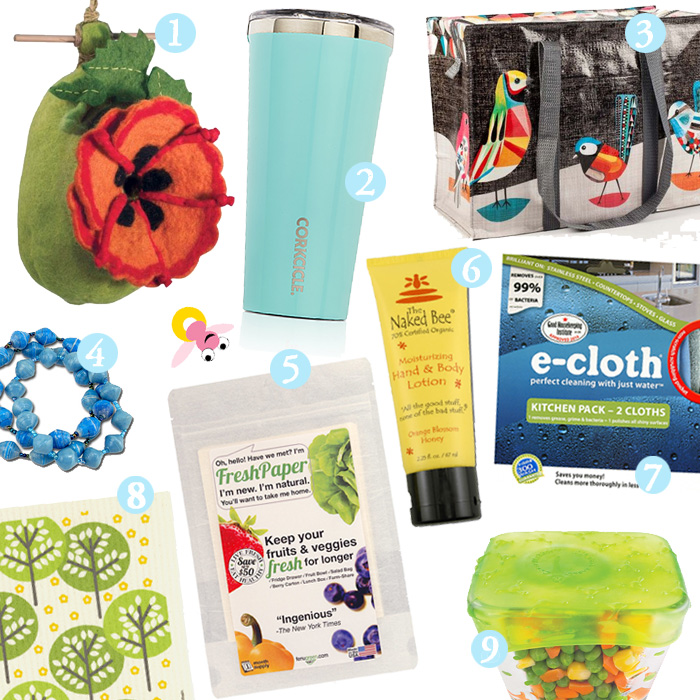 1.  The birds will flock to this fabulous felted wool birdhouse which is naturally water repellant.  Each one is handmade with sustainable harvested materials in a fair trade environment $29.95

2.  Reduce waste by toting your favorite hot or cold beverage around in this gorgeous glossy tumbler $24.95

3.  Tote your goods around in this cute zippered birdy bag created from 95% post consumer recycled material (also fits perfectly under an airplane seat!) $16.95

4.  Fashion that is fair trade and up-cycled is always in style in our books $5.95

5.  Reduce wasted produce with this magical all natural fresh paper $9.95

6.  Your skin and nose will thank you for using this amazing smelling organic lotion $10.95

7.  This magical cloth designed in Europe removes 99% of bacteria just using water! $21.95

8.  Reduce your use of paper towel with this super absorbant all natural swedish dish cloth $6.95

9.  Skip the pesky plastic wrap on top of your leftovers with these clever cover blubbers $3.95+  

Shop all Earth Friendly Finds HERE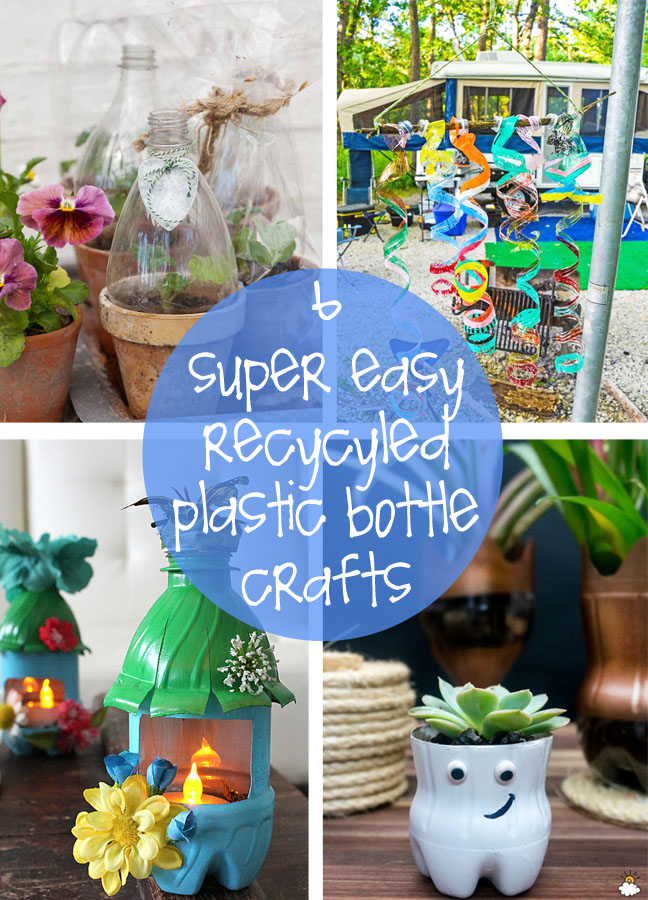 DIY recycling projects are always cool, especially when you can turn your trash into something new and useful. Check out these 6 cute crafts, so cute it's hard to believe that they're made out of an empty plastic water bottles.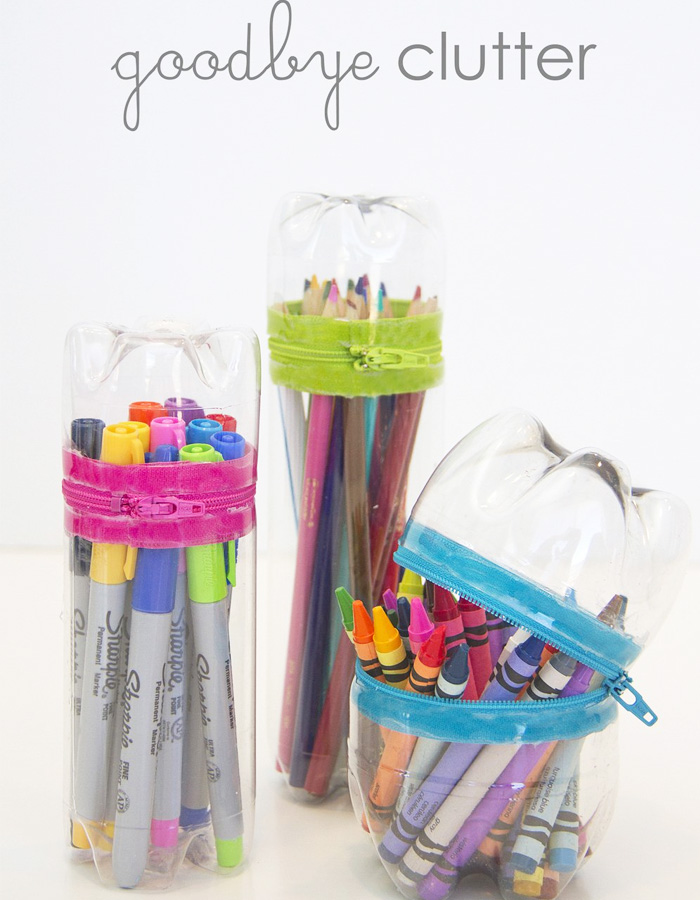 Organize your kids art table by making these cute zipper containers to store art supplies.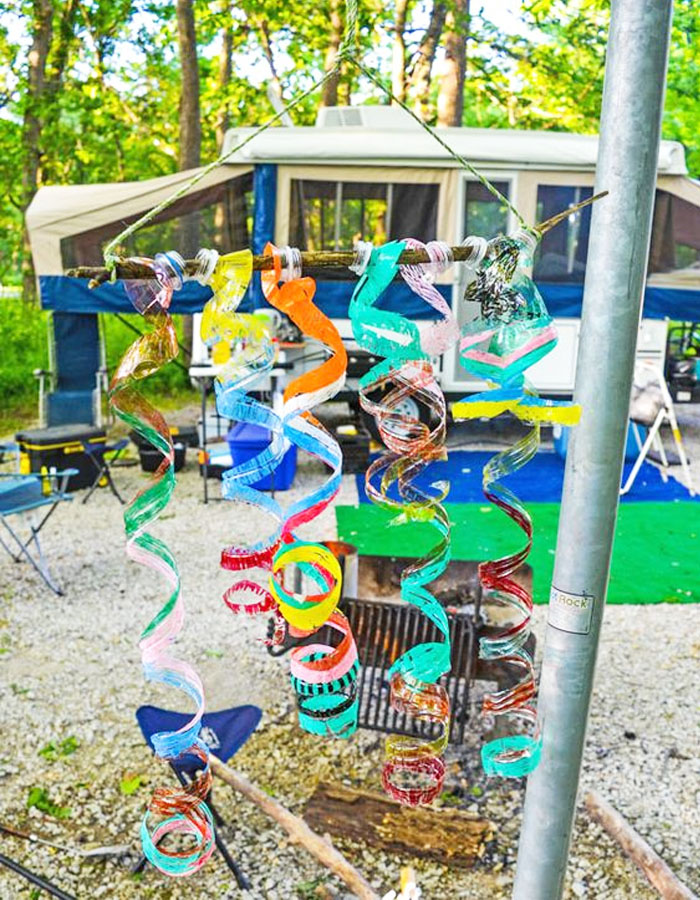 Decorate your campsite by hanging these colorful wind spirals made from water bottles.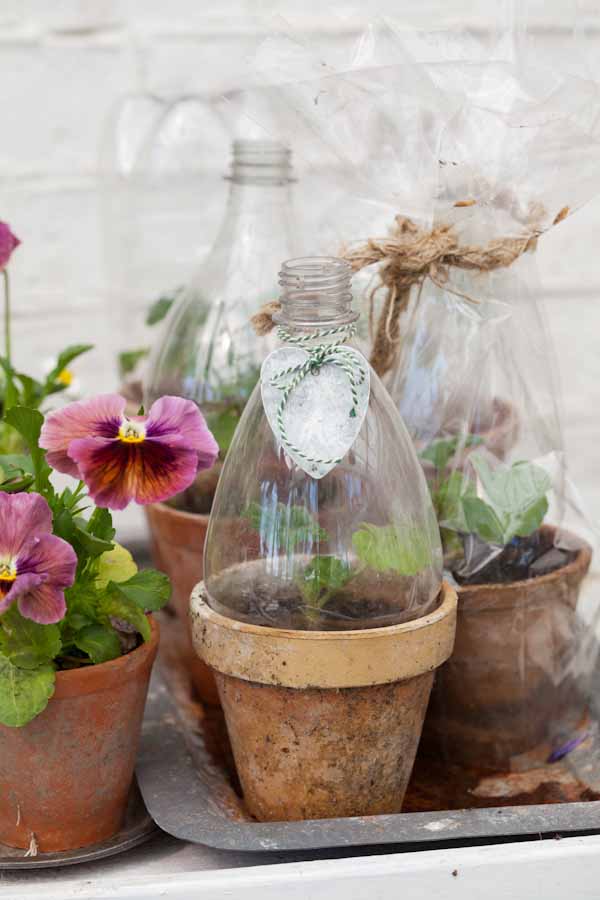 Keep it pretty – cut off the tops of empty bottles and make small greenhouses for your seedlings or cuttings.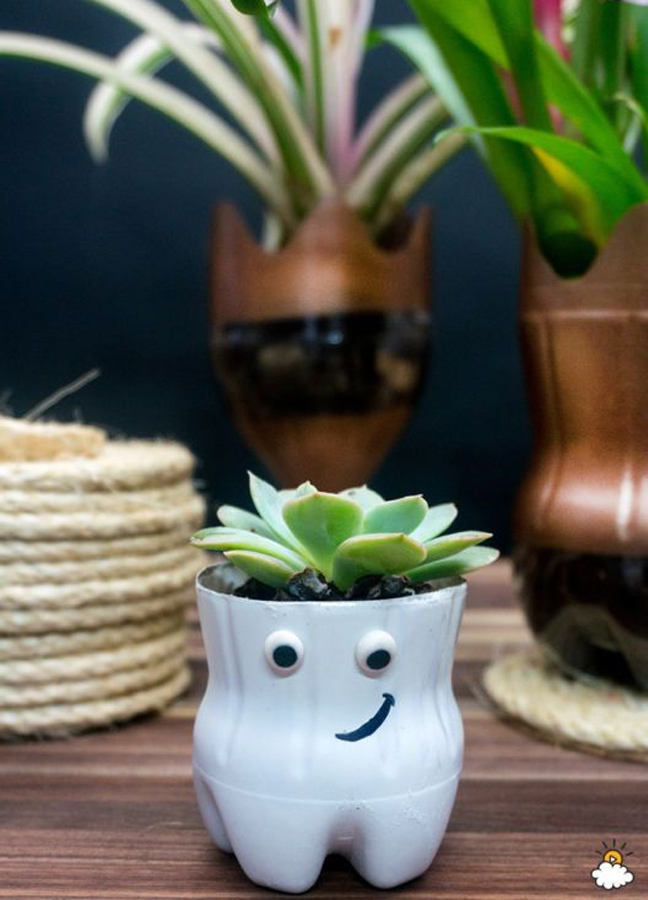 Upcycle old coke bottles and turn them into cute flower pots.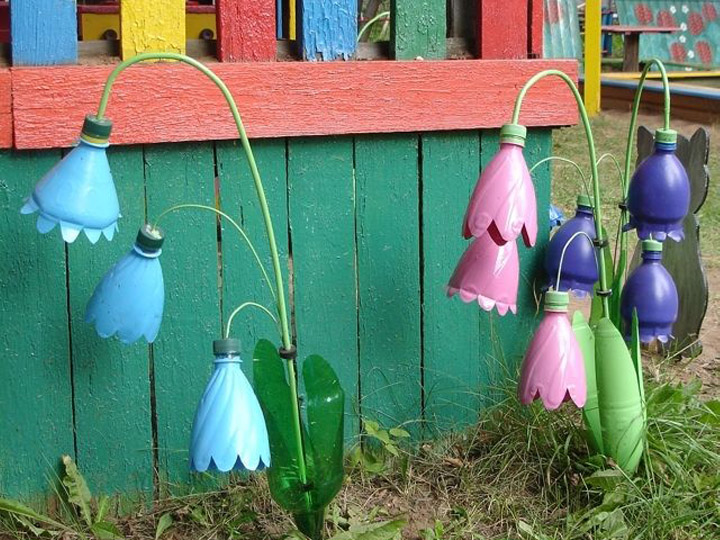 One of our favorites has to be these big, beautiful, colorful flowers made from 2-liter pop bottles.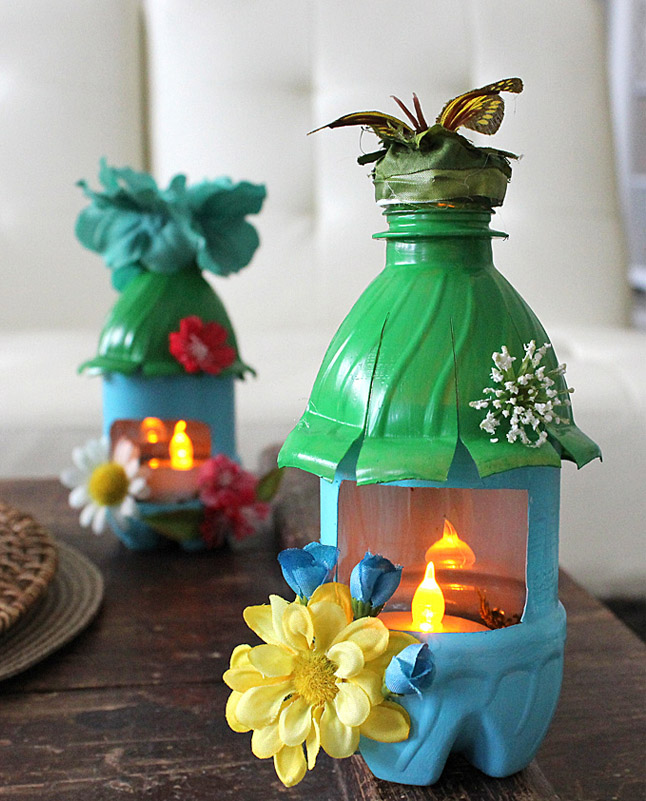 Make these sweet fairy house night lights that you can use anywhere in your home, including a child's room or a nursery.

Don't miss out on our future crafty projects… simply sign up to receive these blog posts in your email in box.