With all the chicks, bunnies and lambs this Easter season brings it has us thinking about babies.  Here are a few cute and cuddly finds we can't get enough of.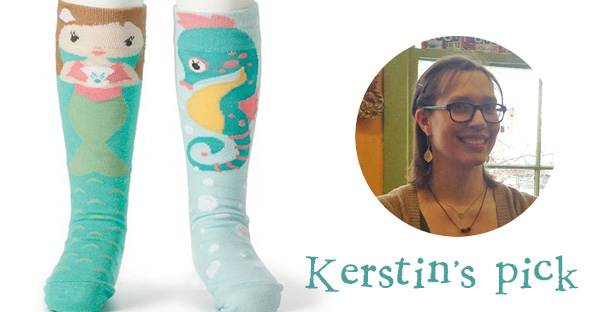 I loooove these socks, not just because my daughter is positive she is a mermaid but because they do not match on purpose. At my house we have a "sock bin" that everyone grabs from and they almost never match. A few of these styles would be great to add to our collection.  $8.95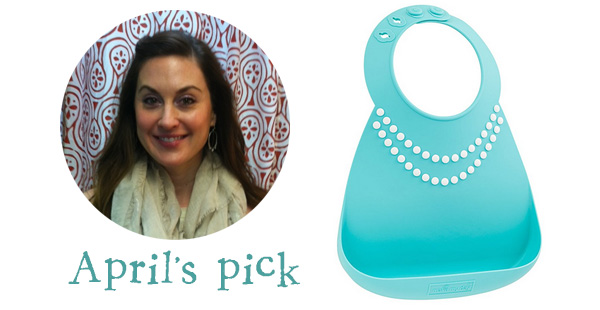 This bib is so cute, and does the job at the same time. Messes fall to the bottom, and it's super easy to clean.  Audrey would approve.  $15.95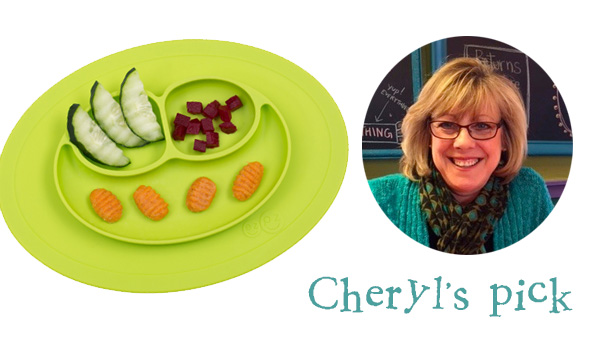 This placemat & plate in one is terrific for home and for us grandparents when the little one is over for a visit. It comes in a variety of fun colors and since it suctions to the table or high chair it's less messy! And, it's dishwasher & microwave safe! $19.95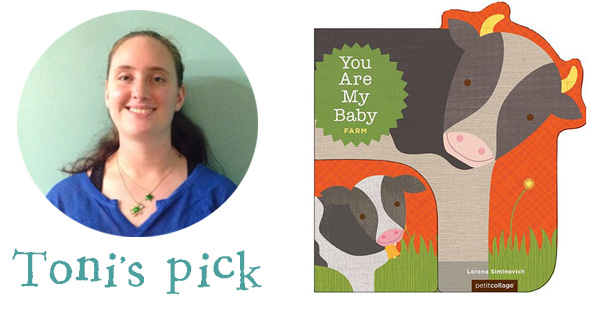 This book is great for little ones because who doesn't like farm animals, especially baby farm animals! $8.99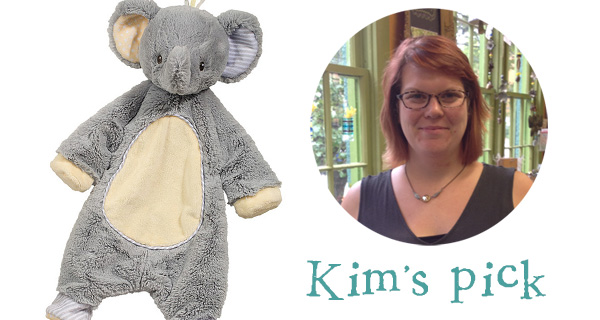 I am in love with these sshlumpies! They are so cute, and so, so soft! Perfect for your baby to snuggle with on long car trips or at nap time! $21.95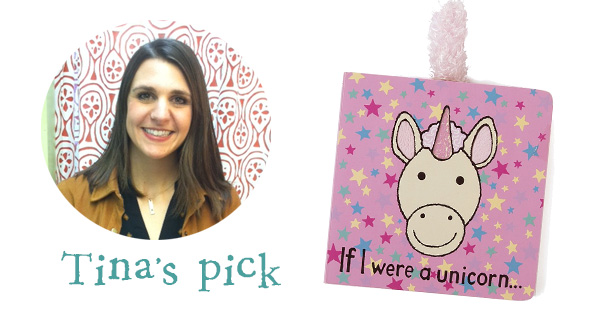 This is a quick read with lots of texture on the pages! I gave this as a gift and my friends daughter immediately opened it! $11.95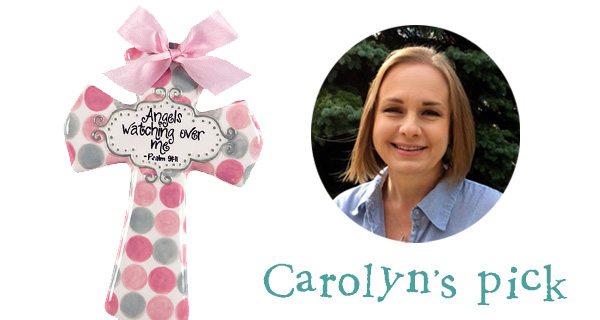 This cross is just the sweetest gift. I loved giving it to my niece and she loved receiving it. $26.50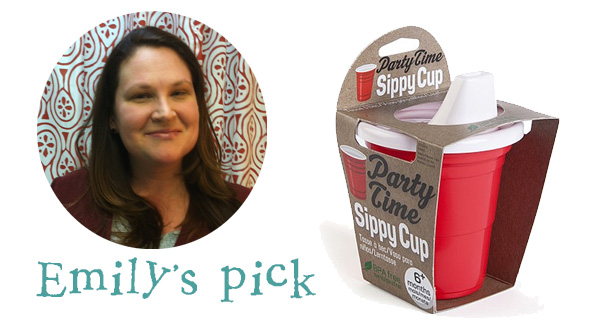 Put a smile on your face when your little guy or gal is feeling thirsty with this clever sippy cup! This BPA free cup makes a great gift for any new parent who needs a chuckle. $6.95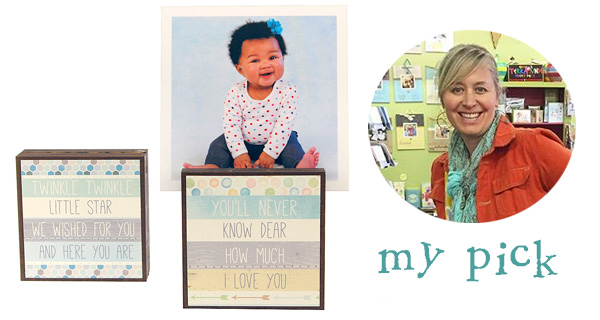 It's hard to believe that my little Lolo is going to be 3 in a couple of months!  I am so thankful we live the age where I can capture her cuteness in photos at any moment.  I love looking back and this cute photo holder lets me do just that since it holds up 5 different photos you can rotate as you please. $13.95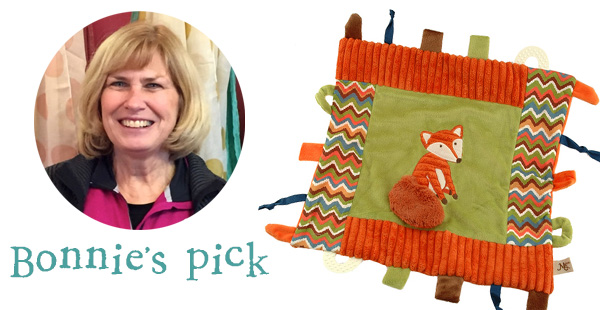 Perfect little blankie for little hands – lots of different fabrics for babies to touch and feel. Nice size for little ones to carry around and not trip over. $23.95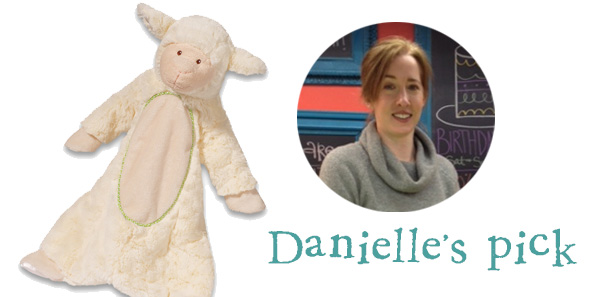 How cute is this lamb shlumpie blanket? This is my go to baby gift because of how soft and adorable it is. I just love this baby item and wouldn't mind one for myself! $21.95

Do you like unique finds that bring big smiles?  Simply sign up to receive these blog posts in your email and you'll be in the loop & get our latest scoop.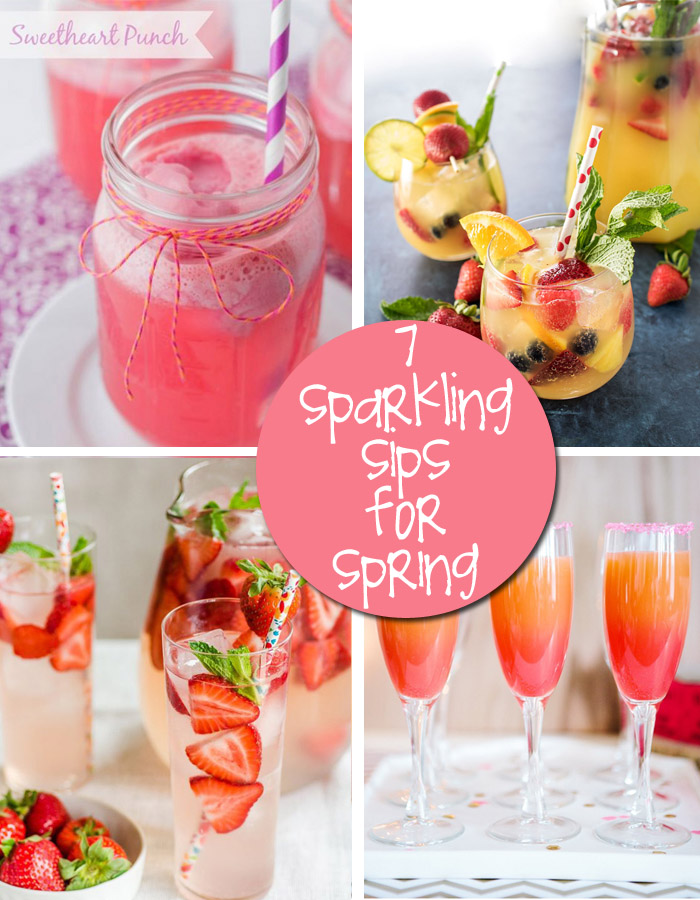 Break out your punch bowl and mix up one of these refreshing drinks for your next party. Here are 7 party punch recipes to make your springtime gathering more festive: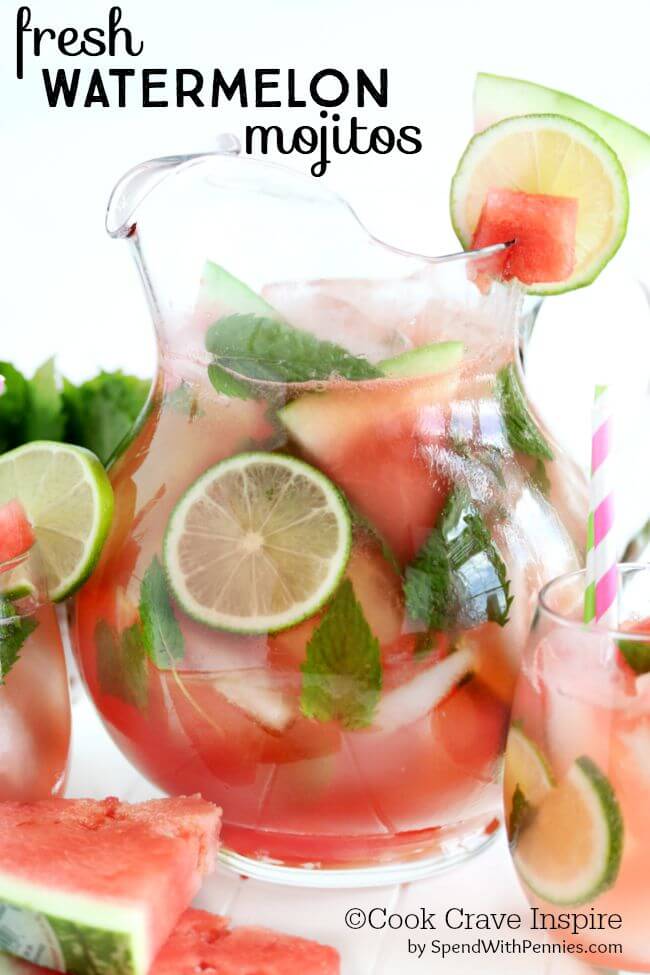 If you're known to make a classic mojito, why not mix it up a notch a add some fresh watermelon!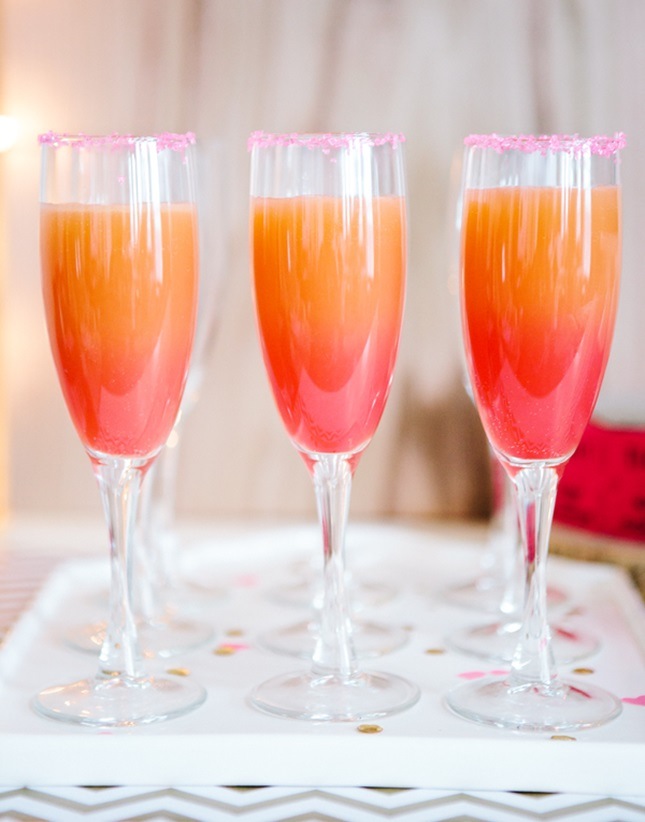 We're loving the look of this 'ombre' grapefruit mocktail…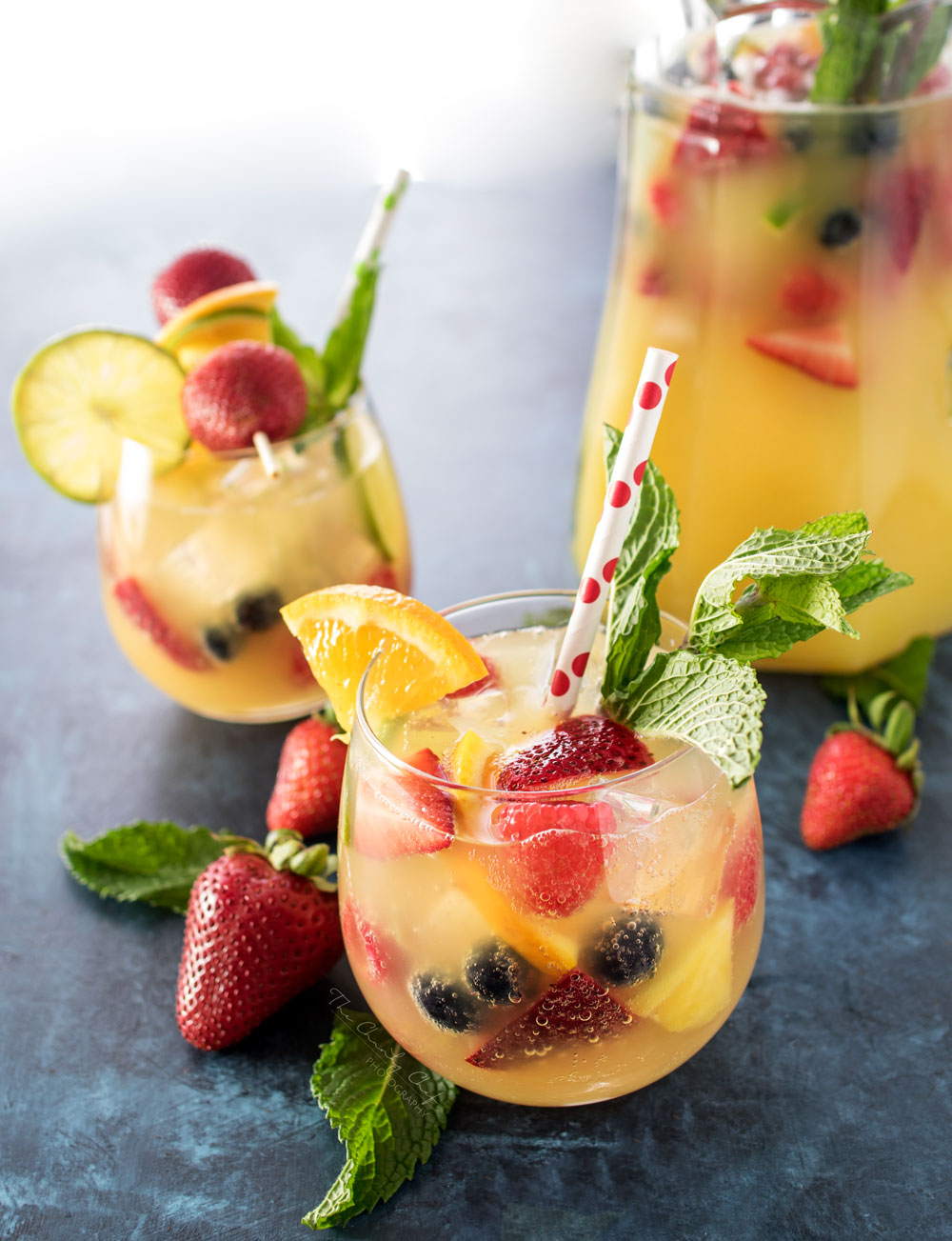 If you wanted to make this fizzy pineapple punch an adult beverage, you could easily add some vodka or rum to really liven up the party!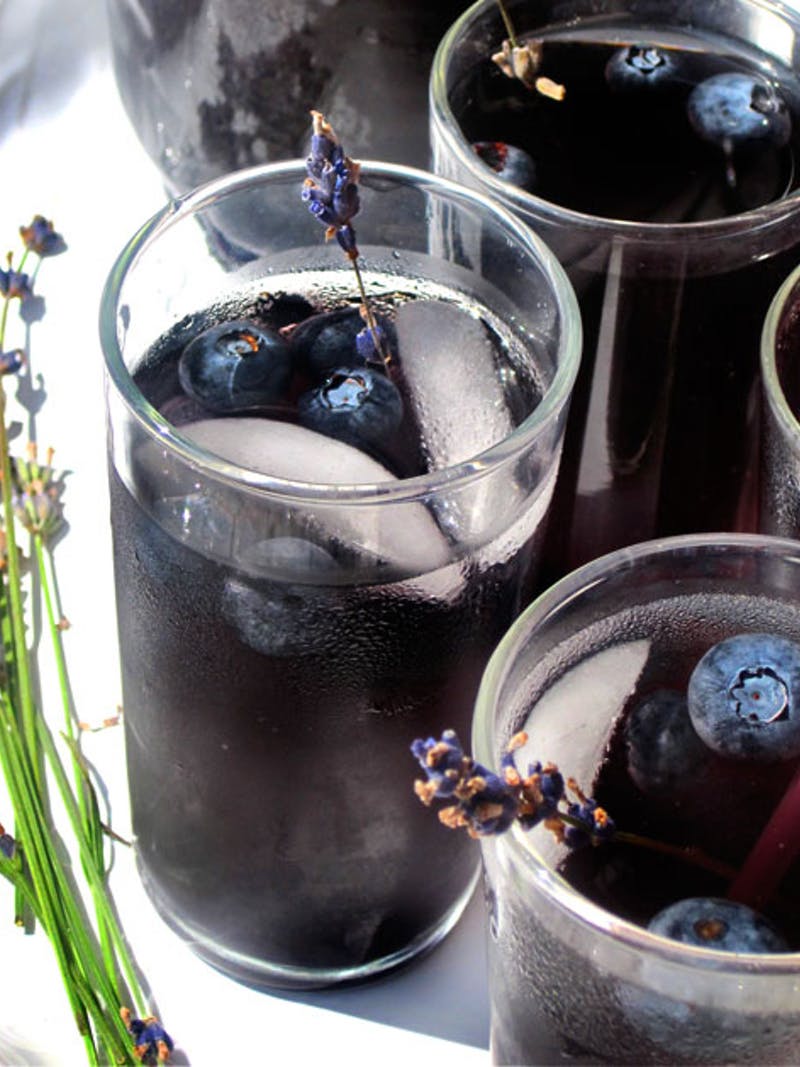 Flash-freeze blueberries and use the frozen berries as ice cubes, or put them into water in your ice trays and have blueberry ice cubes to make this punch even more inviting!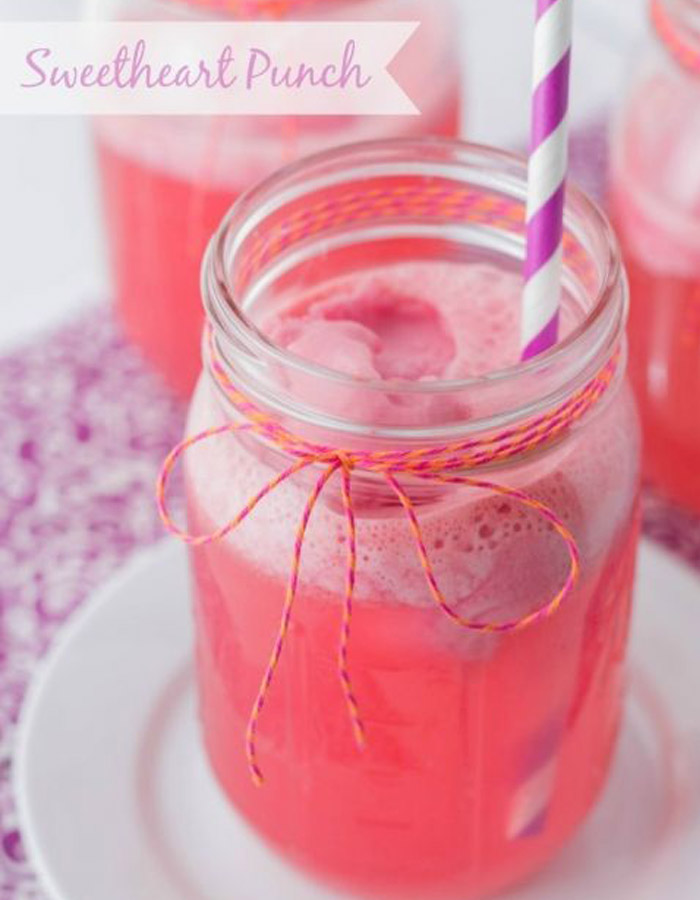 The color of this punch is super festive and the raspberry sherbet adds to the delightfulness. Pouring the drink into mason jars adds a fun touch.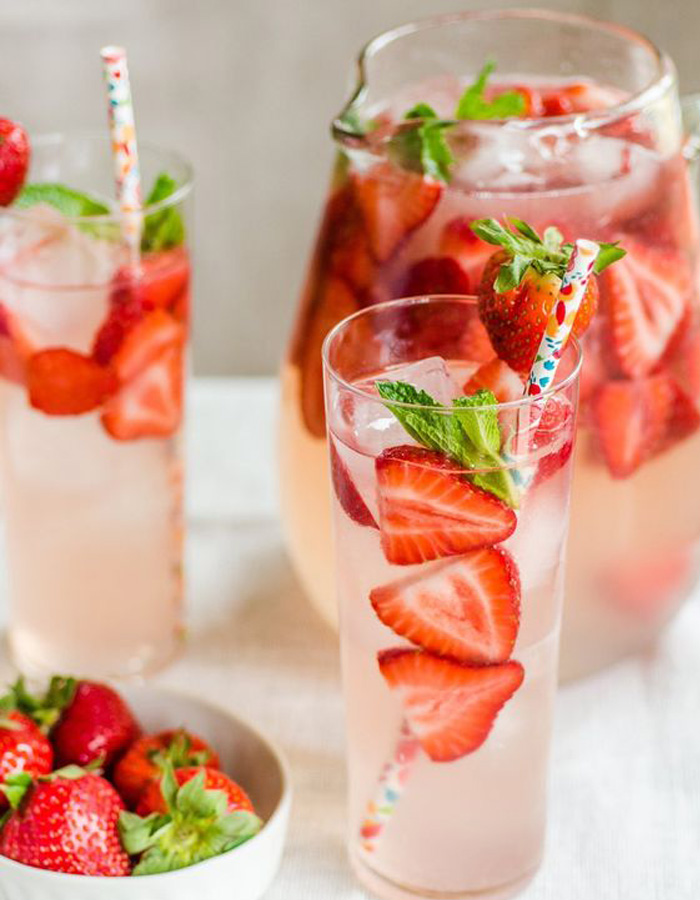 This Strawberry Gin Smash is super simple and can be made with your choice of spirit…rum, gin, whiskey, or vodka all work!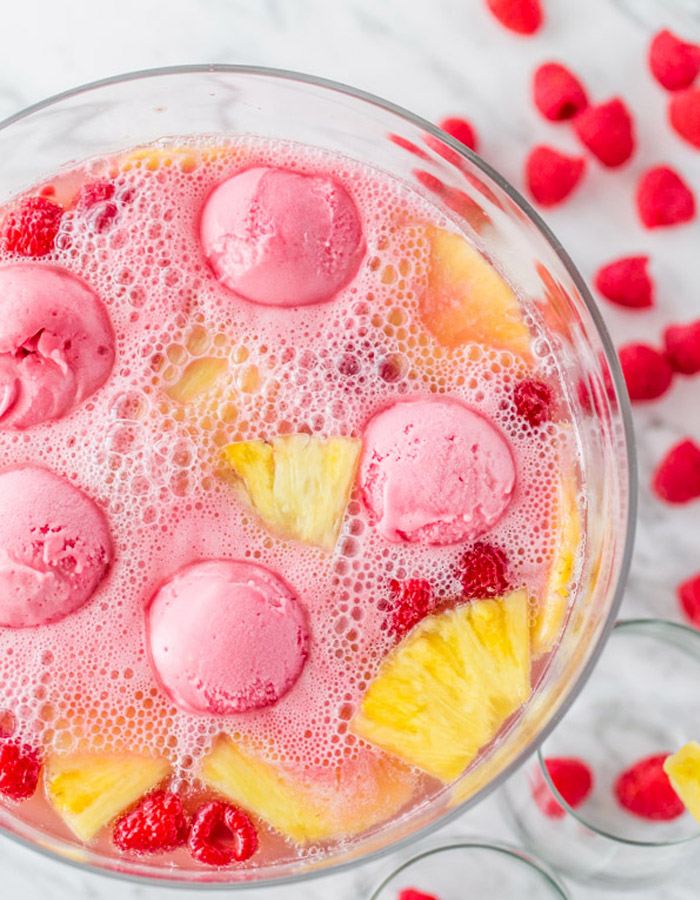 This pretty punch can be easily cut in half for a smaller crowd. It is simple to assemble and you can pre-scoop and freeze your ice cream balls in advance!

Don't miss out on our future recipe finds… simply sign up to receive these blog posts in your email in box.
We love finds that bring happiness to our lives so we put together a bright collection of treasures that bring BIG smiles.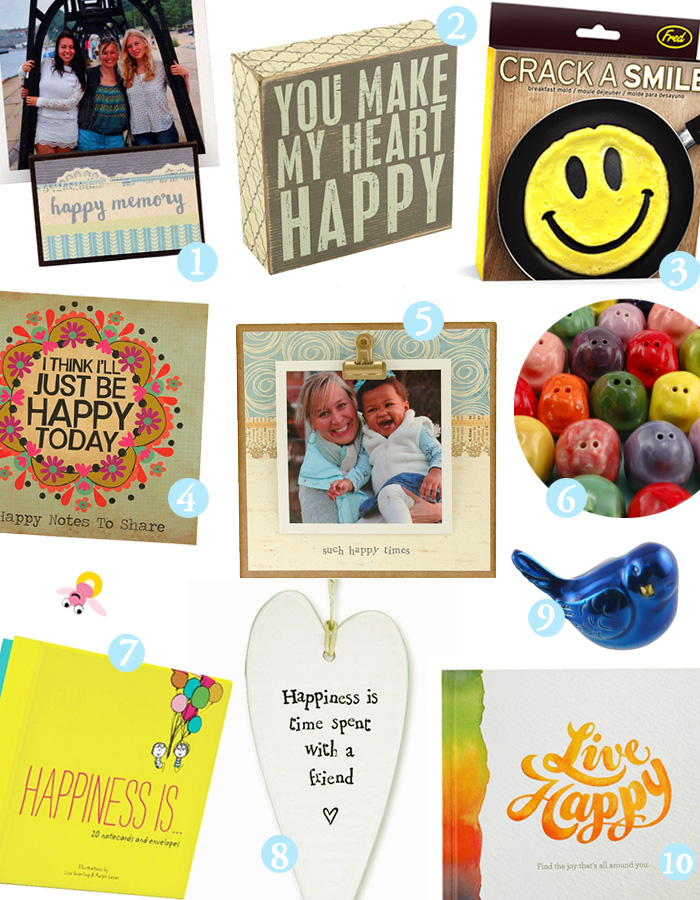 1.  Keep your favorite place or people in plain view with this handmade happy memory photo block $12.95

2.  Who makes your heart happy?  Make sure they know with this sweet sign $12.95

3.  We can't think of a more happy way to start your day $10.95

4.  Spread a little sunshine by leaving lovely notes for people to find $11.95

5.  We believe happy times should be celebrated every day $14.95

6.  Those who plant kindness gather love $2

7.  When is the last time you sent a cute card just to brighten someone's day? $14.95

8.  We couldn't agree more $7.95

9.  This sweet little bluebird spreads a little happiness where it goes $3.25 

10.  Isn't it really about finding the joy that is already around you? $15.95 

Shop for more happy HERE

Do you like unique finds that bring big smiles?  Simply sign up to receive these blog posts in your email and you'll be in the loop & get our latest scoop.
I usually try to find fun treats to make for our spring birthday sale at the stores and these cute flowers fit the bill.  They looked simple to make, easy to transport and they have that delicious sweet and salty combination.

As you can see, they only take three simple ingredients.  After placing the white chocolate candy melts on top of the pretzels, I placed in them in the oven which was preheated to 250 degrees.  You only need to keep them in there a few minutes before they are soft enough so the M&M candies will stick.

The original tutorial had 6 petals and no 'M's showing but I found out pretty quickly I didn't have the time to be so detailed.  Also if you have some parchment paper, you could use that on top of your cookie sheet to prevent the white chocolate from slightly sticking to the pan.  Mine came off just fine though using a small spatula.

Regardless of the small details these cuties get lots of oohs and ahhhs and are a perfect way to welcome spring.

Don't miss out on our future recipe finds… simply sign up to receive these blog posts in your email in box.
Snazz up your birthday party with these cute DIY garland ideas. Add the perfect pop of color to your home while keeping it affordable and easy. String them up on a backyard fence, attach them to a plain white wall in your home, or style them down a staircase.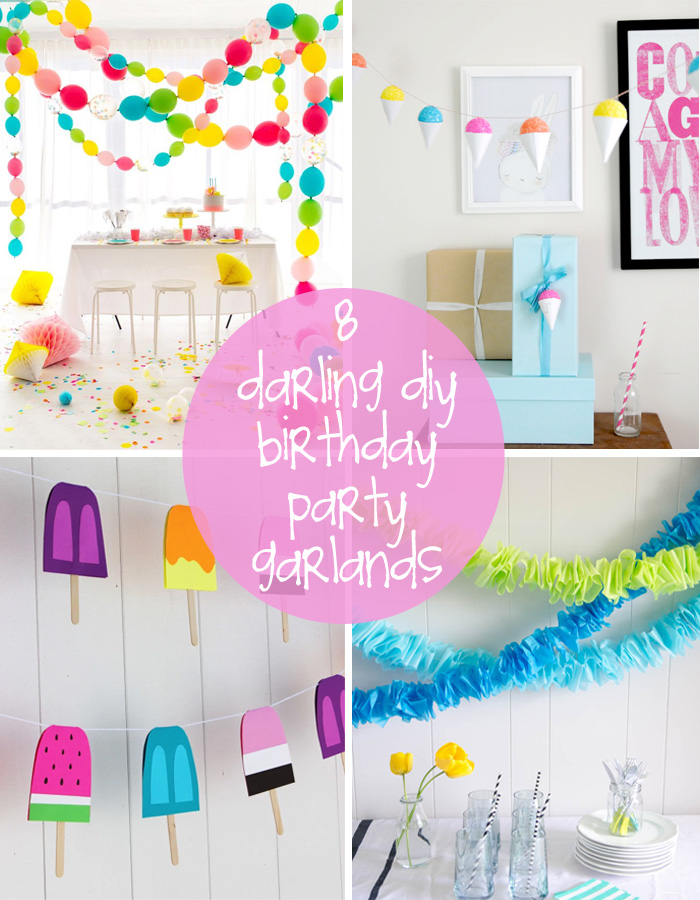 Check out our top picks for easy-to-make party garlands: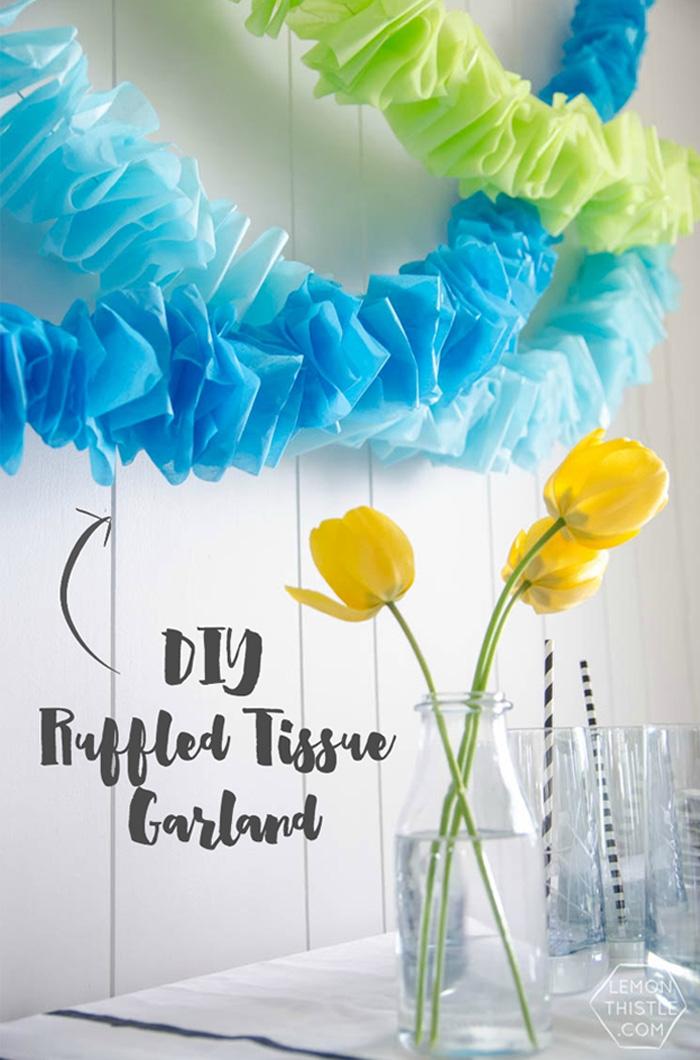 This DIY ruffled tissue garland is seriously simple and costs next to nothing. You won't even use a pack of tissue paper to make all three strands of garland.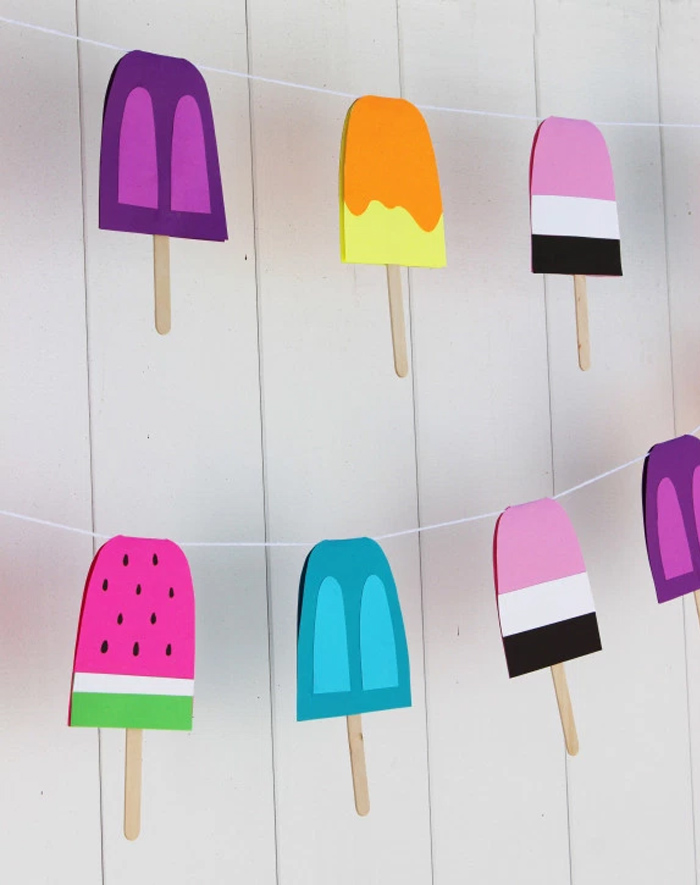 These popsicle garlands are a super cute way to add a pop of color to your home and they are the perfect decoration for any summer birthday party.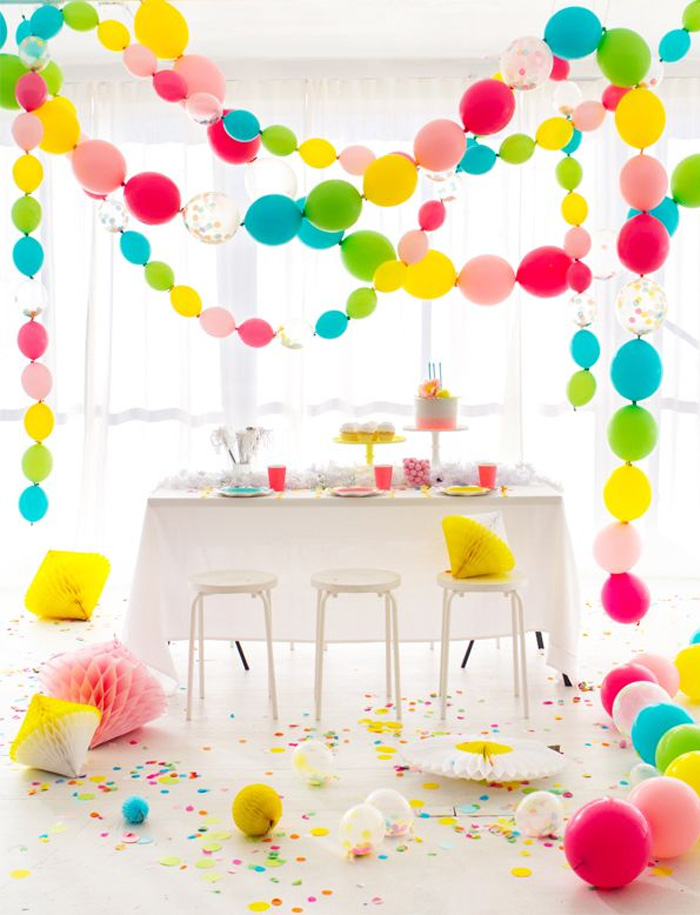 Linking balloon garlands are the easiest to make…you just need to tie the ends to each other to make the perfect fun & bubbly garland.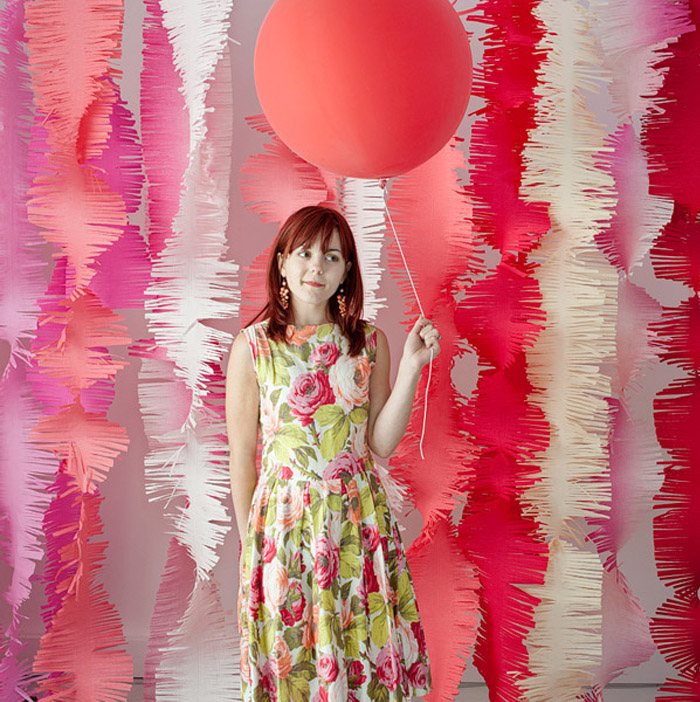 Here is a party idea that could be used for decoration, for photo background, or even hung as a garland. Big curtains of fringe make a huge impact and are so easy to make.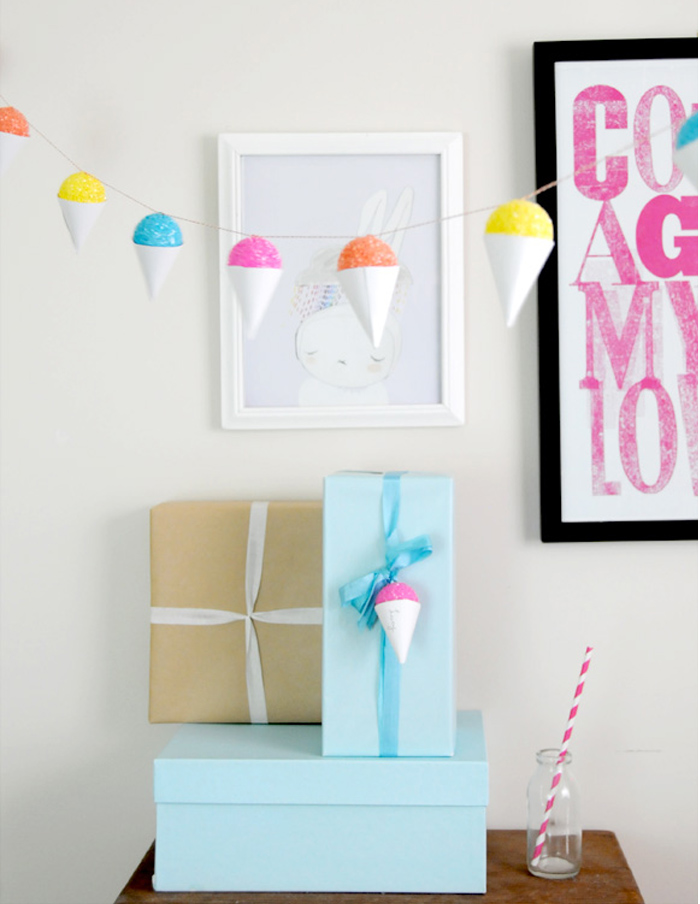 These bright candy colors and the sparkle of glittery ice makes eyes light up on all! Bonus: They will never melt!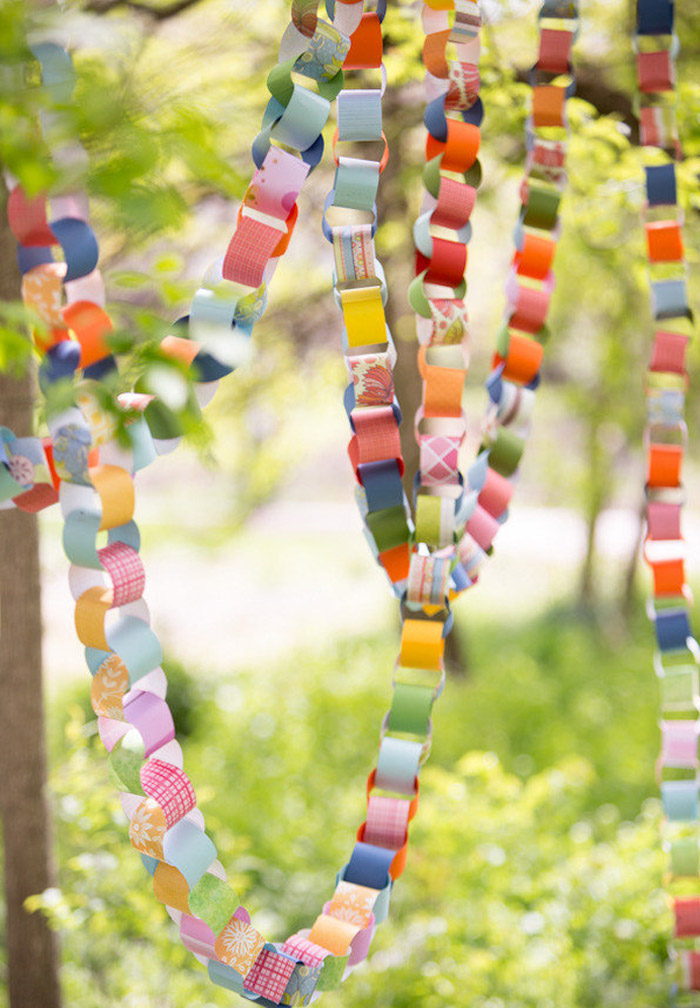 This colorful paper chain garland is a great way to get your kids involved in the planning of your upcoming event. 
Who wouldn't love this vintage pink look? Here is a perfectly simple DIY for garland made from contact paper. Cut, stick, trim. Perfectly simple.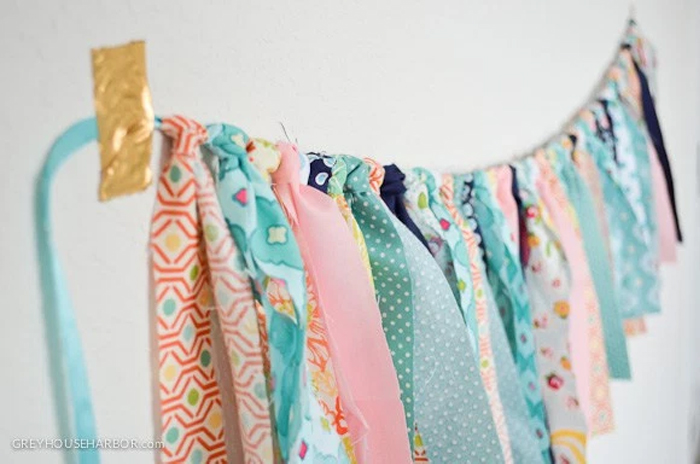 With endless color options, fabric garlands are a fantastic (and easy!) way to make for fun party decor or photo props.
Don't miss out on our future diy finds… simply sign up to receive these blog posts in your email in box.
Tis' the season for lucky clovers & leprechauns so we're getting our green on with this fun collection of finds.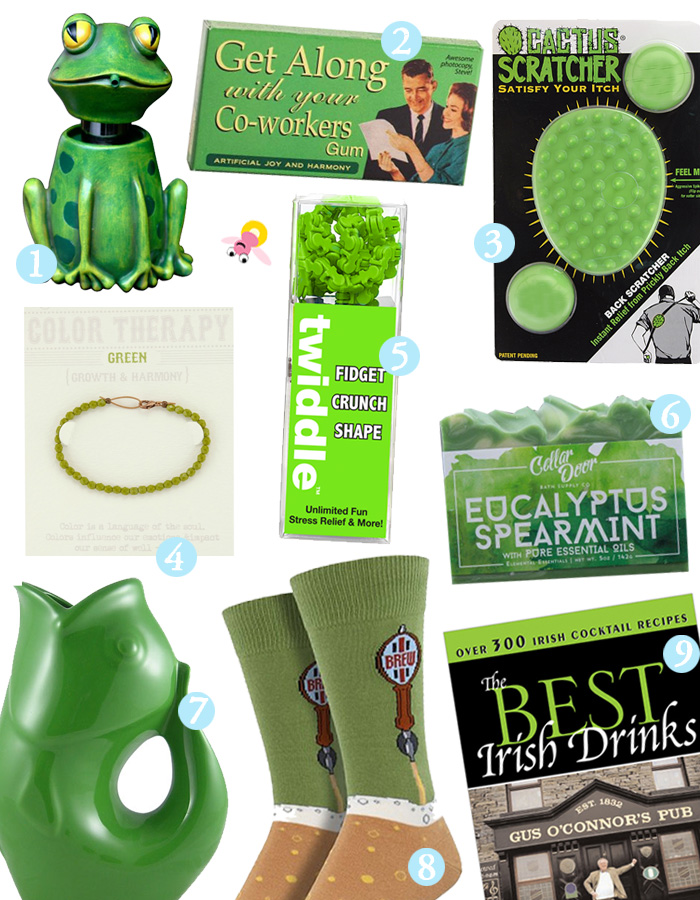 1.  This fancy frog soap spitter specializes in keeping your hands clean and germ free $26.95

2.  If you need a little extra help dealing with your crazy cube mate, this magical gum might be for you $1.95

3.  Satisfy those pesky back itches with this crazy cool cactus scratcher $12.95

4.  Who couldn't use a little more growth and harmony in their lives?  $12.95

5.  Say hello to clearer thinking when you get the fidgets out with this widget $10.95

6.  Start your day off with this invigorating and refreshing scent $6.95

7.  Gurgling fish pitchers always bring giggles at the dinner table $39.95

8.  Have you got your St. Patrick's Day socks yet?  $10

9.  Toast to St. Pat with one of these Irish recipes $14.99

Do you like unique finds that bring big smiles?  Simply sign up to receive these blog posts in your email and you'll be in the loop & get our latest scoop.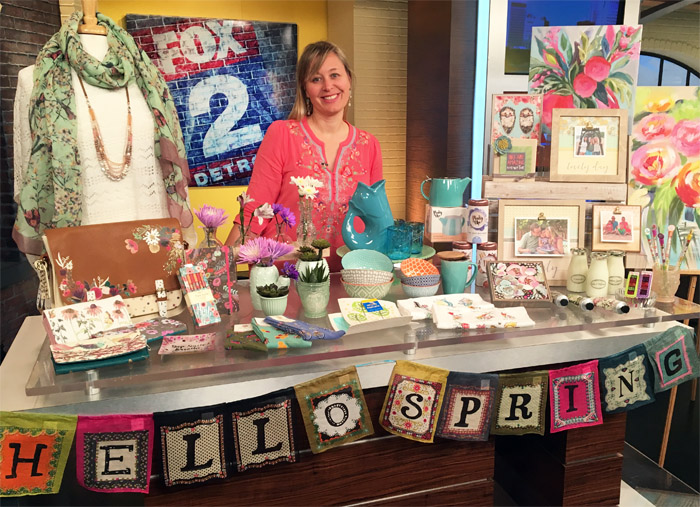 Thank you Fox 2 for inviting us to show off how you can bring a little spring to your home this chilly Friday in March.  Shop for some of these cheerful finds HERE.

This month all things Irish take center stage, but you certainly don't have to be Irish to bring these tasty dishes to the table (your tastebuds will thank you).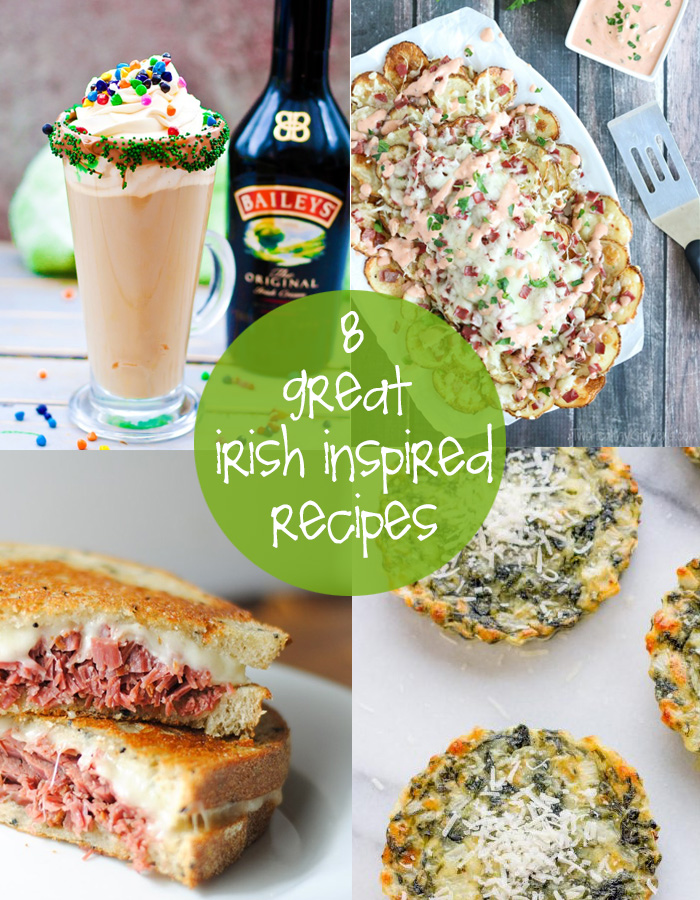 Whether you're craving a rich, creamy drink or something a little more substantial–we've got something for everyone's appetite….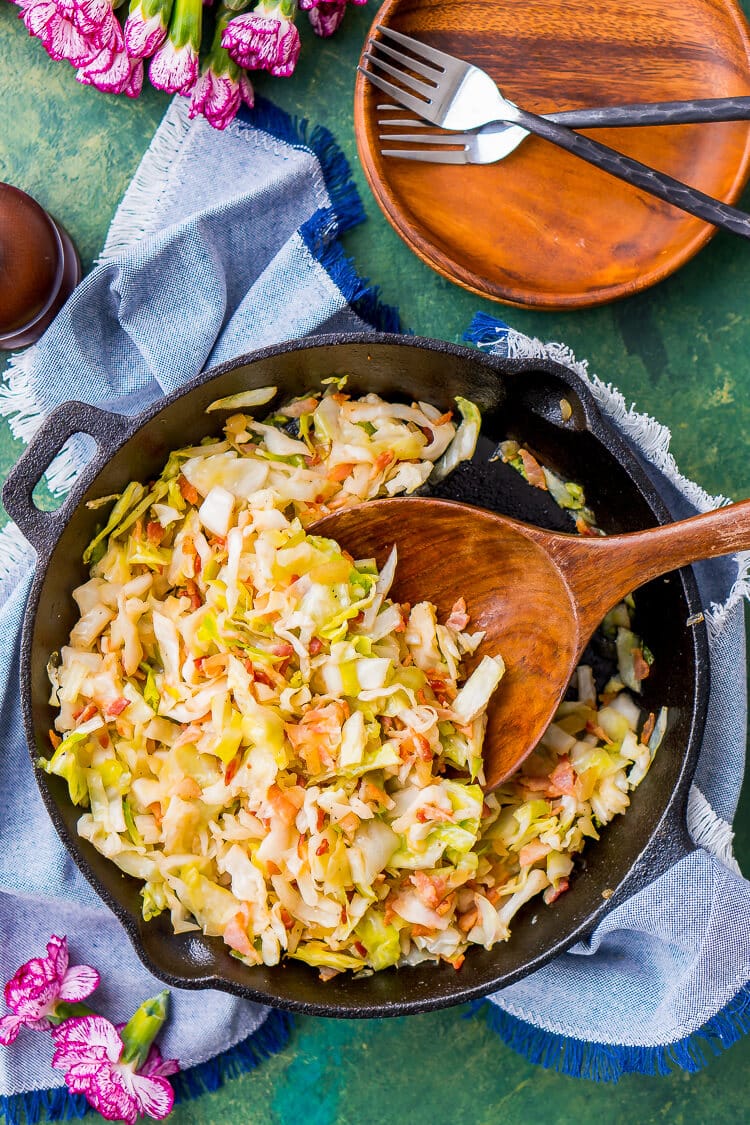 Serve up a new side dish at dinnertime tonight. Sugar & Soul has a delicious recipe for Irish Fried Cabbage and Bacon. It looks like an appetizing way to change up a hum-drum menu.
Indulge in a sweet drink with this Mint Irish Latte courtesy of Michelle of Giraffes Can Bake.
Skip the trip to the deli and feast on your own homemade Slow Cooker Corned Beef Sandwich at home. White Plate Blank Slate reveals this easy recipe here.
These Irish Coffee Cake Scones have afternoon snack written all over them…but they're also a wonderful breakfast or dessert.
You'll relish these Reuben Topped Irish Nachos! All the flavors of your favorite sandwich transformed into a mouthwatering appetizer.
Hop over to Saving Room for Dessert and you'll find a brand new way to load up on greens and protein. We think you'll find these Irish Spinach Tarts hard to resist.
Warm custard is the crowning touch on the Irish Apple Cake that we came across on The Kitchen McCabe. We predict this dessert just may steal the show at your next dinner party.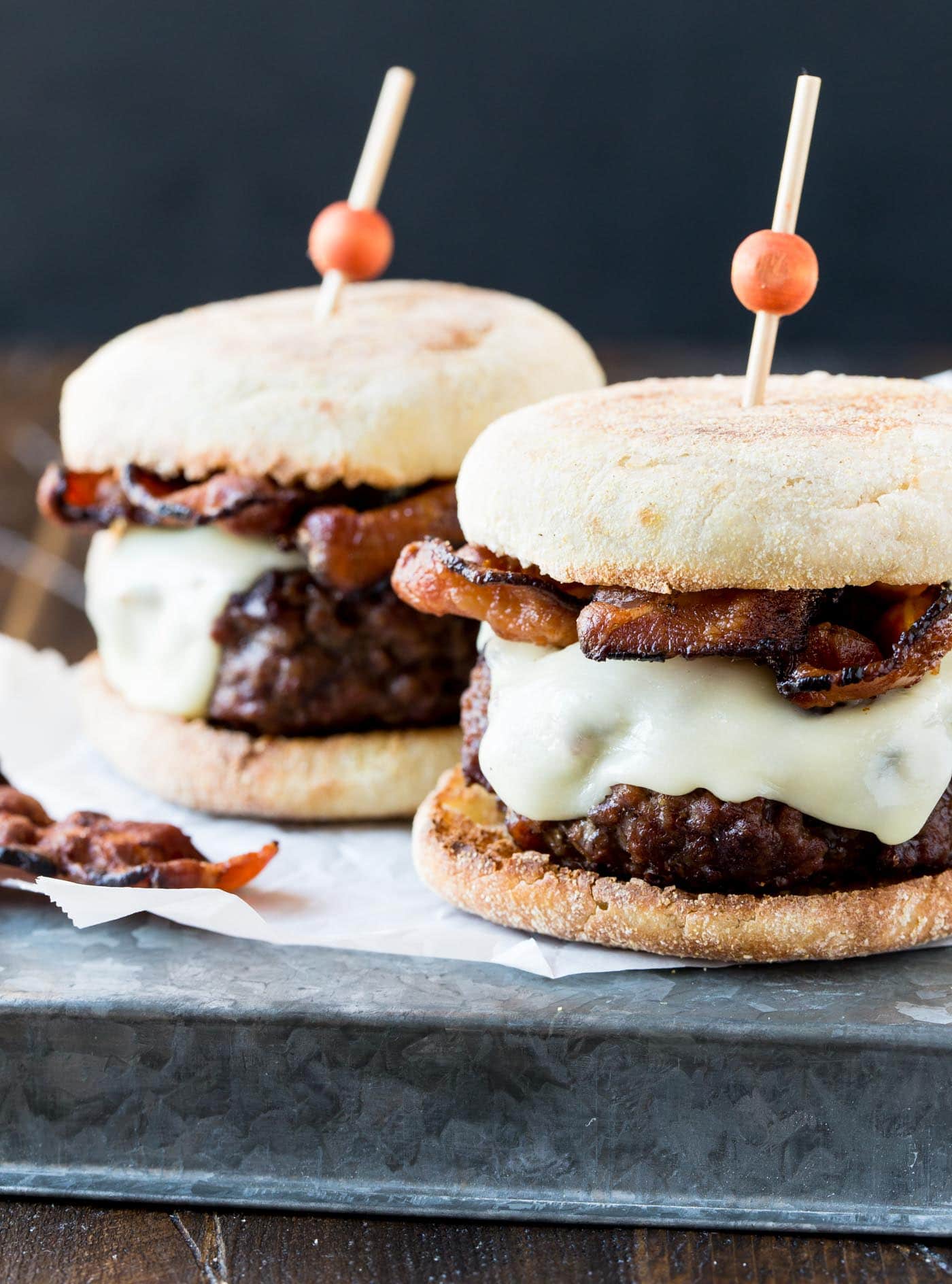 Lots of folks like to enjoy a little Irish brew to celebrate St. Patrick's Day. Here's a truly delicious to celebrate the season…whip up a few of these Guiness Burgers with Irish Cheddar and Bacon. The beer adds a wonderful depth of flavor and pairs nicely with the mustard, garlic, and onions.

Don't miss out on our future recipe finds… simply sign up to receive these blog posts in your email in box.
This handsome hound joined our family in the summer of 2008.  We adopted him from a nearby Basset Hound rescue and fell in love with his quirky personality right away.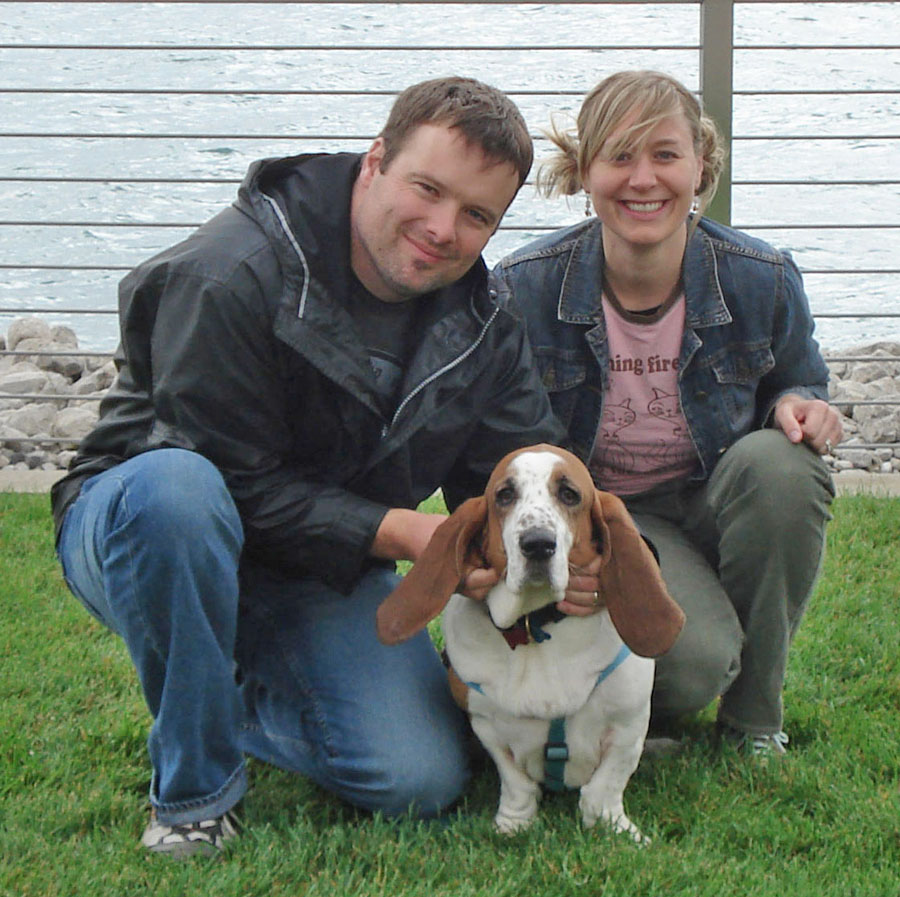 He came home with us after that first visit and has been making us smile ever since.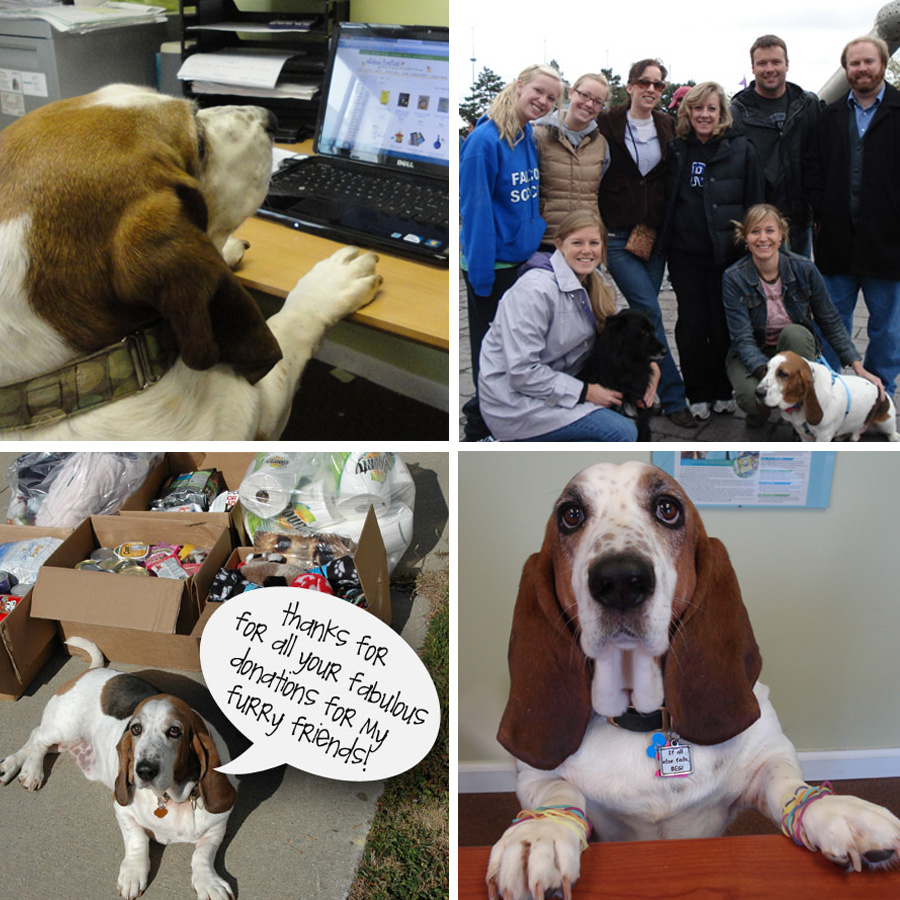 It wasn't long before he became a brand ambassador for catching fireflies. He spent his days at our studio office promoting fundraisers, modeling merchandise (remember the silly band craze?) and walking in the Michigan Human Society Mega March.  With his help we raised over $4000 for animals in need.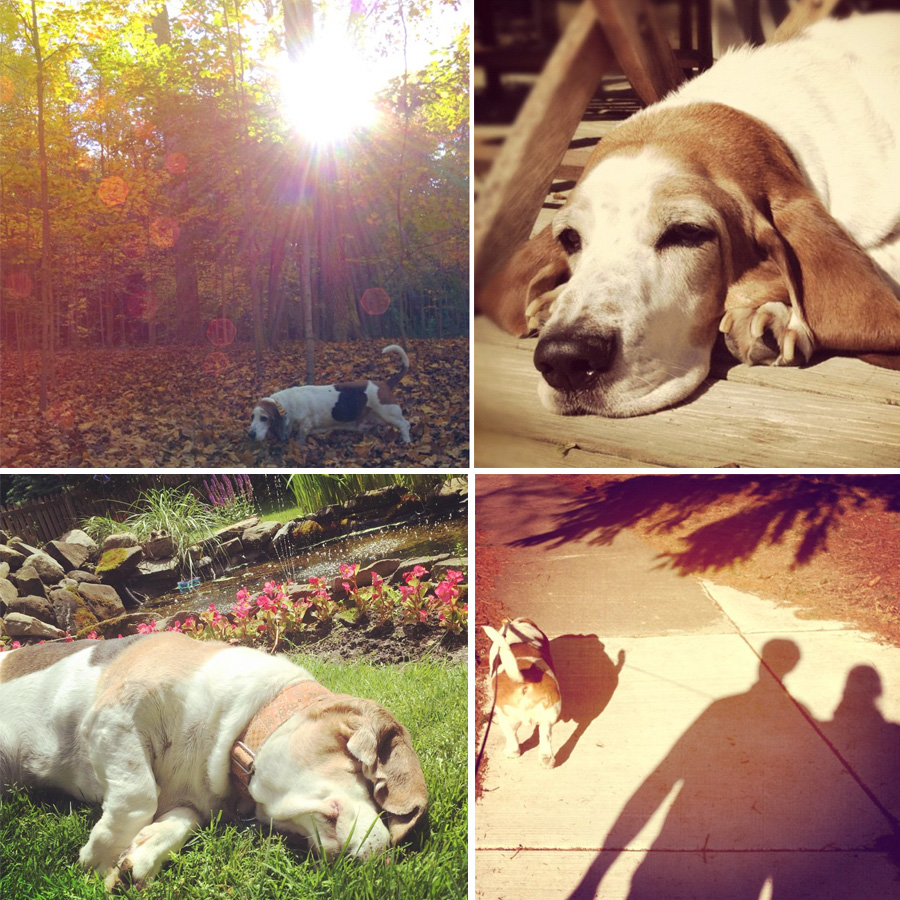 While he wasn't punching the clock some of his favorite pastimes included exploring new scents on neighborhood walks and sunbathing in any warm spot he could find.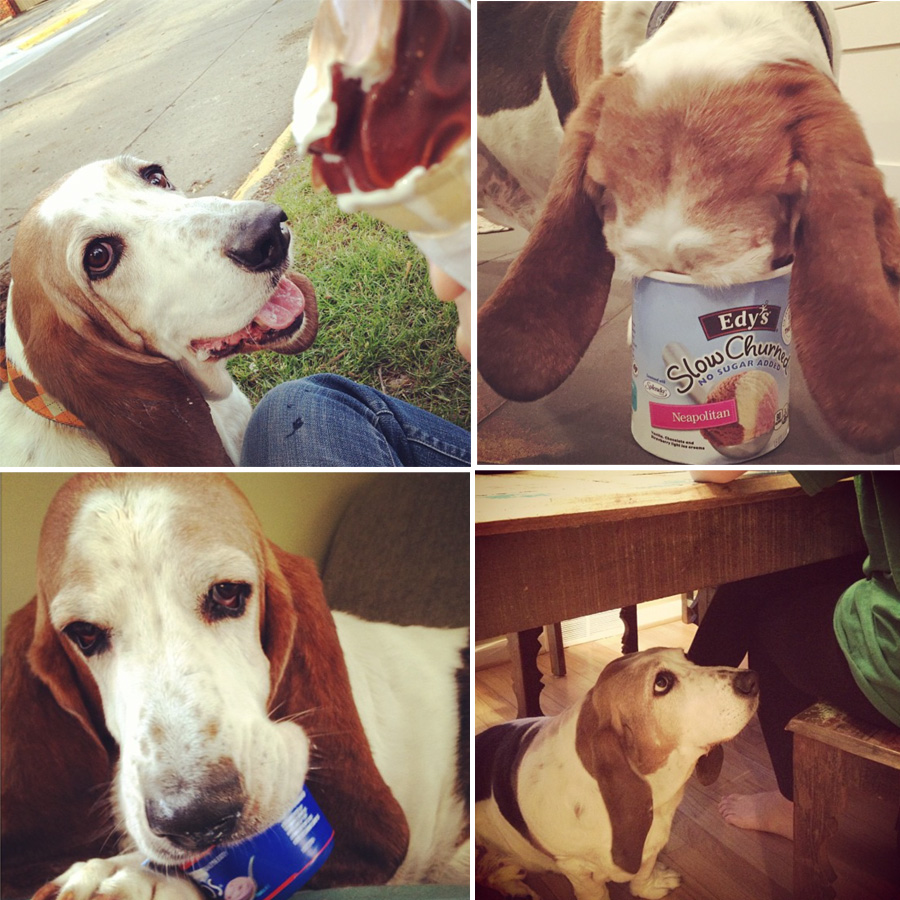 He was also very talented at cleaning all our containers before they hit the recycling bin and would always volunteer to take care of any crumbs left on our plates.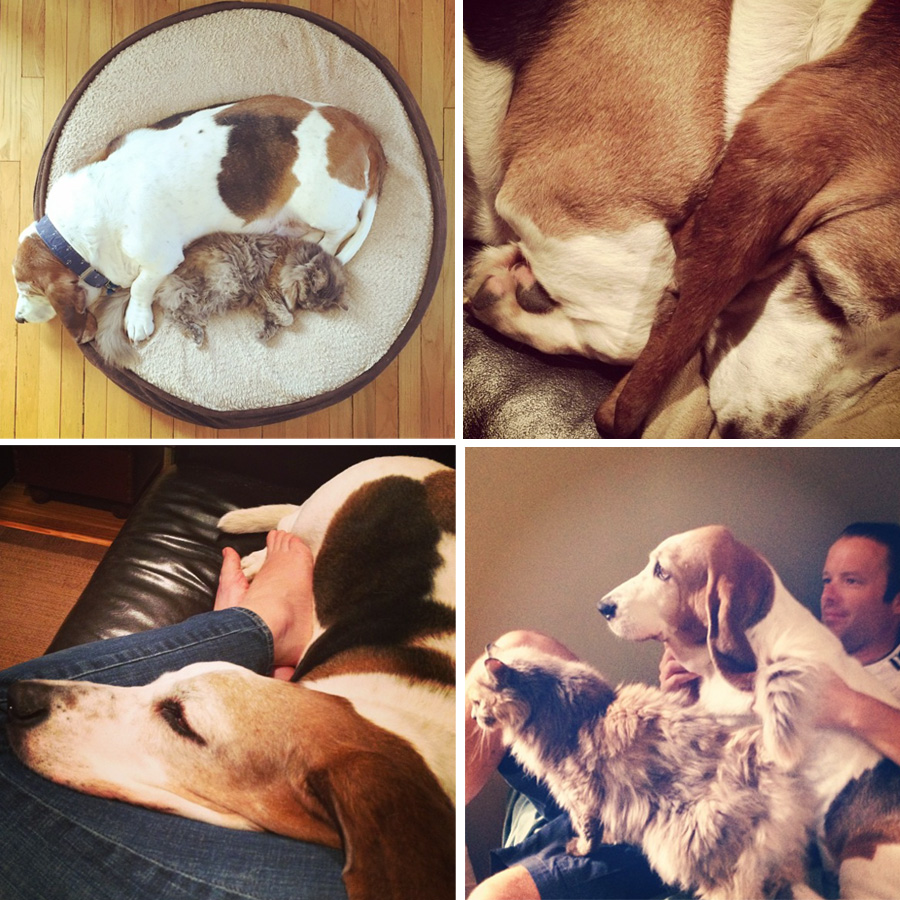 Even though he was a sturdy seventy pounds, he considered himself a lap dog and would seek out any opportunity to cuddle.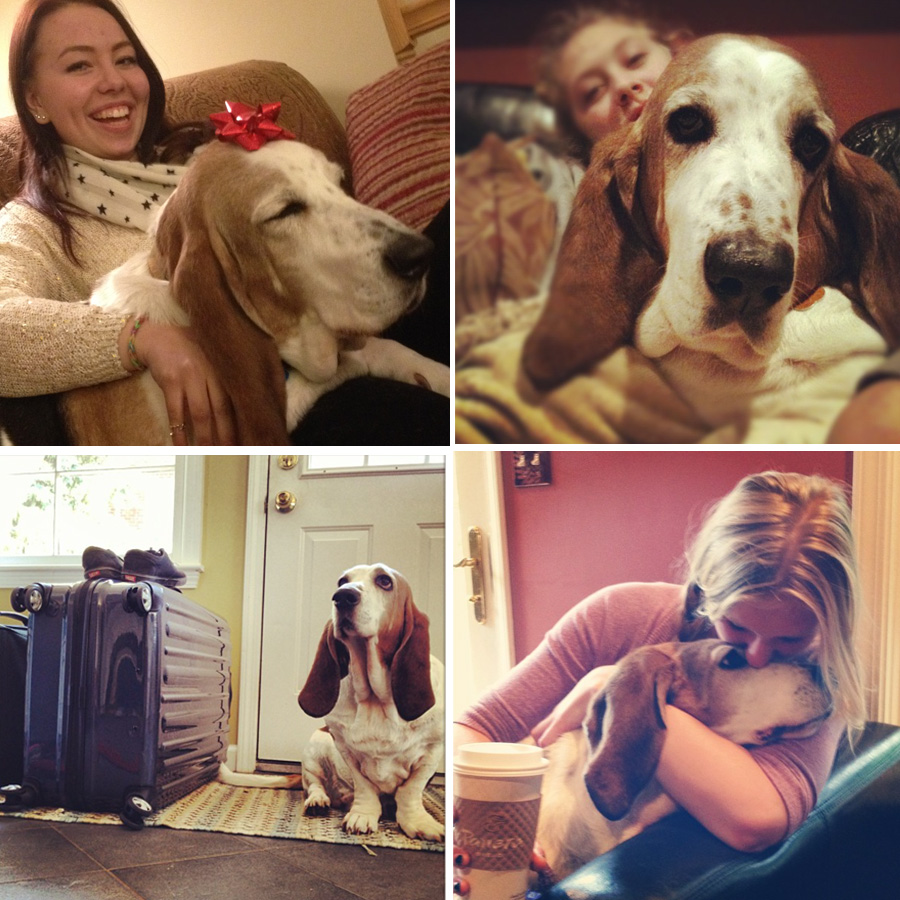 He made fast friends with all his international sisters who took him on walks and indulged him with lots of pets.  It was always a sad day when they had to leave although he did his best to block the door.  Gus did make sure they all made their way back with some souvenier dog hair on their clothes.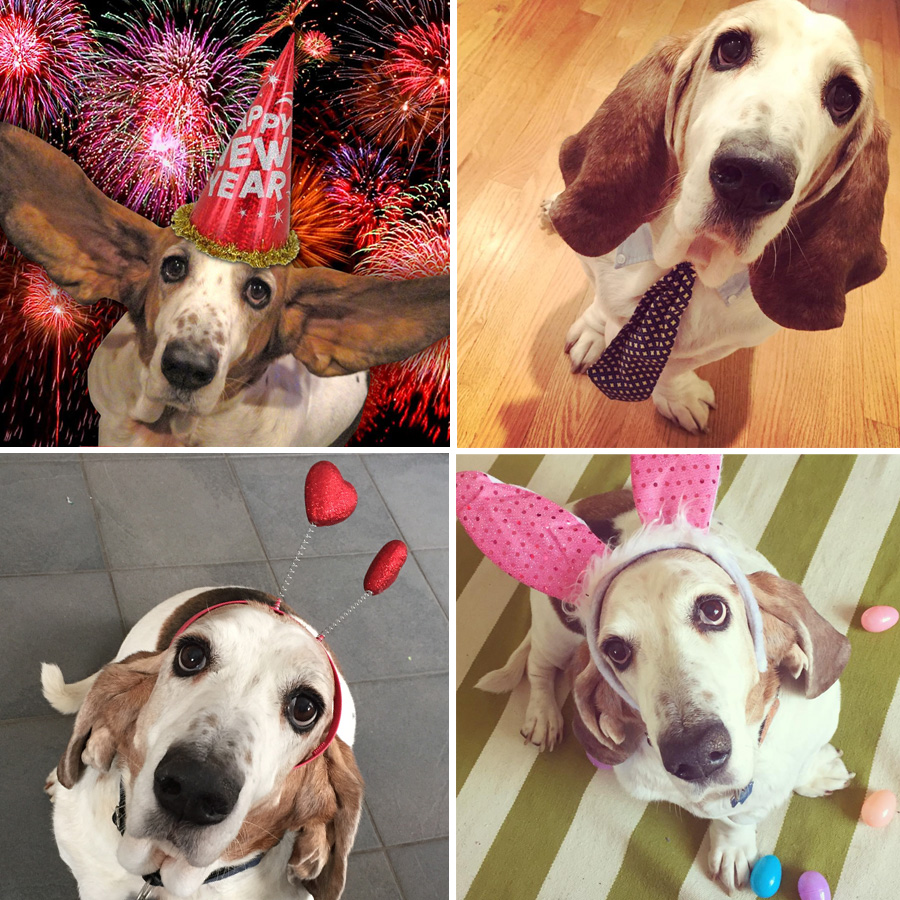 Since Gus had such an easy going personality and could be bribed with any kind of food I couldn't' resist having a little fun with him during the holidays.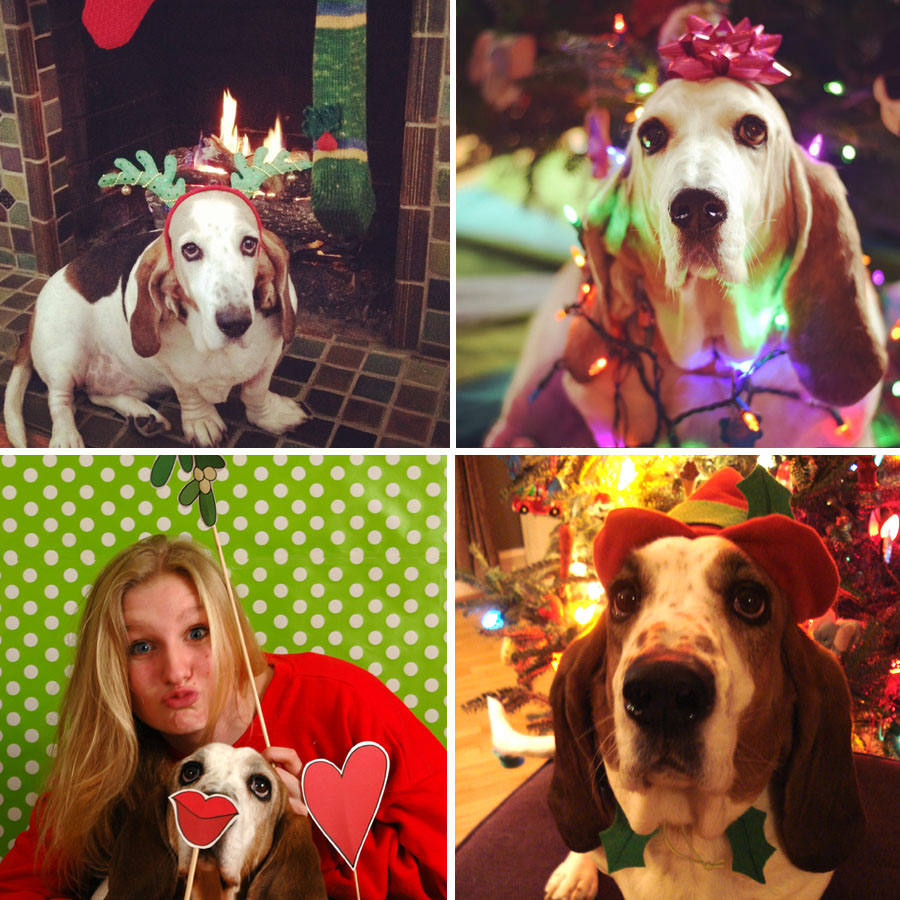 … especially when it came to Christmas.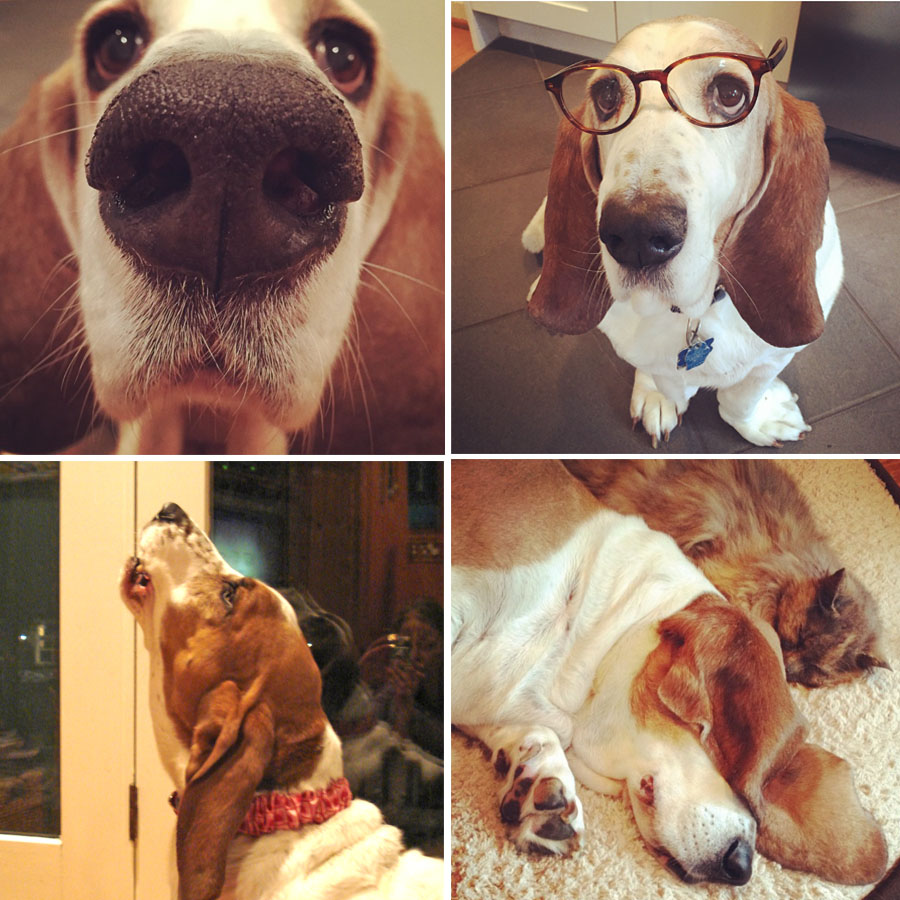 There were so many little things we will always remember… how his super smeller and appetite for everything got him into trouble more than a few times… how he would howl whenever he heard the horns on the CBS Sunday Morning theme song…  how his velvety floppy ears doubled as a sleep mask… how his giant left paw always turned out when he sat down.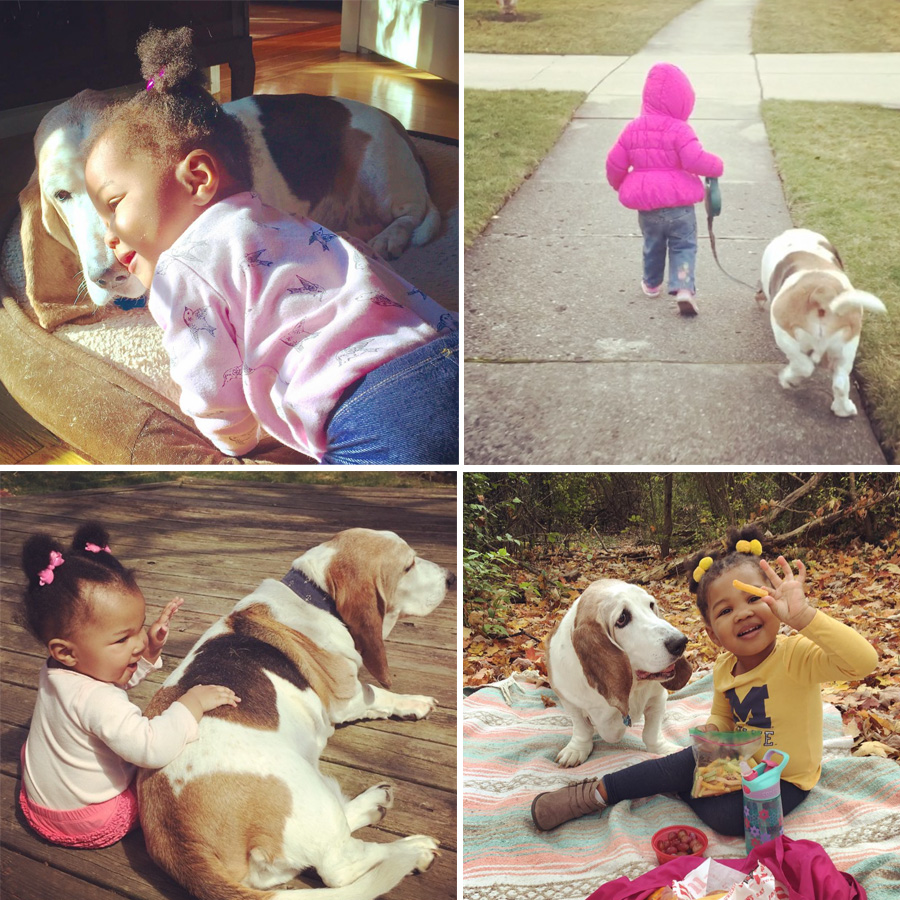 Marlo grew up with Gus always nearby.  It wasn't long before they became best buddies… especially when Cheerios started hitting the floor during snack time.  Her first word was Gus and as her vocabulary developed she took charge of bossing him around whenever she could. Gus didn't seem to mind and was happy to share his senior years with this little dynamo.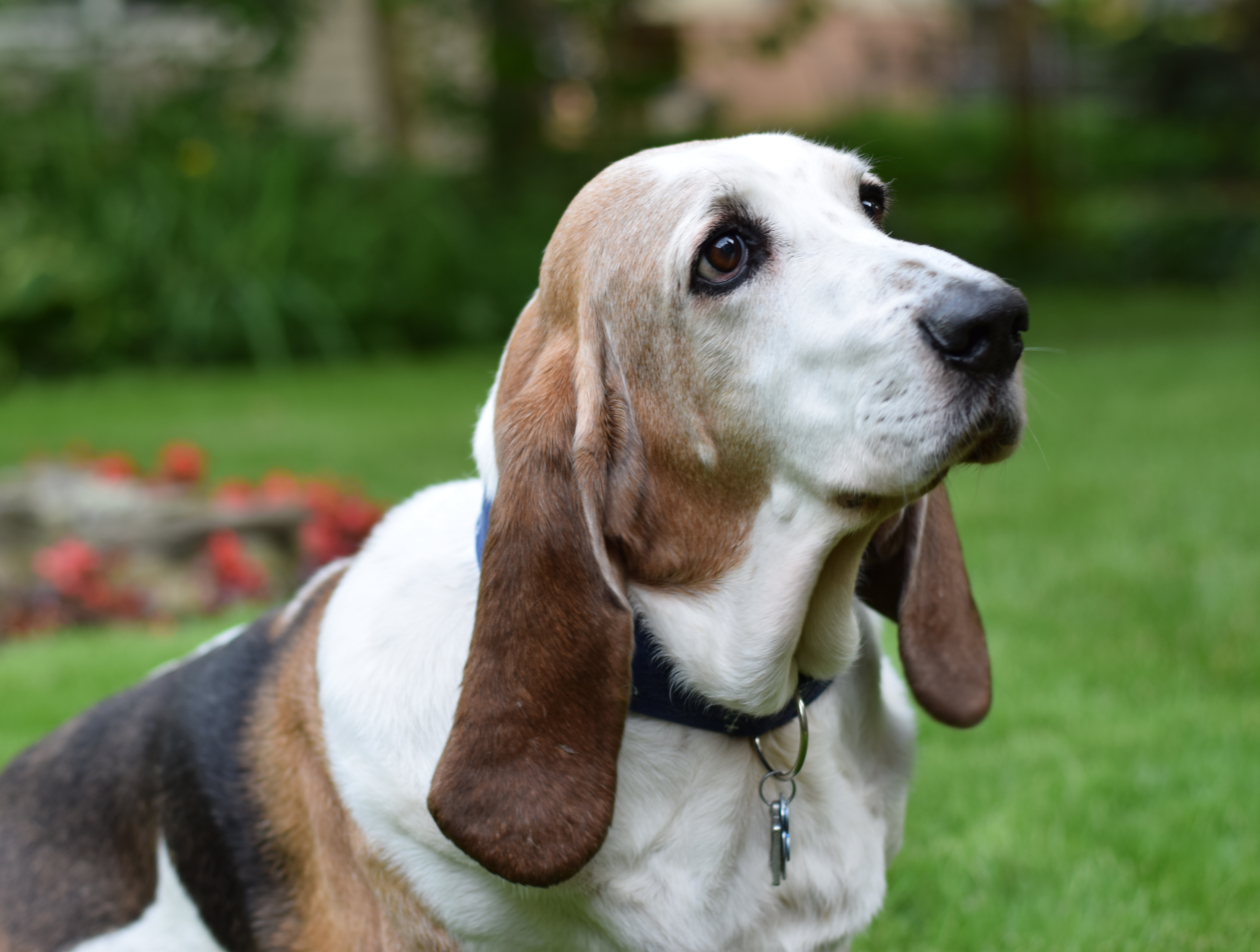 I'm grateful we were able to spend almost nine years with our goofy Gus.  His jolly trot, happy tail wags, longing looks, loyal friendship, kind demeanor and constant companionship will be missed dearly.
Cooking and cleaning might not be your idea of fun, but at least these clever and quirky finds will add a little spice to the everyday grind.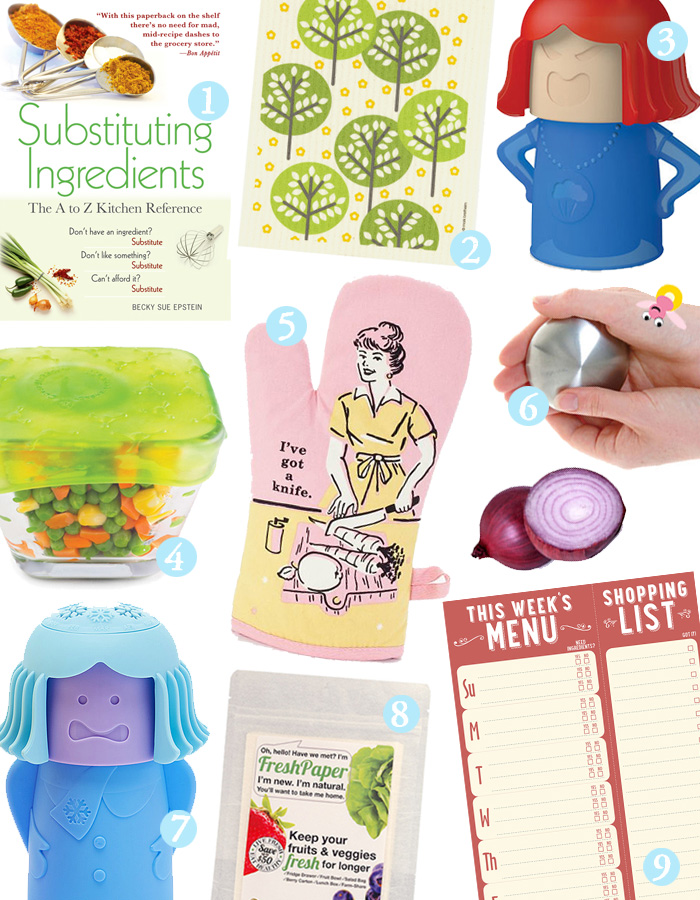 1.  Just realized you're out of paprika in the middle of making dinner?  No worries with this helpful book $9.99

2.  Use this thirsty Swedish dish towel to clean up wet messes and cut your paper towel consumption in half $6.95

3.  Let angry mama take care of your microwave messes – her steam keeps thing clean $10.95

4.  Cover blubber beats plastic wrap hands down $3.95+

5.  A nice reminder in case any of your kids are giving you grief while preparing dinner $11.95

6.  Say goodbye to your hands smelling like garlic and onions with this snazzy soap $10.95

7.  Tis' the season to clean out the fridge and put chilly mama in charge of keeping thing smelling fresh $14.95

8.  Keep your berries fresh for longer by adding this all natural paper to the container $9.95

9.  Planning out your menu and grocery trip is half the battle. This preforated pad makes it easy to get organized $5.95  

Shop all Kitchen HERE

Do you like unique finds that bring big smiles?  Simply sign up to receive these blog posts in your email and you'll be in the loop & get our latest scoop.