It's the king of comfort food–meatloaf. Whether you like it served with mashed potatoes or on a sandwich, there's no denying that it tastes like home.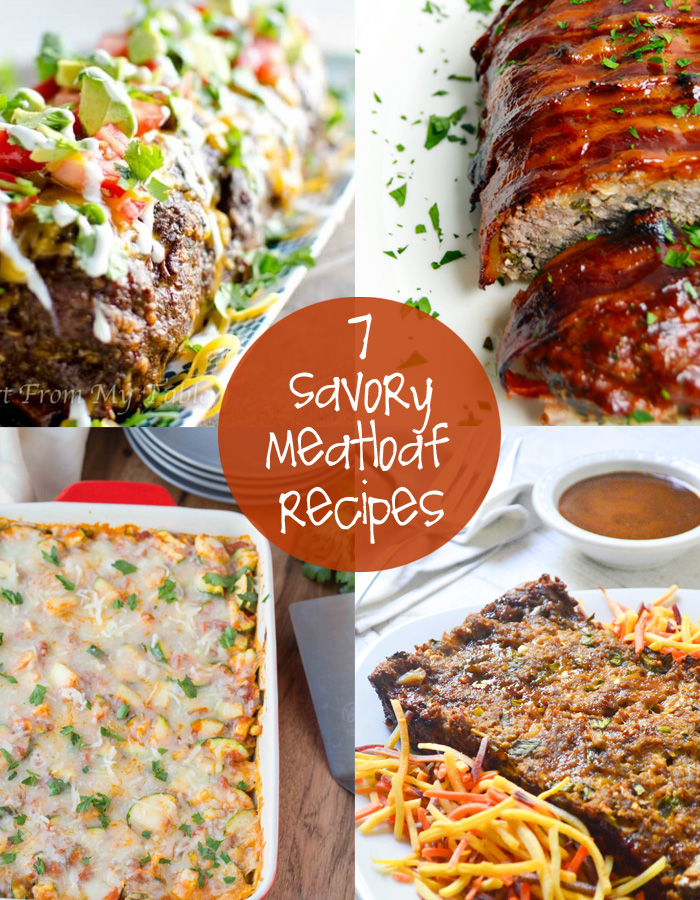 In our endless endeavor to expand the weekly menu rotation, we found quite a few recipes that turn up volume on this classic dish–and we also included a time-honored old-school version (you really can't go wrong with any of these incredible choices).
Simply Whisked has a great recipe for the meatloaf you grew up with. Check out the Diner Style Meatloaf with Ketchup Glaze here.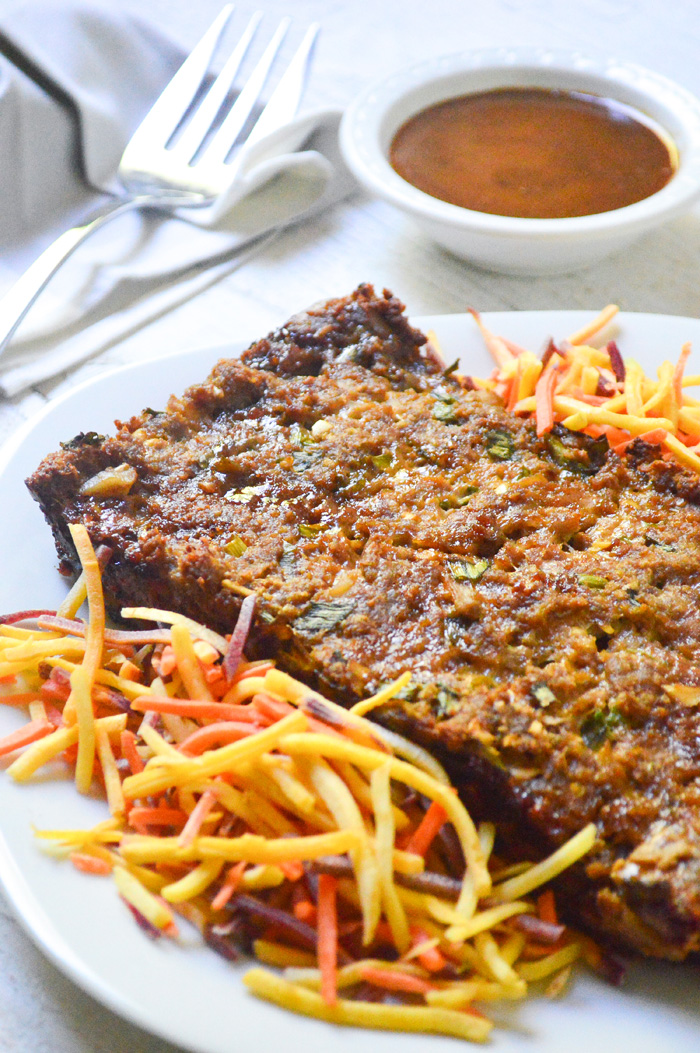 Alison from The Lemon Press used ground turkey and tons of veggies along with ginger and red pepper to make her mouthwatering Asian Meatloaf. Serve it shredded carrots and extra peanut sauce for dipping.
Use cubed cheese instead of shredded in this Cheesy Meatloaf and you'll get little pockets of warm gooey cheese. Get the complete recipe over on Julie's Eats & Treats.
Andie Mitchell's irresistible Honey Barbecue Meatloaf recipe is moist, smoky, and sweet. Imagine enjoying this meal on a cold winter night–we think it's a real winner.
The Bacon Wrapped Meatloaf over on The Busy Spatula makes the perfect meal for any meatlover. Main dishes don't get much more satisfying than this one.
If you looking for a low-carb dish, you'll want to try the Mexican Meatloaf on Art From My Table. This delicious dish is bursting with the flavors of mexican food that you love (minus the taco shell).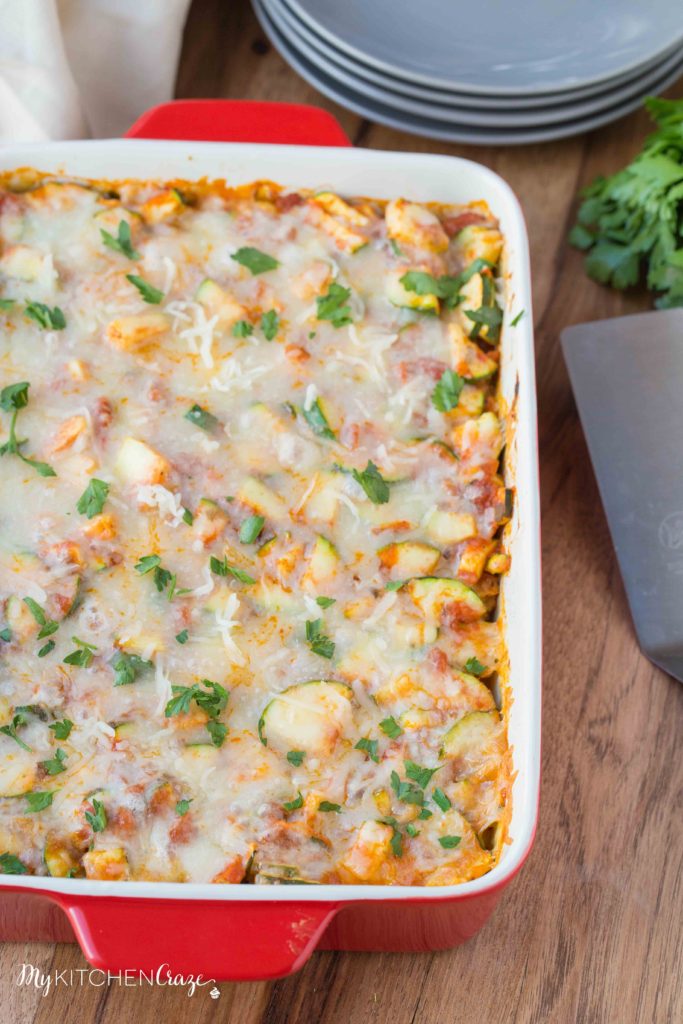 Lastly–no ketchup required for this Italian Meatloaf that we found on My Kitchen Craze. This entree gets a flavorful boost from its spaghetti sauce and zucchini topping.
Like to try the classics with a twist?   Don't miss out on our future recipe finds… simply sign up to receive these blog posts in your email in box.
When you start thinking about that long list of blessings to be thankful for this month it's no surprise that family is usually the first few lines.  What better way to celebrate those closest to you than with a personalized gift made just for them?  See some of our suggestions below or shop all personalized finds HERE.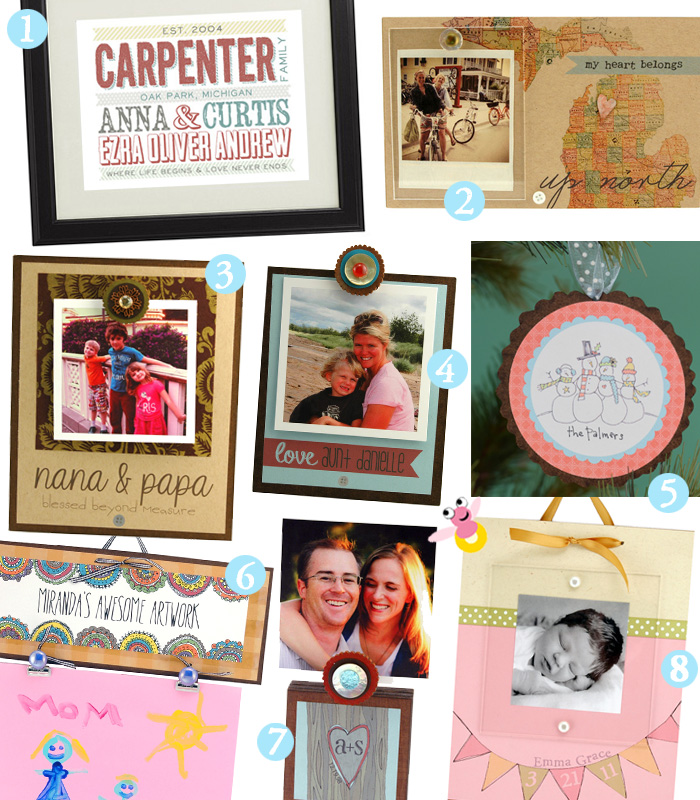 1. Put your family in a frame with this pretty typography print $24.95

2.  Where does your heart belong?  Pin point your favorite spot on this custom map frame $28.50

3. Let your grandparents know how much you love them with this one of a kind photo frame $30.95

4.  Do you have a special auntie in your life that deserves her own frame filled with a photo of her favorite niece or nephew? $16.95

5.  Turn your tribe into a sweet snow family with these whimiscal ornaments $9.95

6.  Showcase your kiddos artwork with this handmade brag board $28.50

7.  Skip carving your initials into a tree and get them on this fun photo block instead $17.95

8. Celebrate the special day you little one joined your family in this adorable frame (also available in boy colors) $40.95

Do you like unique finds that bring big smiles?  Simply sign up to receive these blog posts in your email and you'll be in the loop & get our latest scoop.
Potatoes are certainly a staple in the average American diet–and sweet potatoes stand out as the leader of the pack when it comes to nutrition. These super spuds are high in Beta Carotene and vitamins E and C.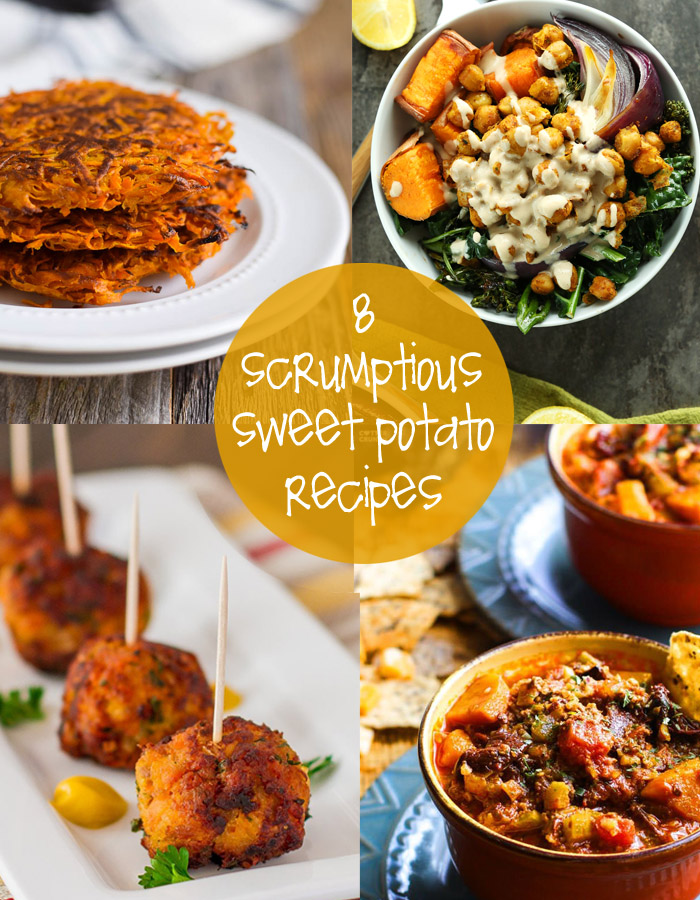 Eat them with the skins on and they're an easy way to incorporate fiber into your meal plan.
Yummy Sweet Potato Hash Browns will make a delicious addition to your breakfast or brunch menu. Easy prep makes this dish even more attractive–only three ingredients!
Move over pumpkin pie–this Bourbon Sweet Potato Pie is taking the spotlight on dinner tables across the nation. Make sure you add a dash of allspice all over the top to give it that little extra oomph.
The Cheerful Kitchen is all about whole foods that make you feel good and here's a perfect example–Chicken Taco Baked Sweet Potatoes. These babies are loaded up with chicken from the slow cooker and don't forget the guacamole and fresh pico de gallo.
Here's one snack that look super delicious–head over to Taste and Tell to read Deborah's directions and review of these Sweet Potato Tots with Creamy Ketchup.
Feast your eyes (and your tastebuds) on this complete meal in a bowl…the Minimalist Baker shares her recipe for this Sweet Potato Chickpea Buddha Bowl right here. This super food is drizzled with a delightful maple-tahini sauce.
We predict raves all around on these Sweet Potato Turkey Meatballs. They're sweet and spicy make a wonderful appetizer for the upcoming holiday season.
Christina from Dessert for Two loves these Melting Sweet Potatoes so much that she made them three times in one week. She's got lots of tips and tricks for these velvety potatoes on her blog…make sure you check them out.
Take a peek over on the Cotter Crunch Blog to see how Lindsay turned Thanksgiving leftovers into Crock Pot Sweet Potato Chipotle Chili. This hearty meal is paleo friendly and gluten free.
Like to try the classics with a twist?   Don't miss out on our future recipe finds… simply sign up to receive these blog posts in your email in box.
We have officially decked our halls with all things Christmas and invite you to tour through our winter wonderland this Saturday for our holiday open house. It's the perfect day to give back and get free goodies for this wonderful season.
We invite you to select a free ornament of your choice when you bring in 5 or more canned goods and make a purchase (1 per family)

We'll also be doling out catching fireflies $5 bills that can be redeemed in December with every $25 spent

Plus we'll be serving up sweet treats and playing Christmas tunes all day long so come out to get in the  swing of the season.



And yes… all of our holiday goodies of course!

Looking forward to a merry day filled with fun. Hope to see you there!
After unpacking, pricing and placing hundreds of ornaments in our Christmas display, it's hard for our team not to be tempted to bring a few of their favorites home.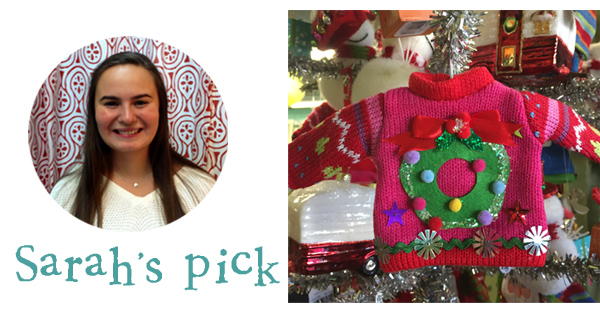 I love these tacky Christmas sweater ornaments! I wish I had a life size sweater that looked like this!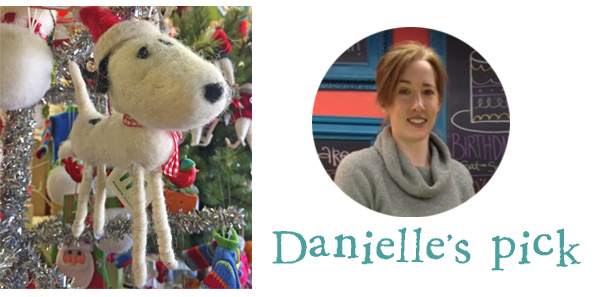 This fuzzy puppy has the perfect "puppy eyes" look that all of us dog lovers are familiar with.  Of course you can't forget the pets on the family tree.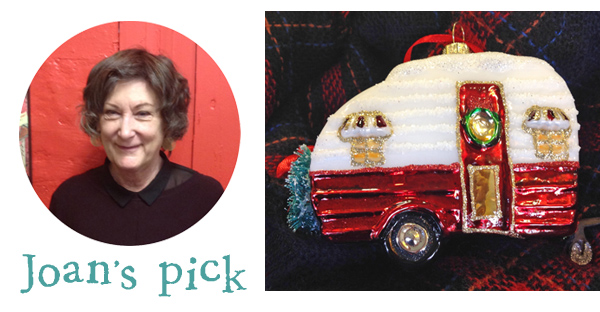 I want to travel to the North Pole in this caravan and have a long talk with Santa!!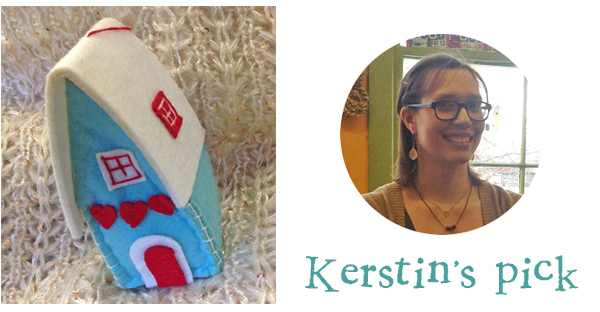 This is the cutest house I have ever seen, three little hearts for me and my littles and big windows so we can cozy up and look at the snow as it falls.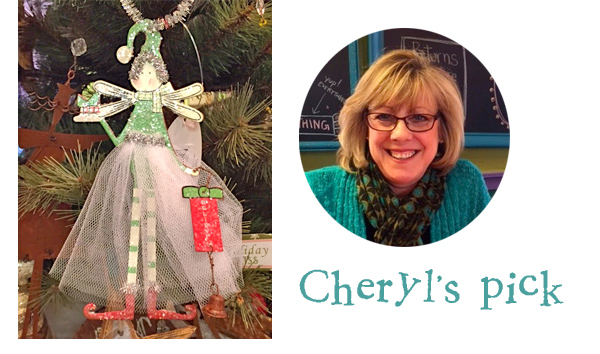 This glittery, cute fairy brings magic to the season. Just believe!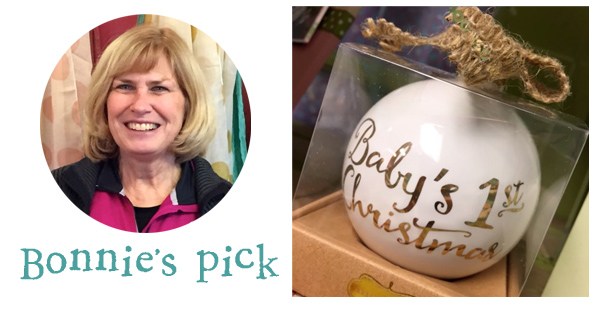 Perfect for my new granddaughter!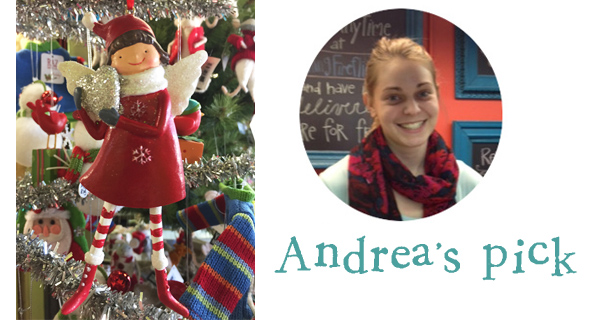 Even though I do not celebrate Christmas this ornament still shows how I feel this time of year!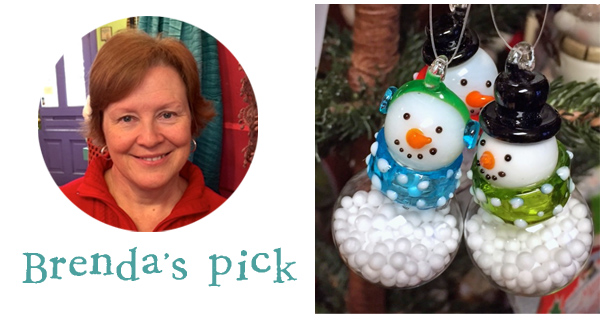 I love how dainty and cute they are!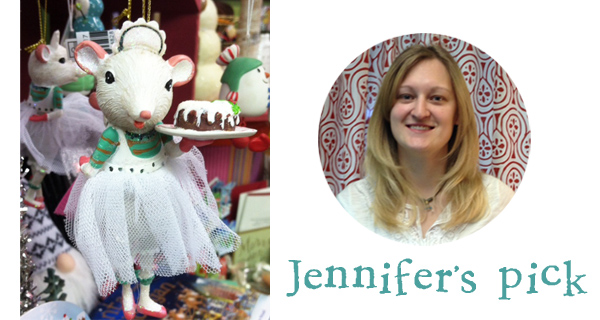 I love these little Mice ornaments! Especially this one with the cake since I look forward to baking holiday goodies for my family gatherings every year!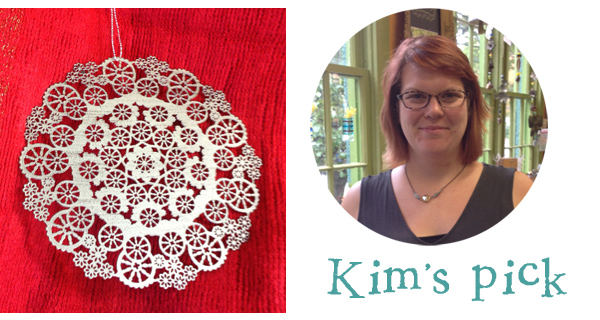 I love this ornament's old world charm. I can't wait to add a touch of class to my tree this year!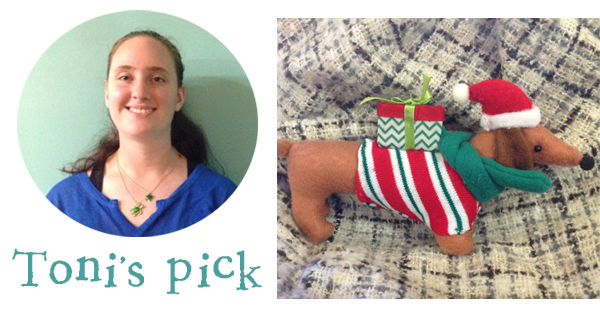 Everyone needs a best friend to help keep warm and cozy through the chilly holiday season.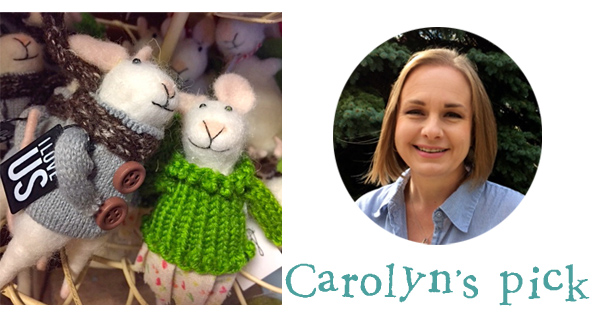 It's perfect for new couples & their first Christmas. Super cute!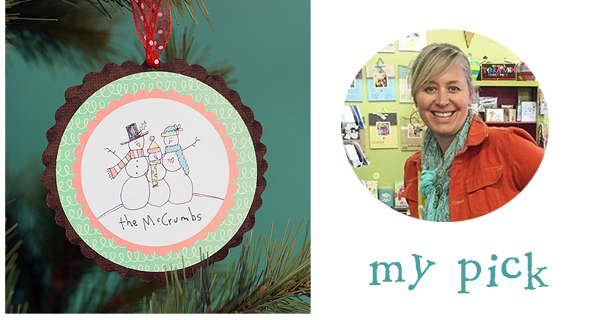 It's hard to believe it's already our third Christmas with Marlo!  This sweet personalized ornament celebrates our little family so it will definitely be finding a place on our tree this season.

Do you like seeing what team catching fireflies is loving? We're happy to share some of our favorite finds.  Simply sign up to receive these blog posts in your email and you'll be in the loop & get our latest scoop.
Even if there's not one flake of snow in your neighborhood, you can create a frosty dreamscape setup to enjoy inside your cozy home. Most are made using things you already have around the house along with just a few simple supplies from your local craft store.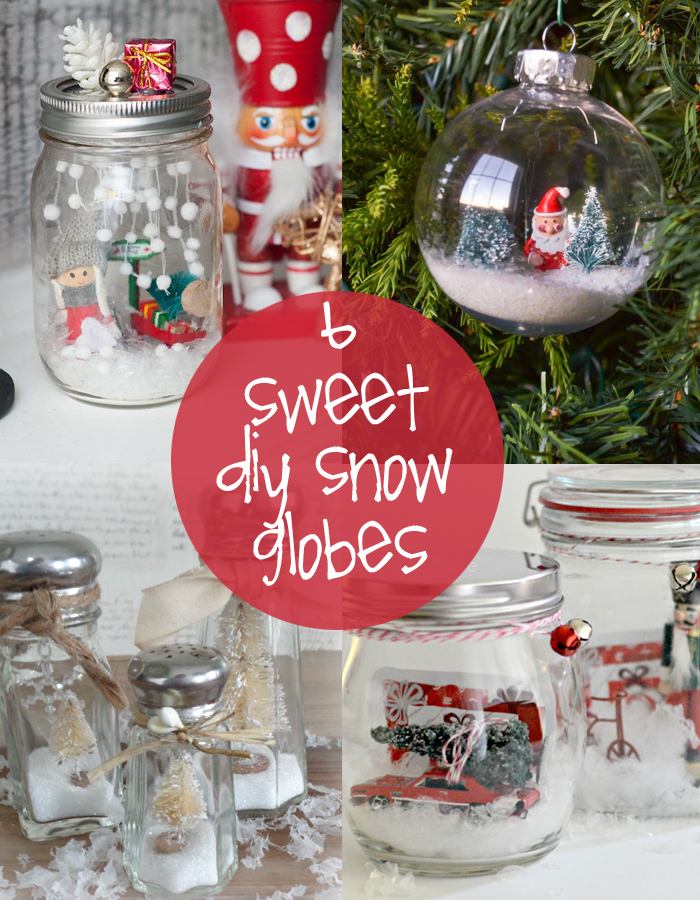 They're all so imaginative, it's impossible to pick a favorite…
Check out this cute DIY Mason Jar Snow Globe that we came across over on Dwell Beautiful. Erica cleverly strung tiny pom poms to simulate falling snow.
Here's another one with no water involved–head over to What's Ur Home Story to find out how to make this adorable Snow Globe Ornament.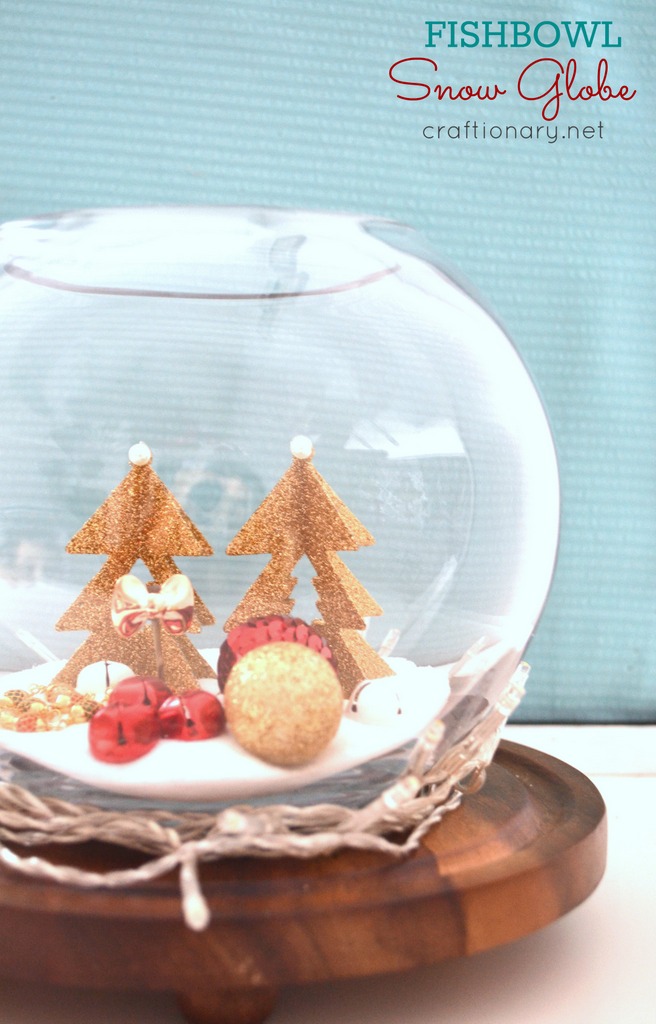 The DIY Fish Bowl Snow Globe that we found on Craftionary is perfect if your taste is more modern than traditional. It has a more minimalistic feel than most customary versions.
If you're giving a gift card this year, present it to your recipient in a unique DIY Gift Card Snow Globe instead of the usual card or gift bag.The folks at Hip2Save point out that these make great teacher gifts.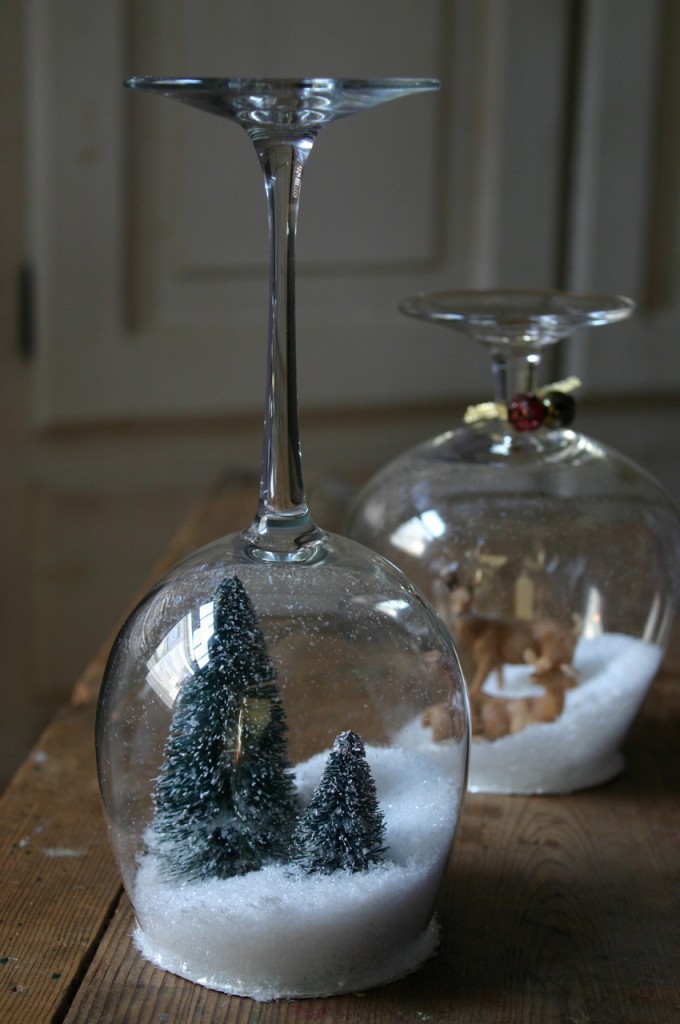 Pick up a few wine glasses at your local thrift store and you can make these pretty DIY Stemware Snow Globes. They'd make a stunning table centerpiece for any holiday dinner.
These DIY Salt Shaker Snow Globes may be small in size, but they make up for it with their demure charm. Scatter them all around to give your home an enchanting wintertime ambience.
Like to get a little crafty now and then? Stay in the loop by signing up to receive our gems we found on the web in your email inbox!
When asked to write out our list of blessings, usually the first ones are friends and family and we couldn't agree more. They are the ones who make us laugh, teach us about love and make our lives worth living.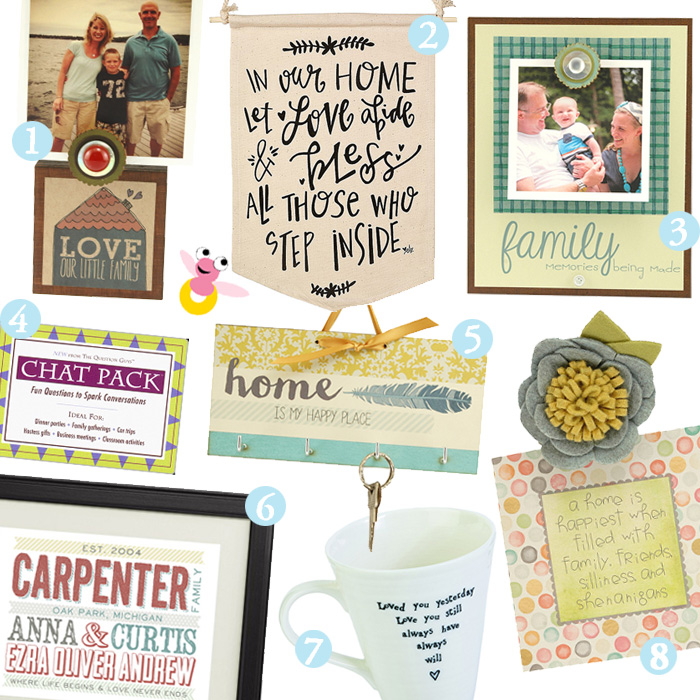 1. Tis the season for family photos.  Capture your troop and show them off in this cute handmade photo block  $14.95

2.  Let this lovely hand lettered banner welcome your family and friends as they enter your nest  $13.95
3. Memories are being made everyday.  Stop time by capturing a few and keeping them in view with this handmade photo frame $27.95

4. Create fun and memorable family dinner conversations with some help from these chat pack conversation cards $10.95

5.  Hang your house keys on this handmade hook which celebrates the place you most love $27.95

6.  Put your family in print with a one of a kind sign $24.95

7.  Start your day with your favorite fuel and a loving sentiment that will get your through $18.95

8.  We couldn't agree more!  A great reminder to display on the fridge $12.95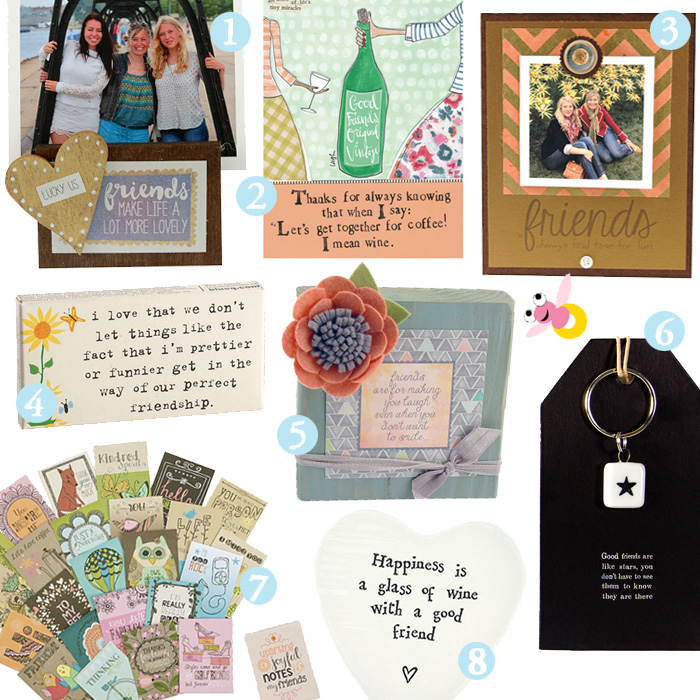 1.  Fine friendships should be on display $14.95

2.  Best friends always know how to translate when you speak in code $5.50

3.  Friends do always find time for fun, don't they?  $27.95

4.  Ahhh… gift the gift of gum with a sweet dose of sarcasm $1.95

5.  This saying always reminds me of that memorable movie scene where Carrie Bradshaw finds her first laugh again after Charlotte pays the price for drinking the water from her shower in Mexico $26.95

6.  Even though we don't get to see some of our favorite friends that often, this keychain is makes a bright little reminder they are always phone call away $5.95

7.  Who doesn't enjoy a surprise note slipped in a book, mailbox or gift card sleeve? $6.95

8.  Because nothing pairs better with wine than a fine friendship $8.95

Do you like unique finds that bring big smiles?  Simply sign up to receive these blog posts in your email and you'll be in the loop & get our latest scoop.
Okay… please indulge me one last pumpkin spice post this fall.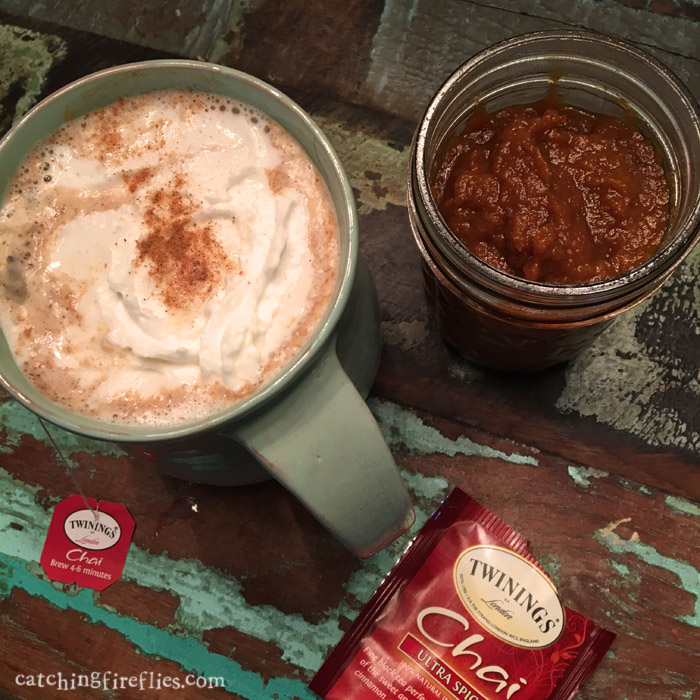 When the temps drop this time of year I find myself craving warm drinks to start and end my day.  My go-to is usually a variety of tea lattes but this pumpkin spice one tops my list for these fall months.

It's really simple to make and also makes a lovely little gift for anyone who loves warm fall flavored lattes.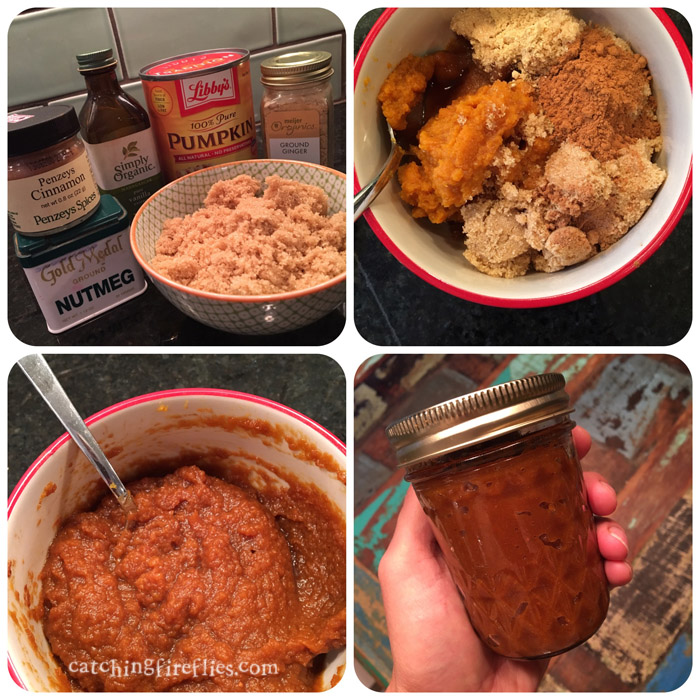 Here's what you need:

1 cup pumpkin puree
3/4 cup brown sugar
1 tablespoon cinnamon
1 tablespoon vanilla
1/2 teaspoon ground ginger
1/4 teaspoon nutmeg

Simply mix all the ingredients together and store in a jar or sealed container.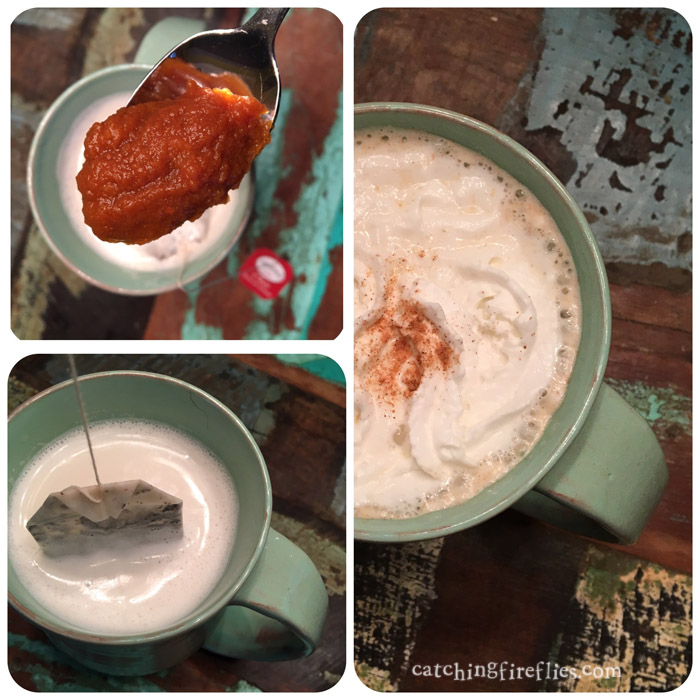 Next just fill your mug half with water and the other half milk (I like to use whole milk for a slightly richer flavor or) and I microwave mine for 2 minutes.  Pop your favorite chai tea bag in the mixture and let it steep for a minute.  Then add 2 tablespoons of the pumpkin mixture and stir in to dissolve.  If you want to get fancy, top it off with a bit of whip cream and shake of nutmeg.

I've made these for a couple of my mom friends on recent playdates and they have been a hit!  The pumpkin mixture works well with coffee too.  It really is a comforting subtly sweet treat that makes you feel all cozy and warm inside.

Like special recipes that celebrate the season?  We love whipping up delicious treats. Don't miss out on our future finds… simply sign up to receive these blog posts in your email in box.
These roll-up recipes are not only delicious…they put a new spin on mealtime. The rolling concept is not only limited to sandwiches (although, they are very popular)–pasta is also a building block for some of these irresistible dishes.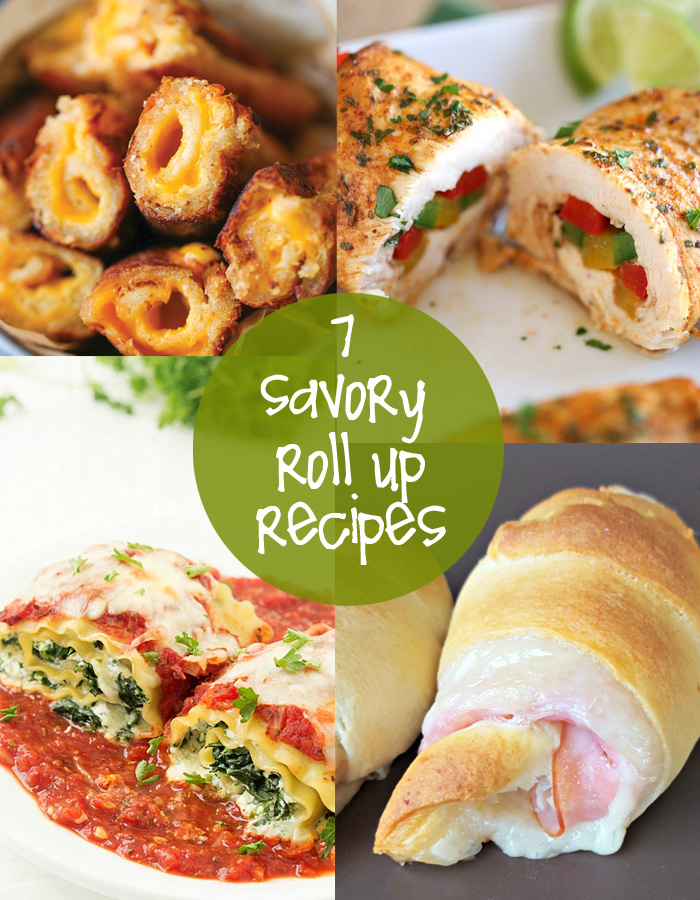 The next time you're looking for a way to put a little diversity into your dinner routine–step outside the box and roll out one of these amazing recipes!
Seven simple ingredients…that's all you'll need to whip up these Turkey Ranch Roll-Ups. The Pinning Mama will walk you through the easy prep method right here.
Turn a weeknight dinner into a gourmet experience when you serve up these Spinach Lasagna Roll-Ups. Chelsea from Gal On A Mission really loves this meal (especially on a chilly winter night, being that it's simply comfort food at its best).

This Grilled Cheese Roll-Up Recipe contains all the usual suspects. But, the secret to that special roll-up is in the rolling out and flattening of trimmed white bread slices.Serve these crispy mouth-watering sandwiches with a cup of piping hot tomato soup.
Hot Pepperoni Pizza Puff Pastry Roll-Ups have all the flavor of a full size pizza pie. They make perfect party appetizers or will get rave reviews as a busy weeknight meal.
Eat Yourself Skinny offers up a recipe for Baked Chicken Fajita Roll-Ups that packs all of punch that you'd expect from the traditional dish, but is low-carb and conveniently created in single-serving portions.
You'll find a great recipe for Chicken Cordon Bleu Crescent Roll-Ups on Simply Sherryl. These pair perfectly with dijon mustard, ranch, or horseradish dip.
From this photo we can almost taste of the layers of cheesy chicken in Alyssa's Chicken Alfredo Roll-Ups. Shredding the chicken is the key when preparing this fantastic dinnertime treat!
Like to try the classics with a twist?   Don't miss out on our future recipe finds… simply sign up to receive these blog posts in your email in box.
Our specialty is making days brighter and one way we hope to do that is by making firefly fans grin and giggle as they make their way through our little shop.   We hope a few of these finds for friends, family and more tickle your funny bone.  Shop all things funny HERE.

fun for friends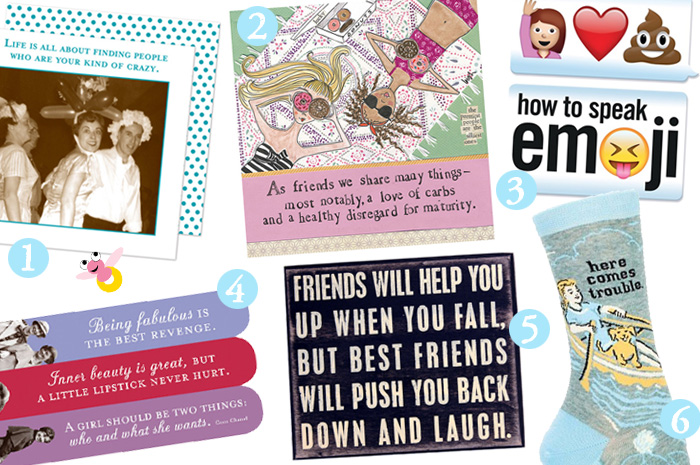 1. Serve up your favorite libations with the ones who 'get you' on these great napkins $5.50

2.  Donuts and disregard for maturity… where do we sign up?  $5.50

3.  You know you're good friends when you can communicate using just emojis  $9.99

4.  We like our nail files with a side of sassiness $7.95

5.  This is the perfect test to see which of your friends are the best $17.95

6.  You know that one friend you have the most fun with… here comes trouble! $8.95

fun for family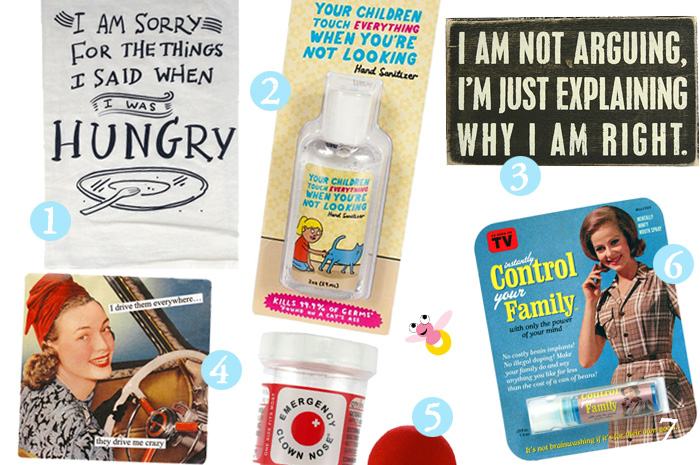 1.  We all know things can get ugly when someone is hangry $9.95

2.  As a parent of a toddler… I can completely relate $5.95

3.  Just to clear things up about friendly family discussions $9.95

4.  For all those moms who feel like they are a full time uber driver $5

5.  As a parent you wear many hats… including being a comedian to bring back smiles $4.95

6.  We can't make any promises this will work… but having good breath is a bonus $5.95

fun for co-workers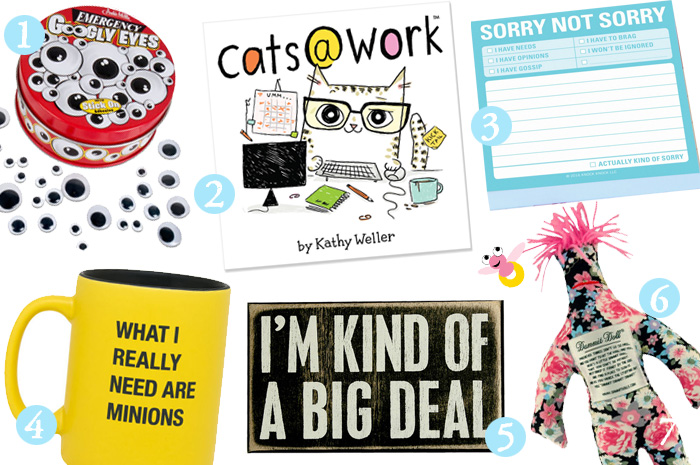 1.  When you stapler shows up with two googly eyes, you know it's not going to be that bad of a day at the office  $4.95

2.  These comical kitties know how to make the best of being stuck in a cube  $10.95

3.  Say what you need to say in a funny way with these silly sticky notes $4.25

4.  Little helpers would make life a lot easier wouldn't it?  $10.95

5.  Just a sublte way to let your other co-workers know where you stand (Ron Burgandy style) $9.95

6.  For those day you just need to release a little steam $13.95

fun for retirees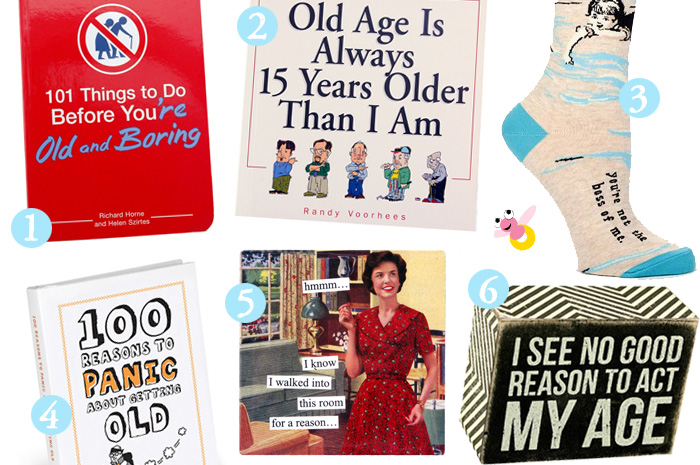 1.  Well, you're not getting any younger right? $12.99

2.  Anybody in this club?  I am an official member  $14.99

3.  One bonus of retiring is being able to say "You're not the boss of me!"  $9.95

4. Just a few funny and heartwarming reminders why getting old isn't sooo bad $11.99

5.  We've all been here… no?  $5

6.  We believe being young at heart is the best way to battle ongoing birthdays $9.95

Do you like unique finds that bring big smiles?  Simply sign up to receive these blog posts in your email and you'll be in the loop & get our latest scoop.