The weekday morning rush…we almost all feel the stress and it seems there's never enough time to really sit down and enjoy the first meal of the day. But, one of these delicious breakfast casseroles will probably fit right into your weekend schedule.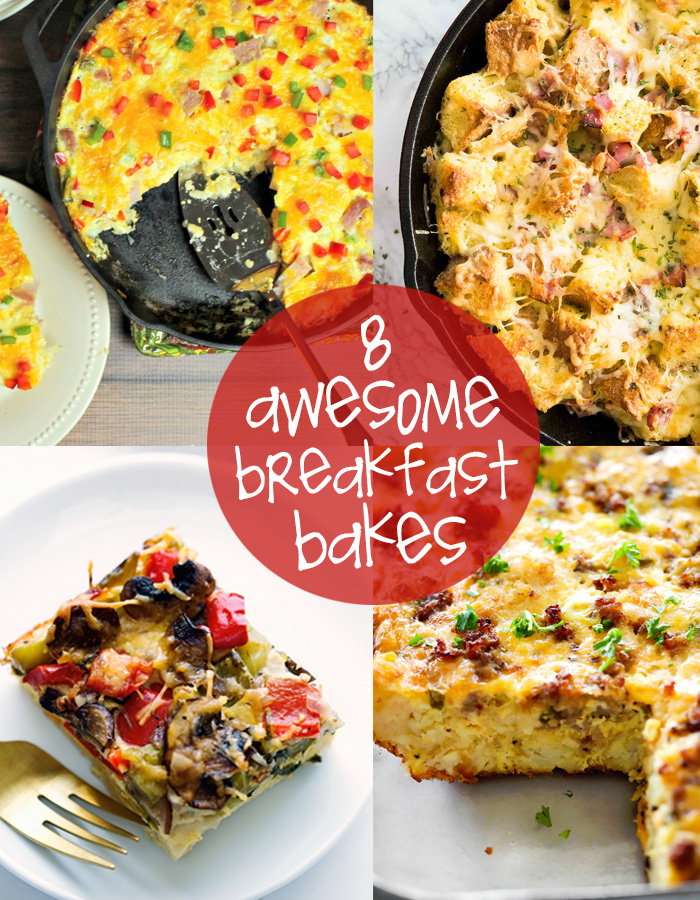 They are also wonderful fare for a crowd (bookmark this for the next time you're expecting guests or hosting brunch). Now–on to the delightful dishes…
The Veggie Loaded Breakfast Casserole that we came across on Little Spice Jar is completely customizable. Add or subtract ingredients to suit your taste.
This Mexican Breakfast Casserole can be made the night before and is packed with flavorful cheese, eggs, and spicy chorizo sausage.
Whip up this amazing Western Omelette Frittata and bake it in the oven (this means enough tasty eggs for everyone without having to stand at the stove and make them).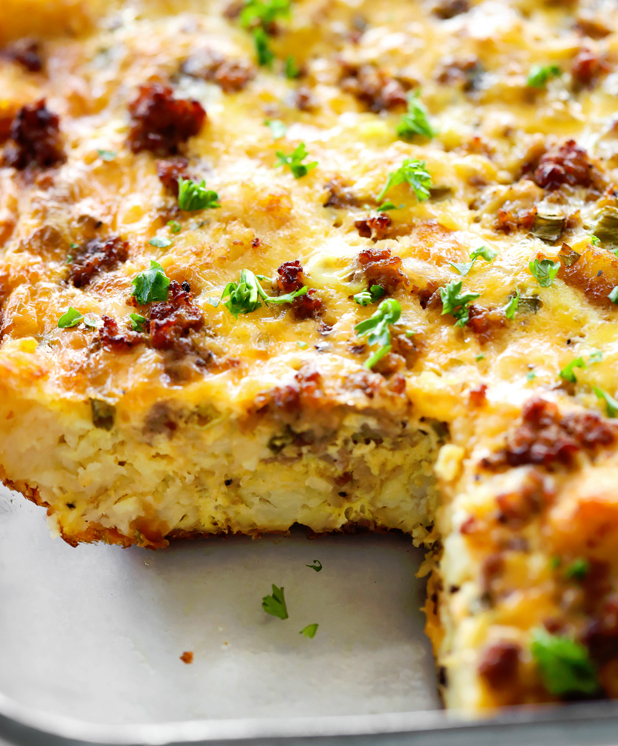 Tater tots for breakfast? Chef in Training has devised a delicious recipe that will having you coming back for seconds. (Not to mention prep work only takes about 5 minutes).
Did someone say biscuits & gravy? Scattered Thoughts of a Crafty Mom spills all her secrets for this satisfying dish right here.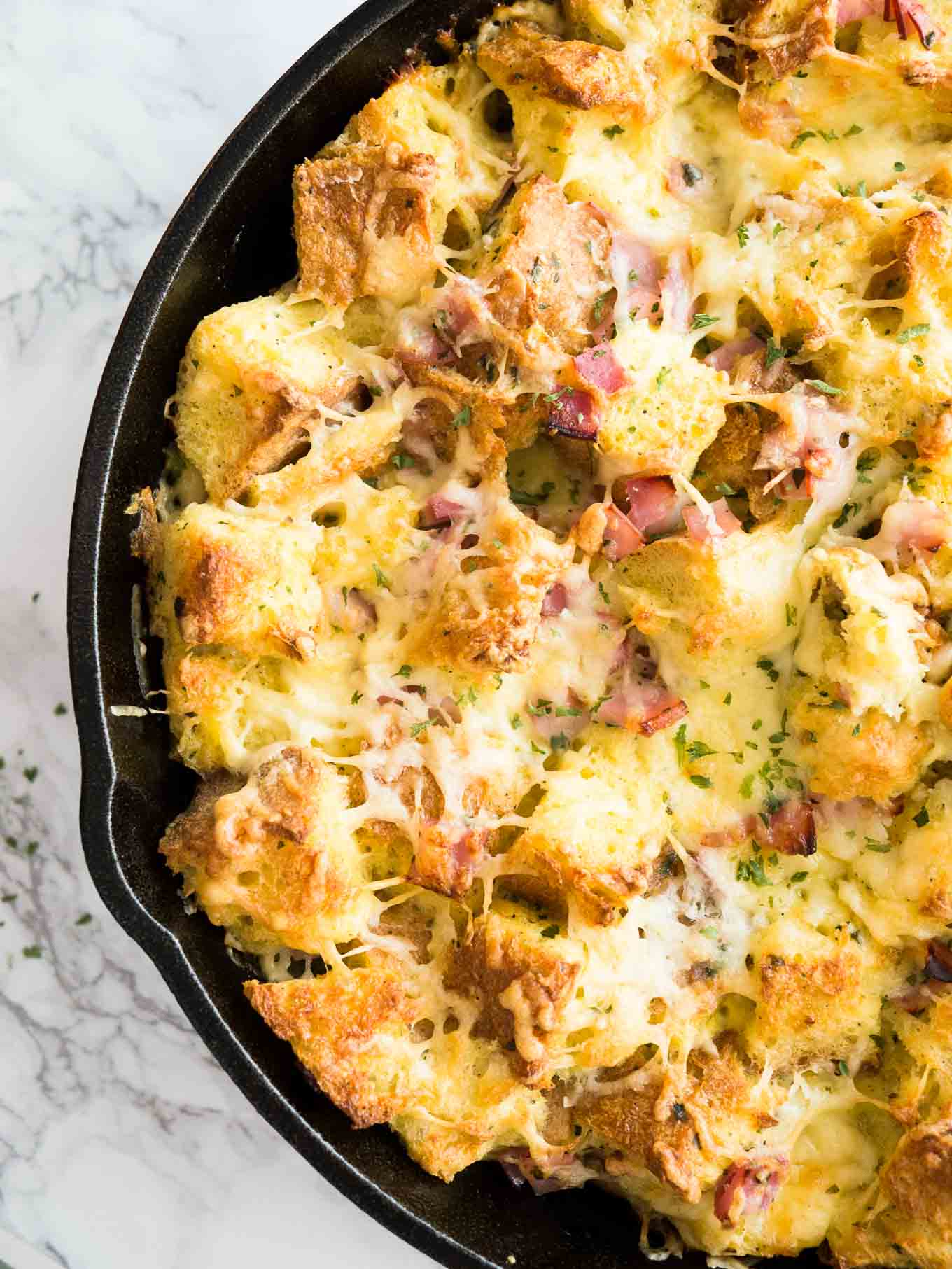 We stumbled across this irresistible Ham and Cheese Breakfast Casserole over on Plated Cravings. This one can be also be thrown together in a matter of minutes and is a guaranteed crowd pleaser.
Emily from Layers of Happiness re-created this Greek Egg Casserole based on a memorable breakfast she enjoyed while overlooking the Aegean Sea. Add some fruit and a latte and you've got the perfect meal to kickstart your morning.
And just because we can't ever get enough bacon around here–we suggest treating your friends and family to this scrumptious Bacon Asparagus Breakfast Casserole. Make it the night before then just pop it in the oven the next morning.
Like scrumptious ways to start your day?   

Don't miss out on our future recipe finds… simply sign up to receive these blog posts in your email in box.
We don't know about you but these warmer temps have us thinking of spring! Although it's technically still over 20 days away we can't wait to fill our space with these flowery finds.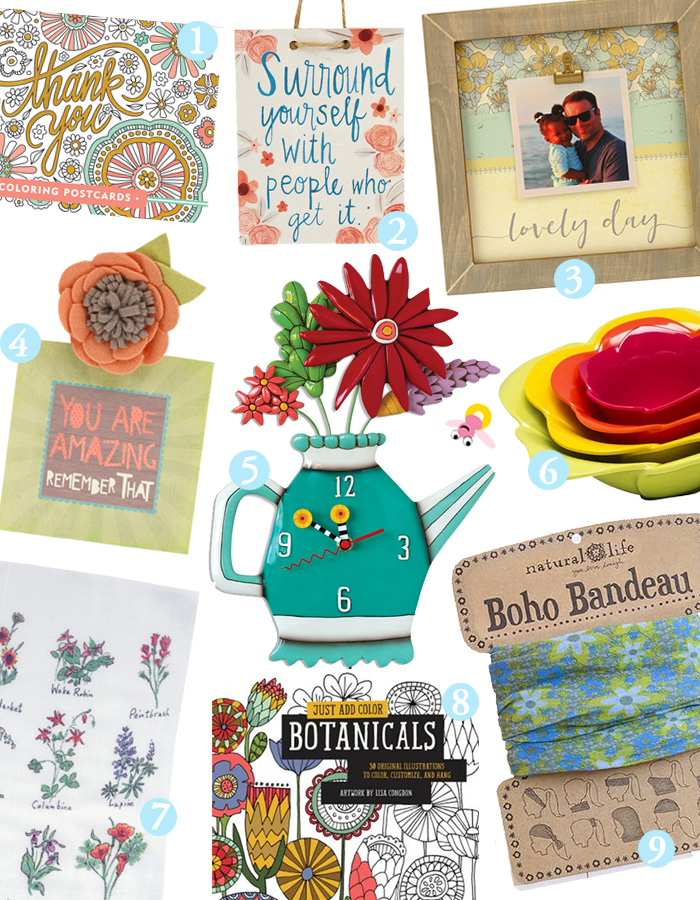 1. We love finding thoughful thank you notes in our mailbox… especially when they are hand colored by someone special  $7.95

2.  A great reminder and a lovely way to add a touch of spring to your home $9.95

3.  Memories that make us smile are our favorite memories $29.95

4. This handmade magnetic felt flower clip will never wilt  $12.95

5.  Such a bright and beautiful way to keep track of time $59.95

6.  These pretty petal bowls will add beauty to any buffet table $15.95

7.  Do your dish towels need an update?  This flour sack towel is waitng for you  $10.95 

8.  Create your own pretty posy gardens any time of the year  $12.99

9.  We love the versatility and style of these boho bandeaus $13.95

Do you like unique finds that bring big smiles?  Simply sign up to receive these blog posts in your email and you'll be in the loop & get our latest scoop.
Not digging your current decor? Shape up your surroundings with a roll of contact paper. This cool and colorful paper is also a super solution for anyone living in a rental or apartment where painting isn't an option.
If you're not sure where to start, take note of these ingenious projects that might fit right into your own home!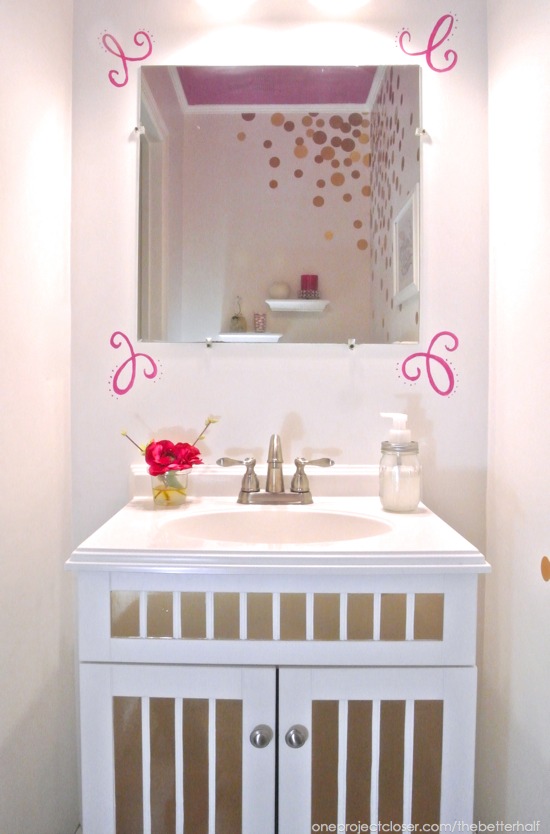 One Project Closer can show you how easy it is to makeover your bathroom. We are in love with the gold/pink combo here.
Speaking of bathrooms, look at this Medicine Cabinet Makeover. Just line the back of the cabinet with your choice of colorful contact paper.
Get the look of a marble countertop in your kitchen without breaking the bank. Make Do and DIY shows you how to complete the transformation here.
Introduce a little bit of whimsy into your office space with this funky Filing Cabinet Makeover. Jena from Sew Much Music took these ordinary office fixtures from boring to extraordinary.
With just a little patience, you too, can create these Contact Paper Wall Stripes anywhere in your pad. Keep it neutral or add a big splash of color–it's all up to you.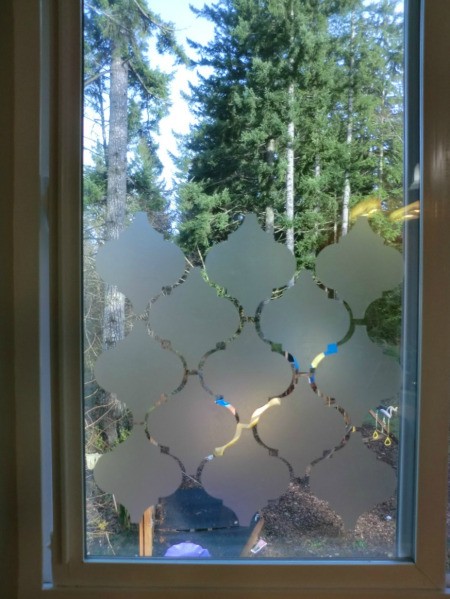 Forget about spending a lot of money on a custom privacy window. Head over to ThriftyFun to see how easy this is to do yourself.
Turn ordinary kitchen utensils into something special. If you've got a little leftover from the countertop makeover above, we suggest following the lead of Malissa & Machelle from A Joyful Riot and whip up these coordinating wooden spoons.
Like to make days brighter for your friends and family?   … sign up to receive these blog posts in your email in box.
As winter winds down, it's time to take full advantage of the snow and think out of the box. Once you get a look at these crazy and cute snowmen, you'll never go back to the "traditional" style.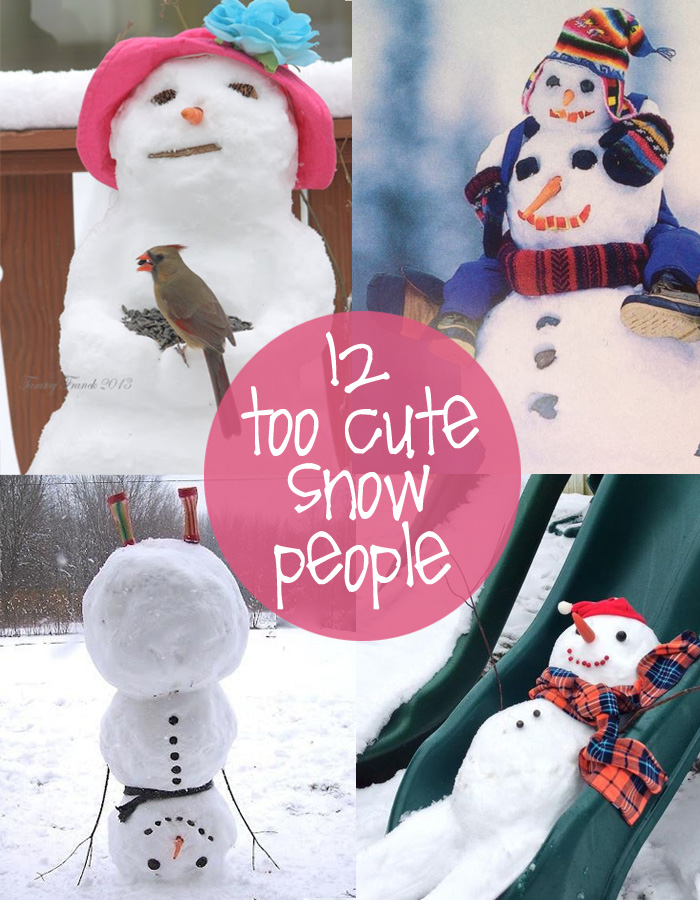 Have fun coming up with your own unique spin on these cleverly created snow people! This one's a hands-down favorite (Buzzfeed)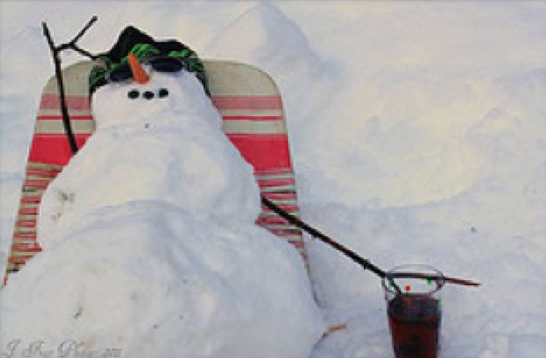 Literally chillin' out (Pinterest)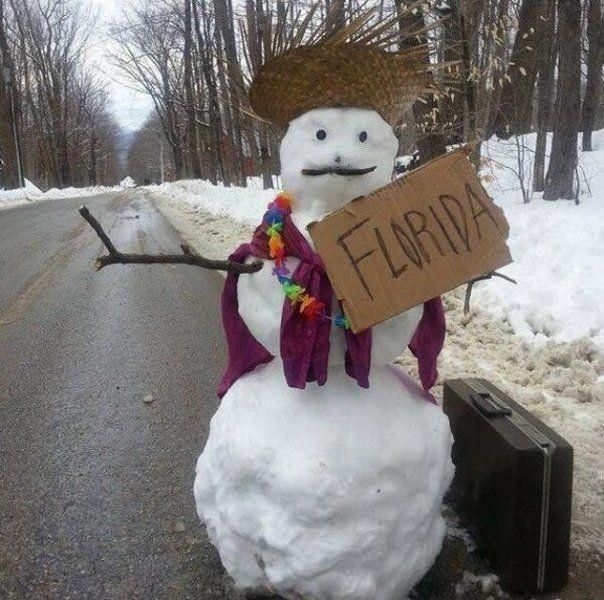 I guess it would be helpful to head to Florida for the best sun rays (pinterest)
Most likely checking the weather forecast : )   (Bored Panda)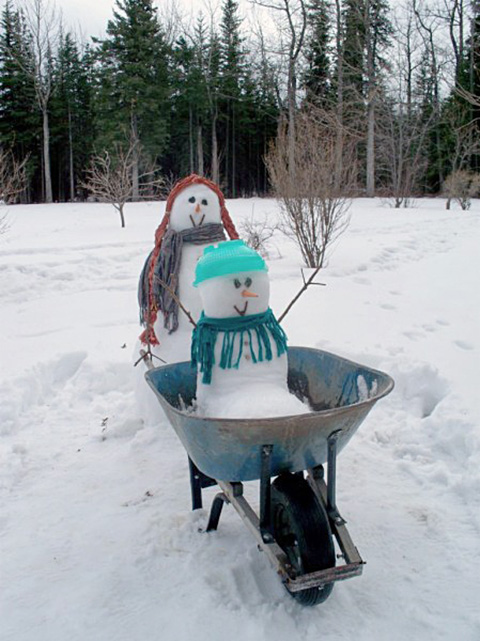 Playing in the snow is always more fun with your friends (Today's Snowman)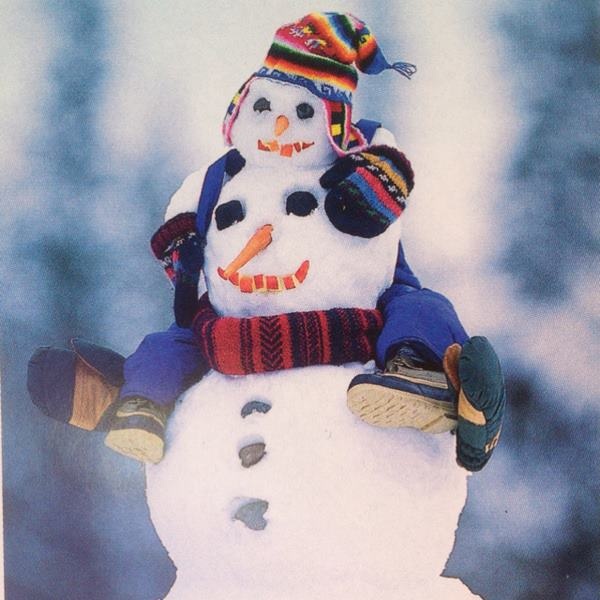 Or even better with your dad (Is Cute)
Just a hint of humor for your mail carrier (omglifestyle)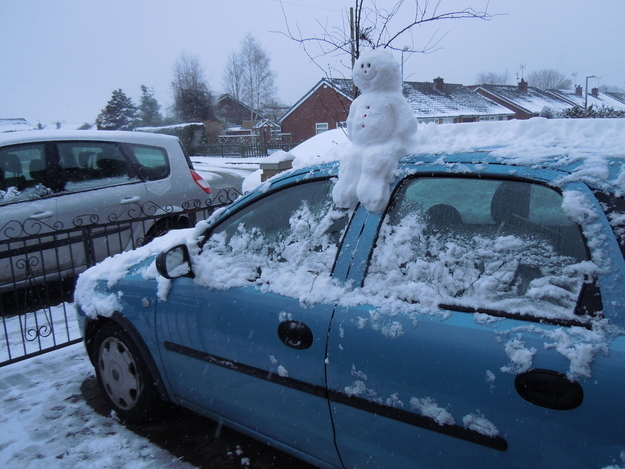 The cutest little hitchhiker that we've ever seen (Buzzfeed)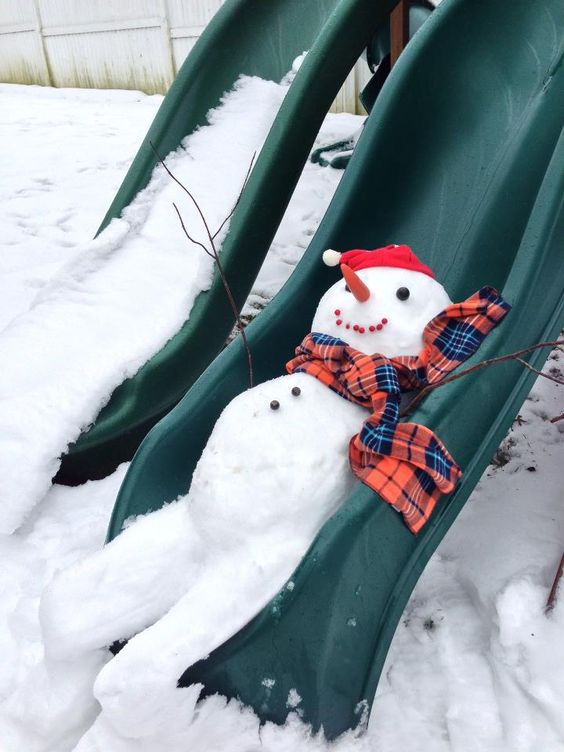 Just waiting for the kids to come out and play (pinterest)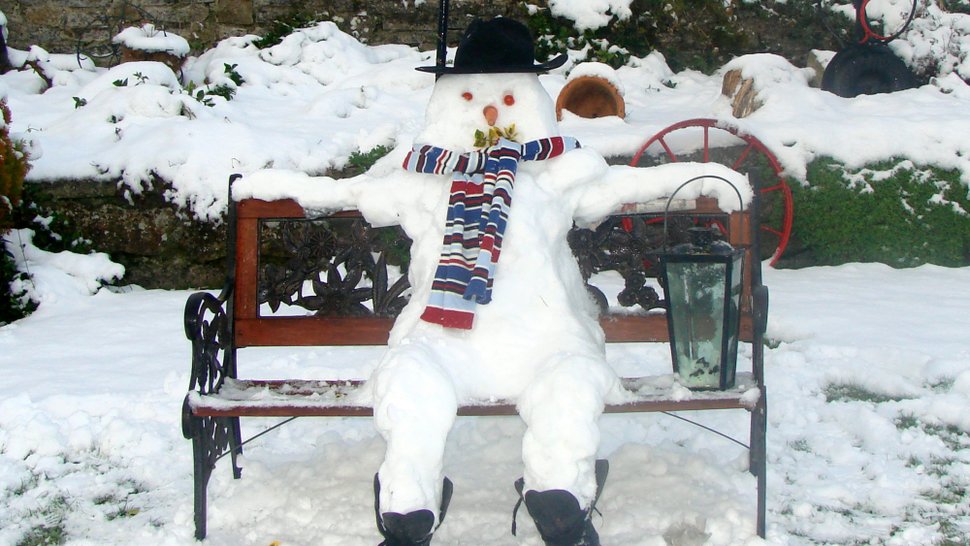 Passing the time on a park bench (Today's Snowman)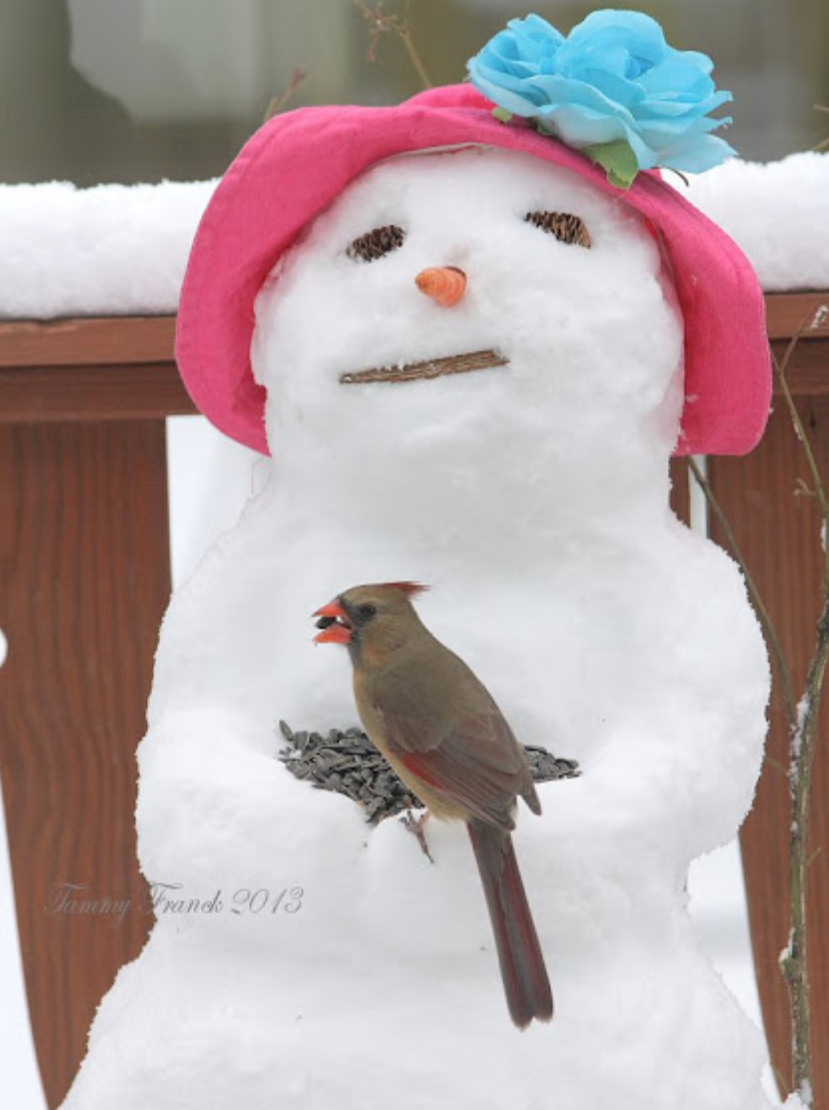 Well… this is a pretty clever way to make fast friends (Rock River Stitches)
Snowman jam session (Pinterest)
Like to make days brighter for your friends and family?   …sign up to receive these blog posts in your email in box.
It's hard not to smile throughout the day when you spend it at catching fireflies.  Here are just a few goodies that make us smile…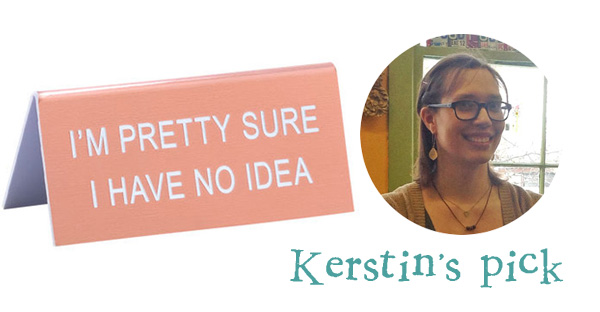 This is the perfect desk sign for almost everyone I know including myself. I think everyone I know feels this once in a while and it's small enough I can pull it out and the appropriate times! $5.95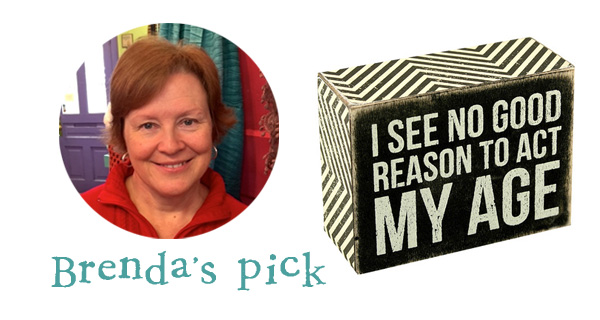 As another birthday fast approaches, I chuckled at this fun sign. Just a reminder that you are as young as you feel in your heart…and there really is no good reason to act your age! Do what makes you happy and let this cute little block sign remind you of that! $9.95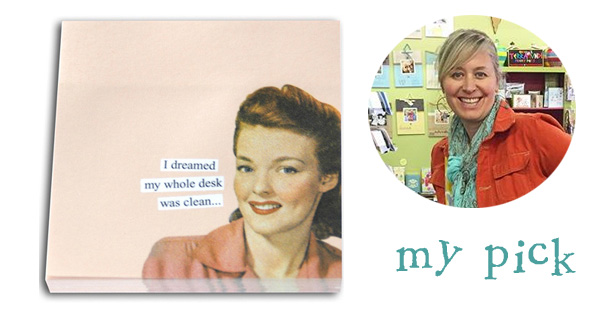 This line on my to do list never seems goes away. Maybe if I start to dream about it being clean… it will eventually become a reality. $4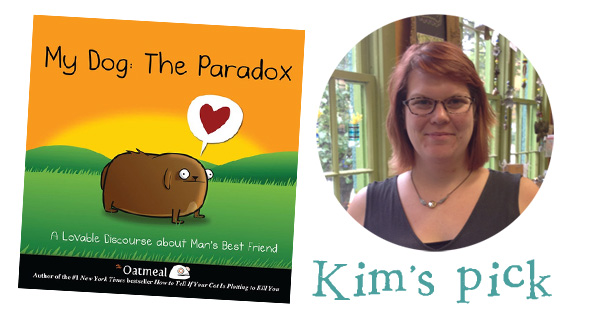 It wasn't until I owned my first dog as an adult that I really appreciated just what a dog is about. This book is perfect way to laugh about her weird tendencies, and know that there are others out there who have dogs as strange as mine. Great gift for dog lovers everywhere! $9.99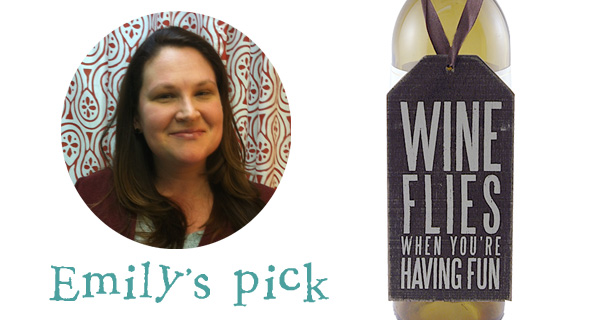 It's been such a gloomy month but this cheeky wine bottle tag brings a smile to my face! The perfect little something to have on hand to gift to a friend with their favorite merlot! $3.95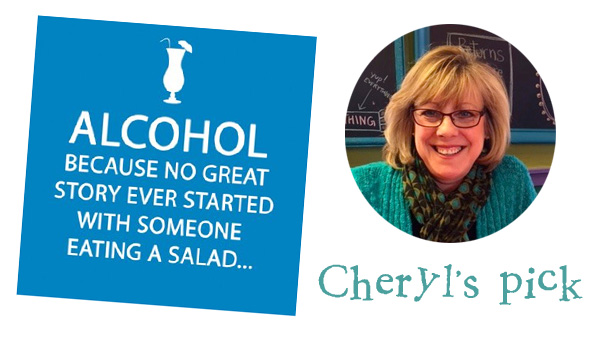 How could you not agree with this napkin message?! Bringing laugher and fun conversations with your guests will come quickly with these fun napkins! Cheers! $5.50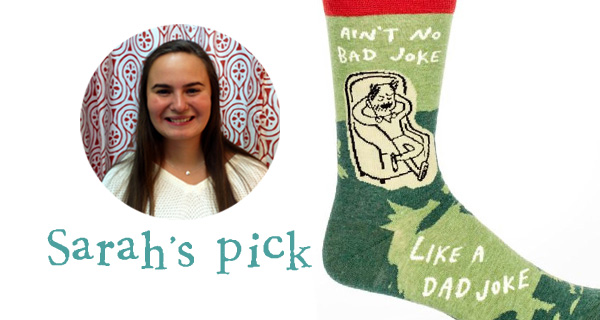 These socks brought a smile to my face the second I saw them! The perfect gift to stay warm this winter while laughing with the family! $10.95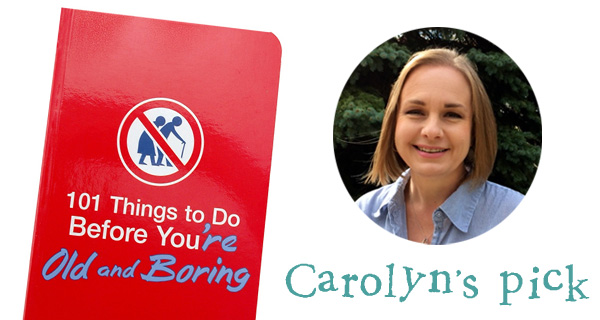 This little book is just plain funny. Can't help but laugh out loud. Love it!! Got a few people in mind for this!! $12.99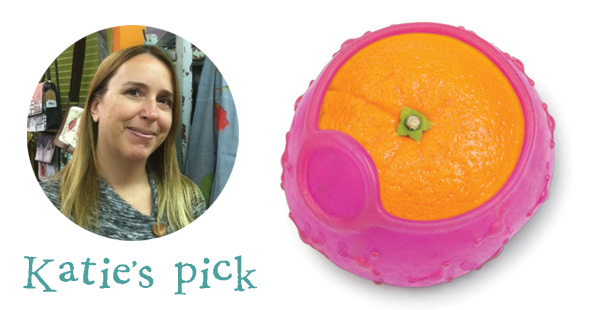 Love love love these to save all my half used fruits and veggies in the fridge without them browning and going bad.  Using them brings a smile to my face. $3.95+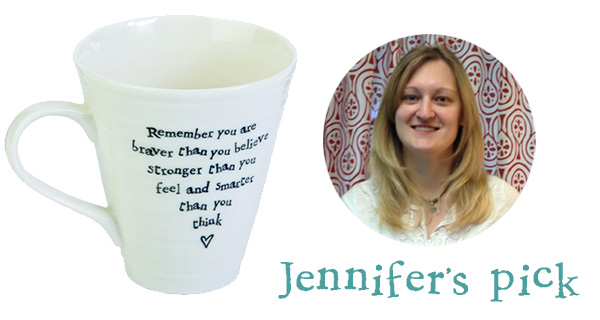 This quote always makes me smile! Everyone needs to be reminded sometimes that they're strong and can do this! Your morning coffee or cup of tea is a great time to have this pick me up! $18.95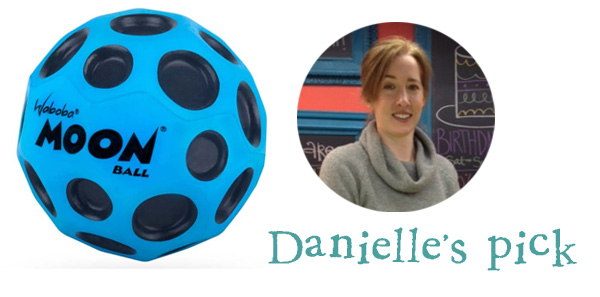 Sometimes the simple things are really the best things. They really do bounce high and they even make a fun suction noise on certain services. Great stress reliever too! $9.95
Shop all funny finds HERE.
Do you like unique finds that bring big smiles?  Simply sign up to receive these blog posts in your email and you'll be in the loop & get our latest scoop.
When I was little I loved making handmade valentines for my classmates every year so I thought I would start this fun tradition with Miss Marlo.

We picked up some water color paper, liquid water color paints and some pretty paint brushes from catching fireflies to get the project started.  I also colored some tiny hearts with white crayons on the paper before she painted so they would appear like magic when she would brush over them.

After the papers dried I ironed them so they would be a bit more flat and cut out hearts out with fun edged scissors.

I signed her name and she added her special scribbles then we were ready to spread a some love to all her buddies for Valentine's Day!

Like to make days brighter for your friends and family?   …sign up to receive these blog posts in your email in box.
Tis the season for decadent chocolates, thoughtful gifts for ones you love and fun Friday nights so I decided to host a little get together with my Kensington Church high school girls small group and took care of all three!
I've blogged about how easy it is to make truffles before so you can grab the recipe there.  This time I did 3 batches to offer some variety.  They all have the same base of Ghirardelli dark chocolate and I added vanilla to one, orange extract to another and mint extract to the last batch.  You can also mix up what to roll them in.  I offered chopped pecans, crushed Oreos, cocoa and sprinkles.

Now to the pretty presentation… These origami boxes will take your homemade gift to the next level and once you make one, they are actually pretty easy to assemble.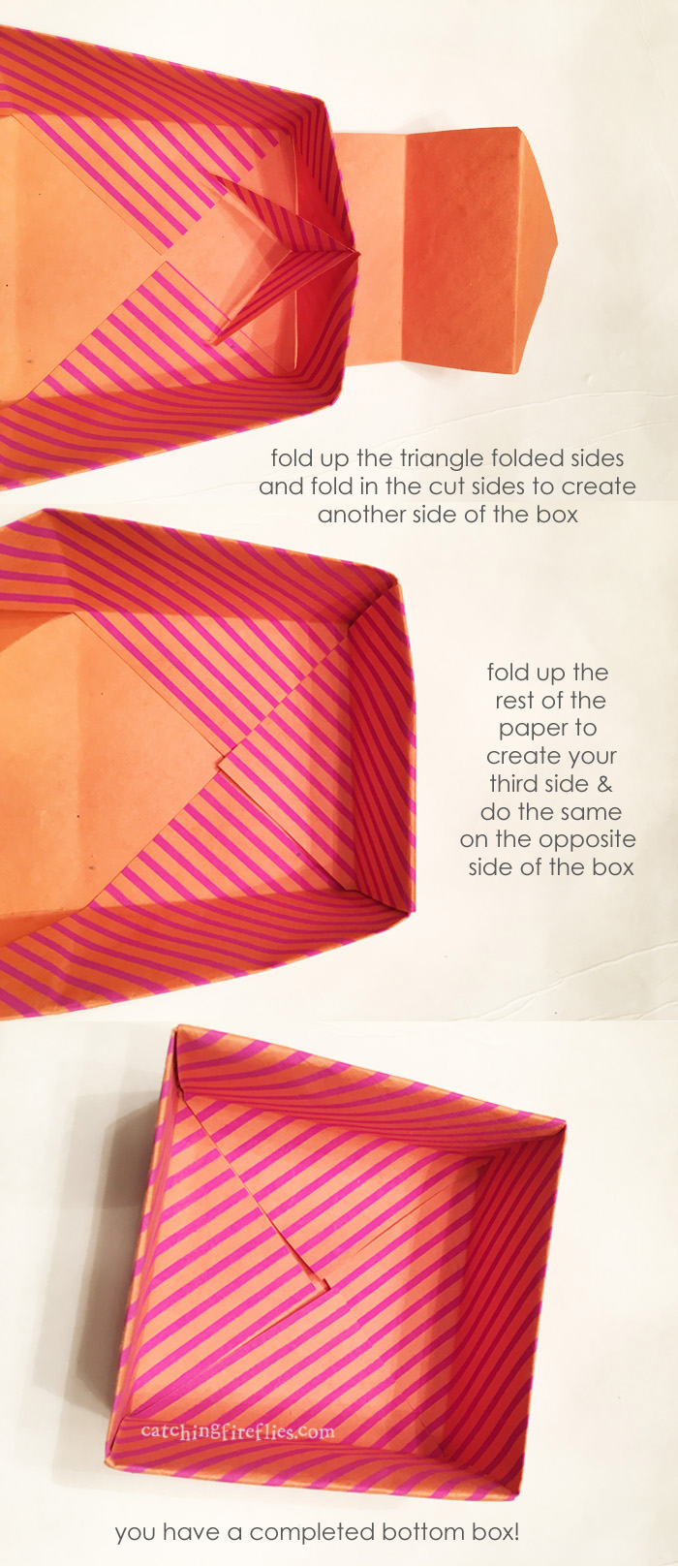 I don't push my top to the base of my box so you can still see the variety of paper patterns and the ribbon handle makes it easier to pull off so you can get to the treats that await you!
You could easily fit 4-10 truffles in this box depending on how generous you want to be.  Regardless your gift recipient will think you were secretly trained at the Willy Wonka school of fancy chocolatiers… but don't worry we won't spill your secret.

Like finding sweet treats that look pretty and taste terrific?   We love finding & sharing really good recipes. Don't miss out on our future finds… simply sign up to receive these blog posts in your email in box.
If you like to give gifts outside of the box, we think you'll like this clever collection of 14 'pun' finds that will let your valentine know how much you love them.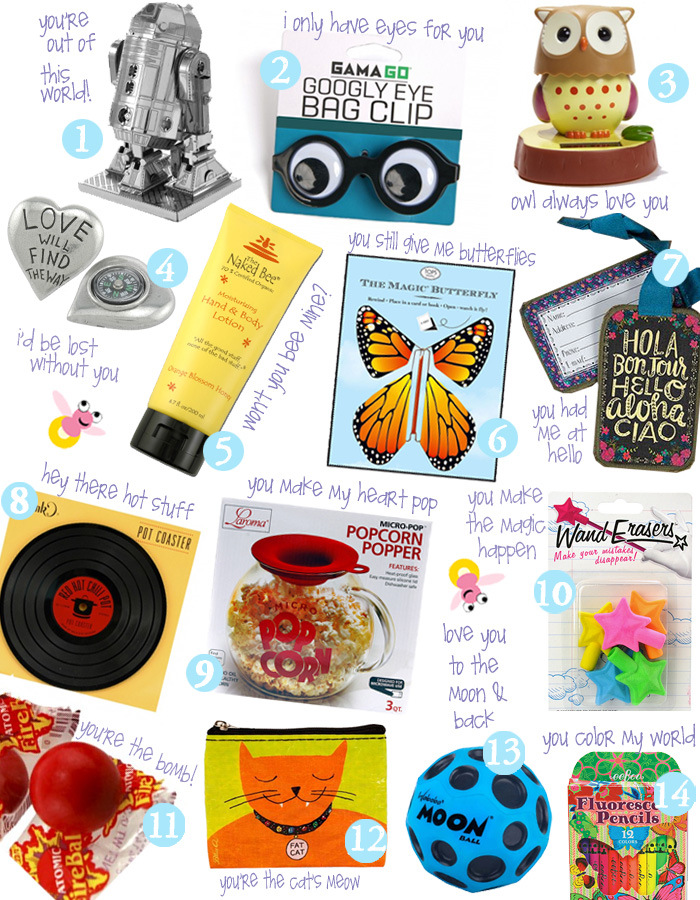 1. Surprise your Star Wars loving valentine with this 3D metal model kit and let them know they are out of this world $12.95

2.  Keep your favorite chips fresh and your V-day gifts fun and practical with this great googly eye chip clip  $3.50

3. This silly solar owl will groove all day long with a little sunshine and Whitney Houston's classic love song $8.95

4. Love will find a way with some help from this handmade compass $17.95

5.  Say goodbye to dry skin and hello to sweet smelling lotion thanks to our hard working bees $10.95

6.  This magical butterfly will flutter right out of a book or card letting your loved one know they still make your heart flutter 6.95

7.  Pair a ticket to someplace fun with this 'hello' luggage tag $10.95 

8.  Keep your hot pots cool and your kitchen steamy with this silly play on words $9.95

9.  This micro-pop makes the perfect gift if your Valentine's Day plan is to Netflix and chill $29.95

10.  Wave your wand and let the magic begin $14.95

11.  Throw a few atomic fireballs your friend's way to let them know they are the bomb! $.50

12.  Place a gift card to their favorite shop in this cute cat change purse $4.95

13.  Be mine with a bounce of this mighty high moon ball $9.95

14.  Let your valentine know they make your world more colorful with these bright colored pencils  $7.95

Shop all Valentine goods HERE

Do you like unique finds that bring big smiles?  Simply sign up to receive these blog posts in your email and you'll be in the loop & get our latest scoop.
Every kid in the class needs a cool place to stash their Valentine's Day cards. We rounded up quite a few choices for the favorite little boys and girls in your life. These are made from things around the house and can be easily tackled with just a *little* help from the adults.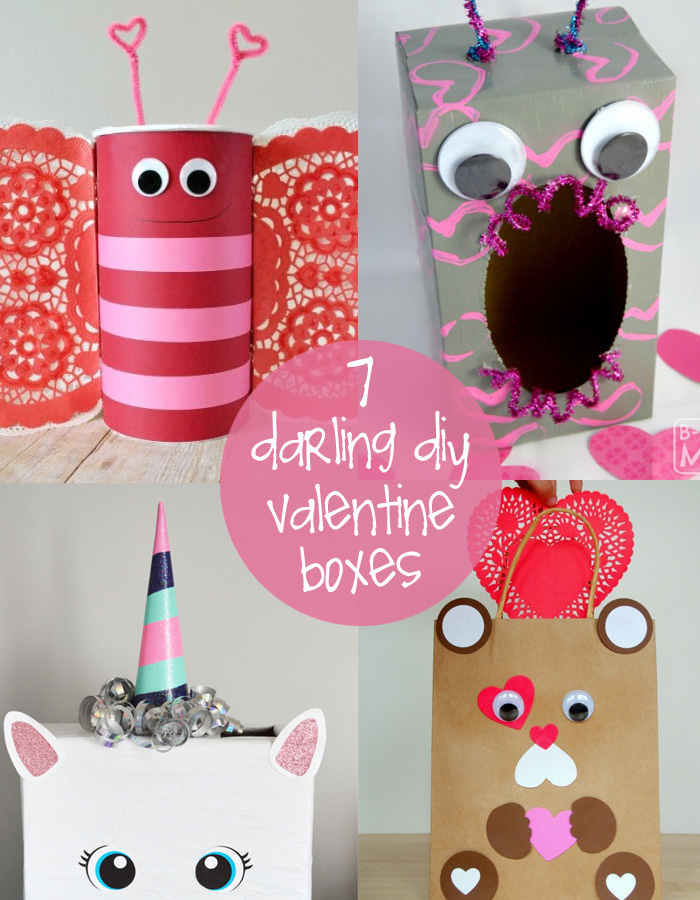 Keep reading to figure out which sweet mailbox will win your heart…
Don't even think about tossing that empty tissue box…Krissy from B-Inspired Mama is ready to show you how to turn it into a DIY Robot Valentine Mailbox.
Momendeavors offers up an adorable Bee Valentine Mailbox–along with free printable bee Valentine cards.
Jodi from Meaningful Mama can show you how to create this cute Teddy Bear Valentine Mailbox. Check out her full post here.
We've never met a unicorn we didn't love and this Unicorn Valentine Mailbox is no exception. Cupid won't be able to miss this cutie!
Send in the superheroes with this Superman Valentine Mailbox. Jaime from Frogs Snails and Puppy Dog Tails shows you how to whip up this craft here.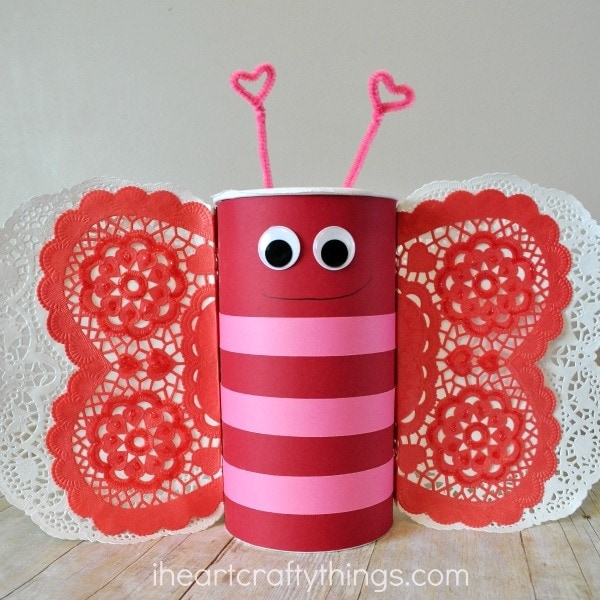 Use an empty oatmeal container to create a Butterfly Valentine Mailbox. Want to see how?–head over to I Heart Crafty Things to get the full instructions.
Coffee Cups and Crayons calls this Lego Valentine Mailbox a crafty win and we wholeheartedly agree. What a creative use for an empty shoebox!
Like to make days brighter for your friends and family?   … sign up to receive these blog posts in your email in box.
I know the holiday season is the most popular time to send cards and gifts to those that you love but my favorite time of the year to send pretty packages is Valentine's Day.  It's a slower time of the year that isn't over scheduled. The days are cold and often grey and people aren't expecting it so it's even more of a happy surprise.  All of these goodies are easy to slip into a padded envelope for simple shipping.

send a smile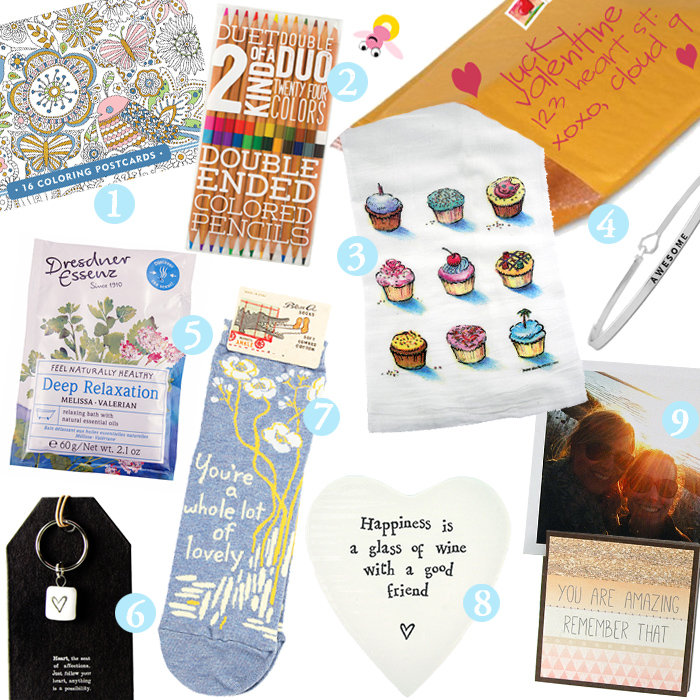 1.  Stay cozy and color these cute postcards you can display or send away $7.95

2.   Twelve pencils… twenty-four colors – how cool is that?  $10.95

3.  Delightful dish towels are one thing you can never have too many of… especially when they are made of super thirsty flour sack material $10.95

4.  Let your friends know you think they're pretty awesome $10.95

5.  Take a break from life by soaking in a hot tub filled with healing bath salts $4.25

6.  A little happy heart for your key chain as a reminder that you are loved $5.95

7.  Spread a sweet sentiment with a pair of pretty socks $8.95

8.  Pair this coaster with an invite to some girl time and glasses of wine $8.95

9.  Celebrate your amazing friends with a handmade photo block $13.95

surprises for the littles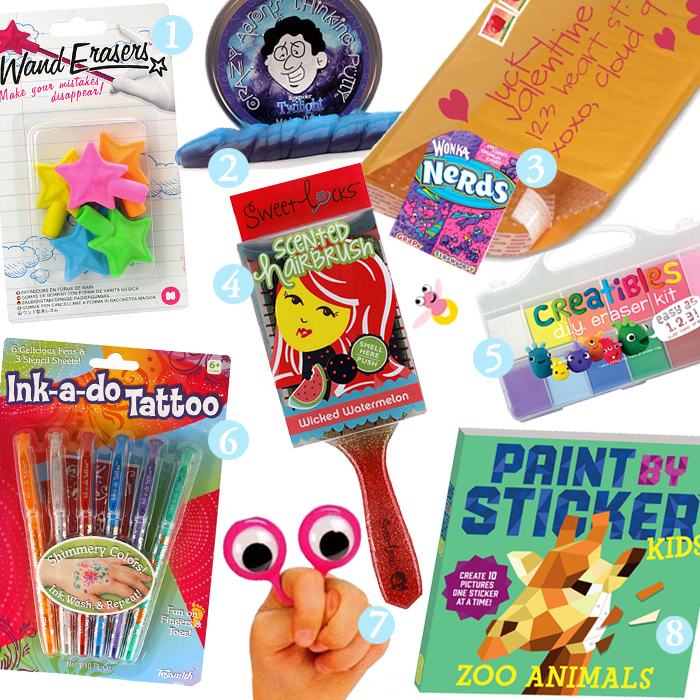 1.  Cupid may have his arrow but you can transform any pencil into a wand with these clever eraser toppers $4.95

2.  Stretch, shape and watch colors morph before your eyes with this addicting putty  $11.95

3.  We personally think Nerds are so much better than those chalky candy hearts $1.25

4.  Your hair will smell the sweetest when you brush with this wonderful watermelon brush $12.95

5. Sculpt your own personal fan club with this cute kit  $12.95

6. Profess your love with a flowery tattoo $5.95

7.  Finger eyes can turn any hand into a personality $1.95

8.  We love this new take on the classic paint by number books $9.95

Do you like unique finds that bring big smiles?  Simply sign up to receive these blog posts in your email and you'll be in the loop & get our latest scoop.