super cute christmas photo booth props
I've always had a thing for photo booths.  I treasure the classic black & white photo strips I've saved of Steve & me during our dating years.  So it's no surprise that I'm loving all the fun photo booth props that are popping up all over pinterest.
We had a lot of fun with our campy Christmas card last year so I wanted to put together another one that brought smiles.  Steve wasn't so sure of my idea, but Jule was totally up for it and the girls won.  :-)  Here are the props I doodled for our little holiday project…

If you can see your family or friends having fun with these festive photo props, we made them available for you to print at home HERE.  We recommend using a 67 pound cardstock.  It's thick enough to be sturdy but not so thick it jams your printer.  However I did have to reinforce the reindeer antlers so they would stand up straight.

Cut out around the images & hot glue thin dowels to them.  I purchased 5 long thin dowels & cut them by scoring them with a scissors & then breaking them.   For the shorter sticks you could also use wood kabob skewers or cheap chopsticks.

We just moved some furniture and used wrapping paper as a backdrop.  I have this inexpensive light kit for shooting my wholesale line of paper goods that we used with a slr camera but a simple flash camera would work just fine too. We got loads of great shots, but I'm only sharing a few since I just printed the cards today and I don't want to wreck the surprise… (my Christmas cards usually get delivered on the 24th ;-)
I plan on bringing these to our family Christmas and hope to get some silly shots of our crew.   We hope you have fun with these too!
Here is our finished product! (added at a later date)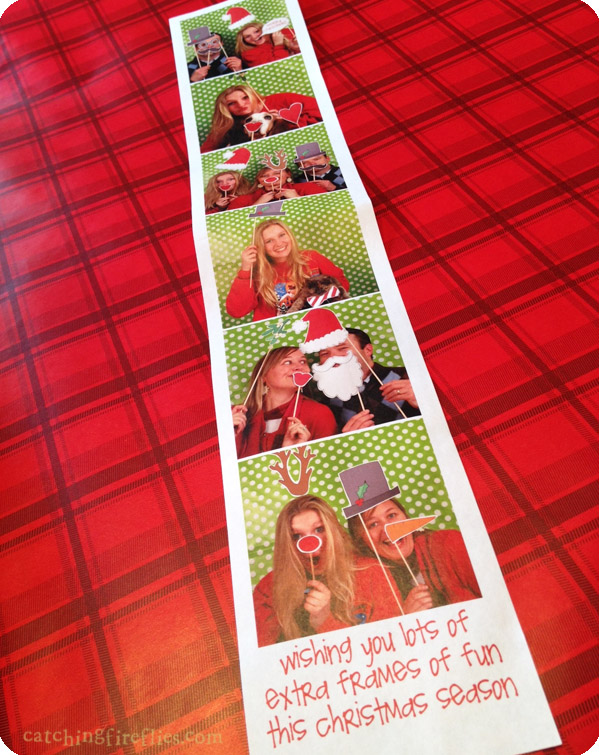 I cropped our favorite pictures and created a 17″ long photo strip in photoshop and had 11×17 color copies made and cut them up in strips.  I folded the strip in half and put them in  colorful #10 envelopes for our 2012 Christmas card.
Like to get a little crafty every now & then?  Simply subscribe to this blog and we'll email you our latest creative endeavors.