walking in a winter whimsyland
Creating clever and fun Christmas cards is sorta my thing.  I take it on as a creative challenge from year to year always fearing I will someday run out of ideas.   Luckily my international daughters have been my inspiration the last few years with our campy Christmas sweater picture and also with our fun North Pole photo booth.
The spark for this year's card was ignited when our Finnish exchange student, Iitu started working on her fashion merchandising project for finals.  She had to construct a miniature version of what kind of clothing store she would like to create.  This is what she envisioned…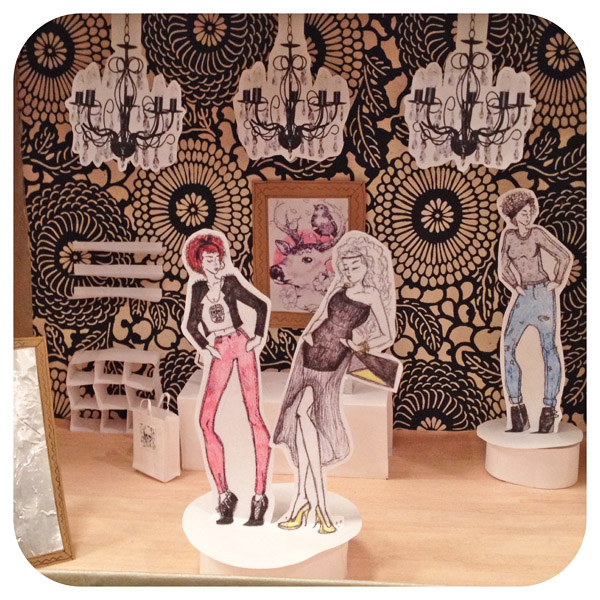 Her attention to detail is crazy impressive… I mean ~ making an Ikea cube shelf out of copy paper?!  Not to mention even creating logo for her small shopping bag.  And you can't really see it, but she even drew a keyboard on the computer :-)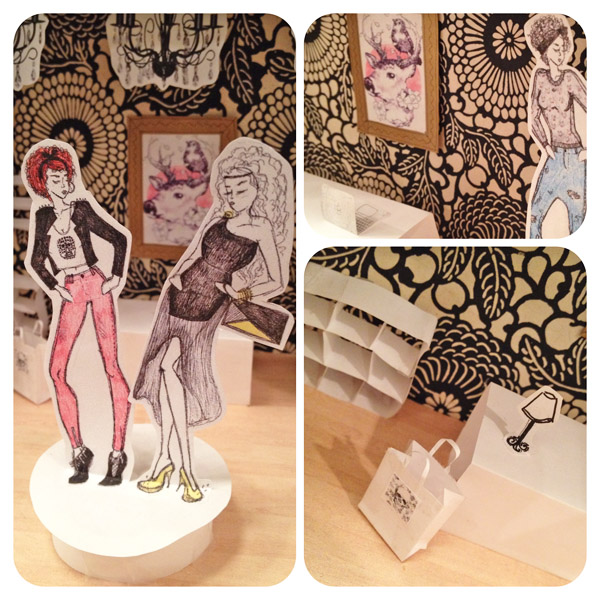 After seeing this impressive project, my imaginary winter wonderland wheels started turning.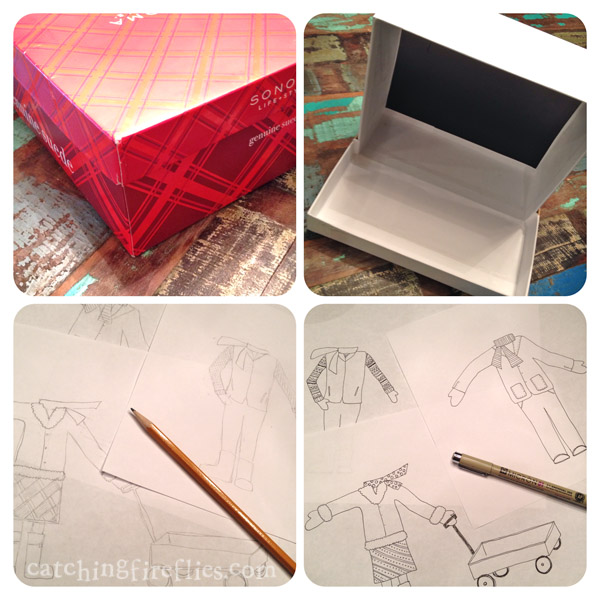 First, the box.  Then the doodles.
I'm a big fan of Claudine Hellmuth's work and she is the other half of what inspired this card.  If you love this look, I encourage you to create your own family winter scene with one of her kits.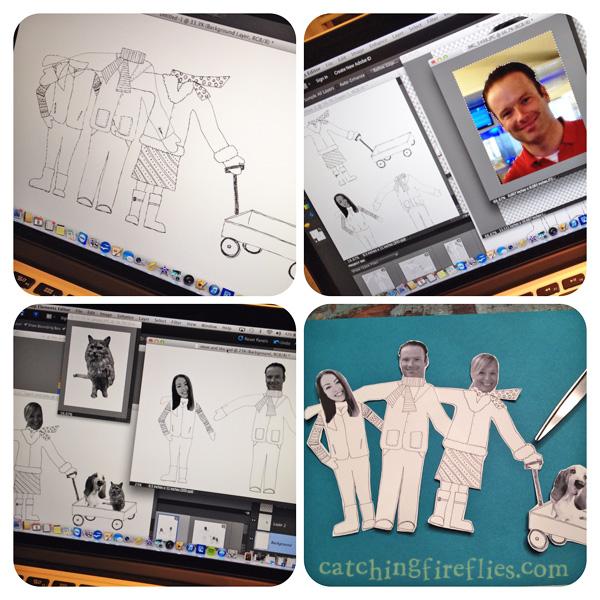 After doodling our little family unit, I scanned them into photoshop then sized and grouped them to fit the box.  I also cut out photos of our heads and added them to our bodies.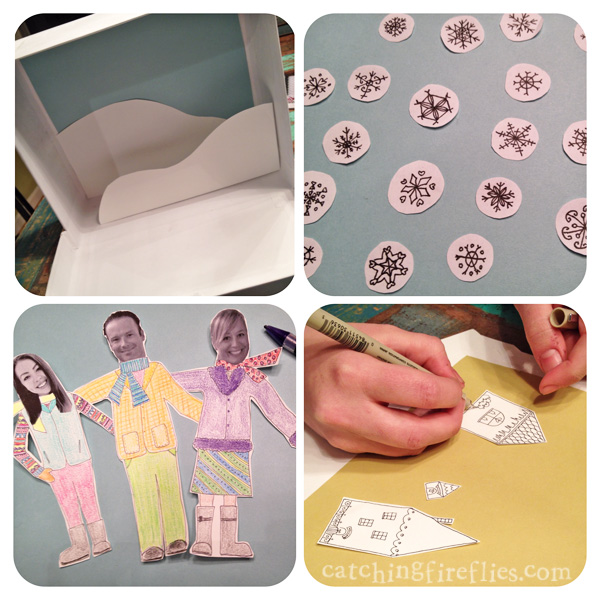 I chose to color in the bodies by hand for a more homemade look.  Iitu was in charge of creating our little village of homes and oh-s0-sweet snowflakes.  This girl could easily doodle me right out of a job!  She is one talented chica.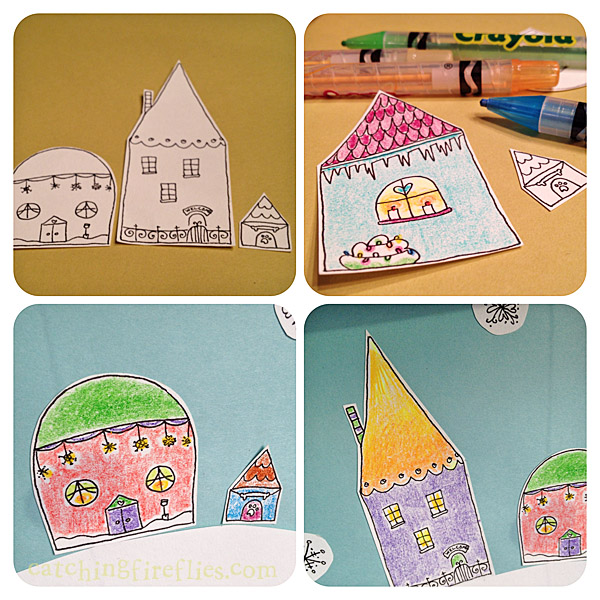 See what I'm talking about!  Even right down to the snow covered bush with colorful Christmas lights.  Oh, it was also her idea to create our sparkling tree out of pipe cleaners.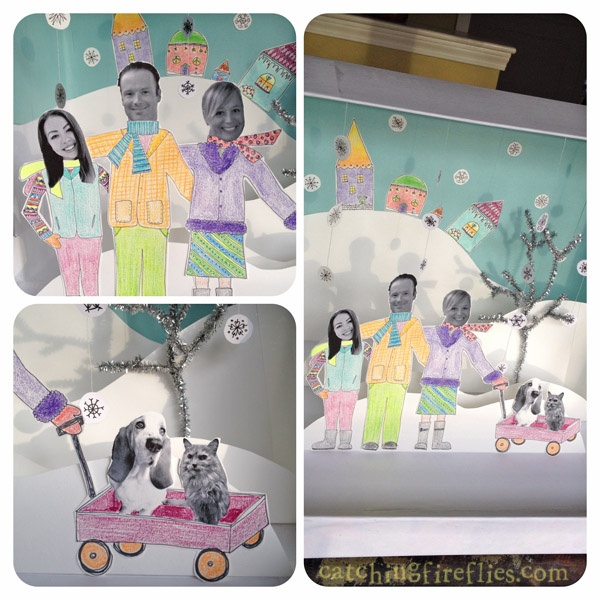 I cut out snow drifts and hung the snowflakes to create depth.   When I photographed the box for our card image, the sun happened to shining bright, which added shadows to our little world so that was a bonus detail!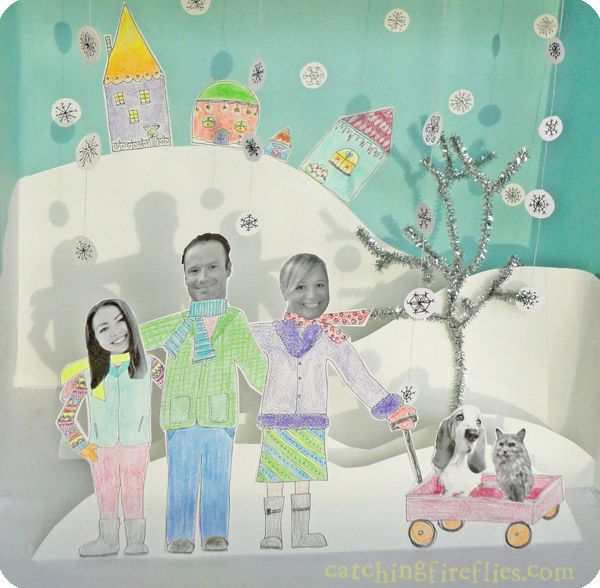 Here is the image I chose for our card.  You might notice a change of color in Steve's wardrobe.  This was done with a little photoshop magic since he was not so fond of the colors I originally chose for him.  I get it… this is a very girly card ~ he wanted blue pants at least ;-)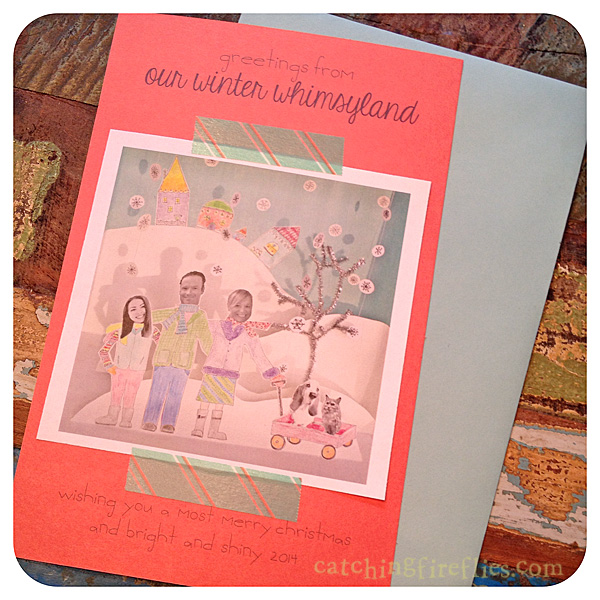 Here is the end product.  I had color copies made, then cut and washi-taped our winter whimsyland to colorful card stock for a most non-traditional Christmas card.  I hope it brought smiles to many faces.  After this accomplishment…. I don't even want to think about what to do next year!  I might have to collaborate with Iitu on Skype to top this one.
Like to see what happens behind the scenes around catching fireflies?  Simply subscribe to this blog and we'll email you our latest creative endeavors.