With our 18th wedding anniversary right around the corner, this chorus jumped out at me and before I knew it, I was singing to this happy little hippy tune.



Even though this song is fairly flowery, it does remind me that I'm pretty lucky to have a guy that knows a thing or two about real love.  I'm not so sure if we could be going on 17 years of working together if he didn't.  He has become quite talented at shining the spotlight on me while he spends his time behind a desk, doing deliveries and working on that long list of other 'fun' things that come up when you're the boss (like fixing the toilets)

Happy Anniversary Steve.  I could never live this dream without you.
little ways to thank you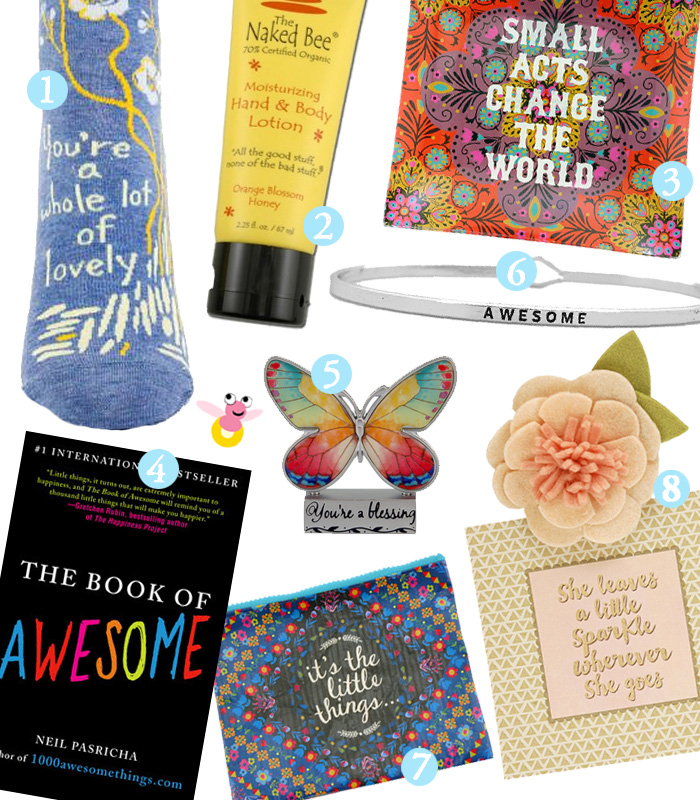 1.  Nothing like a practical little reminder you are appreciated and loved $8.95

2.  Battle winter weather dry skin with this all natural, refreshing orange blossom lotion $10.95

3.  We believe little acts of kindness make a BIG difference and this trinket dish says it perfectly  $14.95

4.  Because when you think about it… there are a ton of AWESOME things to be thankful for $16

5. Just a small token to celebrate those who are a blessing to us $6.95

6. We think awesome people need to wear a crown… or at least a bracelet  $10.95

7.  Slip a gift card in the cute change purse $5.95
8.  Let them know their trail of sparkle doesn't go unnoticed $12.95
See more SMALL GOODIES TO SAY THANK YOU

hip hostess goodies
1.  Slip a custom family ornament over a bottle of wine for a personal touch $9.95

2.  Keep one hand free for more snacking with these great wine glass toppers $21.95

3.  Keep your party glasses looking pretty by personalizing them with these wine writers $9.95

4. We believe crazy friends keep life colorful  $5.50

5. Get the party conversation started with the chat pack $10.95

6.  Keep your counters clean with this absorbent and fast drying Swedish dish cloth $6.95

7.  A funny and useful potion to ward off any unpleasant bathroom smells  $9.95

8.  Bring a plate of goodies to eat and leave it behind for next time $14.95

See more HOSTESS GIFTS HERE

for terrific teachers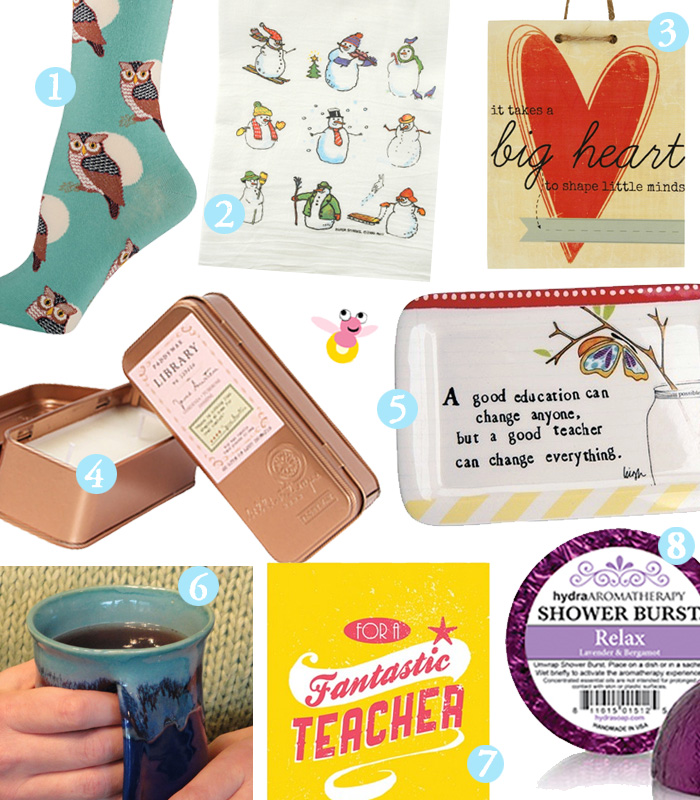 1.  Whooooo is the wisest teacher you know?  We think she needs these sweet socks $8.95

2.  Wrap up some homemade sweets in this cute snowman flour sack towel $9.95

3.  Let your teacher know you appreciate all they do with this sweet handmade sign $9.95

4.  Nothing like the sweet smell of Jane Austen to bring a little peace to your nest $7.95

5.  This truthful tray will happily hold everything from paper clips to pennies $13.95

6. Stay cozy all winter long with this handwarmer mug  $21.95

7.  This book is packed full of quotes that celebrate fantastic teachers  $7.95

8.  Christmas breaks are best spent relaxing and a little extra pampering  $4.95

Shop for more TEACHER GIFTS HERE
This time of year I'm always brainstorming for new delightful dishes to serve friends and family over the holidays. In my quest for new appetizers that "hit the spot", I came across an abundance of baked brie varieties–I mean who can resist oooey, goooey cheese?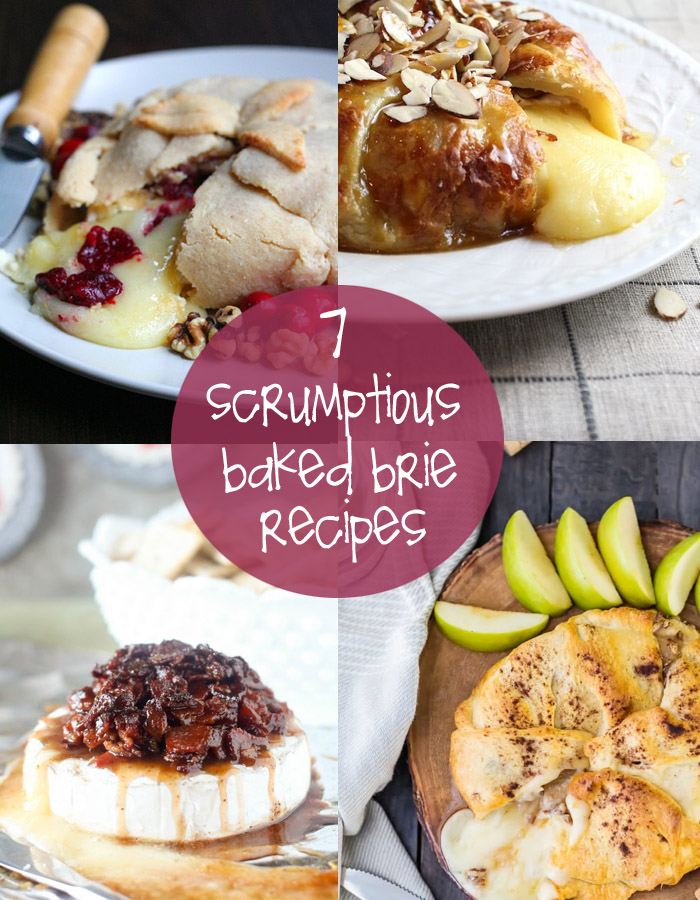 I think we may need to test ALL of these to find our favorite!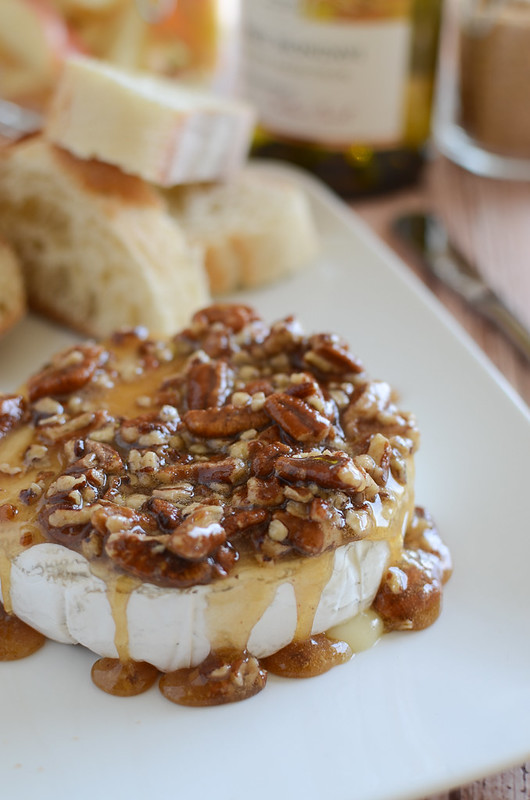 Amanda from Fake Ginger has a delicious recipe for Maple Pecan Baked Brie that she shares here. Keep this recipe on hand for your next Girl's Night In.
Holly from Taste and See gets sweet/salty fix from this insanely delicious Baked Brie in Puff Pastry with Honey and Almonds. She's served this satisfying dish for a decade at her holiday parties.
Did someone say bacon??? Check out the Blackberry Babe Blog to find the scrumptious recipe for this Candied Bacon Baked Brie.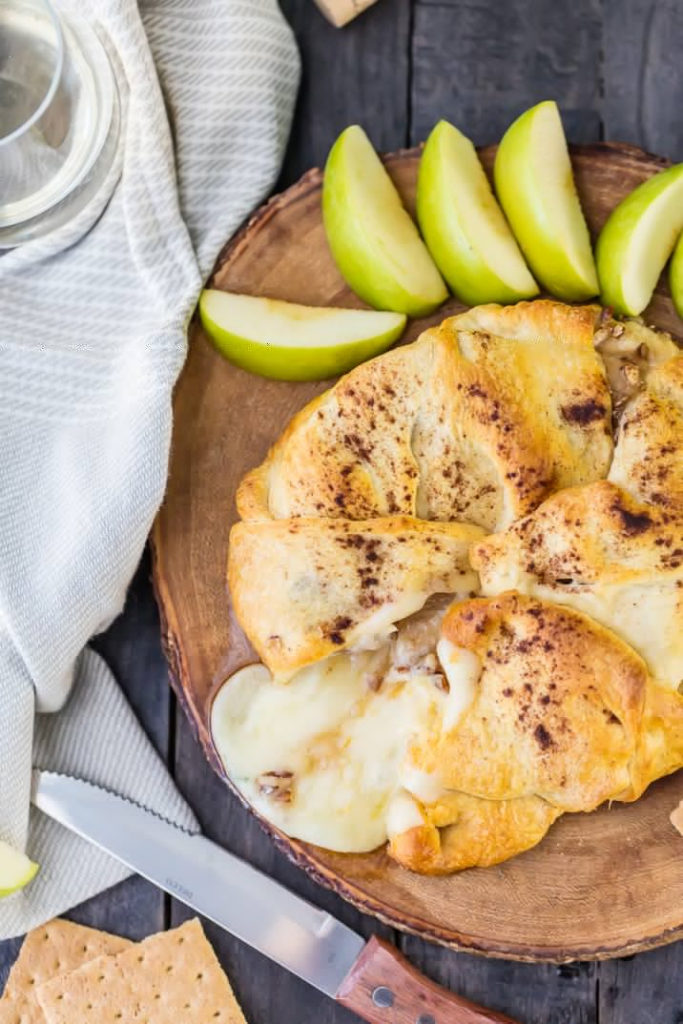 Becky from The Cookie Rookie serves her insanely delicious Apple Pie Baked Brie every year for Thanksgiving and Christmas. It's a tried and true crowd pleaser.
The Basil & Bubbly Blog has some wonderful news for all you Nutella lovers out there–Marianne dreamed up a marvelous recipe for Nutella Baked Brie and it turned out even better than she ever expected. We're looking forward to trying this decadent treat very soon!
The Baked Brie With Cranberries and Cinnamon from All Day I Dream About Food is not only tasty–but, also low in carbs. Carolyn used a low carb almond pastry flour to make the pastry in her appetizer.
The Rosemary Berry Baked Brie that we found on Peas & Peonies pairs up perfectly with your favorite glass of wine. The presentation on this showstopper of an appetizer is simply spectacular.

Like pretty snacks to celebrate the season?   Don't miss out on our future recipe finds… simply sign up to receive these blog posts in your email in box.
From the littles to the BIGS we have a few fun finds that are sure to be a happy surprise!

teen girls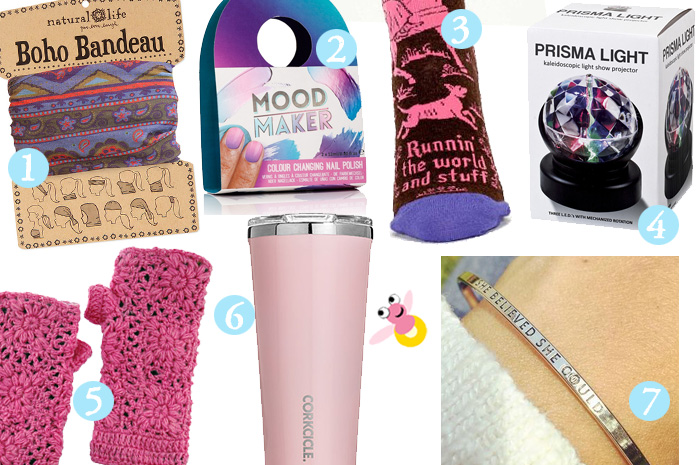 1.  Look super cute and keep your hair out of your face with this practical and pretty boho bandeau $13.95

2.  Are you having a blue or purple day today? Your nails will let you know ;-) 9.95

3.  Just another day… runnin' the world and stuff  $9.95

4.  Turn your bedroom into a world of rainbows $11.95

5.  Stay cozy and still snapchat with the best of them with these hand warmers $22.95

6. Keep your favorite sips hot or cold for hours on end with this lovely insulated tumbler $24.95

7.  Just a little reminder that you can do BIG things $10.95

teen guys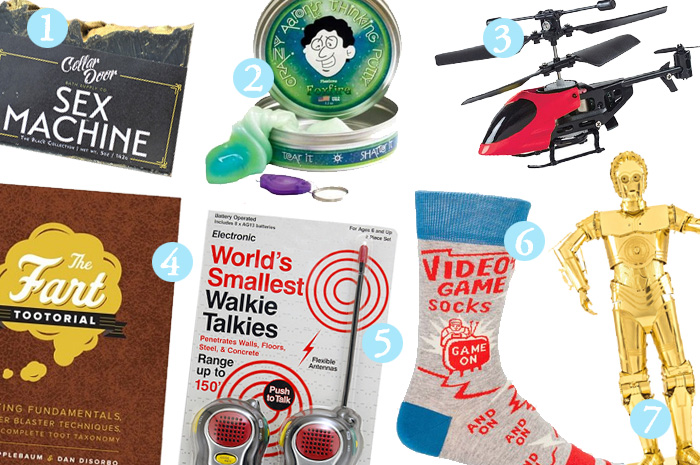 1.  Make your nephew blush when he opens up this studly smelling soap at the Christmas party $6.95

2.  Impress your friends with this mysterious putty that changes color before your eyes, glows in the dark and also can be written on with a small black light that is included $15.95

3.  World's smallest remote control helicopter?  Yes please! $29.95

4.  Something about passing gas and guys never gets old so this tootorial will get lots of laughs  $10.95

5.  Kick it old school with some classic walkie talkies $13.95

6.  Get your game on and on and on… with these funny socks $10.95

7.  Make this marvelous metal Star Wars model without using any glue or solder  $16.95

little gals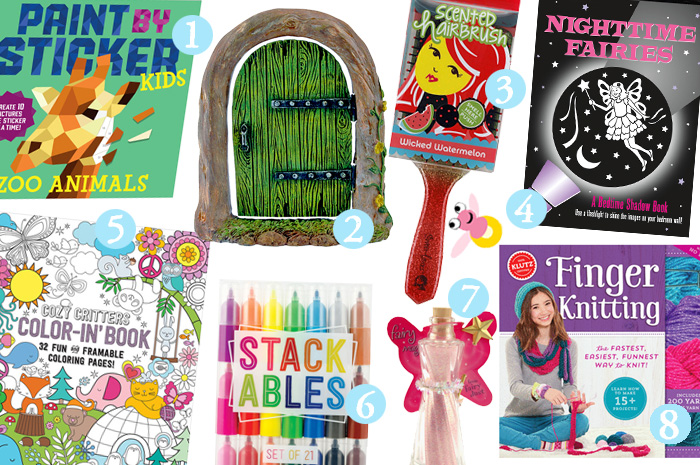 1.  We love this new twist on an old activity.  Paint by Sticker!  $9.95

2.  Fairies dwell where they are welcome.  Add this magical door and invite them in $14.95

3. Brushing your hair just got a bit more fun with this yummy scented hair brush $12.95

4. Shine a light through this book to see the world of fairies who play when we're asleep $12.99

5. Cold winters are perfect for staying cozy and coloring $10.95

6. Triple your color choices with these snazzy stackable markers $8.95

7. Every fairy that visits likes to play in pretty pink fairy dust  $8.95

8.  Who needs needles when you can use your fingers $21.99

little guy gifts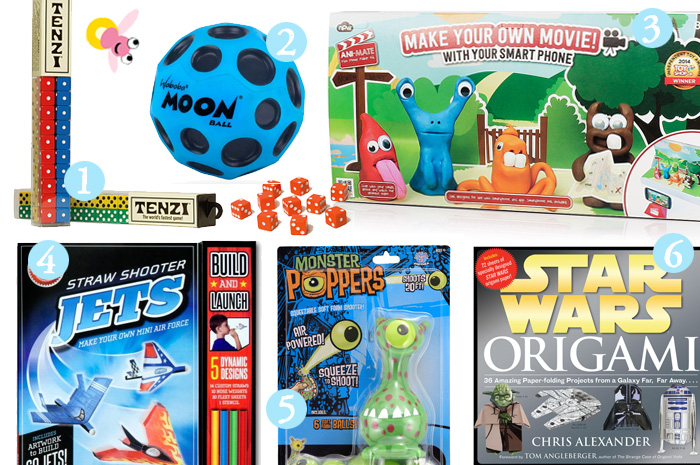 1.  Get in on all the excitement of this super fun game everyone can play.  See video HERE $14.95

2.  Bounce this baby to the moon and back $9.95

3. Start practicing your Spielberg skills with this creative kit $22.95

4.  Craft and sail up to 60 sweet jets with this cool book $16.99

5. Attack unsuspecting family members with flying eyeballs… just for fun $3.95

6.  Bring this popular cast of characters to life with a few folds of paper  $16.95

too cute toddlers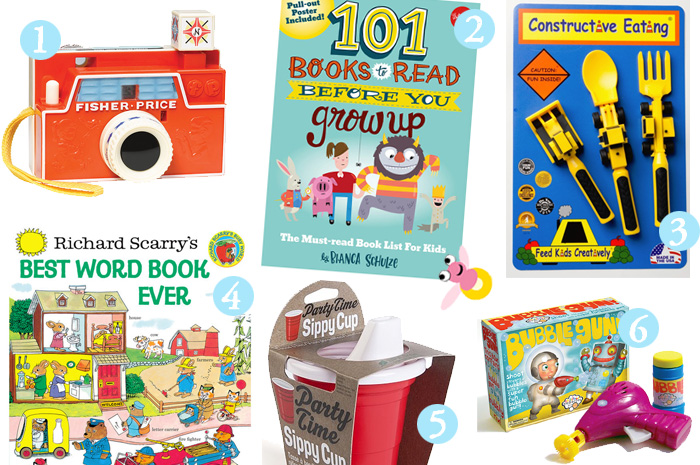 1.   Kick it old school with a camera that isn't a phone $19.95

2.  Start curating your library of classics now with some help from this great guide $12.95

3. Make mealtime a little more fun with these clever utensils $21.95

4.  Some classics never grow old  $15.99

5. Party hardy and stay hydrated with this silly sippy cup $6.95

6. More the bubbles the better we say!  $7.95

oh baby!

1.  Stick this handy happy mat to any surface and keep sloppy spills away $19.95

2.  Dress up those chubby legs with adorable socks for maximum cuteness $8.95

3. Always remember your little one's first Christmas by hanging this personalized ornament on your tree $9.95

4.  Retell the magical story of your child's birth with this heartfelf read $7.99

5. Babies love the crinkling sounds, textures and tails in this fun soft book $15.95

6. Curious what your baby will be when they grow up?  Let Mysterio predict for you! $14.95

stocking stuffers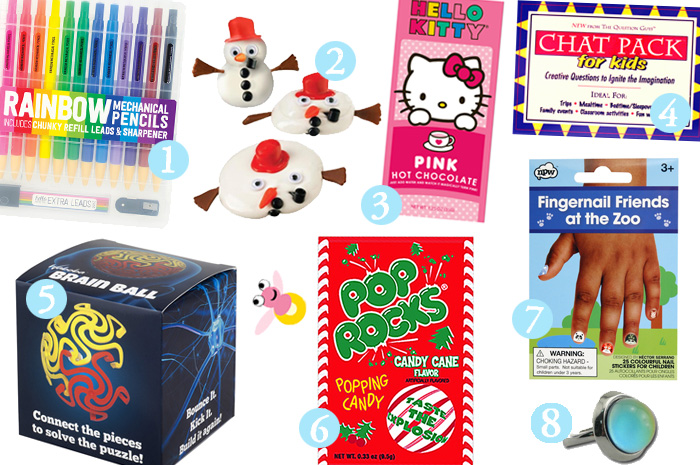 1.  Keep the color coming with these marvelous mechanical pencils $10.95

2.  Build and rebuild this magical melting snowman all season long $9.95

3. We think pink hot chocolate tastes best topped whip cream and sprinkles $1.95

4.  Start creative conversations with your kids that will be remembered  $10.95

5.  This is a puzzle you can actually play with after you put it together $9.95

6. Regular candy canes are so 2015 $1.25

7.  Turn your fingernails into a family of friendly zoo animals $5.95

8.  What is your mood?  Find out in a flash with this timeless classic  $4

my michigan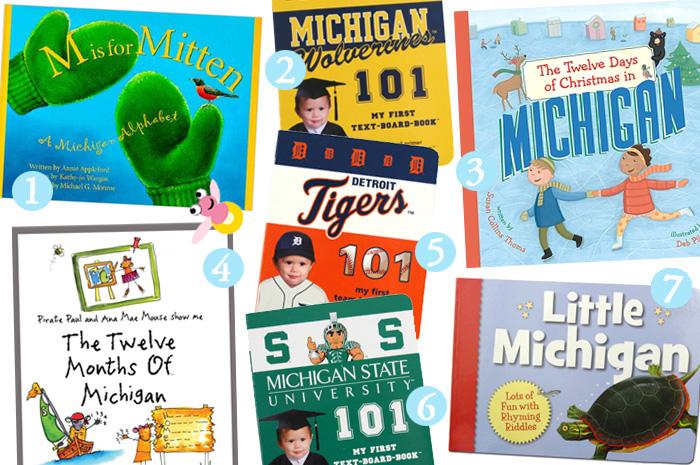 1.  Teach them their ABC's and everything that is wonderful about our state $17.95

2.  Gotta future wolverine to coach?  It's never too early to get started $10.95

3. This book turns that popular Christmas tune into a tour of all things Michigan $12.95

4.  The 12 Months of Michigan is another entertaining way to learn about our state $14.95

5. Spring training is right around the corner so you better get ready with Tigers 101 $10.95

6. If your blood runs green and you have a baby… this MSU book belongs in your home  $10.95

7.  Get your little one learning about the mitten with this very popular board book  $9.95
A cup of hot cocoa…it soothes the soul and warms the heart.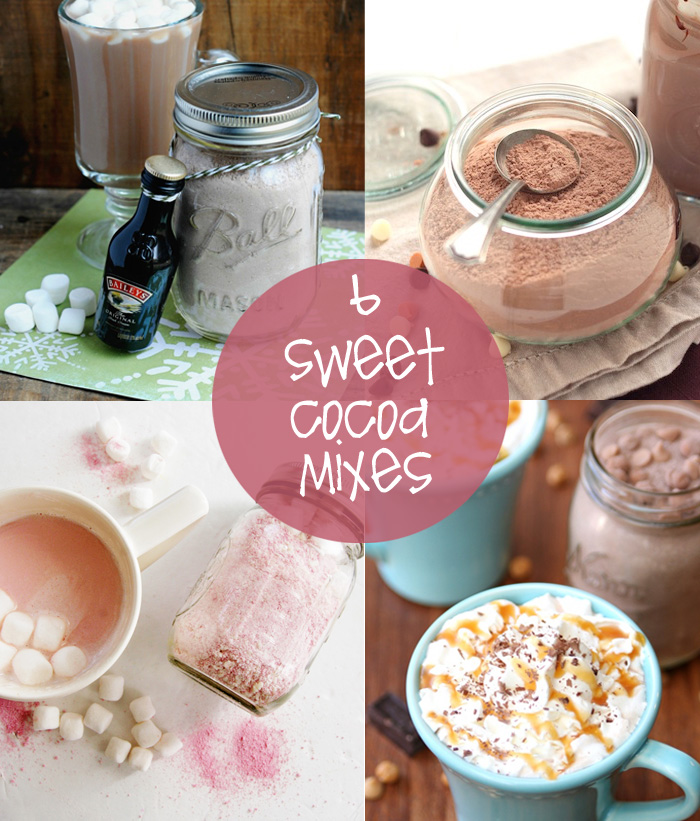 Homemade jar mixes make a lovely and thoughtful gift, or whip up a few of these to keep on hand for all of the company that will be arriving at your doorstep this holiday season.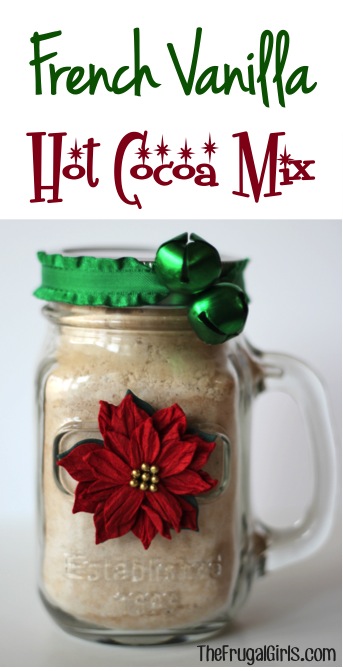 On The Frugal Girls Blog we found a great recipe for French Vanilla Hot Cocoa Mix (and check out the cute way they decorated their jar).
Everyone will love this edible gift…a jar of Butterscotch Hot Cocoa Mix. We came across this unique recipe over on Wanna Be A Country Cleaver.
Not only does The Yummy Life feature a wonderful recipe for a Double Chocolate Hot Cocoa Jar Mix–there's also a free printable for tag for the gift jar.
It just doesn't get any more girly than this–Homemade Ginger hit the nail on the head with this Pink Hot Chocolate Mix. This one is strawberry flavored instead of the more traditional chocolate.
Gift the grown-ups in your life with the Baileys Hot Cocoa Mix that we found on Sunny Sweet Days. It's not only delicious, but very budget-friendly.
Our tastebuds are tingling just thinking about this rich, delicious drink–make sure you take a trip over to Happy Go Lucky and have a peek at the recipe for their Peanut Butter Caramel Hot Chocolate Mix. It's a cure for all your cravings in one cup!
Like to give pretty edibles to celebrate the season?   Don't miss out on our future recipe finds… simply sign up to receive these blog posts in your email in box.
Since we featured the guys in November, now it's time to focus on fun finds just for the gals.  Whether you are shopping for a girlfriend, mom, grandma or sister, we've got the goods that will bring a smile to their face.

has everything!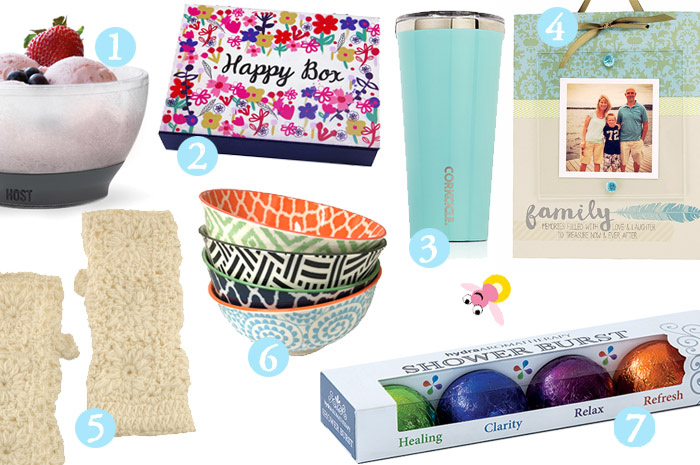 1.  Say goodbye to ice cream soup with some help from this clever bowl which keeps your scoops ice cold $21.95

2.  Fill this box with all the little things that make you happy and it will bring a smile to your face when you have a gray day 20.95

3.  Keep your favorite sips ice cold all day long or steamy hot for up to 3 hours in this beautiful robin egg blue insualted tumbler  $24.95

4.  This handmade frame is the perfect place to display the treasured moments that bring you happiness $37.50

5. We love handwarmers because they allow us to use our smart phones and still keep the the rest of our paws warm $22.95

6. Serve up dips, dish out your yogurt or throw some candy or nuts in these pretty bowls.  They really do make everything look more delcious  $6.95 each

7.  Turn your ordinary shower into a mini spa getaway with these always popular shower steamers  $19.95

LOL
1.  Magical breath spray that is minty fresh and mighty funny $5.95

2.  Don't we all have at least one friend who needs this hilarious read? $14.99

3. Just sayin'…  :-) $9.95

4.  Everyone has at least one gal they know who deserves this official title $9.95

5.  Attention all grammar police… this mug was made just for you  $13.95

6.  Who knew practical wet wipes could be so silly and sentimental? $4.50

7.  We've all had these kind of work days.  We believe the best way to remedy them is with laughter $5.95
8.  Why shouldn't nail files be fabulous and fun? $7.95

girlfriends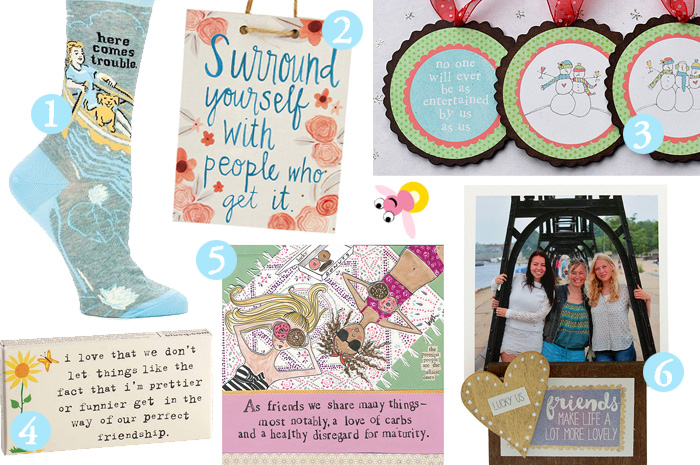 1.  You know who are… here comes trouble ;-)  $9.95

2.  An important reminder that makes life more lovely $8.95

3.  Celebrate your besties with a handmade personalized ornament $9.95

4.  Sarcastic friends are some of our favorite friends $1.95

5.  Who needs Christmas cookies when you can have sprinkled donuts?  $5.50

6. We couldn't agree more!  $14.95

wine lover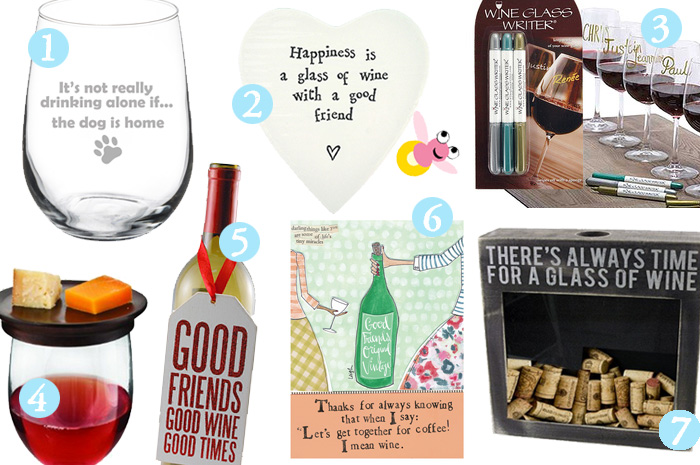 1. Just saying… $12.95

2.  Now here is a toast we can get behind on this cute coaster $8.95

3. Never misplace your wine glass at a party when you use these wine glass writers $9.95

4.  Free your hands to eat appetizers with these handy wooden wine glass plates $21.95 set of 4

5. Dress your bottle up with some glitter and words to ring in the season $3.95

6.  The best of friends are also the best mind readers $5.50

7.  Keep your favorite wine corks on display with this clever decorative shadow box $39.95

inspiring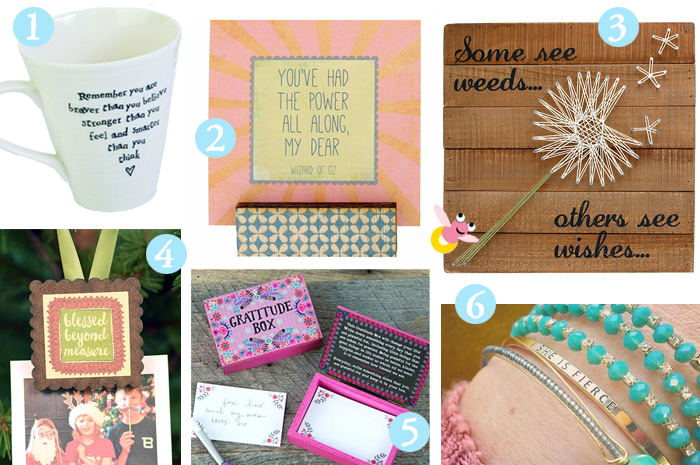 1.  A wonderful reminder to start each day with $18.95

2.  Slip all kinds of pretty and positive affirmations in this cute card holder $9.95 (includes 1 saying)

3. Because really isn't it all about your outlook? $39.95

4. Count your blessings with this handmade photo clip ornament $7.95

5. We believe a grateful heart is a happy heart $15.95

6. Just a little reminder that you can do BIG things  $15.95

in the kitchen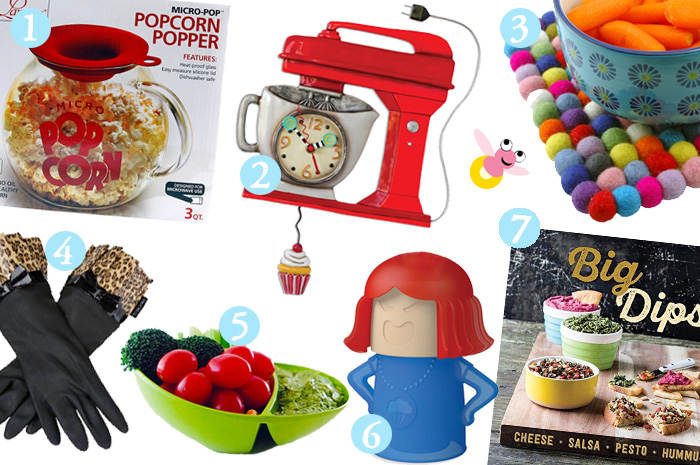 1.  Microwave popcorn that is healthy?  Yes, please $29.95

2.  If you enjoy the time in your kitchen, this classic mixer clock was made just for you $59.95

3. Add a pop of color to your table with this handcrafted felt trivet $19.95

4.  Cleaning up is no fun, so you might as well make the chore a bit easier to bear with these great gloves $15.95

5. These split bowls are great for dips, shelling nuts, yogurt and toppigs plus so much more  $6.95

6. This angry mama specializes in cleaning your microwave as she steams away crusty crud  $10.95

7.  Tis the season for parties.  Up your dip game with this yummy recipe book $14.95

for grandma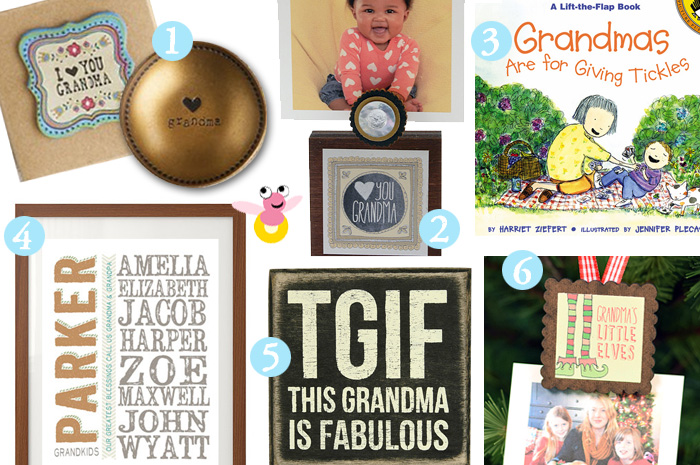 1.  This little trinket dish is perfect for placing rings in while doing the dishes $9.95

2. Gather up a favorite photo of the grandkids and surprise her with this handmade photo block $14.95

3. Grandmas also are for reading really fun stories  $6.99

4.  Put grandma's favorite people in print with this custom typography design $24.95

5. Just in case your grandma needs to be reminded that…  TGIF $8.95

6. Get a great picture of all the little ones for this handmade photo clip ornament  $7.95

michigan love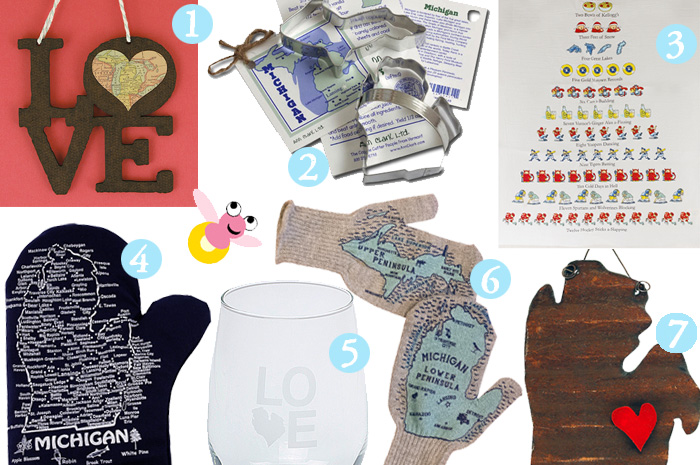 1.  Trim your tree with with an ornament that celebrates your favorite place to be $9.95

2.  Make your next batch of sugar cookies shaped like our great state $4.95

3. This dish towel shows the Twelve Days of Christmas Michigan style  $9.95

4.  Bake away with some help from an oven mitt shaped like our state $12.95

5. Cheers to living in a state you love $10.95

6. Now you really can use your hand for a map of Michigan with these great mittens  $26.95

7.  Where does your heart belong?  Place it wherever you wish on this rustic Michigan shape $13.95

Do you like unique finds that bring big smiles?  Simply sign up to receive these blog posts in your email and you'll be in the loop & get our latest scoop.
When it comes to decorating the tree, it never fails…each year as I pull out ornaments–the ones that I hold most near and dear to my heart are the handmade ones. Whether it was an afternoon spent on a wintry day crafting away or a special ornament made at school with little hands, these decorations will always have a special place on my tree.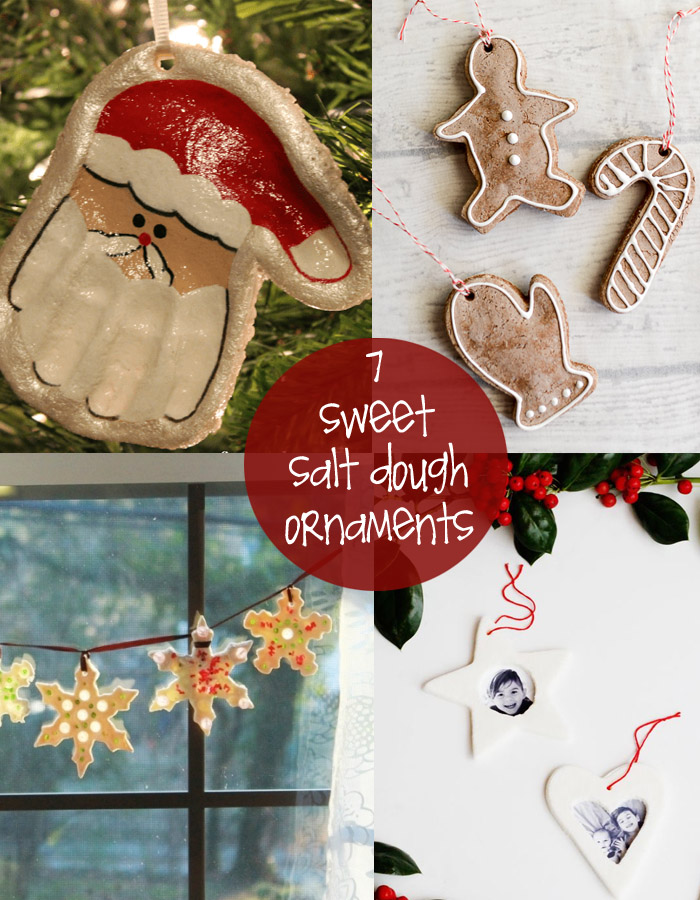 This year–make some memories of your own with one of these charming salt dough ornaments…
Frame your favorite faces by creating a collection of these Salt Dough Picture Frame Ornaments. In addition, these are great for gift giving!
Head over to Tikkido to find directions for making these Gingerbread Salt Dough Ornaments (they're gingerbread scented too!).
Kayla from Say Not Sweet Anne used stamps and paint to create her elegant salt dough ornaments. We love the blue and white theme she chose.
Save a place on the tree for the furry members of the family and honor them with a cute Paw Print Salt Dough Ornament. These make a wonderful project for the kids on a snowy afternoon.
The Artful Parent not only uses these Sparkly Beaded Salt Dough Ornaments on the tree–they also double as beautiful suncatchers when strung onto a garland in a sunny window.
Turn your child's handprint into a cute Santa Keepsake Ornament. To find out how–use the easy directions on From ABCs to ACTs.
Check out Fun At Home With Kids for an easy family activity. These colorful Old Fashioned Salt Dough Cane Ornaments will really add a homespun feel to the holidays.
Like to get a little crafty now and then? Stay in the loop by signing up to receive our gems we found on the web in your email inbox!
Do you have a co-worker or friend to surprise this season?  Line up some sweet, silly and useful gifts that will have them wondering who is the gift guru behind the scenes.

under $5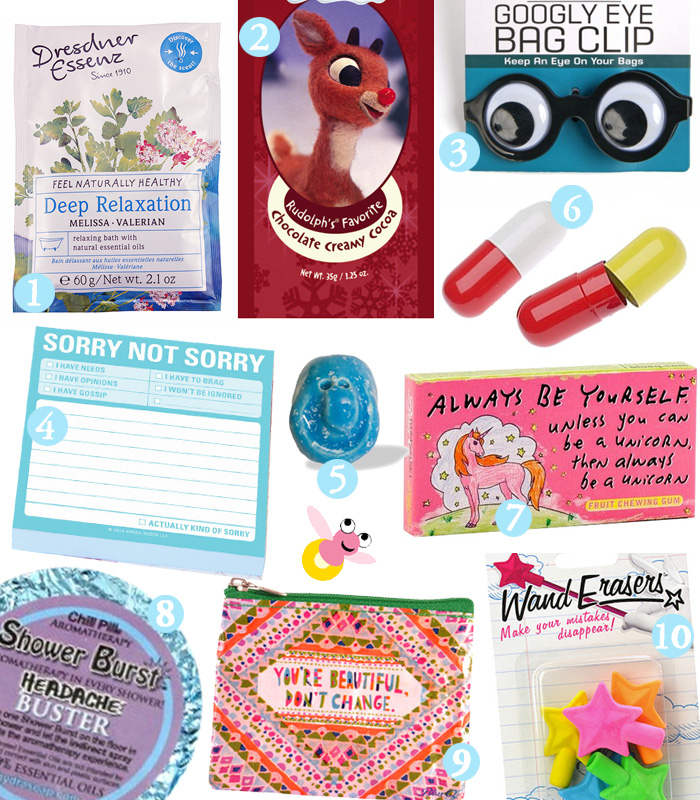 1.  After a crazy month of holiday hoopla, we're certain a relaxing bath will help you get back on track $4.25

2.  Rudolph's favorite cocoa?  Yes, please 1.95

3.  Keep an eye on your favorite snack food to make sure they don't get eaten by mischievous elves  $3.50

4.  Special sticky notes for your favorite snarky office mate $4.25

5. Spread some cheer with a seed of happiness $2

6. Keep important pills hidden away in this hilarious giant pill case $4.99

7. Important advice and fruity chewing gum?  What's not to love? $1.95

8. Take on your headache with a little help from some steamy aromatherapy $4.95

9.  Throw a cute gift card into this sweet coin purse $4.95

10.  Work your magic around the office with these fun wand erasers $4.95

under $10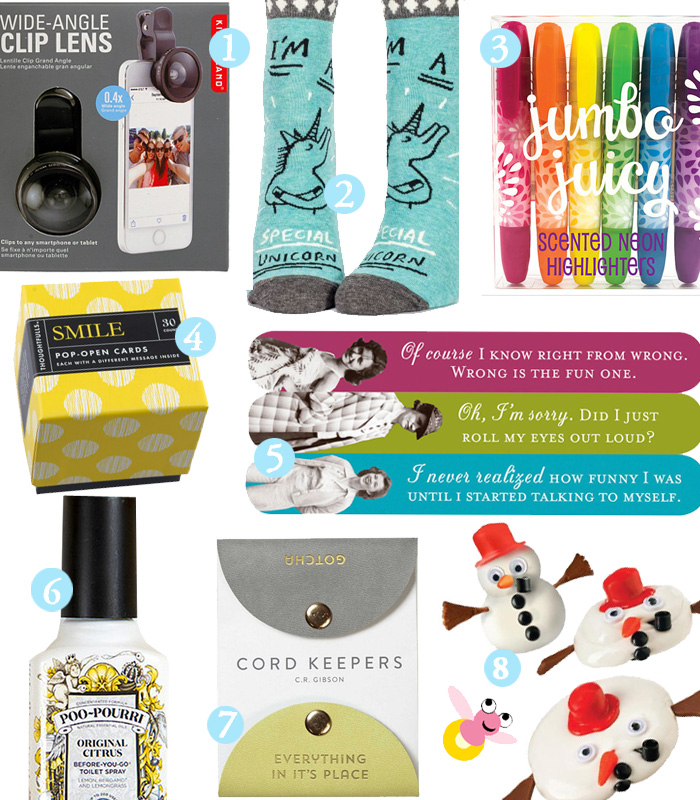 1.  Who needs a selfie stick when you can keep this wide angle clip lens in your purse $7.95

2.  Everyone could use some silly socks to make their day brighter $8.95

3.  Reviewing documents aren't as bad when you have scented highlighters $8.95

4.  A month's worth of smiles… the gift that keeps on giving  $7.95

5.  Who knew nail files could be so funny? $7.95

6. Don't stress about having to do number two now that you have poo-pourri $9.95

7.  Say goodbye to tangled ear bud cords with this clever cord holders $9.95

8.  Everyone could use a little play to get them through the day $9.95
under $15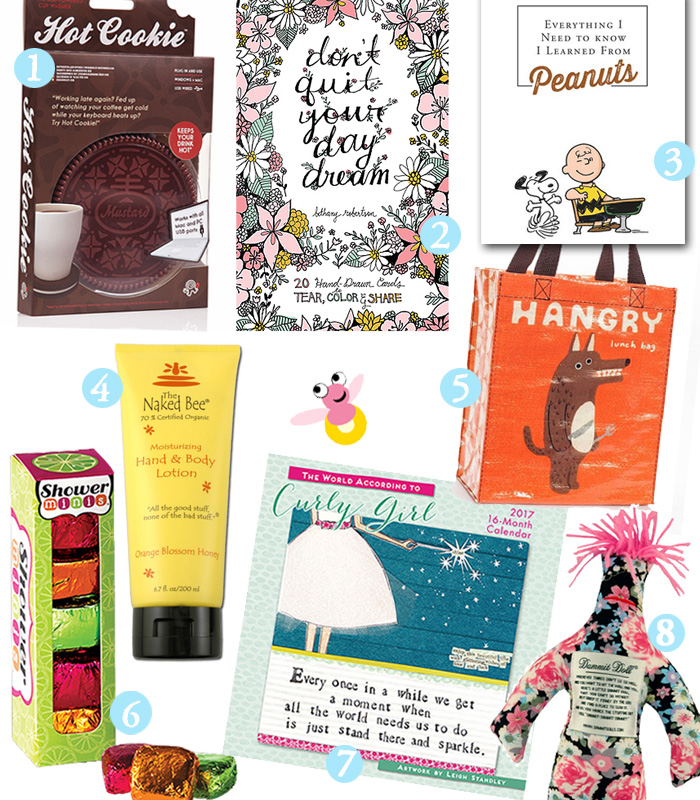 1.  Keep that coffee nice and hot with some help from this USB powered hot cookie $13.95

2.  Get you coloring fix while creating beautiful cards to brighten someone's day $12.95

3.  Charlie Brown and friends really have all the wisdom you need to survive the holidays $13.95

4.  Bring your dry hands back to life with this natural and great smelling lotion $10.95

5.  We've all been there… Love this HANGRY lunch bag $10.95

6.  Start your day with a shower filled with a refreshing citrus scent  $10.95

7.  Stay inspired in 2017 with this always uplifting curly girl calendar $14.99

8.  Who doesn't need to relieve some steam during the holidays $13.95

Do you like unique finds that bring big smiles?  Simply sign up to receive these blog posts in your email and you'll be in the loop & get our latest scoop.
When deciding on the menu for your festivities this year, don't settle for the usual bottled sodas or juice–instead surprise your guests with a festive holiday punch!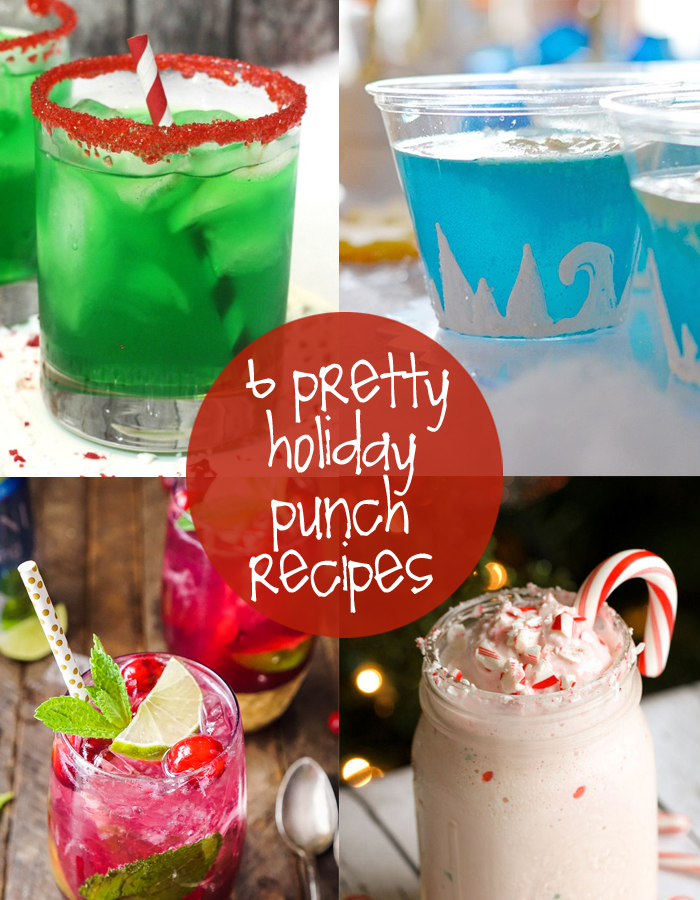 We've rounded up a sweet selection of recipes that will surely wow your guests. Here's a list of our favorites…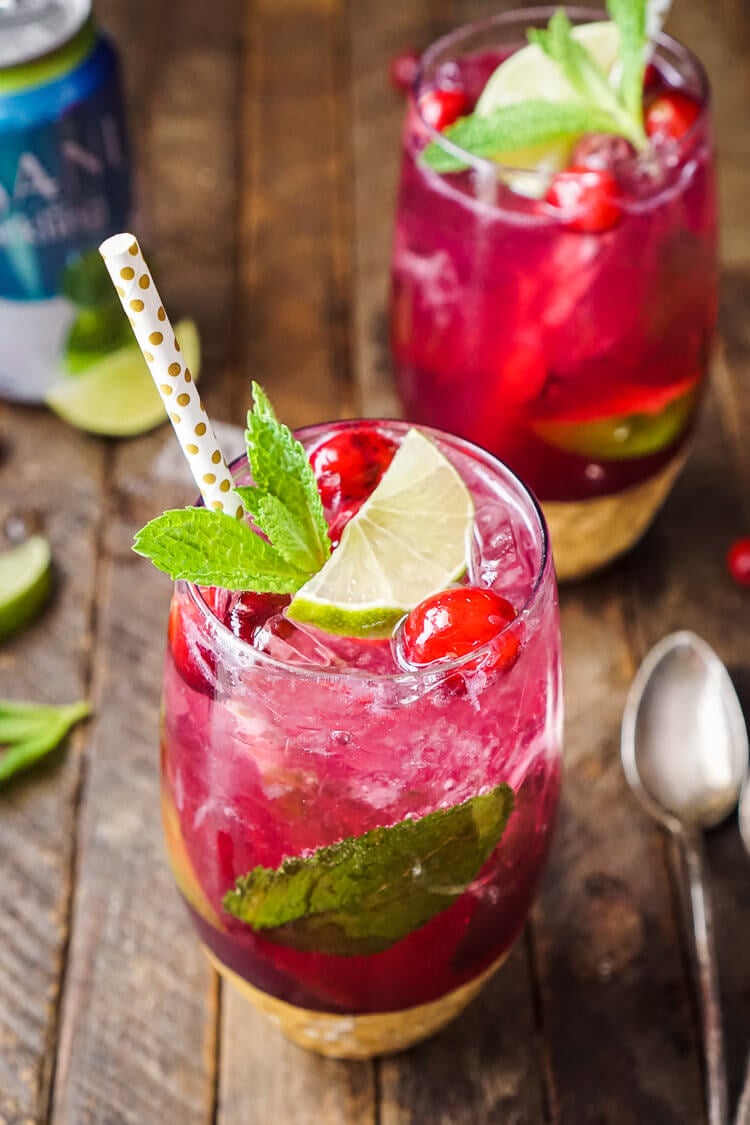 Make a splash with  delicious Cranberry Mojito Punch. This tasty concoction is the perfect blend of zesty lime & tart cranberries.
Bree describes her Jingle Juice Holiday Punch as a citrus sangria. You can find the full recipe on Baked Bree.
What kid could resist this Grinch Punch? Britannie shares her recipe on Simplistically Living along with two more–Grinch Cookies and Grinch Cupcakes.

It only takes 3 ingredients to make the Holiday Eggnog Punch that we came across on The Frugal Girls. It's a cup of creamy, delicious, bubbly Christmas deliciousness!
The holidays just wouldn't be the same without a touch of mint. Fill your guest's glasses with this delicious Peppermint Punch (it tastes like a peppermint milkshake).
Sprinkle Some Fun spills all the secrets for making this Frozen Snow Cap Holiday Punch–along with directions for making the cool cups.
Like to throw festive parties?   Don't miss out on our future recipe finds… simply sign up to receive these blog posts in your email in box.
We do love our guys but aren't they a hard bunch to buy for sometimes?  That's why we do our best to seek out silly, clever and functional finds that will get your guys grinning this season. Shop ALL GUYS GIFTS

The Guy Who Has Everything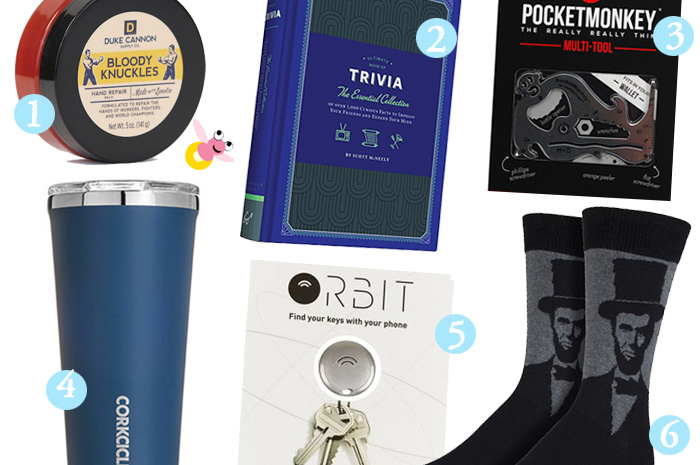 1. My husband's hands turn into sandpaper come mid November so when this magic lotion came in, I grabbed one for him and can testify that it does do an amazing job keeping Steve's paws soft and moisturized  $15.95

2.  Keep a few of these top trivia facts in your back pocket to impress the ladies or keep the cocktail conversation interesting $19.95

3.  Your guy can always be the Macgyver in sticky situations when he keeps this very handy pocket monkey in his wallet  12.95

4.  This mighty stylish vessel keeps cold drinks cold for up to 9 hours and hot sips warm for up to 3 hours  $24.95

5.  Ever wish there was a "Where's my iphone" for your car keys?  Well now there is! $29.95

6. Keep things interesting with dress socks that celebrate one of our favorite presidents $10

Stocking Stuffers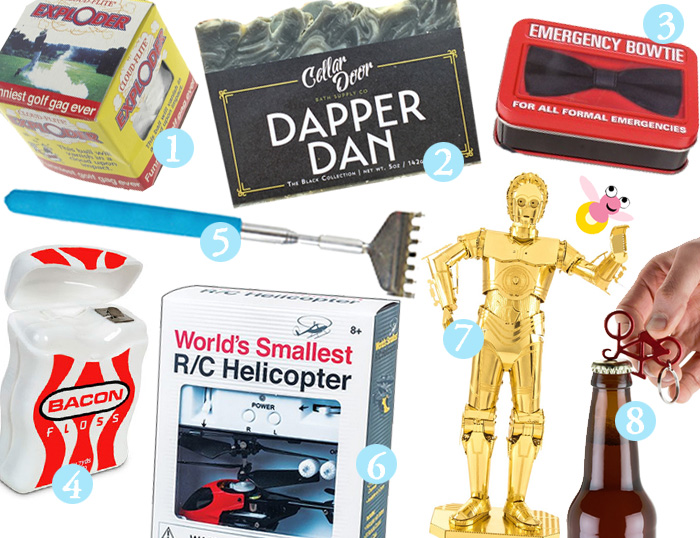 1.  Talk about a smokin' golf drive!  Memories are to be made with this trick golf ball  $3.95

2.  Make that stocking and your man smell divine with some help from dapper dan handcrafted soap $6.95

3.  Always be ready for a formal emergency with this classic bowtie $8.95

4.  Put the fun back into flossing with this baconriffic gift $4.95

5. This telescoping back scratcher will take care of that small afternoon itch  $7.95

6. This super small remote control helicopter will bring the kid out of any guy Christmas morning  $29.95

7.  Attention Star Wars Fans: create your very own iconic models from thin sheets of pre-cut metal ready to be assembled $16.95

8.  Always be prepared to kick back with a cold one after a nice bike ride $3.95

For Some Good Laughs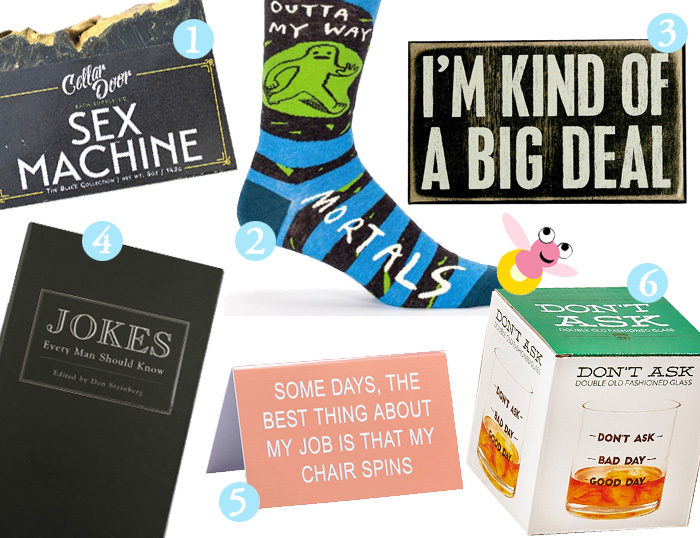 1.  Your guy can channel James Brown with this divine smelling handmade soap $6.95

2.  Everyday obstacles will get out of your way when you wear these silly socks $10.95

3.  Just in case it needs to be known ;-)  $10.95

4.  Every charming and funny guy always needs a few jokes in his back pocket  $9.95

5.   We believe a little laughter goes a long way when it comes to hard days at the office $5.95

6. Finally… a glass that tells it like it is $10.95

For The Beer Lover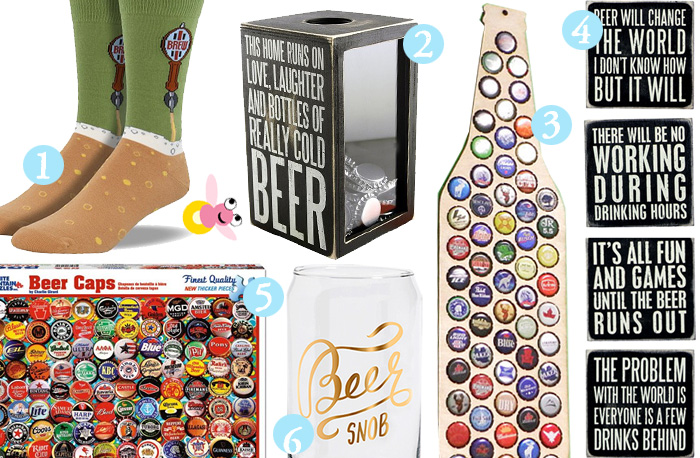 1.  Keep your co-workers guessing what your sock style is from day to day with these gems $10

2.  Showcase your favorite beer caps with pride in this clever shadow box  $23.95

3. Keep your best beer caps on display with this great beer cap trap $38.95

4.  Protect your coffee table and get a few grins with these wood coasters  $18.95

5.  Snow days call for cold beers and cool puzzles $16.95

6. Beer snobs… you know who you are  $12.95

Grandpa Already Has Everything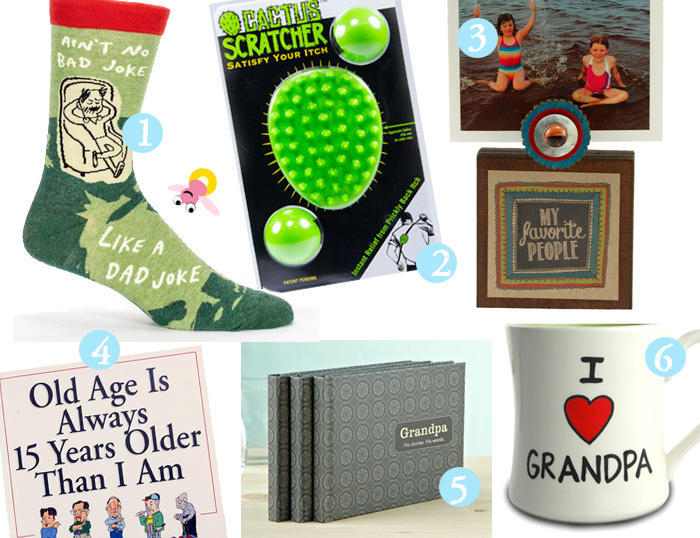 1.  We all appreciate our dad's personal brand of humor but you know a lot of those jokes just don't make the cut  $10.95

2.  Say goodbye to those unreachable itches with this clever cactus scratcher $12.95

3.  Grab a photo of the grandkids for this fun photo block $14.95

4.  Keep grandpa grinning with this funny read  $12.99

5.  Pass grandpa's insight and stories down to the next generation with this keepsake journal $11.95

6. This simple mug tells it like it is. Fill it with his favorite beans for a sweet gift from the kids $14.95

My Michigan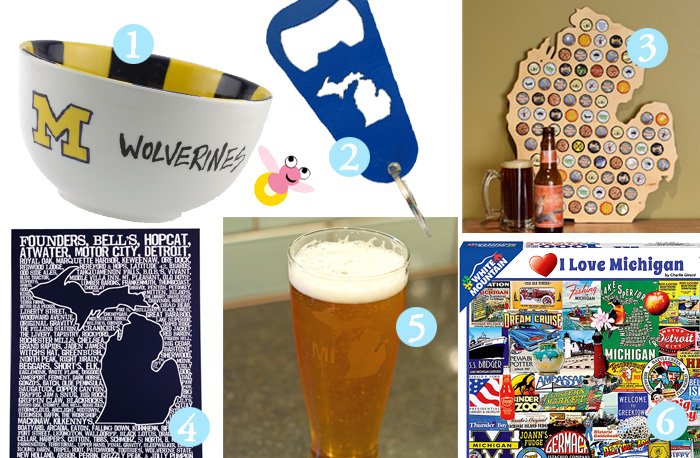 1.  Start your day with a bowl of wheaties in a winning bowl $22.95

2.  Always have a bottle opener on hand to crack into your favorite Michigan brew $7.95

3.  Fill this mitten up with Michigan beers that you hold dear $38.95

4.  Michigan craft beer lovers… this print was made for you $21.95

5. Cheers to Michigan made beer $13.95

6. Put together all the many pieces of what makes our state so great $16.95

Do you like unique finds that bring big smiles?  Simply sign up to receive these blog posts in your email and you'll be in the loop & get our latest scoop.