I know the holiday season is the most popular time to send cards and gifts to those that you love but my favorite time of the year to send pretty packages is Valentine's Day.  It's a slower time of the year that isn't over scheduled. The days are cold and often grey and people aren't expecting it so it's even more of a happy surprise.  All of these goodies are easy to slip into a padded envelope for simple shipping.

send a smile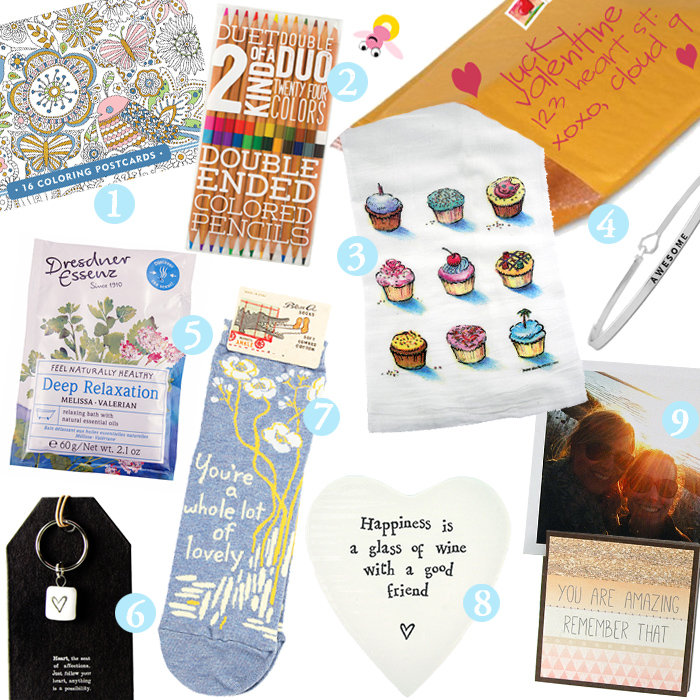 1.  Stay cozy and color these cute postcards you can display or send away $7.95

2.   Twelve pencils… twenty-four colors – how cool is that?  $10.95

3.  Delightful dish towels are one thing you can never have too many of… especially when they are made of super thirsty flour sack material $10.95

4.  Let your friends know you think they're pretty awesome $10.95

5.  Take a break from life by soaking in a hot tub filled with healing bath salts $4.25

6.  A little happy heart for your key chain as a reminder that you are loved $5.95

7.  Spread a sweet sentiment with a pair of pretty socks $8.95

8.  Pair this coaster with an invite to some girl time and glasses of wine $8.95

9.  Celebrate your amazing friends with a handmade photo block $13.95

surprises for the littles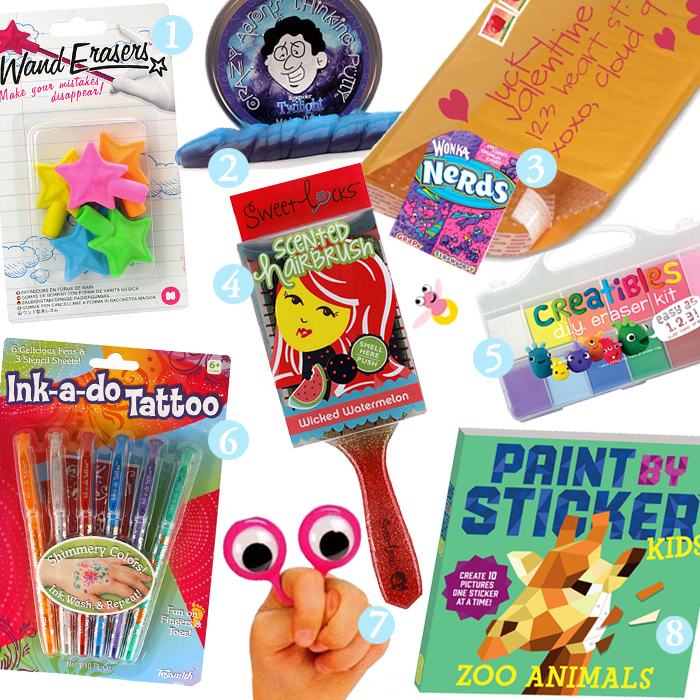 1.  Cupid may have his arrow but you can transform any pencil into a wand with these clever eraser toppers $4.95

2.  Stretch, shape and watch colors morph before your eyes with this addicting putty  $11.95

3.  We personally think Nerds are so much better than those chalky candy hearts $1.25

4.  Your hair will smell the sweetest when you brush with this wonderful watermelon brush $12.95

5. Sculpt your own personal fan club with this cute kit  $12.95

6. Profess your love with a flowery tattoo $5.95

7.  Finger eyes can turn any hand into a personality $1.95

8.  We love this new take on the classic paint by number books $9.95

Do you like unique finds that bring big smiles?  Simply sign up to receive these blog posts in your email and you'll be in the loop & get our latest scoop.
In our world today of cell phones & computers…the art of the hand-written letter that arrives in your mailbox has become a thing of the past for many of us. We say it's high time to bring back beloved snail mail! No typed email will ever replace the surprise and thrill of receiving a sweet letter, card, or package that's been thoughtfully put  together.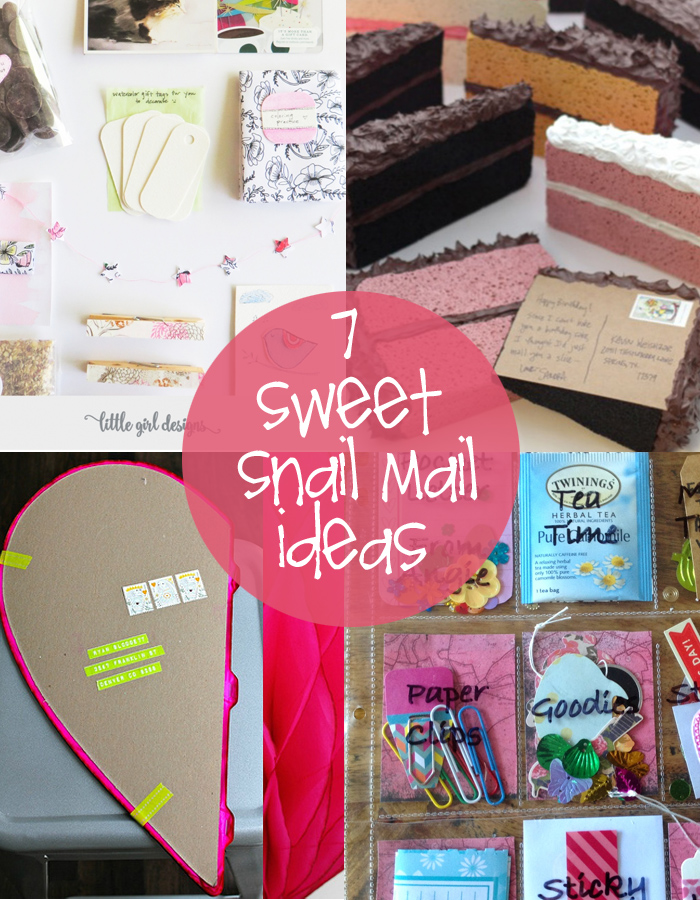 To start this revolution, we're directing you to a few peeps who know exactly what it takes to create a magnificent piece of mail…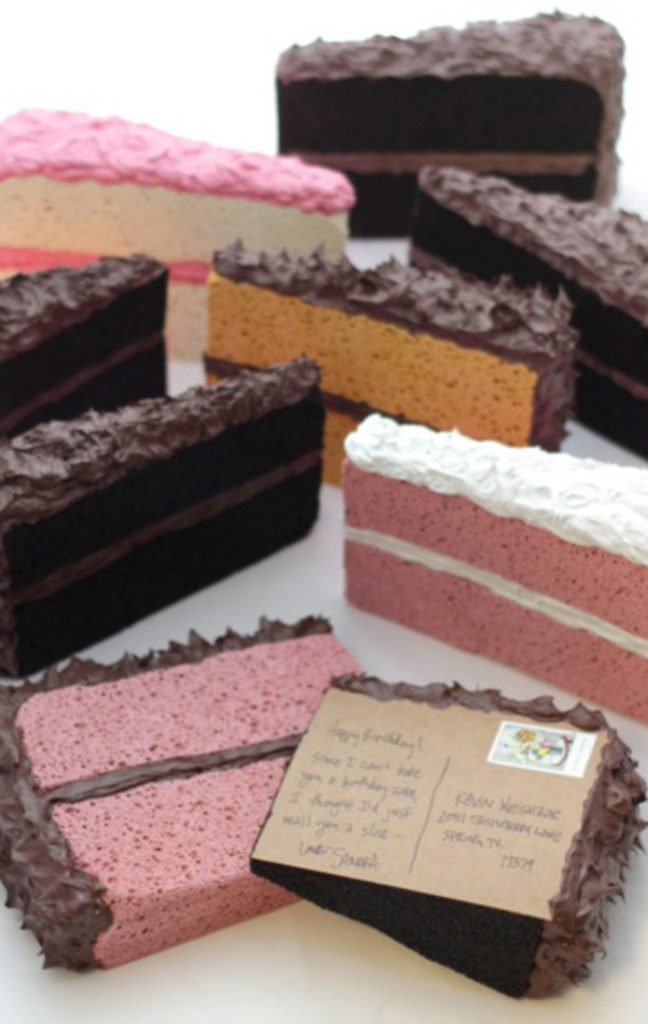 I don't know about you, but finding a piece of 'cake' in my mailbox would bring a pretty big smile to my face.  Head over to She Knows to get baking up this terrific treat.
Not sure about supplies? Whatever Bright Things has the scoop on a good start for your list (and a free stationery printable!)
You're going to need some envelopes for those letters and Gypsee Art has a few adorable designs that we think just may melt your heart.
Looking for even more ideas? Check out these 16 Really Cool Ways to Address An Envelope that we came across on The Realistic Mama.
Send more than a letter–dazzle your recipient with a little package full of surprises. Little Girl Designs has a bunch of great ideas to include in a package.
Use a plastic sleeve to send a Pocket Letter to someone special. Find out all about this cute idea over on My Style to a Tea.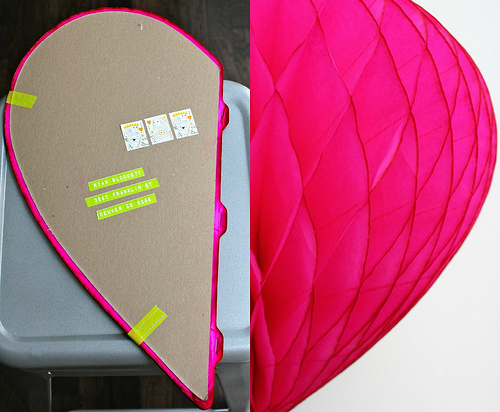 You are My Fav proves you don't have to be super crafty to send send this sweet surprise!  Just head to your local party store to pick up a honeycomb heart and drop it in the mail!
Like to make days brighter for your friends and family?   … sign up to receive these blog posts in your email in box.
We like to think of Valentine's Day as a perfect excuse to show your love to the most important people in your tribe so we've found some wonderful ways to do just that.

couplehood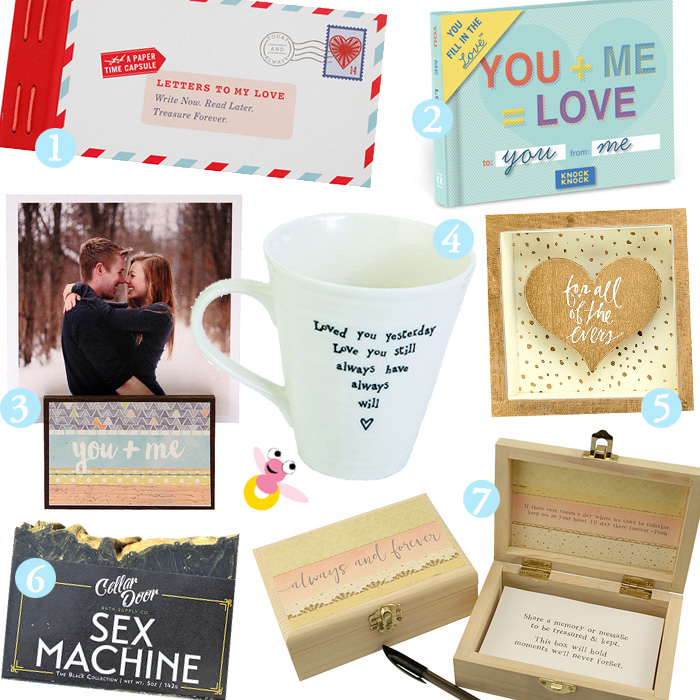 1. This sentimental book filled with your letters of love is sure to be treasured for years to come $14.95

2.  This marvelous mini journal is destined to be a keepsake once filled in with all the reasons you love someone  $10.95

3. Keep a picture your person close by with this handmade photo holder $12.95

4. Who wouldn't want to wake up and read this heartfelt seniment when pouring their morning brew $18.95

5.  Always a nice reminder to have next to your night stand $14.95

6.  We are not responsible for what happens after using this oh so delious smelling soap $6.95

7.  Create a keepsake that will be treasured forever with this handmade memory box  $29.95 

galentines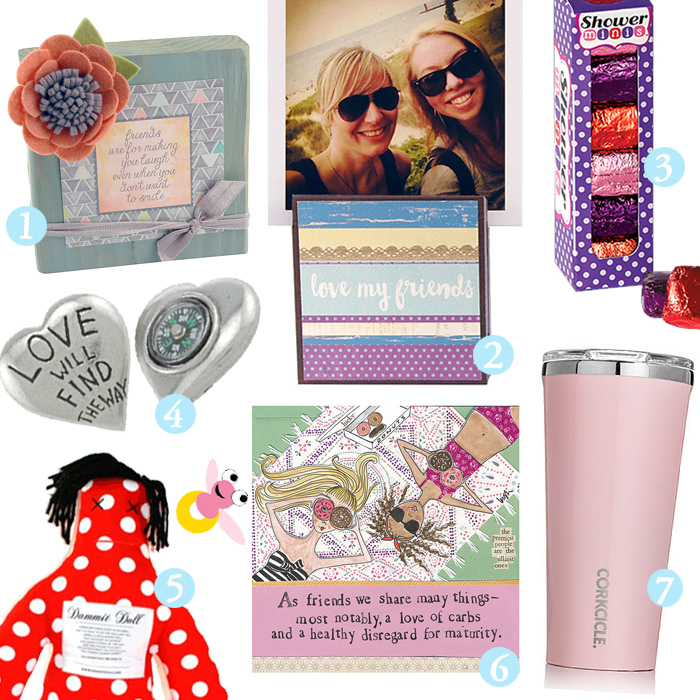 1.  Celebrate the sweet souls in your circle that get you through this roller coaster of life $26.95

2.  So many of our favorite memories are with our friends $13.95

3.  Any gal could use some extra pampering and these shower minis will do just that $10.95

4.  If you're navigating the murky waters of a relationship or still searching for the one, let this inspiring pewter compass lead the way $17.95

5.  Just coming off a bad break up?  Take out your frustration with a few whacks of this dammit doll $13.95

6. Because don't donuts make everything better? $5.50

7.  Cozy up with your favorite warm beverage and get ready for some girl talk with this pretty corkcicle tumbler $24.95

kiddos
1.  This little ballerina mouse can't wait to give your little one a kiss on Valentine's Day $9.95

2.  Let this be a lovely reminder for little ones  $7.95

3.  The best accessories are sweet, cute and edible $.50

4.  Fill this book out and give it to your kiddo for a valentine to remember $10.95

5.  Make this heart holiday even more magical with a sprinkle of fairy dust $8.95

6.  Let your child know they make your world more colorful and sweet just like fruitstripe gum $1.95

7.  You rock valentine! $1.25

8.  Make your Valentine's Day magical with this unicorn glow in the dark puzzle $11.99

furry valentine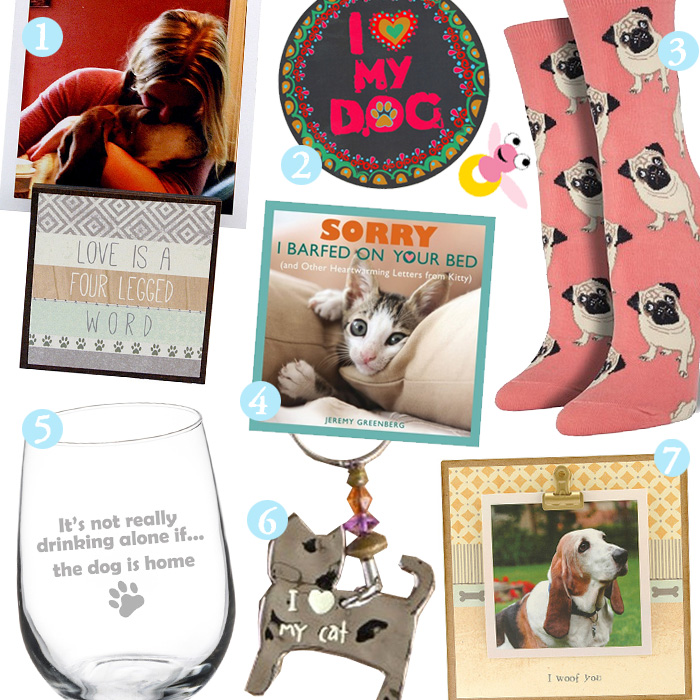 1.  This handmade photo holder is the perfect place to show off members of your furry family  $13.95

2.  Let everyone know you love your dog with this cute car magnet $8.95

3.  You're always guaranteed cuddling when you watch a movie with your pug $8.95

4.  If your furry friends could talk… (also available in the dog version) $9.99

5.  Sometimes the best dates are furry and have four legs $12.95

6.   Does your pooch have a key to your heart?  (also available in cat) $7.95

7.  Just in case you need a reminder while you're away from home "I woof you"  $14.95

Do you like unique finds that bring big smiles?  Simply sign up to receive these blog posts in your email and you'll be in the loop & get our latest scoop.
Roll cakes…we're willing to bet that you've never attempted to make one of these at home (don't worry, we haven't either!). They may seem a little intimidating to the average baker, but after doing a little research–we came across a bunch of bloggers that share their very useful tips and tricks for making roll cakes "as easy as pie".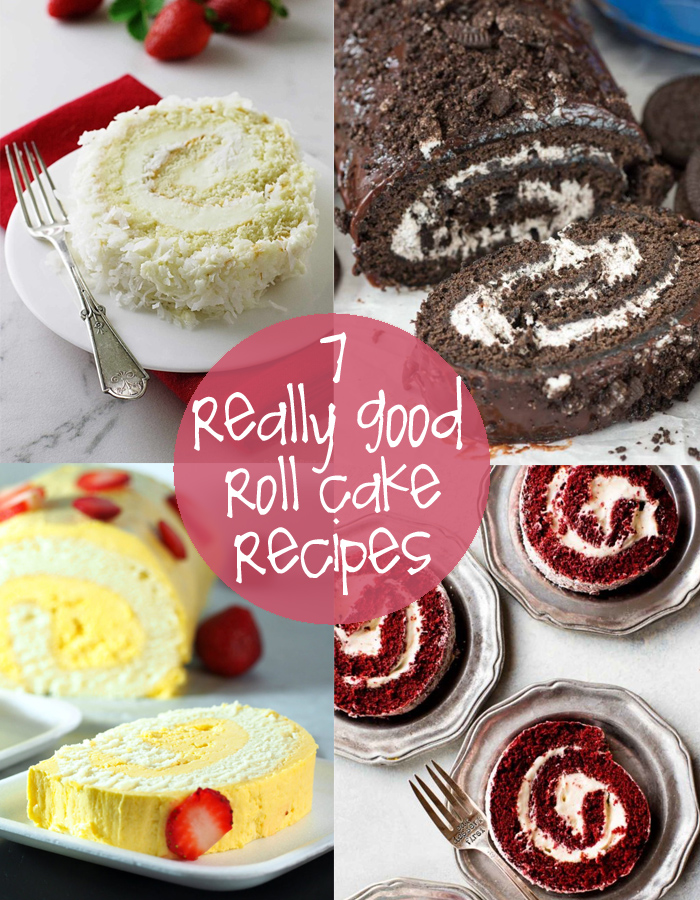 Roll up your sleeves and get ready to impress your family or guests with a sensational new sweet treat.
Sally's Baking Addiction takes the mystery out of this Red Velvet Roll Cake with her clear step-by-step photos of the process. This picture clearly demonstrates that it's worth the effort.
Head over to Crazy for Crust to get the scoop on how to translate a classic cookie into an Oreo Cake Roll. Dorothy describes it as DECADENT and we think she hit the nail on the head.
Treat your tastebuds to this creamy, light, and fluffy Coconut Cake Roll. Savor The Best shares her wonderful recipe right here.
Cake or pie? Now you don't have to decide. Get the best of both worlds in this Pecan Pie Roll Cake! Get this delicious recipe from the gals over on Homemade Interest.
Sanna has a magnificent recipe for a Mango Roll Cake on her blog, Woman Scribbles. She starts with a basic chiffon cake then incorporates a delightful mango Swiss meringue buttercream.
It will hard to resist a second slice of this Peanut Butter Cup Flourless Cake Roll. Just imagine biting into a creamy peanut butter mousse that's topped with a chocolate ganache.
Yummmmm! We're already dreaming of enjoying this Cinnamon Cake Roll with a cup of coffee. It just seems like the right thing to do :- )  We found this tempting treat on Will Cook for Smiles.

Like pretty treats to celebrate the season?   Don't miss out on our future recipe finds… simply sign up to receive these blog posts in your email in box.
One new year tradition we like to do is look back at the past 365 days and find some of the ways we made days brighter. These are a few of our favorites…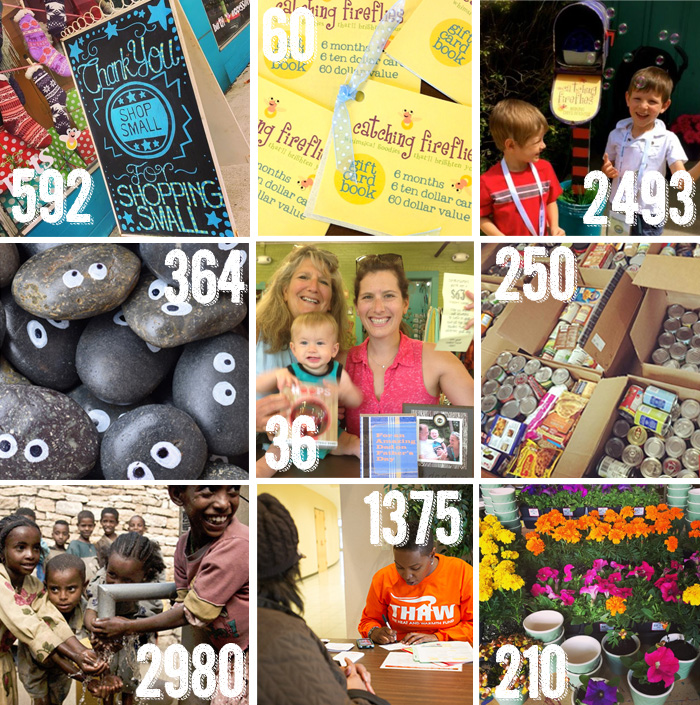 592 sales from our fabulous firefly fans on Small Business Saturday

60 sixty dollar gift card books donated to local charities

2493 (or maybe a few more) bubbles chased by our doorways in Ann Arbor and Rochester

364 silly stones spread around to create surprise smiles

36 sixty-three dollar shopping spree winners

250 pounds of food donated to Open Hands Food Pantry during our holiday open house

2980 dollars donated to charity water from selling over 700 mudlove bracelets

1375 dollars donated to THAW from gift wrapping tips during the holiday season

210 free flowers given to moms to celebrate Mother's Day

Thank YOU for sharing these great times with us in 2016!
Well, it's been a couple weeks since we started 2017 with fresh intentions to live a better year.  We find sometimes it helps to keep your resolutions going strong with a few reminders along the way and here are some of ours…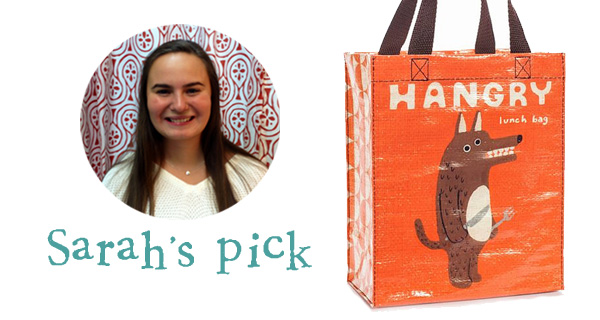 One of my goals for 2017 is to cook more at home and eat healthier. I plan on bringing this lunchbox to my internship everyday with a nutritious lunch from home. $10.95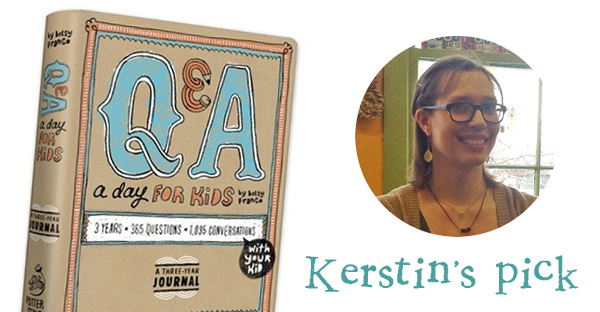 This year I want to spend more quality time with my kids. This journal is a perfect way for all of us to get to know each other better and will lead to fun leading questions. It will also be a lot of fun to go back and see what we wrote in years past. $16.95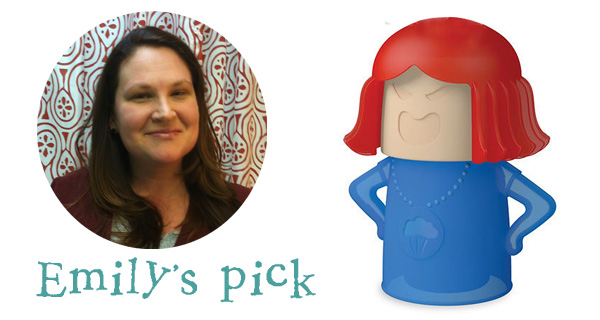 I really want to get my house in order for the New Year. The Angry Mama Microwave Cleaner makes a tedious job easy and fun! $10.95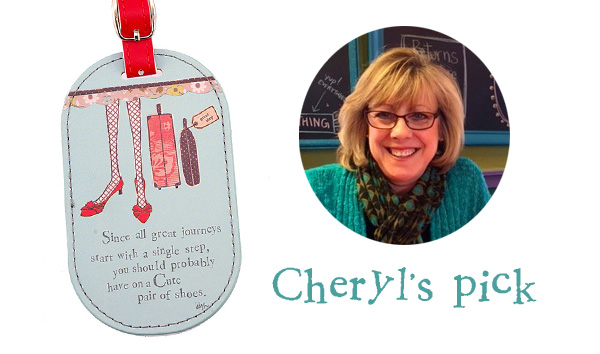 With so many family members outside of the state, I want to start planning some travels. And who doesn't need a cute luggage tag like this one along with a cute new pair of shoes?! $12.95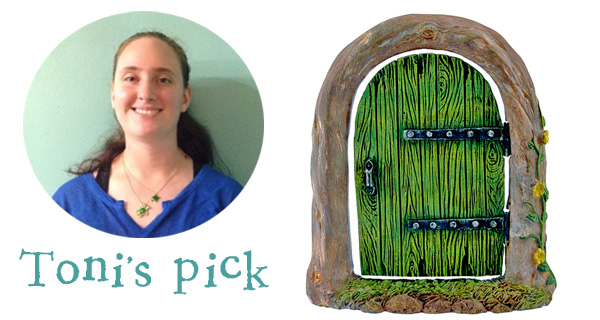 2017 needs to have more inspiration, imagination, and creativity than 2016. This fairy garden door leads into another world to help one inspire them-self and be original and unique! $14.95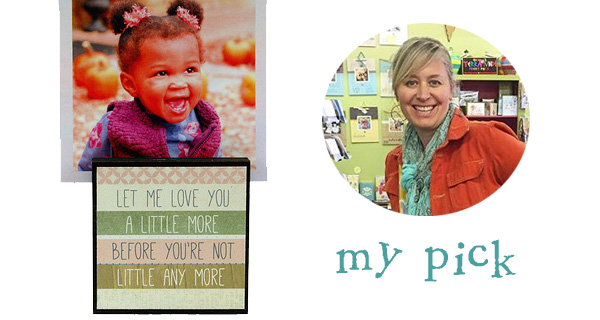 My sweet girl is only 2 and a half and I already feel like her little life is flying by! As any parent knows some days spent with little ones can be long and exhausting but this year I am trying my best to be present and soak it all in because I know it really does all goes by toooo fast. $13.95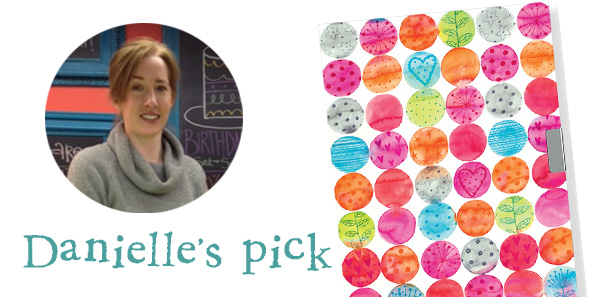 This will be perfect for my plan of more journaling in the new year. Love the bright colors and the fact that it is bound. Probably because I had a sister growing up, I also love the fact that it locks! $12.99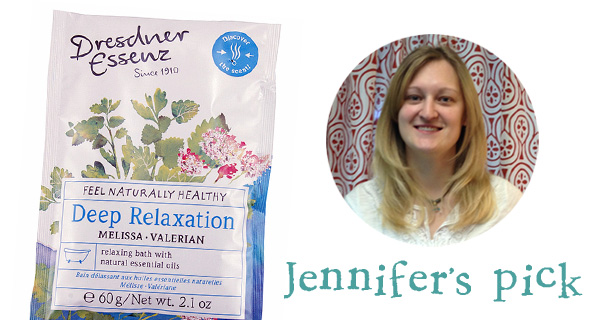 My new years resolution is to find new ways to relax and de-stress! These bath salts are perfect for an escape from the daily grind. They're all natural and smell amazing! I can't wait to get in my tub at the end of a tough day and unwind. $4.25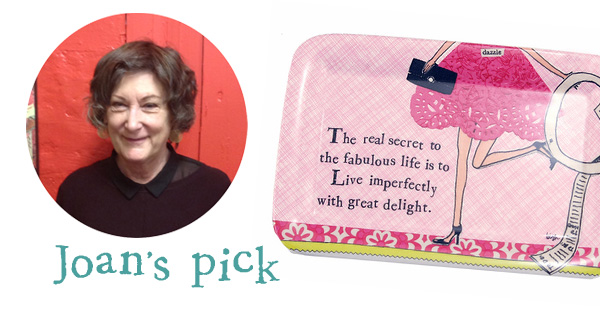 Let's celebrate our imperfection and aim for the most fabulous times in 2017. Use as a soap dish, ring or key holder, truffle server — be creative and enjoy. $13.95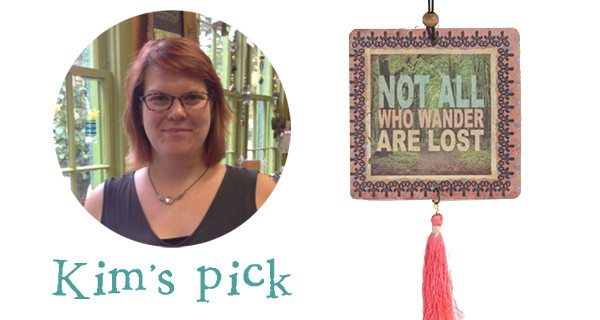 I love this little reminder than sometimes going off the beaten path is the better idea. It helps me keep in mind my goals this year- adventure more, worry less, and pay attention to the scenery around me. Plus, who can beat Tolkien for inspiration? Not to mention, it smells great, too! $8.95

Do you like unique finds that bring big smiles?  Simply sign up to receive these blog posts in your email and you'll be in the loop & get our latest scoop.
The holidays have come and gone–the beginning of a new year is a time for all things *new & bright*. Trade in your tired cell phone wallpaper for something a little more beautiful and inspiring.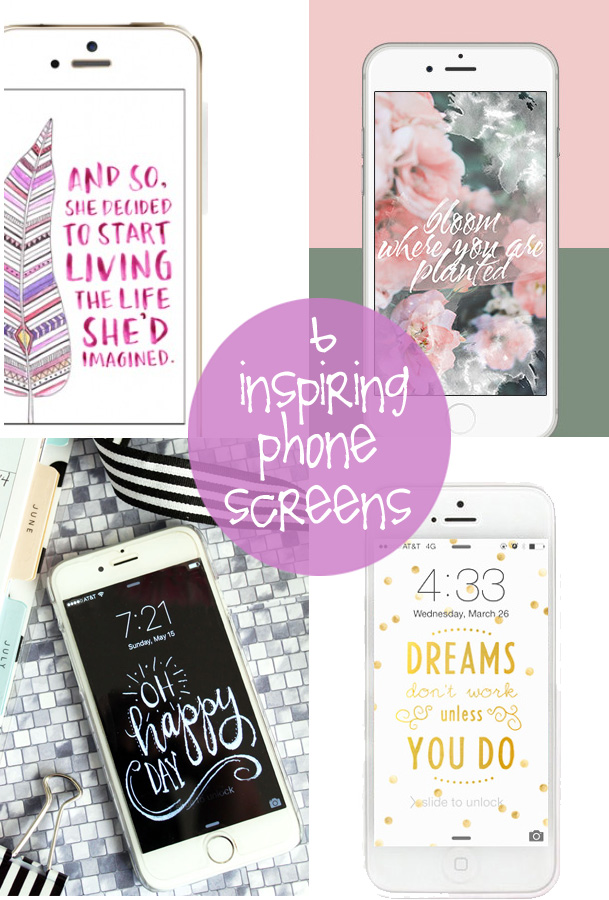 We think you'll have no problem at all finding a favorite amongst these fresh and uplifting designs that we found…
Here's a little sound advice from Catherine. You can download this free motivational phone wallpaper over on Rabbit Food for my Bunny Teeth.
Download Laura's free phone wallpaper and you'll have your very own daily reminder to stay happy!
If you're fond of flowers, we recommend heading over to Hello Lovely Living where you'll find quite a few gorgeous free wallpapers to choose from.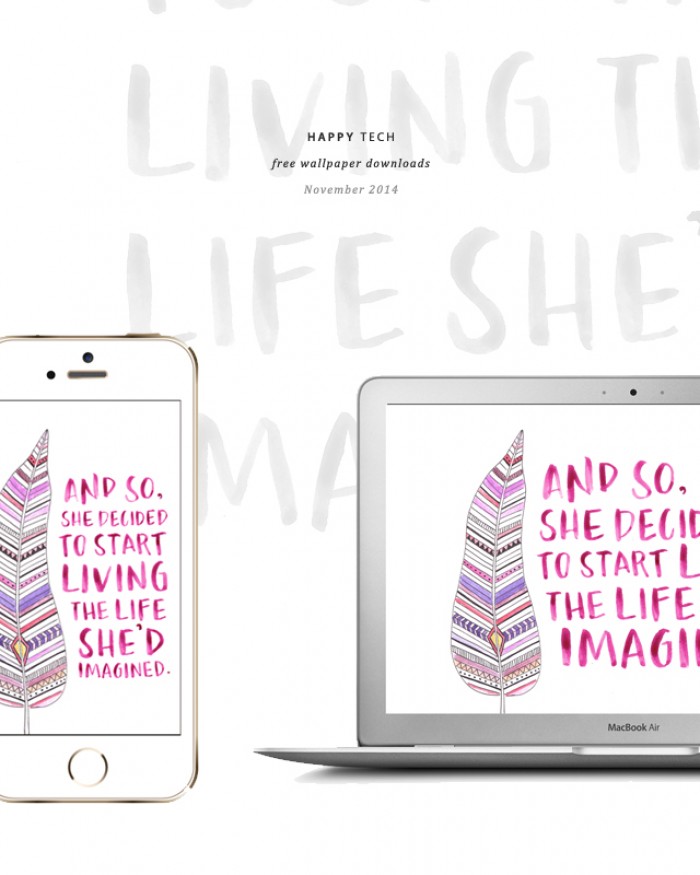 Working on making a dream come true? Make 2017 the year that it does! For a daily dose of encouragement–download this cute wallpaper on This Little Street.
Travel plans on the horizon? Deck out your phone with one of five free travel themed phone wallpapers on The Backslackers.
Get your creative juices flowing with the free phone wallpaper that we came across on Blackco. It's a great little reminder every time you pull out your phone.
Planning to party this Saturday evening?  Grab a few of these goodies and a bottle of bubbly to bring in the New Year.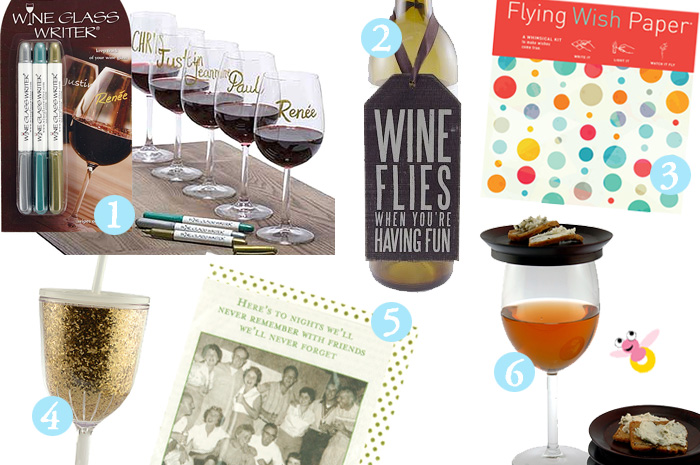 1.  Never guess which glass is yours with some help from these elegant wine writers  9.95

2.  You'll be counting down to midnight in no time because time does fly with friends $3.95

3.  Write your wishes for the new year on this magical paper and watch them fly to the sky at stroke of midnight $11.95

4.  Sparkle, shine and never spill your wine with this festive wine glass $12.95

5. Now here is a toast your troop can raise their glasses to $5.50

6. It's important always to keep a free hand for snacking on bite sized treats and these wine glass plate toppers solve that problem  $21.95
Memories of Christmas' past always bring to mind family and friends, but it's the little things that always seem to matter the most. Maybe you made cookies every year with your mom or gathered around on the tree to listen to your favorite Christmas book…whatever your traditions were, these are the things that we carry into adulthood, cherish–then share with our own kids and family.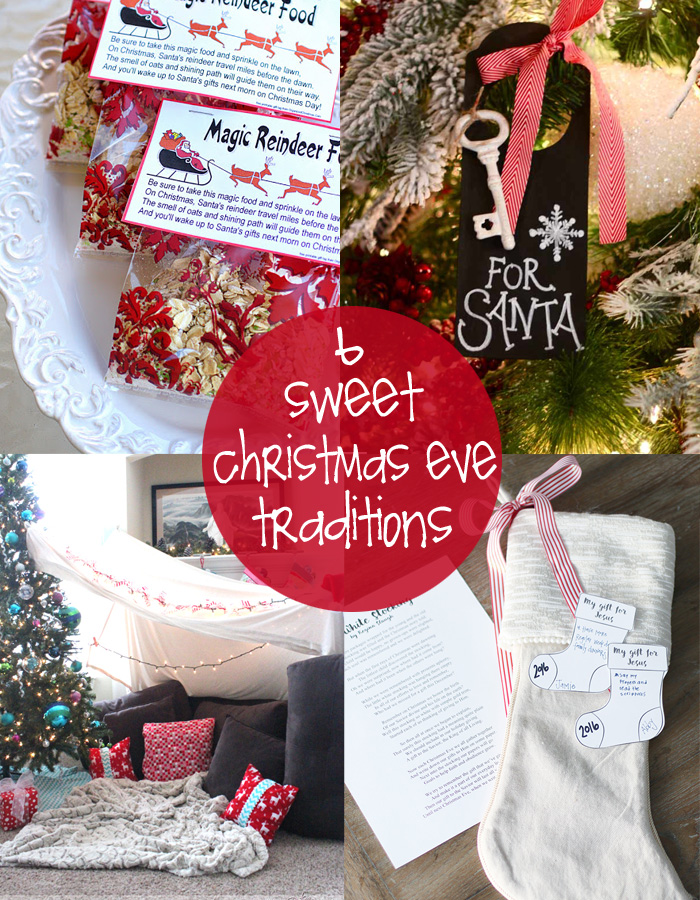 Here are a few fresh ideas that we think you might want to incorporate into the blueprint of your own holiday celebrations…
Keep Santa's reindeer energized with a sweet snack! Mix up a batch of this Magic Reindeer Food, then you and the kids can sprinkle it on the lawn for them to enjoy on their arrival. We found this fun project on The Girl Who Ate Everything.
There aren't many things that sound more relaxing during the chaos of the holidays than a cup of hot cocoa. Check out this cool Hot Chocolate Bar over on Beneath My Heart. Traci's family really digs this new delicious tradition.
Switch up the sleeping arrangements on Christmas Eve. You can create your kit with all the trimmings or just wing it. The Dating Divas have a ton of great ideas to make the night a real adventure for the family.
Keep the true meaning of the season alive with The White Stocking Gifts for Jesus. The Crafting Chicks blog has the whole story behind this meaningful celebration. Each family member writes down their goal/gift to Jesus for the year and puts it in the stocking. This carries over from year to year as you take out the previous year and have fun remembering what was written the year before.
As a kid, we didn't have a fireplace in out home and I remember asking how Santa will get in the house. It's a legitimate question : )  Anyway, here is the solution you and your kids have been waiting for: head over to Design Dazzle where you'll find the instructions for creating the Magic Key for Santa. Hang it on the tree until Christmas Even, then let the kiddos put it on the front door.
You've don't have to have kids to enjoy the holidays. Giustina from Domestically Blissful has a quite a list of activities–make sure you check out her 25 Christmas Eve Traditions for Couples.
Like special ideas to make the season more magical?   Don't miss out on our future recipe finds… simply sign up to receive these blog posts in your email in box.
It's a whirlwind of gift giving at all our locations this month and these are a few  of our favorites…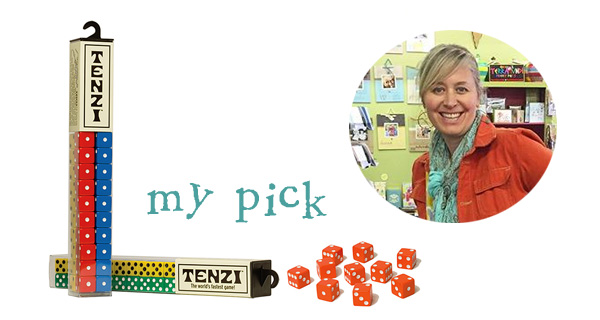 When it comes to family get togethers, I'm always luke warm on getting involved in games. On holidays I prefer not to spend my time strategizing, competing or over thinking things. This is why I love the idea behind this game. It's easy, simple and fun… also all ages can play. I plan on bringing a set or two of these to our Christmas party this year and letting the good time roll… literally. $14.95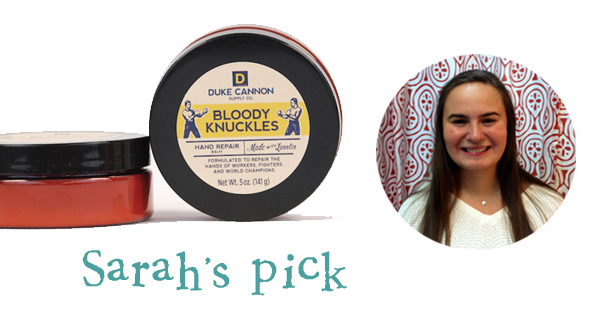 Guys are always hard to shop for, but this is the perfect stocking stuffer to give them! $15.95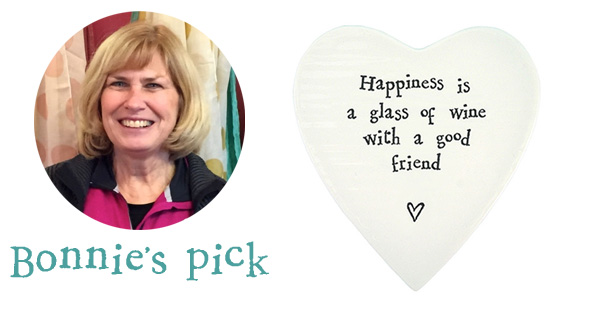 Great little gift to give for birthday or Christmas or just because. $8.95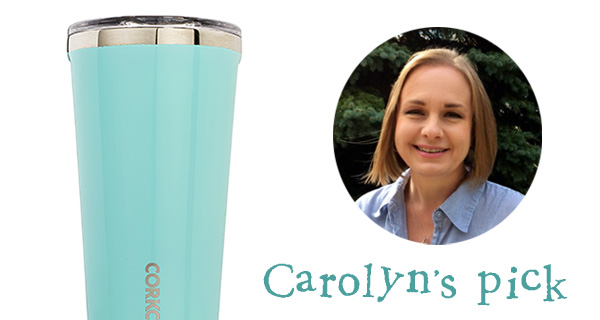 I just love this!! Not only is the color cute, but it keeps my hot tea hot and my cool drinks cool!!! $24.95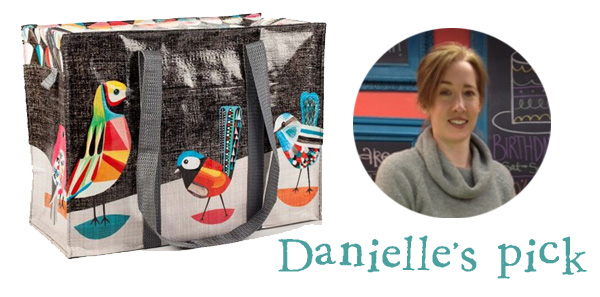 I love these tote bags!! Not only are they good for the earth and a portion of sales go to environmental causes, but they are cute and durable. They can hold a lot, clean up easily and are good for traveling with, exercise clothes, school books. Did I say how much I like these! $16.95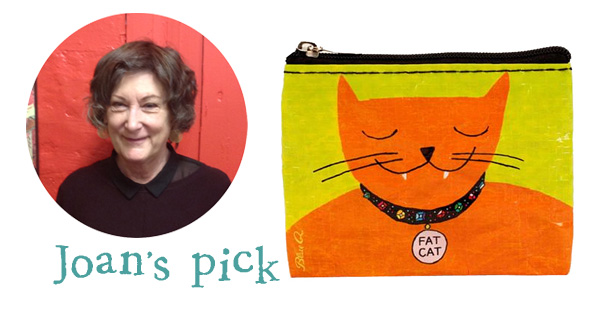 This is adorable and just the right price for a one-of-a-kind stocking stuffer. $4.95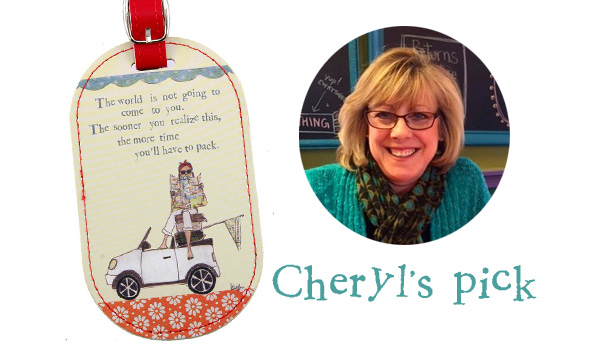 The saying on this super cute luggage tag sends a fun reminder to pack your bag and hit the road to explore, visit and enjoy! $12.95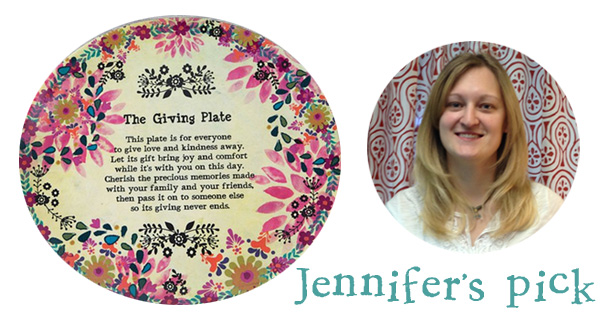 I love to bring The Giving Plate to gatherings as a gift for the host/hostess with a wonderful treat to pass! Then they can continue to pass the gift along and share their favorite recipes. It's the gift that keeps on giving! $14.95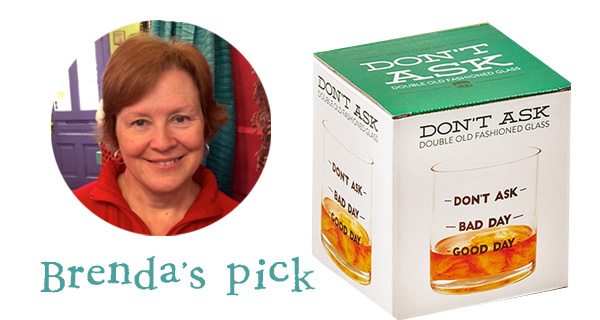 This is a DOUBLE old fashioned glass, as it holds 16 oz. for those "Don't Ask" days. It is a nice, heavier weight and a fun conversation piece! $10.95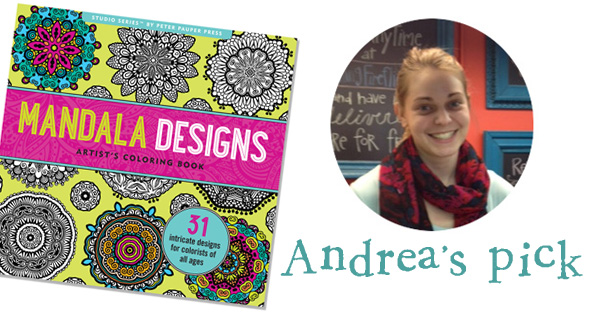 This coloring book is a great gift to give and to receive! It is great for those lazy days and when you're in need of some relaxation! $7.99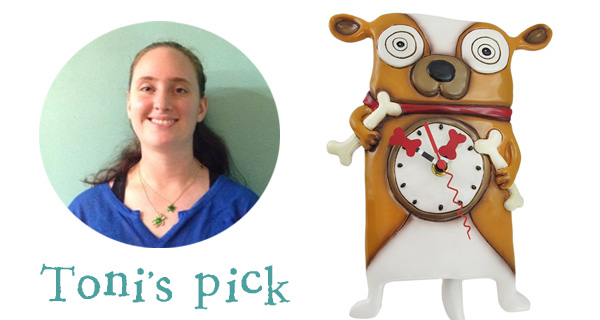 This clock would be a gift for Kim because it reminds her of a dog she had growing up! $59.95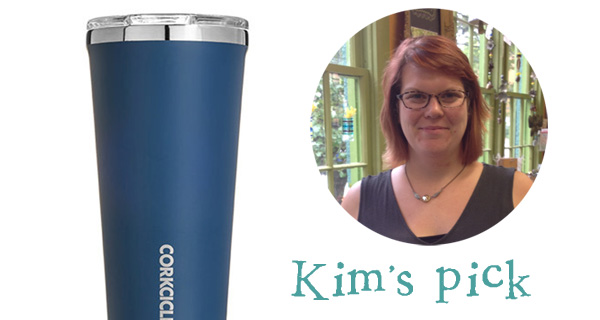 It's not even that I travel a lot, but sometimes long days at work call for a drink I'd like to stay warm (or cold!) while I'm out on the floor. This tumbler is great. Anything I put in there stays the perfect temp for way longer than I thought it would. It's a little heavy, but I can forgive that because of how great it is! $24.95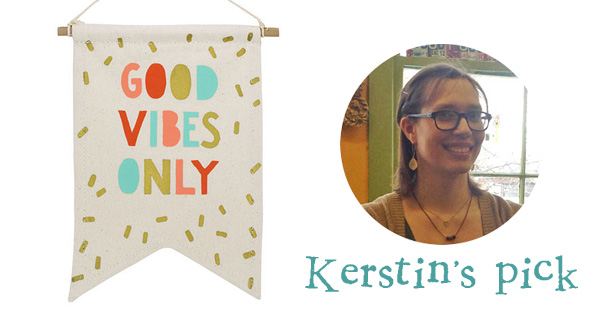 This is perfect for my daughter who is 8 going on 18. Maybe if she sees this colorful reminder everyday it will stick in her mind : ) $8.95